Hi All,
We are happy to announce that
@hiveupme
curation project successfully launched a Web UI for the people who wish join the project -
UPME.LINK
.
---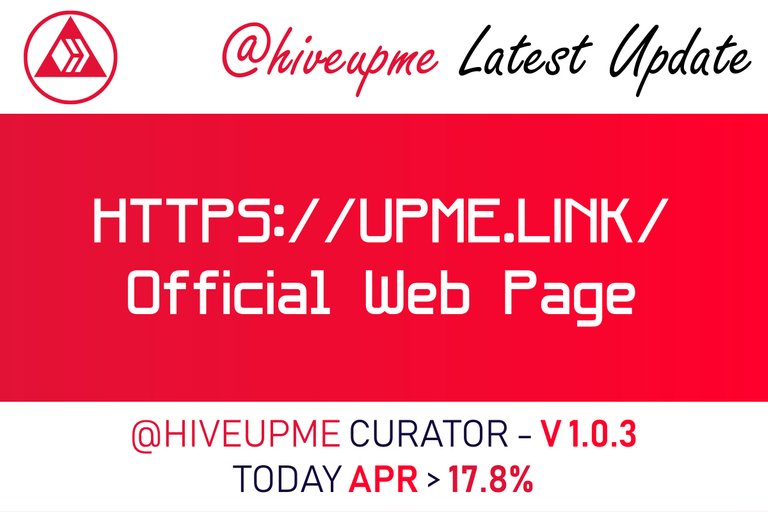 ---
Features?
Below list of features that we successfully added with the Web UI.

Check Your Outgoing Delegation Details - You can check outgoing delegation details of given Hive Username.
Delegate To @HIVEUPME By Using Hive-Keychain - Now you can delegate to our Curation service @hiveupme via Hive-Keychain.
Check Your VAULT Token Balance Details - By using this feature, you can get VAULT token balance details of any given Hive Username.
Check Your HIVE POWER (HP) Details - With this feature, you can calculate your existing HIVE POWER that can be used to delegate or power down.
Check Your Incoming Delegation Details - Here you can find all incoming delegations to given Hive Username.
---
Swap VAULT to HIVE?
Here we have added two features as
Calculate Your VAULT Token Swap To HIVE Details
SWAP VAULT Token To HIVE Ratio = 1 : 10 (0.1 HIVE For 1 VAULT Token)

Our backend script of
Swap VAULT to HIVE
, process in every 10 minutes time period. If
@swap.vault
account has enough HIVE to Swap, it will process, then send VAULT tokens to
@null
to burn. If
@swap.vault
has no enough HIVE tokens to process the Swap, it will refund your VAULT tokens.
---
VAULT Market & Token Supply Details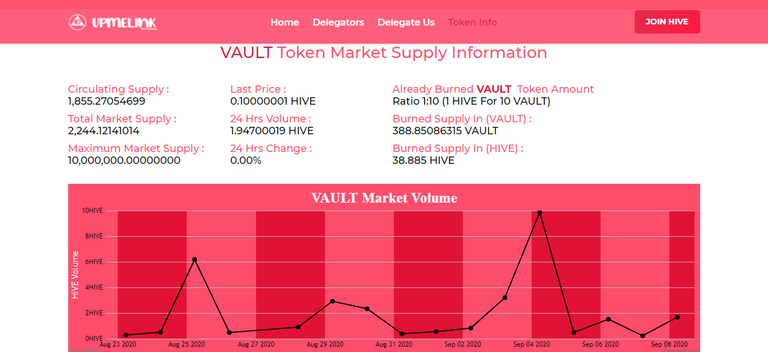 Here you can find Vault market details & token supply information as well.
---
@HIVEUPME Delegation APR Details
Now you can find our last day APR (Annual Percentage Rate) of
delegation reward distribution
details by
clicking this link
.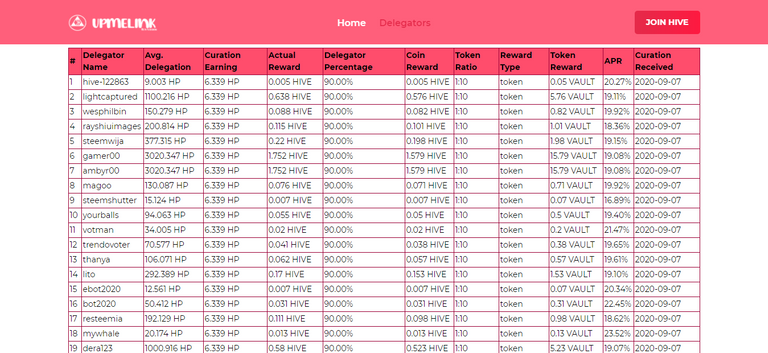 ---
Upcoming Changes?
Since 15th of September, 2020 we will introduce below changes to the Curation reward distribution.
We will remove Developer delegations from Blacklist, while calculating delegation rewards. (This is the main reason to have higher APR values)
We will increase delegator share (percentage) from 90% to 95%.
---


"Delegate To @hiveupme Curation Project & Earn 95% Curation Rewards"
Contact Us : CORE / VAULT Token Discord Channel or Join Us : UPMELINK Web Site

---