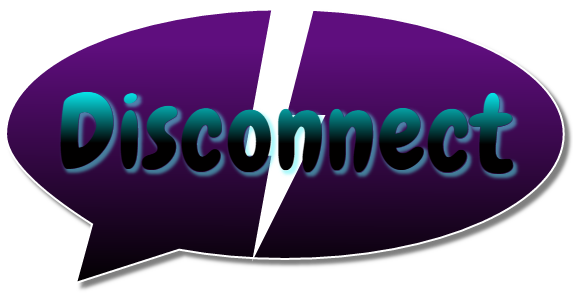 How fitting is it that I return from a two month long social disconnection to get back to the swing of things with the DITO word of the week being disconnect.
We are going to ramble and see where that takes us. Let's get started...
I have always been very aware of my mental state and I know when it's time to either step away from something for a while or walk away for good from something that may be damaging. For anyone that truly knows me and decides to stick around, they are fully aware that there will be times when communication stops and if I do answer a call or text, my answers will be brief and there will be no effort from me to continue the conversation. Some people can handle that, most people can't.
I used to concern myself with that fact that most people couldn't handle me being that way. I learned that not only was that not good for me, it wasn't good for those around me either. I think part of my problem is that I can empathize with so many people. I've been through an awful lot and I understand feelings of terror, loss and loneliness. I thought it once as a distraction from my own demons but the distraction turned to neglect. When you wrap yourself up in other people, you become a shell of yourself and when those people leave, they leave you feeling empty.
It took me a long time to convince myself that it was okay to disconnect from the things and the people around me that I often find draining. I felt bad having to tell people no when declining and invitation and felt that lying was better because no one takes the time to just try to understand. They start having feelings like your decision has something to do with them and then you have to explain that it has nothing to do with them... and that is completely draining.
We used to go to fire department functions and parties, and I would dread each and every one. My only solace was knowing the alcohol was free and I could just drink till my nose and toes were numb and then I just wouldn't care. I don't know if I've told you this yet but I sound like I'm on helium when I'm drunk. Anyway, I've also disconnected from those shindigs and have my own private party at home. My husband tells me that the other women there think I'm a bitch because I don't socialize with them. Nope, that doesn't bother me at all. If they think I'm a bitch that just means that they will leave me alone.
This behaviour has been with me since I was a teenager in high school. My lunches were spent in the library, I always sat in the back of the class and practiced being invisible. I was never a social butterfly. Sure, I had a few friends here and there and in times of being forced to be social I adapted and did what I had to do, but most of the time my head was in the books and the rest of the world zoomed around me.
Being this way is really just a tool of survival for me and even more necessary now that I'm older. The mind is a fragile thing and my memory is already shit. Plus it's a major job just staying on top of the asshole mousey that resides in my brain. We don't have time to be slacking these days and all that little fucker wants to do is sit on his couch, scratch his balls, drink his booze and watch re-runs of 'Alf'. As you can see, I have my work cut out for me.
I have been very lucky to find people that love me regardless of this flaw and they know that I love them deeply and no matter how long it may have been since the last time we talked, my loved ones are never far away from my thoughts and always in my heart. You see, even cold dark hearts have the capacity to love we are just also in love with our solitude and require disconnection for our sanity.
This has been my Drop In The Ocean post about the word of the week:

Disconnect.

Feel free to join us every Monday in the BuddyUp Discord server at 2PM CST where we present our posts and have a usually very colorful conversation about the topic.