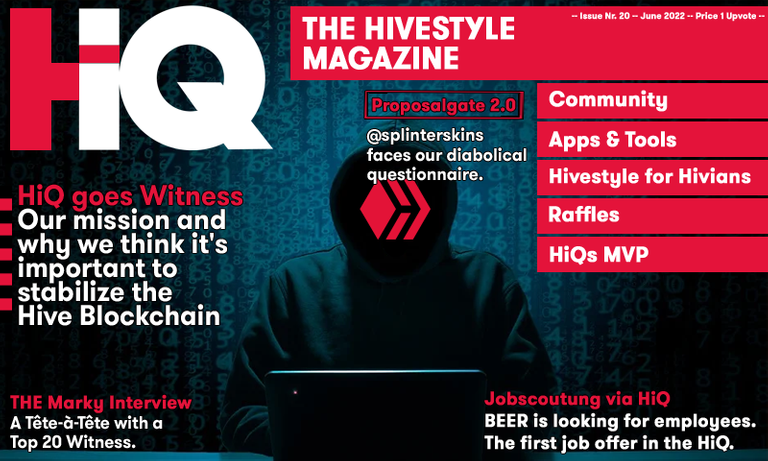 By: @mary-me, @quekery & @kvinna
EDITORIAL  
While you are on your summer break, we have interviewed interesting and fomous Hivians to give you some exciting holiday reading. We present our summer magazine without a summer slump.
This month's MVP, honorary and absolutely deserved, is @jedigeiss, who is a devoted supporter of the Hive community.
We don't do last-minute flights, but last-minute nodes. That's why we set up a hive witness node shortly before the editorial deadline. That deserves a cover story. And what can we say, she signs like a bee. We have already signed 2 blocks, a regularly updating price feed and because 2 is the first prime number, you get the prime factorization of our first block as icing on the cake: 52 . 2626633. The rest is told to you by @smooms as hivewide's first editorial node commissioner.
A very well-known Hivewhale let himself be interviewed by us and answered many questions of the editorial staff, as well as those of the readers, in detail. I wonder who that could be? Spoiler: It is none other than the inventor of the hivepunks @themarkymark.
The appearance of three presumably mysterious proposals on the Hive Engine, as well as the consequence that all BEE:BEE proposals were stopped for the time being, has led to much speculation. We met with an insider to shed some light on the matter.
An exchange with @detlev gave @kvinna the idea to pack his job ad in an article. If you don't want to miss the chance of a top job, you shouldn't miss it. Better hurry so that no one snatches away the first job offered in the HiQ. You can tell your grandchildren about it later.
For @kvinna there is no summer slump, because she thinks that you can always find something interesting on Hive and so she smilingly went to @siphon's C/GmbH and found out many exciting things about this community and its founder for you.
If our Hive Witness Node cream puff has made you hungry, you should definitely check out the Foodies Bee Hive Community. But if you don't honour the spoiler, you're not worth the crunch. (Editor's note: Of course there are 52 . 2626633 crunch articles there, otherwise we wouldn't have written it).
Rounded off (Editor's note: But with our price feed update, we sometimes round up too, LOOL.) the issue, which stretches over 3 blocks (Editor's note. Since we have signed 3 blocks so far, loollool) is refined by a pinch of gossip, lots of HFH, readers' letters, paid advertising (Editor's note: This issue is brought to you by @cryptocompany: Psyberx DanielhuhLegends), acknowledgements and much more.
We would like to round off the 20th HiQ kick-off with a quote from Fomocrates:
Vote my fucking Witness Please. LOOL and have fun reading. ★

TABLE OF CONTENTS
  ➀ HiQs MVP - @jedigeiss
  ➁ Column - THE summer slump
Cover Story
  ➂ HiQ goes Witness
  ➃ @themarkymark interviewed
  ➄ Proposalgate 2.0
Community
  ➅ BEER you BEER me
  ➆ Gemeinschaft mit beschränktem Humor
  ➇ Foodies Bee Hive
Hivestyle
  ➈ Gossip
  ➉ Hivestyle for Hivians
  ➀➀ Readers' letters ★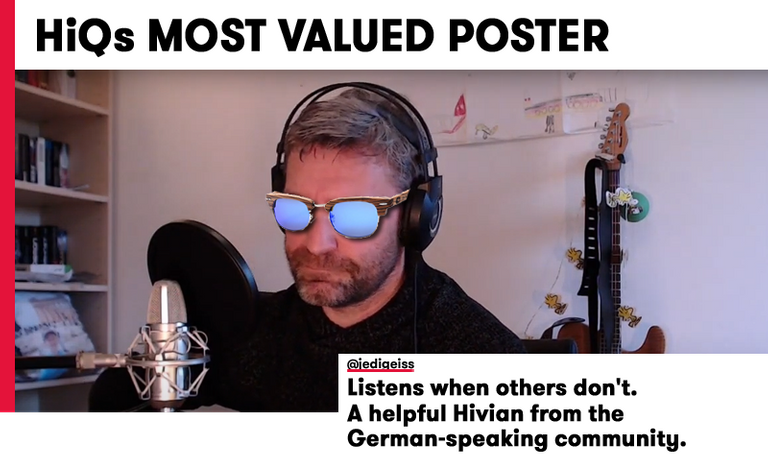 By: @smooms
➀ MVP  
In a dark time where the DAO wheels are at a standstill, there is one Hivian who is fighting to get it back into operation. This one becomes MVP in this issue. We are talking about none other than @jedigeiss.
@jedigeiss, or "Jedi" as he is known in some noble circles, is a gamer, blockchain comunity discord server admin, musician, hive and hive engine witness, Elite Dangerous starship pilot, and more. We could blow up the block just by the MVP article alone if I keep listing.
But no matter what and what he stands for, what should definitely be highly credited to him is his commitment to communities and projects, in which he acts as a mediator, moderator and supporter. If you need advice, you don't wait long for an answer and he's a really funny guy too. Different funny than HiQ maybe, but at least on a similar level.
We hope to have you on Hive for a long time and that you will be around for another 10 years (Editor's note: For now. Then we see how things have developed with Hive and the like. LOOL) and keep the ball rolling.

Are you the next HiQ MVP and can call yourself the most stylish user of the month?
NEW: Send 10 HIQS & get 100% votes for 1 MONTH!
Every month we look for the most stylish Hivian of the Hive. You can submit your photo too! Send 10 HIQS (+ possible bribe) to @hiq with the memo "HiQ MVP + link to your profile".
We will then publish your picture in one of the next issues. In addition, we will put you in our auto-voter for one month. That means: at least 28 days of 100% upvotes from the smart HiQ trail. ★
(only 1 Vote per day)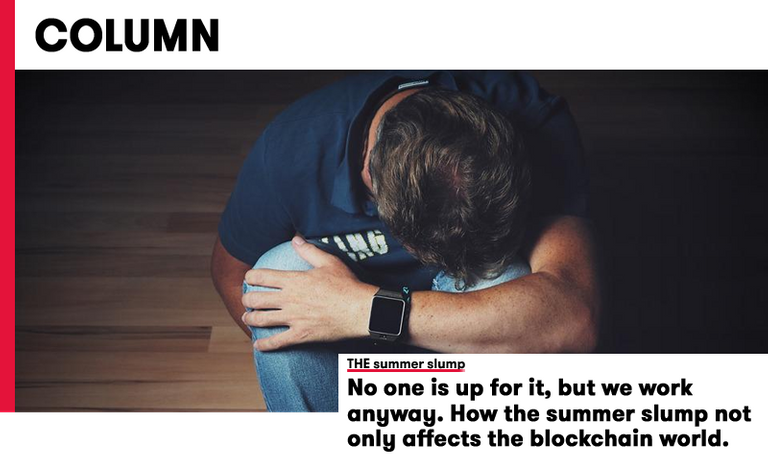 By: @themyscira
➁ COLUMN  
Ai ai ai, what do we see, the summer slump is still here. Don't we all need a little summer? So let us have it too. They say that after rain comes sunshine, so we definitely want to be there!
As temperatures rose and fell, so did blockchain activity: After heatbursts that made the world sweat, the Hive blockchain additionally fevered and weakened with a rapid slump in crypto prices. Could this be compared to a summer flu?
So the summer break is definitely a welcome opportunity to devote oneself to other things, such as treating oneself to a damp and happy cooling off in the open air, travelling, which the 9-Euro ticket (Editor's note: A wild stroke of genius that our politicians in Germany have come up with. What clever minds they are.) makes possible (if one does not own a car or can no longer afford to fill up the tank) and of course many other nice activities that are only possible and bring fun in summer.
When the dreary days begin again, we hope that the courses brought on by the summer cold will have sneezed their way back up and rested enough. Because by then we will certainly have experienced enough to fill the Chain again with plenty of great contributions.
The best thing about summer is its BBQ time. The smell of grilled food and fresh BEER is everywhere, but unfortunately not a single breeze smelled of Cryptos here. So we enjoy the rest of the summer and gather new energy for the autumn/winter days. (Hopefully, there won't be a pandemic proclamation about summer sniffles by then. Lool)
Let the sunshine into your hearts and cryptos will soon be worth more again. ★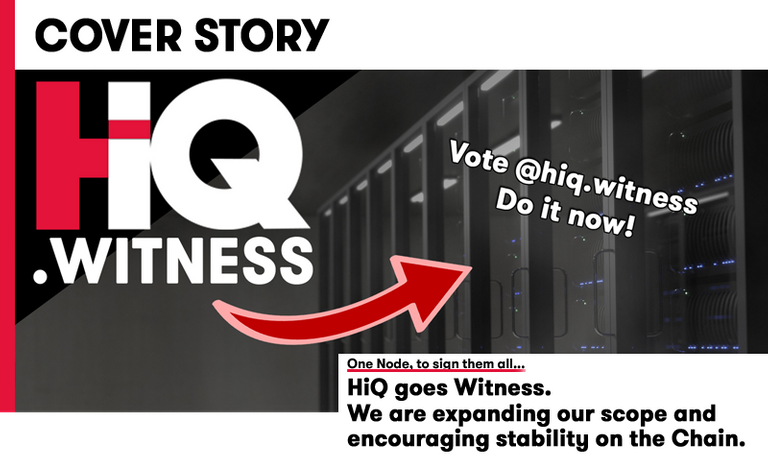 By: @smooms
➂ COVER STORY  
One node pls vote it all, one node to sign them, one node that feeds the price and to the blockchain bind them. HiQ is now also Hive Witness. You can read how we see our role here.
The time has come. We have put our long-cherished plan to set up a Witness node into action. To make it easy for us and to dive into the world of Witnesses, we rented a Hive Node in a Box via Privex, even though we knew it would have been cheaper to set up the Witness ourselves. After the setup, for which @smooms consulted various tutorials and also got advice from several Witnesses, it was a matter of replaying the Witness Node to be able to start signing blocks.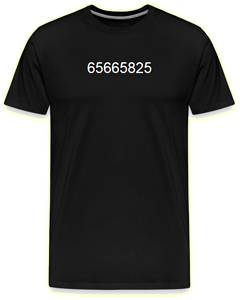 "First Block of the HiQ Witness"-Merchandise???
The Witness is now (Editor's noteNote: At least at the time of publication of this issue.) 3 days old and has already signed 3 blocks. The hype in our own ranks was great, because @smooms has trembled until the last minute of the first signing, whether the Node will not miss the blocks. However, the near heart attack was unfounded. The Witness works. I wonder if there will be "First Block of the HiQ Witness" merchandise soon? Maybe?!
But let's get to the tasks that such a Witness brings with it. We are known as real party people, who don't seem to take anything seriously and make fun of everything. We like to take our jokes and are also not too shy for any kind of jokes.
However, we consider the task of a Witness to be extremely important. A Witness has the task of ensuring the stability and maintenance of the Hive blockchain and the signing of the blocks. WE see it as our duty to do that. We have been running a magazine (Editor's note: THE magazine.) for 4 years now, or rather since Hive has been around. We love the Chain, want it to grow and of course want to do our part to provide stability.
Currently, the Witness Node is not profitable, so we tend to pay more to be able to operate it. The monetary aspect is not important to us. This is a price that you can gladly pay to keep the blockchain running.
It's not all fun and games at HiQ. Often we get our heads around it. We want to run a stable, long lasting and above all trust inspiring Witness Node. We hope for YOUR support and YOUR trust by voting for our Witness.
But a node alone does not make the Hive Blockchain what it is. The data needs to be made retrievable, so an API Node is needed. This is also on our to-do list, but is not a high priority for now.
Here again all information about our Witness at a glance:
We thank you for your support and hope you continue to enjoy reading the issue. ★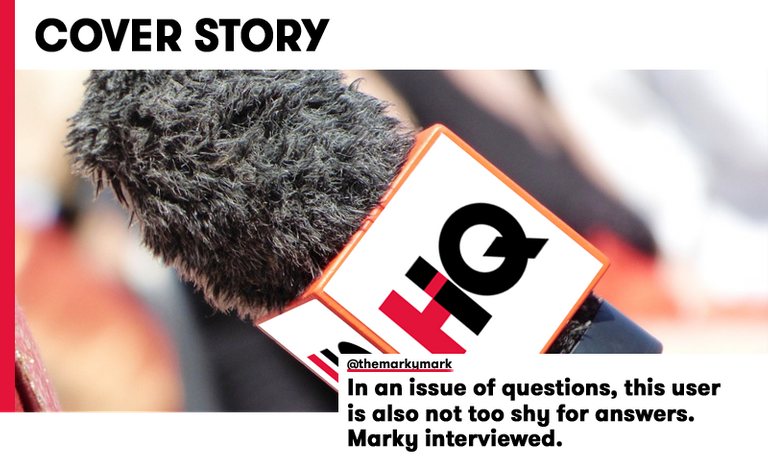 By: @smooms, @quekery & @mary-me
➃ COVER STORY  
@themarkymark answered our and your questions. We'll keep you posted on whether we break the release block again with this interview. Thanks to Marky for the interview.
HiQ: Thank you for taking the time for this interview. It's our first time to do an interview with someone who once declared war on 2/3 of the editors in long forgotten times and wanted to destroy them without stopping. (Editor's note: THE Cartel never dies!) Shall we bury the hatchet of DrugWars?
Marky: Drug Wars was an absolute riot, I was fighting a lot of clans simultaneously, but it was a lot of fun. The reason it was so much fun is because of the community, you knew who you were fighting.
Funny story about drug wars, I had a few alts like most people did at the time. One particular alt I asked Justine if I could pretend to be her and she agreed. At the time, Drug Wars allowed you to change your name, so I changed it to Justine and used her avatar. All the while raining terror on entire clans. One particular user kept messaging me "honey", "sweetheart", and other things while trying to get me to back down. Months later I told him it was me and he was mortified.
I had a lot of fun keeping DWC (Down With Clowns) without troops as well as the Dragon Clan. Despite the fact Drug Wars economics were a ponzi and completely broken, the game was a lot of fun.
HiQ: You have already done some AMAs where many questions have already been asked and answered. So cut us some slack if we eventually ask some questions again. Like this one for example: How did you come to join Hive, or rather Steem at the time?
Marky: I am not 100% sure, as far as I can remember though, it was through the Space Station Ethereum Mining Discord where a friend of mine recommended me to check it out. It's kind of a blur at this point but I think that was how I initially found Steem on July 1st, 2017. I didn't broadcast my first transaction until 22 days later.
HiQ: A reader of ours wanted to know the following: What advice would you give to someone who is new to Hive?
Marky: Network, meet other people with similar interests. Hang out on Discords and get to know people. Post consistently, it is easy to get discouraged with rewards on Hive but people forget how hard social media is. Hive in my opinion is the easiest I have ever seen to be successful. Try getting a good audience on Facebook or Twitter, try making any rewards there.
HiQ: You are a Hive Witness, Developer, Elden Ring Master, Hunt: Showdown Veteran, Minecraft Architect, Content Creator and Hobby Hivewatcher. Have we forgotten anything and what other missions have you given yourself on the Hive Chain?
Marky: This is a common misconception, I have no part in Hive Watchers and have never been part of Steem Cleaners. I took it upon myself to fight abuse while I ran buildawhale, as there was just so much at the time. Everything I did was my own efforts, I was never part or supported by anything else.
To answer your question though, I created Blockhead Games to focus my efforts on Games & NFTs. Although I still do a lot of other things, that's what I am trying to focus my time on.

HiQ: You created the Hive Punks. Can we expect more hot shit from you in the future? Do you have anything in the pipeline right now?
Marky: I am very proud of Hive Punks and how they came out. I came up with the idea a couple weeks before Hivefest, and then decided it would be a fantastic time to announce it. I wanted to show that you could do a full generative NFT project on Hive which has never been attempted before. I also wanted to make them better than the original Punks by giving them more personality with Names and Professions, Real-Time Rarity, and completely verifiable minting. I can't really say more, but I am in the planning phase of something that will make them much more interesting.
HiQ: In one of your AMAs you mentioned something about "pool maintenance". What exactly can we and the readers understand by this?
Marky: I have a pool which I maintain very meticiulously but I don't use the tradition methods to do so.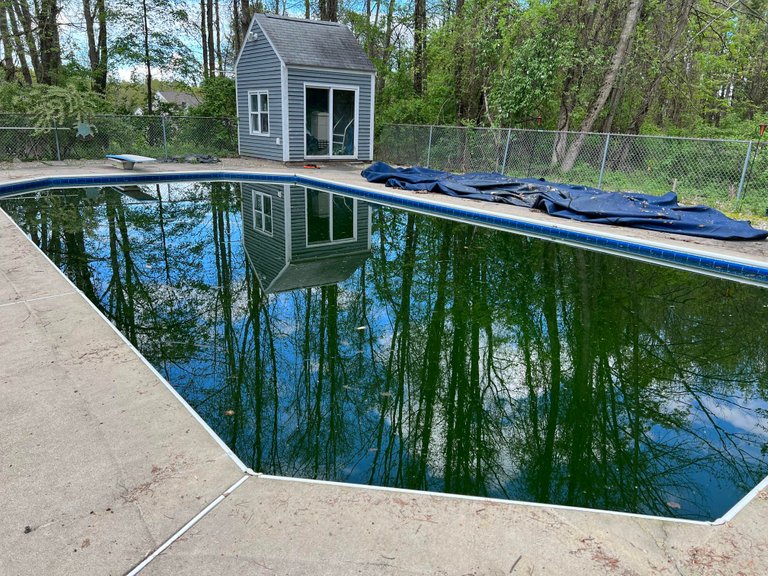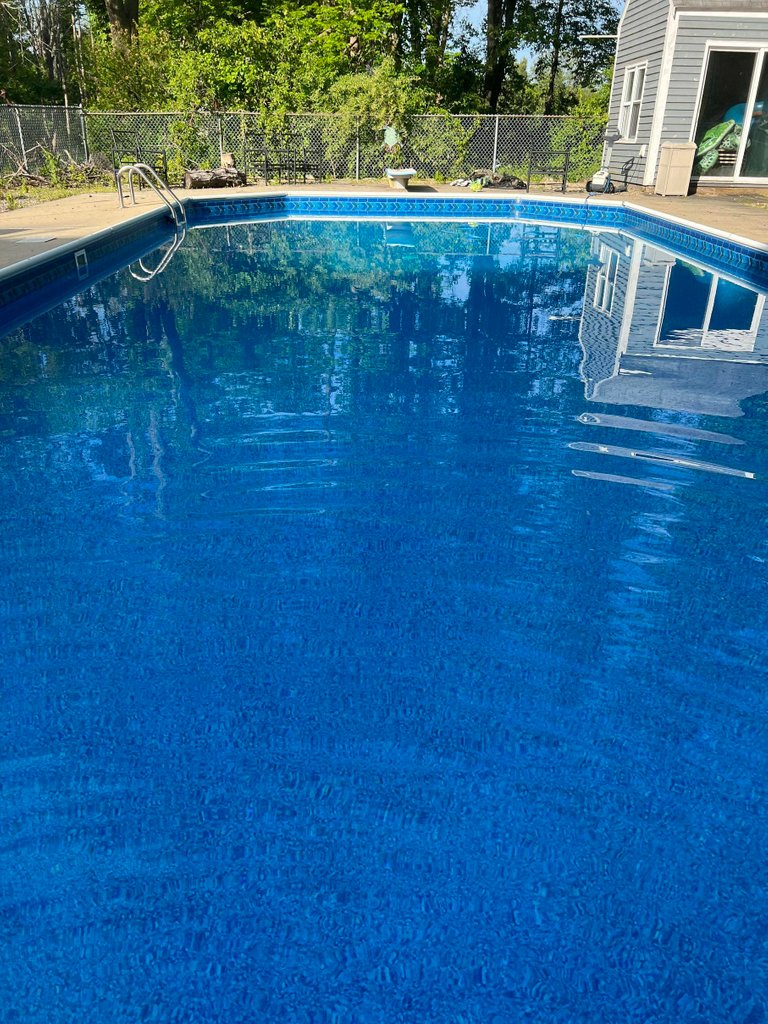 There is about a week between opening my pool and the results you see below. I have talked about this in a few posts in the past, but the main difference is I own a professional test kit and understand how all the chemicals work. Rather than taking a pool stores advice (which many times is conflicting), I also use liquid shock as my primary chlorinating chemical rather than "pucks". There is more to it than that, but that's the gist of it.
(Editor's note: We thought it was a diesel pool. Couldn't have guessed he had a real "water" pool, LOL. Have we been spending too much time in Hive? LOLLOL)
HiQ: We also got some reader questions about the Hive engine: What's your favorite second-layer coin? (Apart from HIQS of course!).
Marky: I am very bias to my own STEM token, which I feel has the best tokenomics on Hive Engine. Unfortunately, Science and Technology is not a very popular niche on Hive and it doesn't have the adoption as I would have liked. This is largely due to the small user base we have on Hive in general.
SEED has probably been the best performing token I currently own. I hold around 12% of the circulating supply and one of the few tokens I haven't lost my shirt on.
HiQ: Hive is not just a blockchain. A key part of Hive's DNA is blogging. And it's not surprising that people want to earn, too. Much like the Write and Earn motto. Where do you stand on this issue? Should "good" content be rewarded more? And what is good content anyway? Do WE produce good content?
Marky: I want all rewards gone, immediately! Bear with me, let me explain. This actually may take a while, so let me try to be brief.
As a stake holder on Hive, you have to be a content creator, abuse fighter, engage in comments, and active around the clock to maintain your relative balance or you will be left behind to those who do.
This is a lot of work and not everyone buying Hive wants that life.
I want to see native smart contracts and tokens and ultimately see the social aspect of Hive turn into a smart contract that sits on top of a more focused blockchain. This allows investors to own Hive without the full time job attached with the social aspects. There will still be rewards they just won't be Hive, they will be on the second layer.
With native smart contracts and tokens we can more aggressively market to other projects to build on Hive. With the social layer moved to a contract, we can have multiple competing social platforms all of them potentially able to succeed.
To directly answer your three questions though, I would love to see "Good" content rewarded and high on trending. Unfortunately, that will be difficult as much of the voting on Hive has an agenda outside of rewarding good content. It has gotten a lot better since just a year or two ago, but it still isn't perfect. For example, I can no longer vote how I used to, rewarding hundreds of unique authors a week as a certain man child is downvoting anything I upvote. So instead, I am forced to vote the hbd funding account to avoid the issue.
"Good content" is subjective, and everyone will have a different opinion of it, and that's why everyone having their own vote is a good thing.
HiQ: You were instrumental in the Hive fork. What do you think Hive needs to continue to grow? We want to hear the opinion of a top 20 witness.
Marky: There are two things I think are critical, onboarding and native smart contracts and tokens. Nothing else matters outside of maybe scaling, which is a real ongoing issue.
HiQ: There are almost thousands of different projects on Hive. How do you feel about supporting projects? Are there any current projects that you support?
Marky: I have supported a lot of projects in the past, many of which I was the largest investor. I help out with the Bro Fund (aka ManCave) project as well as provide a lot of help behind the scenes to many people who ask for advice.
HiQ: A question on our own behalf. Let's say, hypothetically, Project HiQ would submit a proposal to monetize their work, do you think this proposal would be justified? Without naming any numbers, of course. And would you vote for it?
Marky: People throw out "submit a proposal" a lot, but without the details it is really meaningless. The purpose, goal, benefit to Hive, and economics are really critical pieces of information and without that there isn't much to talk about.
HiQ: Let's get to the elephant in the room - downvotes. We have received some questions from readers about this topic, and all but one of them are anonymous. Under which conditions do you give downvotes on posts, projects or tokens?
Marky: This has become my identity, but despite what many think, I don't downvote without reason and I don't downvote people I dislike.
I primarily downvote due to abuse (plagiarism, comment farming, spam), supporters of the hostile hard fork on Steem, and various other things akin to fraud.
HiQ: The above non-anonymous user also asks: why don't you answer questions from users about the reasons for your downvotes?
Marky: I always have a reason for downvoting, and whoever I downvote knows the reason despite what they say. Leaving a comment is just opening the door to a conversation that will go nowhere. They are never wrong, I am always the one at fault, and I got better things to waste my time on.
HiQ: And he also wants to know: Can this interview and the feedback about it change your basic attitude?
Marky: Considering it primarily me responding, there is nothing to change my "basic attitude" from, since I am just answering questions. I don't maliciously downvote, all my downvotes are for the better of Hive and not myself. I take no pleasure in downvoting people and it is frankly a waste of my time, but I care about Hive and I don't feel like seeing it go to 0.00 $, so I will do my part.
HiQ: Here's another mysterious and somewhat sharp-tongued set of questions from a user whose name ███████████ we are not allowed to reveal because anonymous. LOOL: How do you see the original role of hive watchers and their actual work on the blockchain? What dangers do you see from this and from "invulnerability" due to countervote power? What is your relationship with hive-watchers? Why weren't you flagged, even though you yourself committed copyright infringement through image use, at a time when you yourself were active there on their Discord? Is it still possible to make money by denouncing other users' posts? Does it make sense for hive newbies to suck up to hive watchers?
Marky: Oh my word, so many questions.
How do you see the original role of hive watchers and their actual work on the blockchain? What dangers do you see from this and from "invulnerability" due to countervote power? What is your relationship with hive-watchers?
First off, I have never been and never will be any part of Hive Watchers or Steem Cleaners. In fact if you look at my votes, I have been removing rewards from anything they post.
I largely disagree with Hive Watchers and their proposal for various reasons.
Why weren't you flagged, even though you yourself committed copyright infringement through image use, at a time when you yourself were active there on their Discord?
I have never once committed copyright infringement, I am very meticulous to always cite my sources. I almost always lead my posts with a CC0 (Creative Commons Zero) image, which requires no attribution for private or commercial use usually taken from Pixabay.

As an abuse fighter, I have a rule of thumb on what I consider abuse regarding copyright. If a piece of third party work adds to the content, and properly cited (if not CC0), I see no problems. If a piece of third party work is the content, then I have a problem. For example, using an image of a nascar car in your 500 word post about Nascar is perfectly fine, if sourced. But posting an image of Nascar and that's it, isn't proper use on a blockchain that rewards original content.
I don't exempt myself from the guidelines I use to downvote others. I also try to provide a positive role model to other content creators.
HiQ: Tell us something about the man behind the myth. Let's say we're sitting in a bar having a cold beer. How can we imagine you in real life?
Marky: We would probably be in another universe, as I don't drink. I can't stand the taste of alcohol. I'm pretty chill in real life though, and always joking. I am always inviting friends over to hang out in the pool, have a BBQ, or go somewhere so the kids can have fun.
I realize a lot of people don't like me here and it's a combination of the fact I fight abuse and the fact I return the amount of respect I get. Treat me like shit, you shouldn't expect much back from me. The majority of those who have treated me with respect, have received it back in kind.
HiQ: And now for the last question: this question determines what kind of man you are and what kind of man you will be in the future. Are you ready? If you hit yourself and it hurts, are you strong or weak?
Marky: Neither, I think you are dumb.
HiQ: Those are some nice and detailed answers. Thank you for that. ★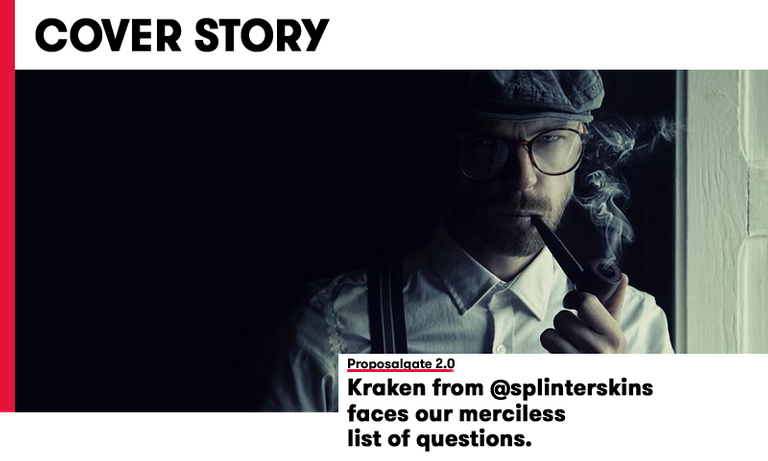 ➄ COVER STORY  
In the last issue, we took a close look at @splinterskins and assumed it was a scam project. But is that really the case? We clarify. And this sentence is only here so that the teaser has 3 lines.
@splinterskins approached us and asked for a rebuttal. Our inVESTigative sleuths immediately sensed a story and we invited @splinterskins aka Kraken to join us for a chat. Kraken is the main player in the Splinterskins project, which also involves other people who would like to remain unmentioned. He also did not want to give us any information about @americaman. However, our first impression of Kraken was quite positive and it was a pleasure to talk to him about his project and to revisit the topic of why the BEE:BEE DAO system was discontinued.
Kraken came to the Hive/Steem Blockchain through Splinterlands and is an inveterate card player through and through thanks to trading card games like Magic The Gathering. He likes the aspect of playing cards to earn money and doing it on chain. He sensed an opportunity to start his own project and seized it.
But unfortunately, this was met with negative reactions. The DAO Proposals he created in the course of his Diesel Pools for his three tokens, which claimed more than 1/3 of the daily BEE distribution, shook the Hive Engine so much that the BEE:BEE DAO Proposal System was immediately discontinued. To date, there are still no BEE funds.
In the further course of the conversation he described to us how his project came about and that it was a "head over heels" project, which made him very sympathetic in the eyes of the HiQ editorial team, as we are occasionally like that too. (Editor's note: LOOL.) However, the back story of the HIVE has to be taken into account here. Whales holding 50% of the supply cause a discreet panic among users. We also communicated this to Kraken, who of course understood it immediately.
But let's go into more detail about the Splinterskins project:
There are now 3 tokens on display that will be used in the future to "tip" users via the comment function - like Engagement Token.
fury, which can be sent to reward an opponent who has played a good game and shared it on Hive.
brain, which can be given to users who have contributed to the solution of a problem with their outstanding intellect.
whale, which should be awarded when cashmoney is at stake.
Unfortunately, the project does not yet have any developers who could carry it through the finish line.
Since he admitted to himself that 3 proposals would be "greedy" (Editor's note: his words, not ours. LOOL) he proposed to make 1 out of 3 proposals, each generating 275 BEE per day, which would pay for all 3 or even just 1. The amount of the Proposal would then be 375 BEE. In any case, a difference from the previous 825 BEE.
In addition, he also wants to support other proposals with his stake and has also proposed to contribute to diversifying the BEE distribution, for example by selling off parts of his stake. This willingness to compromise, which he additionally underlined by unvoting his proposals, has already been brought to the attention of the Hive Engine team. From insider circles (Editor's note: we are unfortunately not allowed to tell you that this is @jedigeiss.) we have learned that there was positive feedback in the Hive Engine Insider Developer and Witness Discord Team about the compromise ideas. Are we in for a reactivation of the DAO Fund?
Even though we have the impression that @splinterskins wants to raise a serious project and we appreciate his willingness to engage in dialogue, we also have two points where we did not get clear answers:
who/what/why is @americaman:
According to Kraken, @americaman is not a secondary account of Kraken. He wishes to remain anonymous. (Editor's note: Which we respect.) However, we do not know whether he is part of the Splinterskins team. We would like to see more transparency here.
What happens to the pool rewards that @splinterskins takes for itself?
An answer to this question will certainly be found in the near or distant future, but we can only speculate. In any case, we are holding back with an opinion on this.
So the willingness to compromise is there and what follows now is something hardly anyone expected. He also answered our last question very confidently:
In his opinion, if you hit yourself and it hurts, you are strong. You have to hit yourself very hard for it to hurt, which would not be the case if you were normally strong. In addition, there is also a mental strength that you have to have in order to have the courage to hit yourself with all your might. Crazy. Super answer.
We are confident that the proposal system will be reactivated. As for the Splinterskins project, Kraken did a great job of making us understand that it is NOT a scam and that it is a serious project. Nevertheless, we will continue to keep an eye on it and hope to see good progress. HiQ keeps its fingers crossed for Kraken (Editor's note: ...and the others involved...) and wishes them every success. ★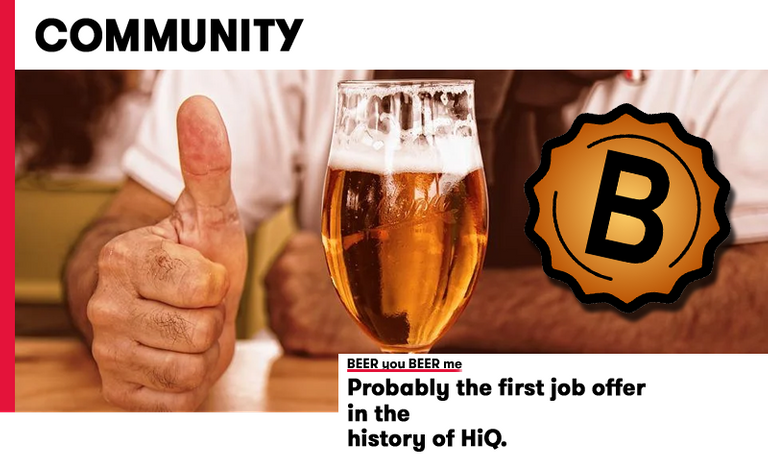 By: @kvinna
➅ COMMUNITY  
This article is something very special. For the first time, a job ad is printed in HiQ. Maybe a job for you to work where you like to be - on the Hive blockchain.
Actually, @kvinna only had a quick question for @detlev about his BEER token, but then the brewmaster and BEER founder mentioned his job offer and that he would like to advertise it in THE magazine. Sure, we'd love to and congratulations on the first job ad in the most famous glossy magazine on the hive blockchain. - We won't tell you now that it's the only magazine on Hive. Whether this will become a new section remains to be seen.
I'm sure you're already really curious, so here's the ad for you first:

Moin into the room,
We are looking for a part-time developer
for the various BEER projects I am looking for another developer who enjoys working in a creative team. There is the well-known BeerLover, the BEERfriends MiniGame, the BEERpong Game with Unity, the BeerSaturday Discord Bot and many other small tools that "cry out" for more hands.
Your optimal skills that the team would like to see:

NodeJS at a good advanced level.
Knowledge of the HIVE Blockchain
Optionally also FrontEnd skills
If you have more time, there are also a few more commercial projects that can be paid with these "currency units" or a 450 € job or .....
We are a team that has been doing the Hive projects on the side for a few years now and somehow it's all becoming more and more.
What should you bring with you:

Fun and creativity
Some time for regular meetings
Motivation to implement things in an agile way and according to your time schedule
You don't necessarily have to drink beer, but often it makes things easier
If you are interested, just send me a message
Greetings Detlev

If you don't know BEER yet, you can read up here and here and get excited about all the action around BEER in the virtual Hiveblockchain world. Doesn't that sound tempting to become a part of this project? There are certainly many opportunities at @detlev to develop not only BEER, but also yourself.
It would be an advantage for the team if you have good German language skills. If you now feel addressed and want to use your skills for the blockchain, then grab a beer and contact @detlev, preferably on Discord.
So don't open a barrel, but poke it and let your ideas and skills flow gently into the team. ★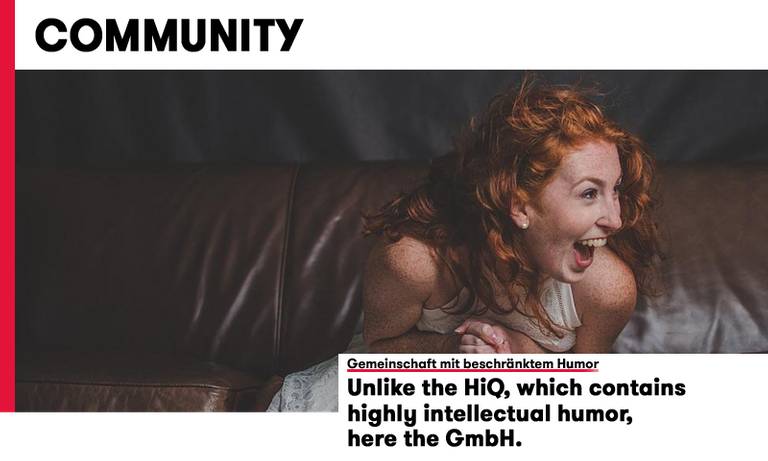 By: @kvinna
➆ COMMUNITY  
Find out details from the exclusive conversation with the managing director of GmbH, which deals with memes among other things, and what he has to offer in this article, so be sure to read on.
This time on her field mission, the reporter was lucky enough to have a conversation with the experienced Hivian @siphon. Perhaps the funniest man on the Hive blockchain came here less out of interest in cryptos and more for the sake of writing and has found the blog of his dreams on Hive.
@siphon developed the idea for the GmbH back in Steemit's time, but the basic idea was not yet concrete. With the beta version of Steemit before Justin Sun, one had the possibility of founding a community, which was not possible otherwise. @siphon, a man of action, then tested it out, because he considers communities on Hive to be enriching, if only to be able to search more specifically for topics.
He started a dPoll survey on what topics people are most interested in and the result was: something with humour! Here you can see the names that were up for selection and it became the GmbH (Gemeinschaft mit beschränktem Humor) - lustig, deutsch & unzensiert. Of course, Hivians who don't speak German but are good with a translation tool are also welcome.
To liven up the community more quickly, @siphon came up with the idea of a meme contest, which is held once a month on every second Tuesday and is then elaborately evaluated by the boss @siphon, who runs the place alone, to determine the winners. This month the 8th contest took place, you can find the exact information here. Your goal should be to make @siphon laugh so much that he can't keep himself on his chair, then the chances of winning are immensely high.
You will be provided with an image for your meme creation, which @siphon always takes from the LIL Gallery (Editor's note: aka LMAC Image Library), because he would like to support the Hive community. It is very important to set the beneficiaries for the author of the image here. This then gets rewarded by a vote from @shaka, who has also set up a channel for the meme GmbH contest on his Discord Server so that nothing is overlooked. Putting the LIL tag is encouraged and makes curation easier. Isn't it nice to see how people support each other here with their joint projects?
Of course, anyone can feed the GmbH with funny content at any time. Just make a memeor other funny content to make others laugh. If you put your own pictures in the LIL gallery, you not only enlarge it, but if others use it, you can earn a few HIVE through the beneficiaries. But it could also happen that @siphon uses your picture for his contest and then you become rich and famous, a little bit.
The GmbH is registered for Ecency Community Rewards, which means that with every post made in the C/GmbH, Ecency points are collected, which will also be distributed as rewards in the future. So by posting in the community, points will accumulate that will again benefit the participants, but first they will be collected properly.
Even though this is not an interview, at the end of the conversation the smooms' question went to @siphon: "When you hit yourself and it hurts, are you strong or weak?" His answer was, how could it be otherwise, "Best to laugh it off!" And so the pleasant conversation with the patient @siphon ended with a hearty, rousing laugh from him that leaves you no option but to laugh along. You are now encouraged to go to the limited liability company rather than the basement for a laugh. Read and laugh or make memes and post anything funny to what is perhaps the funniest community on Hive.

MEME-Token
A stakeable token that is available as a prize in the contest is the MEME token from @holovision. Since MEME is a tribetoken, you get curation rewards for setting the tag #meme. To curate effectively with MEME, this frontend and possibly a separate account specifically for it is recommended. This is also the page for NFTs, which are only displayed there and which you can buy from Memehive.

MEME:LOLZ Pool
There is also a diesel pool where MEME and LOLZ have fun. The special thing is that there is an hourly lottery, where 500 new MEME tokens are mined and sent to the winner of this round. So every now and then you get a whole lot of MEME tokens that can either be thrown back into the POOL together with LOLZ, swapped into LOLZ or sold on the market. Of course, you can also just hodl them or stake them. ★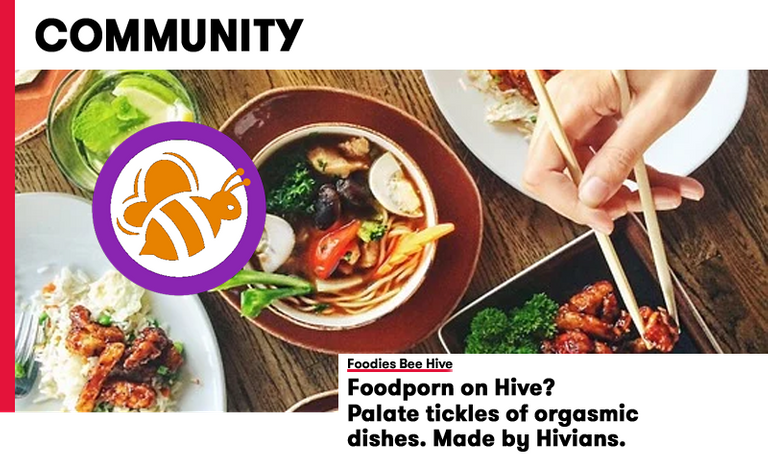 By: @themyscira
➇ COMMUNITY  
Are you a foodie and often don't know what to cook? Then don't never say never to Foodies Bee! Here you'll get new ideas. And again, this sentence is only here for the layout. It needs 3 rows.
In this community, the taste buds are tickled with culinary delights in any variation - whether for vegans, munchies, hivians and of course meatians. If we'd had more time to check out, definitely something for Fomoians too. lol
We took a look for you here and were amazed. Our stomachs got in the mood for the new delicacies that the foodmile at Foodies Bee Hive has to offer. Here's a fine welcome drink in advance: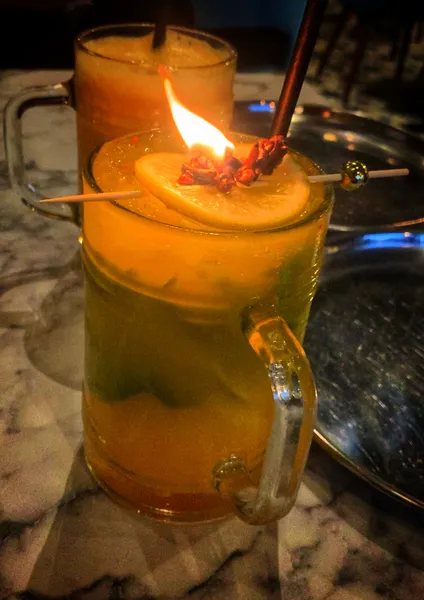 by @nave7
The summer solstice is now through and the days are getting shorter again, so now is the perfect opportunity to take advantage of the beautiful weather, enjoy the marinated spare ribs with salad and then give the barbecue a good cleaning.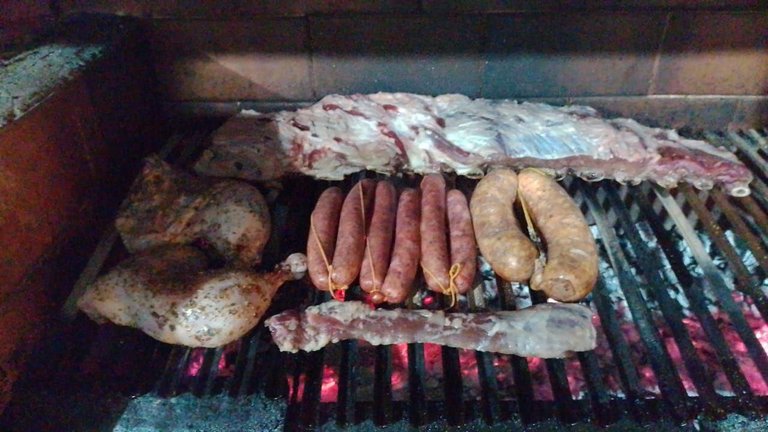 by @comandoyeya
Get something between your gills and fry up something nice, and if you've been fed up with one-sided dishes for a long time, you'll certainly find ideas here.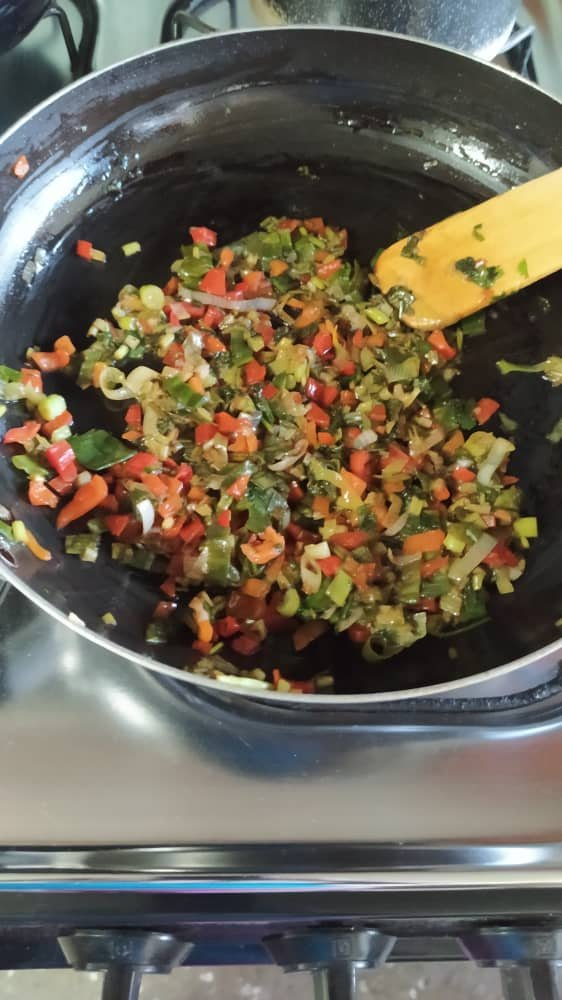 by @care1869
While you're at it, don't forget to share it with us in the community Foodies Bee Hive and if you come up with any new sizzle tricks, keep them coming. May a new gourmet wind always blow on our plates too.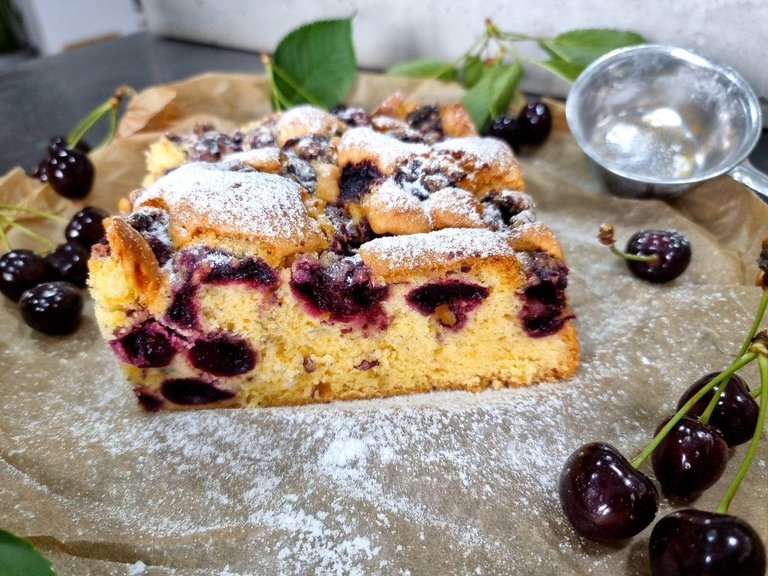 by @missdeli
Grandma's old recipes would also be great, they always have a lot to offer and make the taste buds grin, just like in childhood. HIVE ON - Grill ON - mmmmmmmmmmmmmh! ★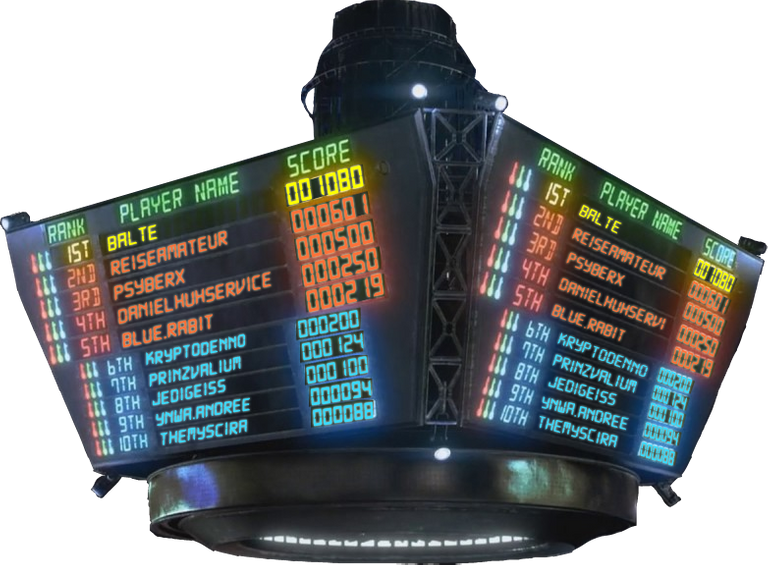 Ad
Do you also want to fomo into the competetive leaderboard of HiQ - The Hivestyle Magazine? Then stake HIQS like there is no tomorrow! The 10 highest stakers are determined anew in each issue via snapshot and then immortalised here. If you also want advertising space in the HiQ, then stake yourself in the top 3 and send us a banner in the format 728x90. You can send us the banner via Discord or by mail to [email protected].
★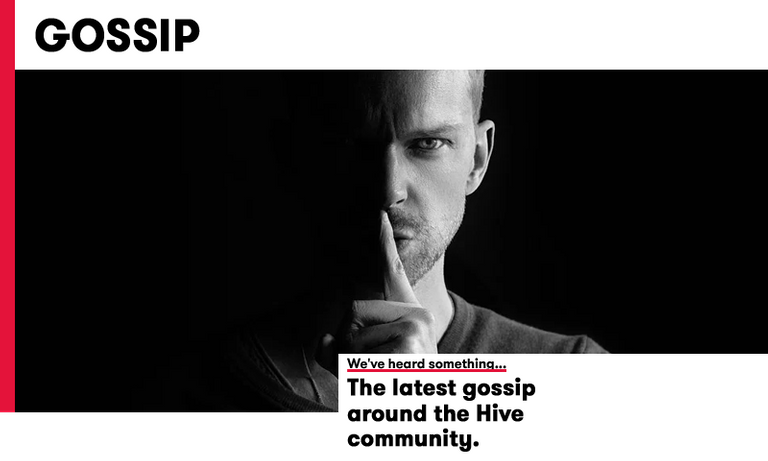 By: @themyscira & @quekery
➇ HIVESTYLE  
From the depths of the summer hole, we have lifted up a little gossip for you. So grab your iced coffee or the really tough among you hot coffee and read your way out of the summer slump.
What to do if there is really a fire?
It is the worst horror scenario and hardly anyone can imagine what it must be like to have to go through something like that. So it is all the more gratifying to see that people still feel empathy when there is a real fire. The house of @enginewitty and his family went up in smoke and since we can't put together particles that are now floating in the air, it shows humanity's sense of duty when things really get tough. We are to help and love one another, Jesus proclaimed, and we should do that for all the brothers or sisters of this world who belong. Read here the tragic story and the actions needed to play a part. We wish @ewfund and his family continued success in establishing a new livelihood.

Hivigative and no idea about technology?
The Top 1 Hivestyle Magazine (Editor's note: ... WE!) went into the Top 200 Hive Witnesses. We were accused that our metric was not one. WE will refute that gossip today. Ok, let's do it:

identity of indiscernibles
If the distance to two elements is 0, then they are the same element and vice versa. Our distance to the current version number is 0. Consequently, we are current and vice versa. Check.

symmetry
The distance between our price feed and the current price is the same distance as the distance between the current price and our price feed. Check!

triangular inequality
If we were running 2 Witness Nodes, getting into the top 100 would be harder than with one. Check.
So you see, our node fulfils all three axioms of a metric, its identity of indiscernibles for the whole chain, symmetrical to the current price feed and even fulfils the triangle inequality to get a solid place in the top 100. q.e.d.
And as the master of hivistic metrics Fomochimedes once said: Do not disturb my node!

The real FOMO of Hive
If you can't wait to join us at Hivefest in Amsterdam, we have the perfect tool for you. Hiveisbeautiful is a cool gimmick to look at our beloved blocks in real time, almost obsessively. Highly enjoyable after a coffee shop visit. ★



Ad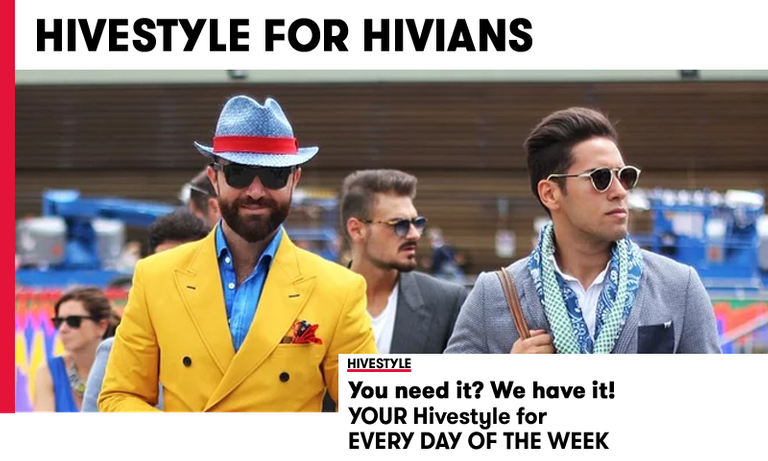 ➉ HIVESTYLE  
The summer slump is in full swing. We're sitting here sweating to bring you the most stylish news so you can get on with your summer activities. But 3 lines are crucial.
Hivefest
From 15 to 18 September, the Hivefest will take place in Amsterdam. This will be the first Hivefest that is not digital. (Editor's note: For the smart ones among you: the physical ones were Steem Fests). Are you ready to get into this event yet? We'd recommend it, because we'll probably see you there. (Editor's note: Spoiler: It's going to be overstylish.) For more information, it wouldn't hurt to check out @roelandp's blog.


Every month again
Anyone who does not honour the LARYNX is not worth the nearly 20 hivetoshi. So claim what you can. And so that you don't end up like us: Every month anew (Note from @quekery: Story of my life.) here the link to the claim.


Engine Regulars' Table
As usual, @blue.rabbit's virtual engine regulars' table should take place on the 3rd Sunday in July 2022 at 8.30pm. Look out for his announcement and see what the blue rabbit has to offer again.


HIVEPUD
Don't forget the HivePowerUpDay because of the summer feeling. On 1 July, it's that time again and we can power up together! That's especially fun with the rising prices, or what do you think?


Hivians are listed
Using a script, @steevc searches for Hivians and lists them by country. The script searches for the location specified in the profile. Those who do not specify their country are skipped. @steevc's main focus is on the #BritList and he would be happy if other users would adopt their countries. He would be happy to provide the code. Check out here for more info. So if you want to help, search or be found, take a moment to read this post.


Important info about Engage tokens
Due to the extensive information available on every single Engage token, it is not easy to always be up to date. But that's what we're here for:
As of 16 June 2022, LUV and HBIT from @crrdlx can only be used with 2 other bot commands in a response, more info
here.
BEER by @detlev, on the other hand, can only be triggered alone for quite some time. Here you can learn more about it.
@captaincryptic said that he will soon follow suit with his LOLZ token and only 3 bot commands will then be possible at the same time, i.e. LOL and 2 others.
For you, this means that if you use several engagement bot commands at the same time, it can happen that your giftings do not arrive. (Editor's note: And @powerpaul has already wondered why he gets so little BEER.)


DACH Meetup
On Sunday, July 3rd, @satren invites you to the virtual DACH Meetup on Discord. You can find the link to Discord here, and here you can go directly to the Meetup channel. Admission is at 20:00, so that the meeting can start on time at 20:15. The main topic will be the HiveFest! So first to the DACH and then to HiveFest. Here is @satren's hot-off-the-press post with all the details to read.


SPS Validator Node License Shares
@miketr has launched a new Hive Engine token here - SLICENSE. A whole token is to represent 1% share in a SPS Validator Node License and cost around 50 hive. The revenue will be used to fund SPS Validator Node licences. As of now, there could be two.


LOLZ brings fun
For all Hive Engine fans, we have a little Easter Egg:



Hard Fork
Some are eagerly awaiting the upcoming [Hard Fork 26](Archimedes, which is supposed to await us at the end of July. It's easy to forget that there were other hard forks. Since HF 25, Witness votes can expire that are older than one year. With the publication of this issue, this will affect the first inactive accounts. This is the perfect time to renew your votes. We even have a tip for you: Click me.

Too lazy to play by yourself
If you are too lazy to play Splinterlands yourself, Archmage might be just right for you. This service offers a bot that enables AFK play. The project is currently still in beta and we haven't tried it out yet. (Editor's note: So no recommendation from us yet.) But maybe Archmage is worth a look. You can find the hive account at @archmage.courier. Of course, using the bot is not free. You need a pass to get access and have to pay between 35 and 10% depending on the league you play in. The alpha and beta passes are sold out. However, you can still buy them at high prices on HE. The ARCHMAGE pass is also not yet available. All the introductory prices of the passes were 10 $.


Viennese Hive Regulars' Table
On July 7th 2022, the Wiener Stammtisch of @manncpt, will take place as usual. New and old visitors are explicitly welcome. If you live near Vienna or just want to join a Viennese Meet Up, mark this day in hive red in your calendar. (Editor's note: Unless you are a hipster with a digital calendar. But maybe Alexa can do that too). ★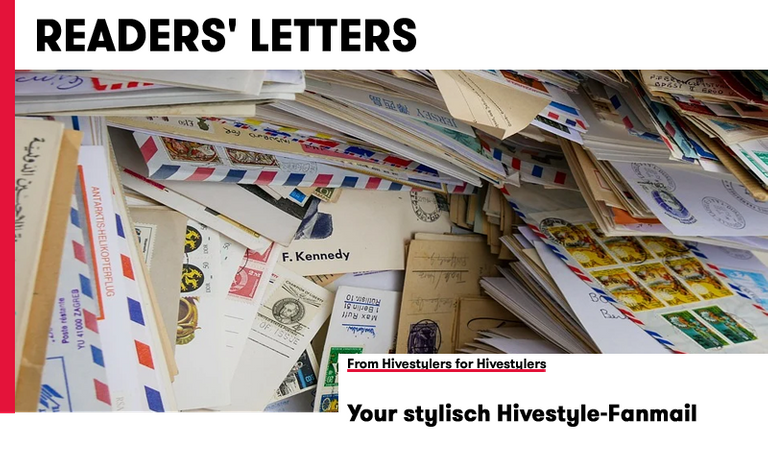 By: @quekery
➀➀ HIVESTYLE  
You do not write us a letter? This is not an obstacle for us. Challenge accepted! Even in the summer slump, we were still able to scrape together reader's letters.
@andy-vibes pimped reading:
This magazine is PIMPED!
Thanks for the tip. We should introduce a new category - pimp THE Magazine.

@ganjafarmer - lifetime subscriber:
Excellent content again.
We should also print understatements in English. But you are of course right. LOOL
And I'd love for my name to be on that subscriber list because I do believe I am following you guys. And an update when you post would be super awesome so voluntarily yes please absolutely sign me up.
Mention spam incoming. (Editor's note: Until death do us part.)
Really enjoy your content thank you very much for another excellent addition! I definitely try to save up and use the tokens that you guys are throwing me in the diesel pool to support you.
We have a way to raise your joy level to 420 - click here.

@thatcryptodave addicted to coffee and Hive paper:
That's the ticket!
Only costs you 9 €.
I love the attitude of this weekly paper! Snarky and informative... a genius combo.
Question:
How many genius combos are in the editorial office?
Answer:
3! (Editor's note: Cause we already signed 3 blocks. Wanna help us sign more? click here)
Is there anywhere I can find more in-depth info about the HIQS token, like staking rewards and Proof of Brain pool breakdown. Not a big deal... just curious.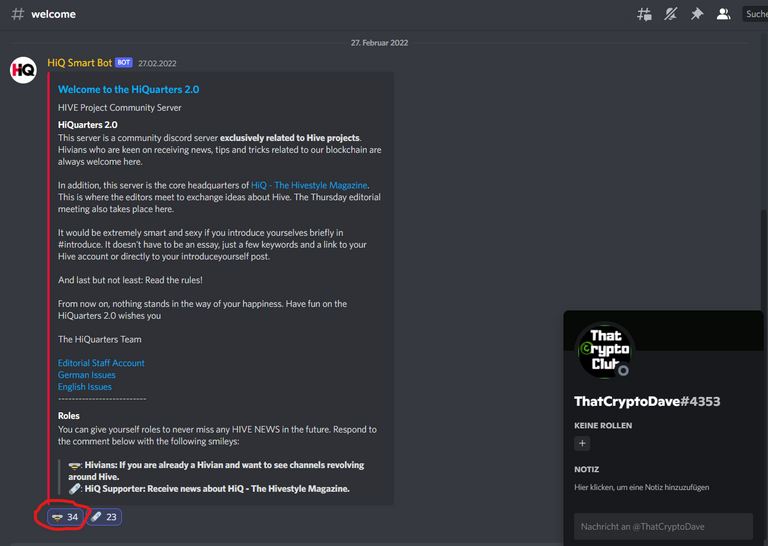 Click on THIS icon. Do it NOW!!!


@og1 - the first OG:
I have no clue what this is about. I saw this in my feed because I follow someone who reblogged this post.
Neither do we. But maybe the fog of war will clear if you click this. ★

Donors: @monkaydee293 550 YKWTIM
& @oliverschmid bzw. @nextcolony 300 YKWTIM, 200 HIVE, 75 USD
& @balte 395 YKWTIM, 1330 HIVE, 35 HBD & @platuro 15 YKWTIM, 100 ENG, 1 Boosterpack, 9.99 YKWTBDIM & @greece-lover 110 YKWTIM, 3 YKWTBDIM and temporary delegations & @jeenger 10 YKWTIM, 29.9 HIVE & @schlees 10 € & @quekery 20 YKWTIM, 2 YKWTBDIM & @powerpaul 0.101 YKWTIM, 2.152 YKWTBDIM & @chappertron 2 DWSWTBD & @remotehorst23 1 DWSWTBD & @meins0815 0.35 YKWTBDIM, 0.179 YKWTBDIM & @louis88 10 Hive, 5 SBI, 5 BEER & @detlev 24 BEER & @commentcoin 100CC & @muelli 3 HIVE & @condeas 498 SWAP.DOGE, 40 HIVE & @satren 132.87 HIVE & @fw206 10 HIVE & @lauch3d 5 HIVE, 6 HBD & @who-knows 0.22 BNB & @manncpt 10 HBD & @altonos 10 HIVE, 17 HBD & @miketr 3 HIVE & @reiseamateur with various powerups
Delegators: @balte 15,000 HP & @photobook 100 HP & @carmate 5 HP
Immeasurable thanks go to all the donors, delegators, upvoters, rebloggers and subscribers!
Thanks also to the authors and content creators, which are @quekery, @smooms, @mary-me, @thatgermandude, @themyscira, @kvinna & @powerpaul
Not to list, but still worth mentioning are of course all the little touches, ideas and tips from the community. Thanks for that! You guys are great!
---
Disclaimer

The opinion of individual authors does not necessarily reflect the opinion of the editorial staff or the publisher. If an article is published under an alias, the true (profile) name of the author is known. We reserve the right not to print submitted text contributions if the content contained therein is questionable or massively violates the boundaries of morality and order. Image material or raw image material is, unless otherwise stated, from pixabay.com or is screenshoted.
Editorial Core Team/Publisher: @quekery, @smooms & @mary-me
HiQ - The Hivestyle Magazine is a project of the HiQuarters 2.0 Team.

---
If you're stylish and smart, you're subscribed to us: @adncabrera @alucian @adncabrera @alucian @andy-plays @atra-aranea @balte @bananofarmer @beeber @bitandi @blue.rabbit @btcsam @carolinmatthie @chaosmagic23 @chappertron @chrislybear @cloudlynx @cultus-forex @danielhuhservice @dauerossi @dieradikalemitte @ditsch @ervin-lemark @failingforwards @flamo @florian-glechner @flows @fredfettmeister @ganjafarmer @hatoto @hiq @hiq.magazine @hiq.redaktion @ischmieregal @jeenger @kadna @kaeptn-iglo @kheldar1982 @klausklaus @konstice @kryptodenno @kvinna @lammbock @lauchmelder @leosoph @louis88 @mario89 @markus.light @mary-be @mary-me @miketr @mima2606 @misan @mrdalle @mryoung1979 @mwfiae @nessos @oesterreich @platuro @powerpaul @pundito @queker-bee @quekery @quelled @querdenker @r0nny @rachaeldwatson @reiseamateur @remotehorst23 @satren @schmidi @sebescen81 @shakkei @simsibee @smooms @smoomslive @solarwarrior @solymi @syalla @thatcryptodave @thatgermandude @tibfox @tribemieregal @twicejoy @twinner @untzuntzuntz @vasupi @vugel @ynwa.andree @yoshi-and-family @zockerpeine