Did you see what happened last night between Real Madrid and Liverpool? Wow! That was brilliant gameplay. It's up there with top games with unexpected twists and turns in this season's Champions League.
Every fantasy you would want from a Champions League game was visible in that game. Talented players, world-class performance, sumptuous passes, astonishing body movement, tactical expertise of top tier managers, goals... Everything!
---
I love this game. I love it.
---
I wanted to write this post immediately after the game, but I had to give myself enough time to process what I witnessed. I needed to understand what happened and how a team like Manchester City got to bottle their two goals advantage in the last minutes of a game.
This is magic! I never thought I would ever say this about football, but what I saw yesterday is 'magic'. This was Manchester City's game to win, but they let themselves down and they should be embarrassed with that performance. There is no excuse any of them can give for bottling that game with less than 8 minutes before the final whistle.
That was a delectable medley of footballing splendour. We love to see these kinda games because it is exactly what separates the title contenders in Europe from the title pretenders. Unfortunately for Pep Guardiola, his side bottled it, again!
I was paying attention to his reaction at the touchline. It was a hyperactive reaction unlike Ancelotti (Real Madrid's manager) who was rather calm on the touchline. Pep rubbed his hands on his head on several occasions, but as y'all know, there is no hair there. Lol. I'm sure Pep and his boys will be gutted every single time they remember how they bottled their chance to face Liverpool in the finals.
---
What this result means to the football world
---
Immediately Manchester City fell asleep in the last 8 minutes of normal time, Real Madrid capitalized on it and punished Man City severely. The first goal changed everything about the game and it was followed by two more goals. There was a massive eruption at the Bernabeu Stadium. Mates, you can't script things like this.
Now, we are sure of a Champions League final between the elites of Spain (Real Madrid) and the elites of England (Liverpool). This is going to be a thrilling display and I'm waiting for it.
---
3 talking points that explains why Man City bottled the game.
---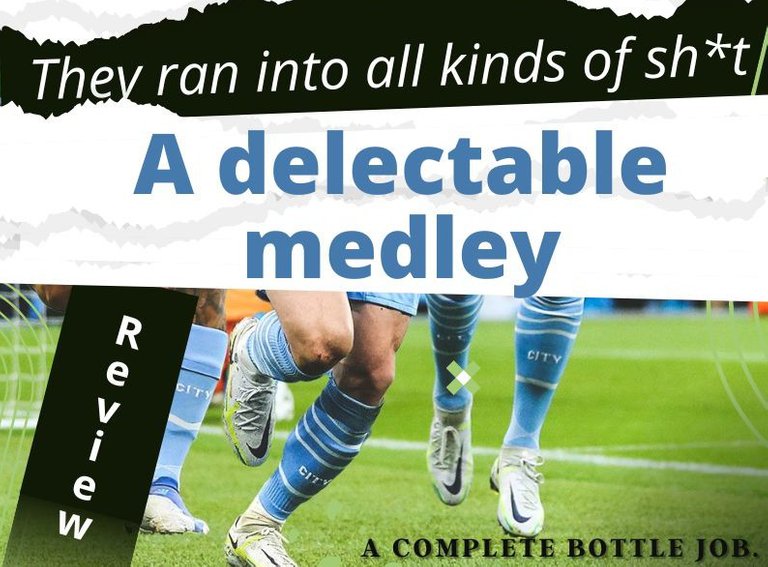 I've said it on some of my posts about football and I'm going to say it again, 'football fans can be annoyingly talkative'. It's part of the game so, there is always something to talk about after each game. Let's dive into this one.
The substitutions: Aside from the substitution of Kyle Walker who was already suffering from injury, every other substitution looked like a wrong choice, especially the one that saw KDB being replaced by Zinchenko. It didn't look like that during the game but because of how the result turned out, it's now another reason to take a dig at Pep for 'overthinking his tactics'.
Lack of Champions League pedigree: In football, what we've all come to accept is that the history of a club will always play a big part in their performance and how they grind out wins especially on big European nights. Real Madrid is the Champions league specialist. They have won it more time than all the English teams combined while Man City have zero (0) UCL trophy in their trophy cabinet. The Gap is a country mile. It's a huge statement.
If the plan doesn't work, everything shatters: This is unfortunately how it has been for Pep Guardiola's Man City's side every single time they got knocked out of the Champions League. They are a formidable team with a nice playing style but we've seen on several occasions that whenever they need to grind out a win at important stages, they often lack the individual brilliance needed to execute it. When the table turned on them yesterday, De Bruyne was the one who could have saved their face, but unfortunately for them, he was already subbed off.
Every tactical display we saw summarises the fact that Manchester City kept their door closed for 89 minutes, but by the time Real Madrid started scoring, Man City found themselves in all kinds of shit.
---
We are shaming the shameless
---
After that awful bottling job, the whole footballing world was taking a dig at Manchester City. You need to see the clips of Patrick Evra. He is swimming in excitement.
To be fair, Everyone deserves to take a dig at Manchester City. That's exactly what happens to bottlers. The whole footballing world is taking the piss out of them for that bottle job.
C'ya all in France.
Thanks For Not Missing Any Full-stop Or Comma
Image designed using Canva Pro ⭐
Also published here