I have almost missed the Blog of the Week (#BoW) challenge of the Silver Bloggers Community - the weather has been much too nice in the past days and apart from sitting in the office I sat on my motorbike every day after work.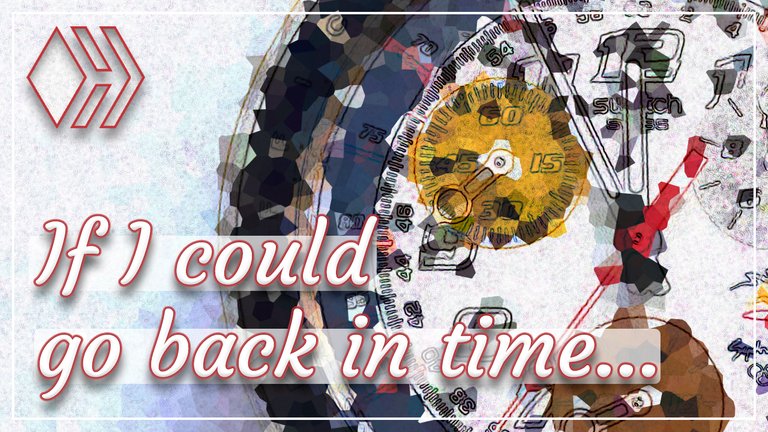 If I could go back in time...
Blog of the Week (#BoW)
This week's topic was "If you could go back in time and change one thing in your life, what would it be?" - Blog of the Week winners and new topic deadline: 28 June 2021.
Well, before I start I have to tell you that Murphy's Law hit me today and so something happened that a second after I clicked a button, I wished to go back in time and change that something ...
Today, during lunchtime I began to prepare this post and then I accidently pressed "Publish" instead of "Update Draft".
I have immediately closed the browser window, but it has been too late because @Ecency has been faster than me and a few autovotes have also been made already, so I couldn't delete the post anymore.
I am very sorry for that mistake and if you don't mind, I would like to donate the rewards for the false post to @combination. If you don't know what @combination is, please scroll a little bit down to the end of this post where you can see a badge with a bee and a butterfly.
But now to the post I actually wanted to make: there are a lot of things I would change if I could go back in time...
When I was 17, I had the opportunity to learn Photography as a job but I have had no idea about photography back then, and so I went for a "safe" job instead. A few years later, I regretted it when I bought my first SLR camera, but of course it was much too late. So, till today, I often wonder what would have happened if I had made a different decision.
But even if I could, I wouldn't go back and change anything, because I don't know if the Kismet would have worked the same way: Would I have met my wife later? Would I have become the father of my wonderful Twins?
I can't give the answeres, so I think I have made the right decision back then.
There are a few more things that I would change, but they are only minor and wouldn't matter that much.
But if I think back, there's only one more thing comes into my mind, one little decision, which I have made about 12 or 13 years ago, would be cool if I could go back in time and change that one decision.
Back then I smiled and laughed at some news I've read on the internet, but today I'd love to go back in time and instead of laughing at it, I would buy some of this virtual "game money" they called Bitcoin... I laughed just like so many others have laughed, but we all had the chance.
I know money isn't everything, but it would make my life and the lifes of my family and friends so much easier.
So, that was the end of my today's post. Thank you very much for reading till the end 😊
The images in this post were taken during my latest visit in the Lepena Valley in Slovenia, during a morning walk (Fern) and during a motorbike ride yesterday (bank of a little reservoir) and today at home (Swatch watch).
---
Information
All photos were taken with the Canon EOS R and one of these lenses: Canon RF 24-105mm f/4 L IS USM, Canon EF 70-200mm f/4 L IS II USM, Canon EF 16-35mm 1:4 L IS USM, Canon EF 50mm 1:1.8 L STM, SIGMA 105mm 1:2,8 DG MACRO HSM, Sigma 100-400mm F5-6,3 DG OS HSM C.
If you are interested in the image data, I leave all EXIF and IPTC information stored in the pictures.
---
If you like my work I would appreciate an upvote, nice comment or maybe you want to share my post on your blog 😊 ... and maybe you would like to follow me, so that you never miss a post from me.
Thank you so much for visiting my blog
take care, stay safe and healthy,



Photos and Text: @johannpiber | Johann Piber | All rights reserved - do not use without my permission
> I am a creator at the Foundation Plattform
> My Photos are listed at the OpenSea NFT Marketplace
>>> See my posts on my Pinmapple Profile Map <<<
>>> Not got a Hive account yet? Sign up free here! or here <<<
2021-06-28
#hive5 from Austria 🖐️