Hello, I hope this finds you all well. I'm really interested in the silver bloggers group so I thought I'd blog about my adventures in babysitting my youngest grandson Micah.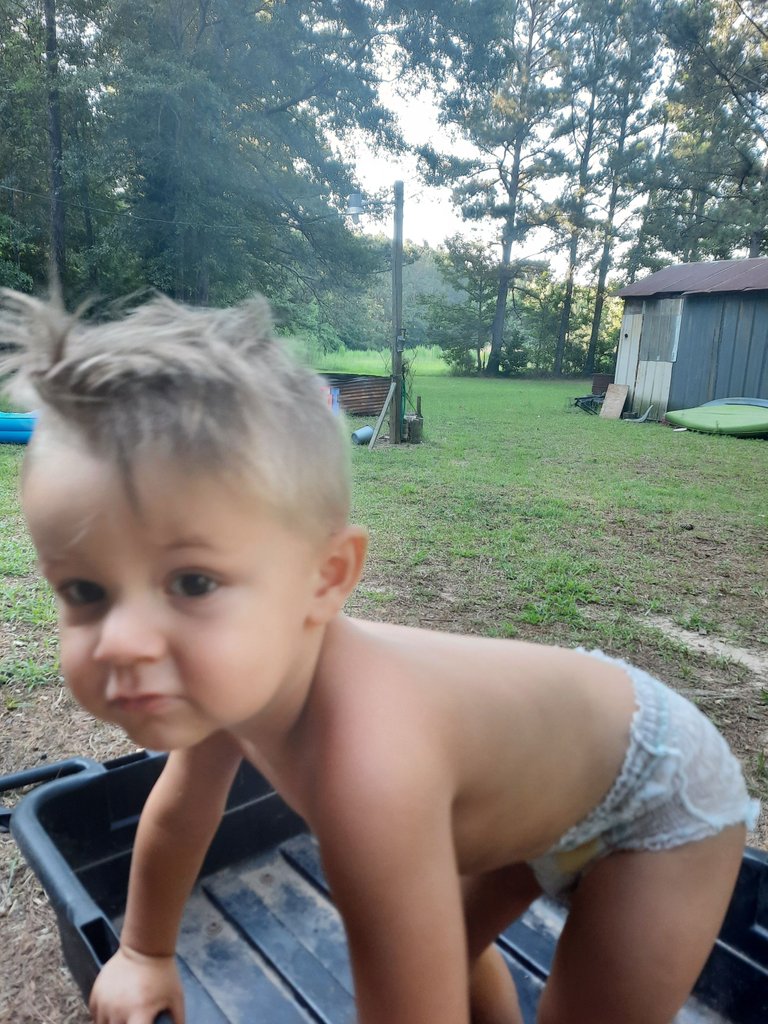 But first let's get all caught up with his back story...
He's my youngest out of 2 biological grandchildren. I have others that call me Mimi, that I will always love and cherish.. But I rarely get to see them.
Anyways, back to the topic at hand.
Micah is 2 and he has a diagnosis of autism. Admittedly, I don't know much about autism. But I do know if he is autistic, he's low on the spectrum. To me, he's a hard-headed 2 year old that's subject to temper tantrums.. however he can and will hurt himself on occasion if he's really pissed! He bites himself and bangs his face/mouth on things.. HARD!
Part of me believes he was given this diagnosis because he wasn't talking. But he couldn't hear. HE WAS FRUSTRATED! He'd had so many untreated ear infections his little ears stayed muffled. I mean, could we talk if we couldn't understand what was going on around us?? To try understand what his world was like, I placed my hand over my ears and talked. Everything is muffled and garbled. No wonder he couldn't talk! He couldn't hear properly! Then add everything else that was going on in his little life.
His and his sister's story is quite sad for such a short little lives. Although, it could have been so much worse!! We are grateful and thankful things was stopped before something terrible happened!
I will say this, Addison at 6 years old had more maturity to take care of Micah than her grown adult momma! And she forever will be a hero of mine for taking GOOD care of Micah the way she did (everything we found out after the fact)
Micah's Mom has a terrible addiction. Plus mental issues. I do NOT like this girl ... I'm still very angry with her. But, with that being said I do love her and wish she would get help. Not only for herself but for her children. Addison who's now 8yrs old will be adopted in November by some friend's of ours. Anyways back to Micah.
He tested positive for methamphetamines. Not just a little bit either but like he was grown and doing it himself!!
Thinking back to when he was 6 months old. His BAD BAD diaper rashes.. And now knowing what I know... I'm angry!!
All that time, I was thinking she wasn't changing him... Or reaction to food.. Or teething.. Man I'm pissed! That was meth coming out of his little body.
During that time I traveled for work so I wasn't home daily to keep check on things.
I also feel the need to mention(a story for another day) she almost cut my son's arm off with a sword! Happened back in 2020 like covid wasn't enough to deal with....
Anyways, it took a bit but my son finally got away from her and her mom (that woman is worse, very delusional!!) He finally learned he can't stop her or save her.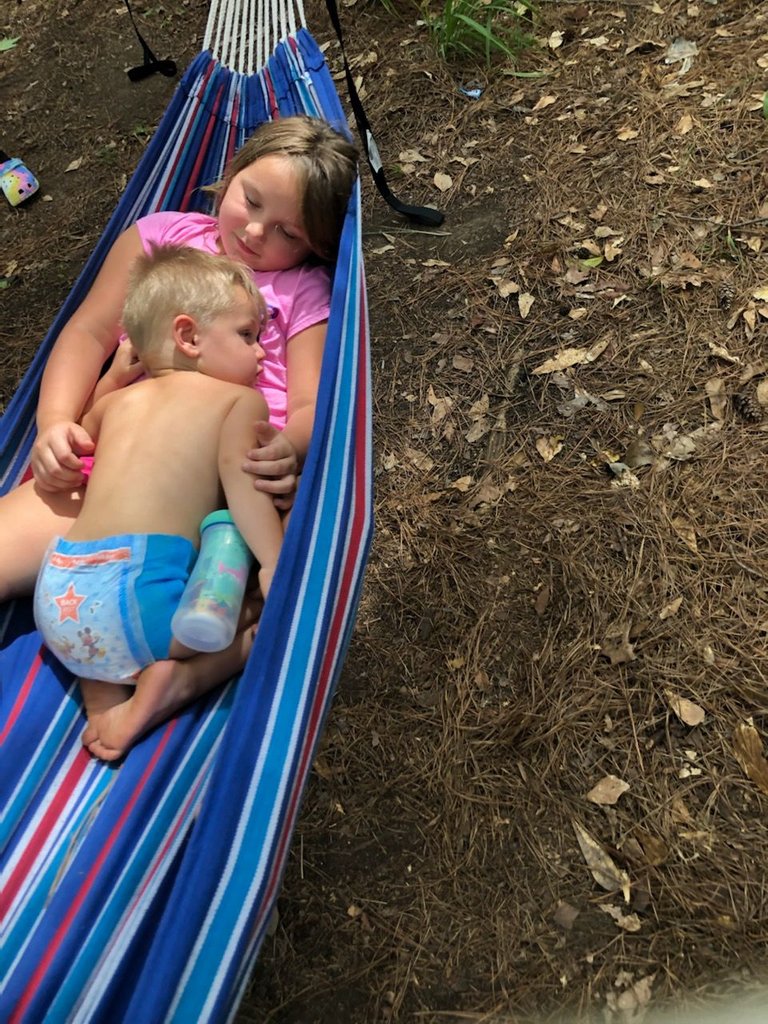 Recent camping trip.. Micah and his sister Addison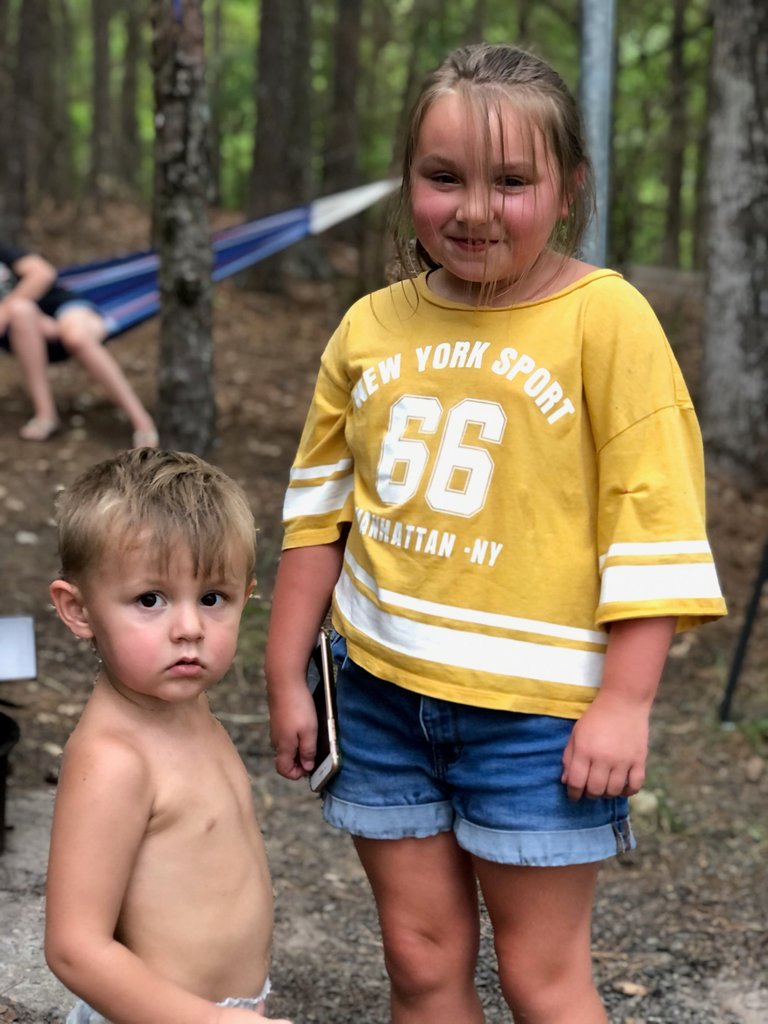 Micah and his sister was taken from their mom this past October and placed in state custody. My son willingly relinquished his rights while they removed the kids and investigated the situation. He did everything they asked of him from drug screens to parenting classes and mental health evaluations. This is the first and only time I was glad to have the state in our business. Although it did feel as though the process was ever going to end. Eventually, in February, Micah was placed with my son on a trail basis and May he was awarded full custody of his youngest child.
Y'all that was one the happiest days of our lives.. To have all that mess behind us!!
It's been difficult to say the least for my son. At first, Micah was not bottle broke and didn't sleep thru the night.. Thankfully he is (bottle broke) and sleeps thru the nights now. So life is a bit easier for them.
Anyways, that's about it the back story.
I quit traveling as a roadie, setting up concerts and events to stay home and babysit Micah so my son can work.
Micah has quickly became my best friend!! And his love for me, his Mimi is undescribable!!
He wears me out physically! My youngest child will be 21 in October so it's been many years since I chased after an energetic toddler! BUT, I've lost 30lbs chasing after him🤣🤣 so I won't complain too much!
Anyways, I'm going to wrap it up for today...
We're about to go run errands and pay bills.
I truly look forward to blogging about our adventures together. I usually have a good Micah story to tell🤣🥰