I wake early most mornings, and my head kicks into overdrive within seconds. It's just what my brain does - I go from zero to 150 and there's no gentle awakening in the softness of dawn for me. I think of things that must be dealt with and done, the projects I want to start and finish, work to do, jobs to get done. Do other people's brains do the same?
I feel calmer when I am doing. It's why gardening and surfing and yoga are important to me, as my thoughts will slow down if I can breathe and move, breathe and move, breathe and move, until breath and motion are in flow and I drop out of my thinking mind.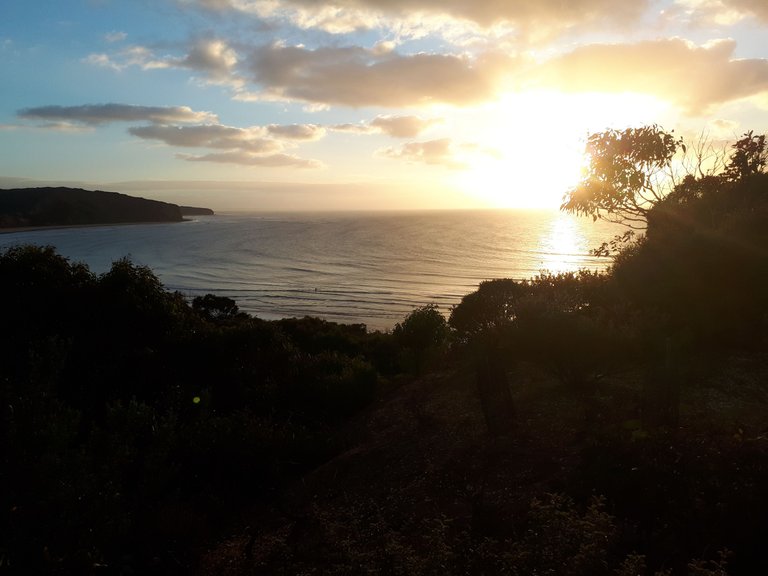 But sometimes this doesn't even work. I can walk kilometres and still my thoughts are spinning and tripping over themselves, erratic and purposeless. The back of my head will hurt and I feel so exhausted that everything is an effort. I feel grateful for years of Yoga practice comma meditation and self study that helped me understand that's my thoughts are not me and they are just thought and nothing more. Tell that to my brain though, who's more than happy to shoot chemicals into my bloodstream to fight, flight or freeze. No amount of rationalising will talk that amygdala down. Thanks for looking after me, primitive brain, but turn it down a notch, will ya?
One of the tricks I have been using lately is naming what I see. It is a way of coming into the present moment and fine tuning thinking so it is more focused and attentive. It is easier sometimes if I say it out aloud.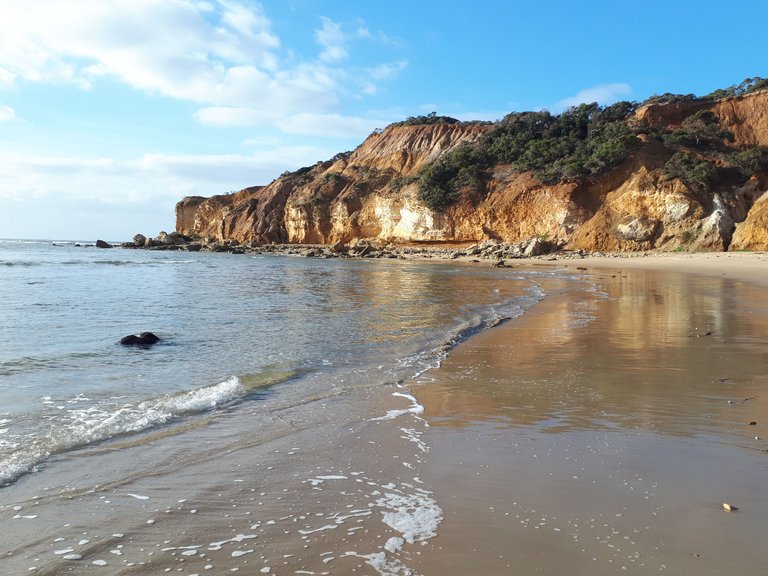 Sky.
Cliff.
Ocean.
Waves.
Sand.
Shell.
Sand.
Seaweed.
Sky.
Unless you have a very talkative mind like mine you might not quite understand the feeling of peace and relief that wash over me like velvety cool water when the chatter slows to a more gentle and reasonable pace.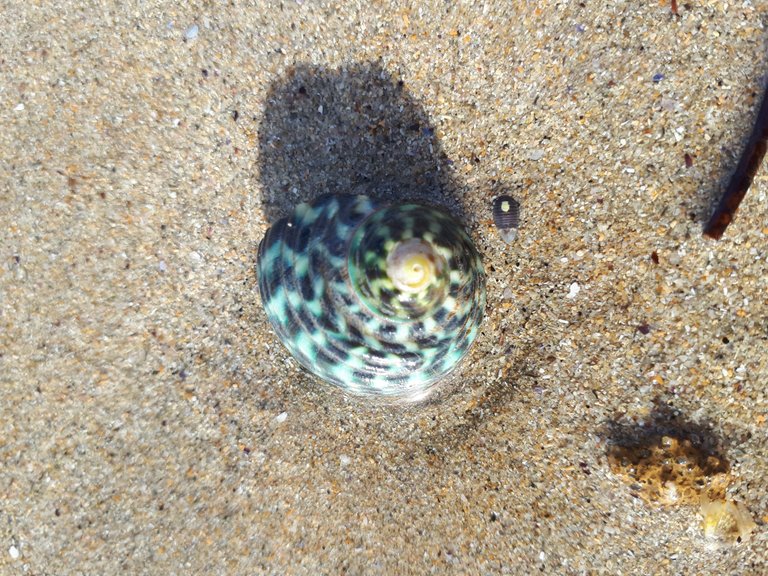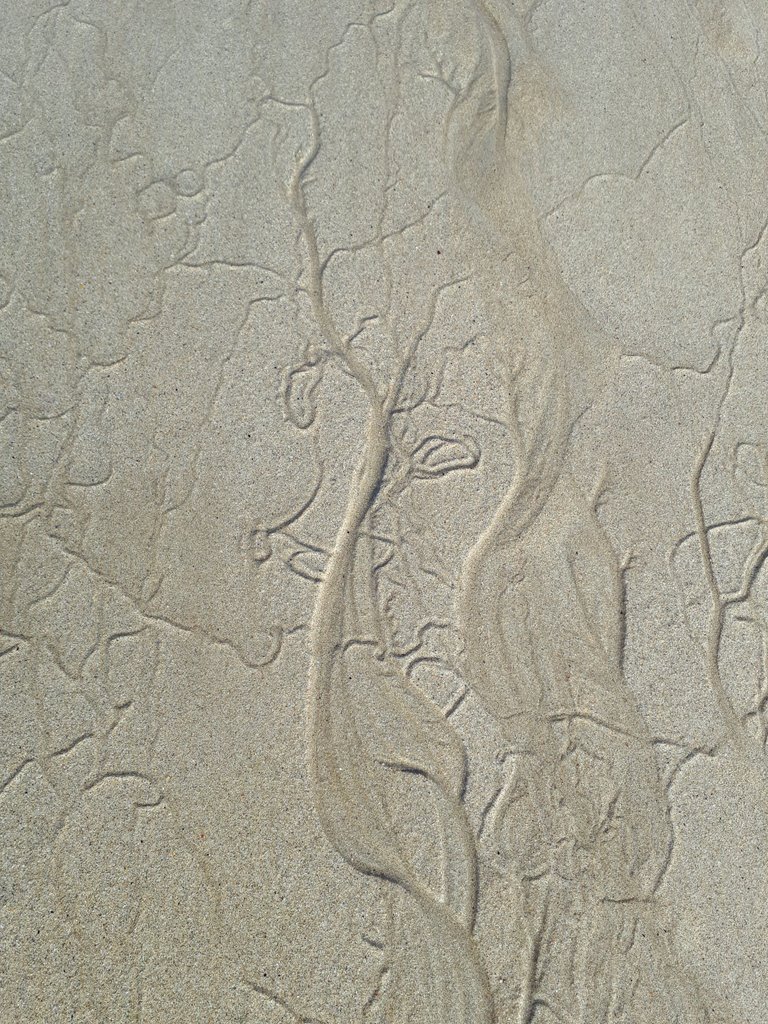 It is then where each thought can be turned over like a jewel and appreciated and processed rather than looking for something to turn down the volume like sleep or drugs.
I can turn it down even more by slipping into the ocean. The water this morning was 18 degrees Celsius and the air temperature was a degree cooler, so that it was warmer in water than out. There was no surf, and I hadn't come prepared with a wetsuit, so I dove in with a bra and my cotton trousers, sinking beneath the ripples, eyes open, looking at the ridges on the sea floor and the drifting seaweed. On the surface of the water, I watched the light glisten, and the bigger sets roll on through, a perspective not visible from the top of the cliffs.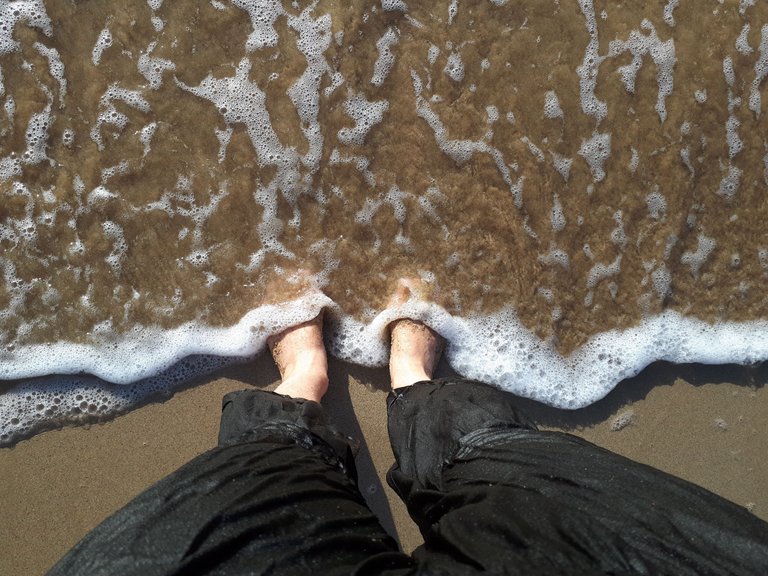 Seaweed.
Waves.
Light.
Ripples.
Cliffs.
Horizon.
Crab.
Stingray.
I could feel my breath slowing, rhythmic, like the waves, and tranquility flow on through, wrapping itself around me, swirling and comforting. Each thought became purposeful and slow, easy and moderate - no more staccato screaming of a million things to get done.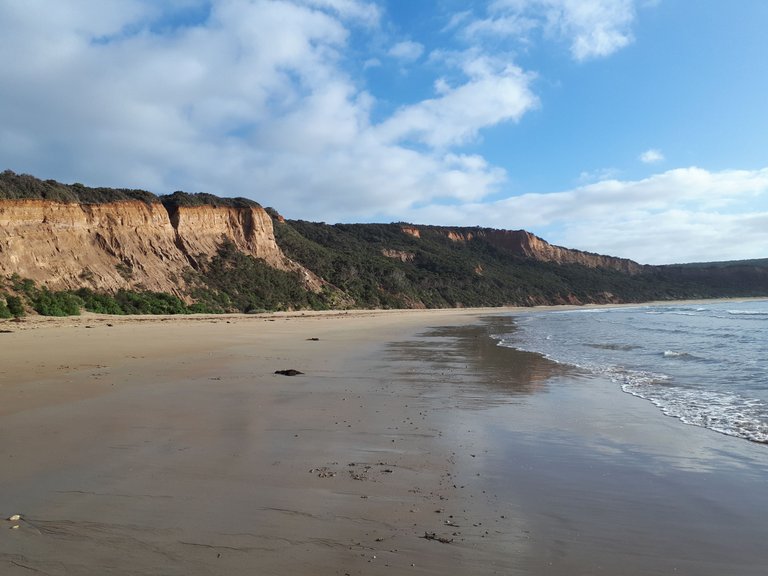 Perhaps my amygdala is saying: 'Ah, this I can focus on. You're moving and the tiger has gone. You're all good now'. All those nerve endings tingle with processing normal sensation - the shock of cold, the movement of my body in the water. There's little to respond to, little to fly from.
It's this kind of practice I have to really make time for. It's easy to say there's too much to do, that I don't have time to be so self indulgent. But when I create space like this, I have more time. More clarity. More ease as I go about my day doing all the things that were going to get done in their own good time, no matter how much my thoughts fussed about them.
How do you create space for your thoughts?
With Love,
https://gateway.ipfs.io/ipfs/QmcGSZxvsXD8YbSCNAo6KWc4a9RjXyRCjWupZdPXJapkXk