The topic to thank about today inevitably made me think of a story that my mother always told me. Once upon a time, there was a man who lived complaining about everything. One day in particular, he was lamenting that his shoes were all torn and he had no money to buy new ones. Between his curses and bad words, he saw in the street a man whose legs were missing. There he realized that he was lucky, he had no shoes, but he did have legs.

Source
I really don't like comparing myself to anyone; however, it must be recognized that many times we complain about nonsense things. I remember recently having a discussion about the economy with someone I really appreciate. I acted very bad, but what do you think? Life is so wise that it confronts us with the lessons we must learn. A long time ago I knew a boy with whom I resumed communication and when describing his current situation I could not avoid crying, but also remembering that discussion. I'm so lucky I said! Why was I complaining?
I am healthy, I have a job, I have my son with me, I have a home, I have to eat, I have my five senses, I have friends who support me, I have energy, and the most important thing is that I have a spirit that I had not had during my 30s, almost 31 years of life. I am where I need to be, I am what I need to be and I have felt like more energy since the moment I realized that I am more fortunate than I thought because every day during these 21 days I have meditated about the wonderful things that they are part of my life and that sometimes I have passed over them, I took them for granted and preferred to complain. I want to thank for all this, for having so much more than others!
And you, why are you grateful today? If you want to see the initiative of the challenge, click here.
Image edited on Canva

El título del agradecimiento para hoy inevitablemente me hizo pensar en un relato que mi mamá siempre me contaba. Érase una vez un señor que vivía quejándose de todo. Un día en particular, se estaba lamentando que sus zapatos estaban todos rotos y no tenía dinero para comprarse unos nuevos. Entre sus maldiciones y malas palabras, vio en la calle un hombre que le faltaban las piernas. Ahí cayó en cuenta que, era afortunado, no tenía zapatos, pero sí piernas.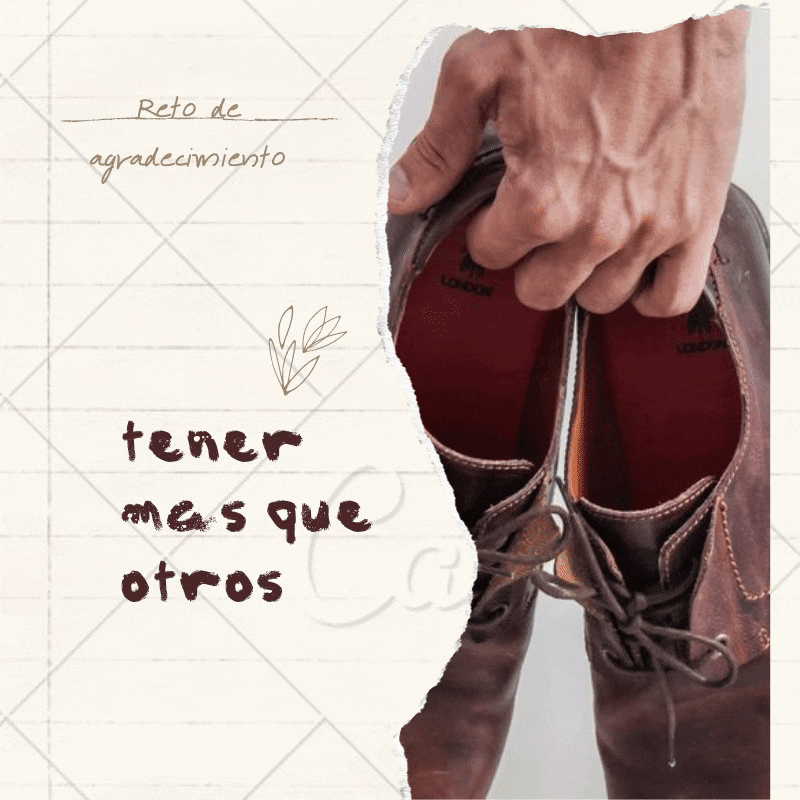 Fuente
Realmente no me gusta compararme con nadie; sin embargo, hay que reconocer que muchas veces nos quejamos por cosas sin sentido. Recuerdo que recientemente tuve una discusión acerca de la economía con alguien a quien aprecio mucho. Actué muy mal, pero ¿qué creen? La vida es tan sabia que nos enfrenta a las lecciones que debemos aprender. Hace mucho conocía a un chico con el que retome comunicación y al describirme su situación actual no pude evitar no solo llorar, sino también recordar aquella discusión. ¡Soy tan afortunada dije! ¿Por qué me estaba quejando?
Tengo salud, tengo trabajo, tengo mi hijo conmigo, tengo un hogar, tengo que comer, tengo mis cinco sentidos, tengo amigos que me apoyan, tengo energía, y lo más importante es que tengo un ánimo que no había tenido durante mis 30, casi 31 años de vida. Estoy donde tengo que estar, soy lo que tengo que ser y me he sentido como más energía desde el momento en que me he dado cuenta que soy más afortunada de lo que pensaba porque cada día durante estos 21 días he meditado acerca de las cosas maravillosas que son parte de mi vida y que a veces le he pasado por encima, los daba por sentado y prefería quejarme. ¡Quiero agradecer por todo esto, por tener mucho más que otros!
Y tú, ¿por qué estás agradecido hoy? Sí quieres ver la iniciativa del reto, dale click aquí.
Imagen editada en Canva