For my recipe today I will be making Head Cheese, which for those of you who do not know, is not actually a cheese but can be made using a head.
Hmm, a head you say? Interesting. Tell me more.
I didn't use a head in my recipe. But you can use a head, if you want to use a head. Am I saying the word head too much?
What is head cheese?
---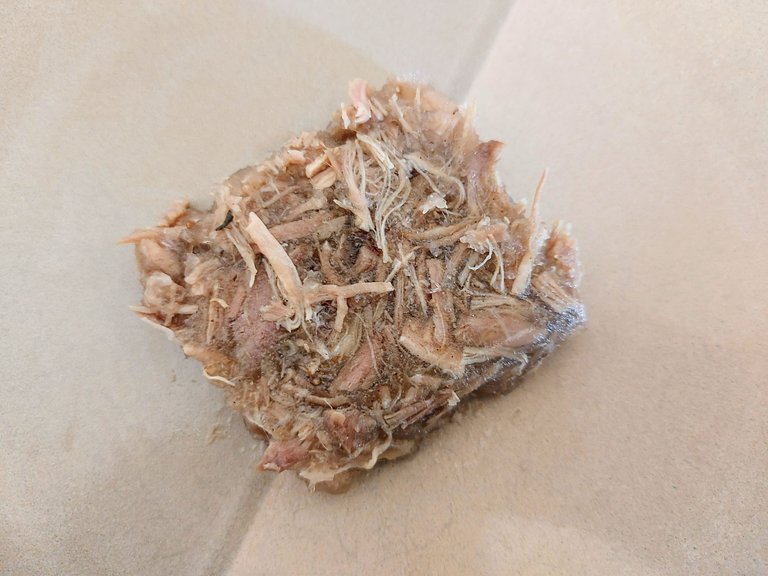 Head cheese is a traditional European dish that is basically meat from the head of a pig or calf that is suspended is aspic, a savory gelatin made from boiling gelatinous meat. It can be found all across Europe and each region seems to have its own version on how to make it. They do generally tend to agree though that its best served cold or at room temperature. You can think of it as a sort of semi-solid cold soup or better yet, a meat jello!
Mmmmm meat jello.
Traditionally the dish is made from boiling the head of a pig or calf, or an enemy on rare occasions...
(pause for laughter)
because that part of the animal happens to contain a lot of gelatin.
Thankfully though, you can also make head cheese using pigs feet or pork hocks. I happened to use the latter. You really just need a cut of meat that has a lot of gelatin in it, though you may have to add some store bought gelatin to make sure that it sets. This is what I did and this is what most recipes online suggest as well.
At this point, if you're like my wife, you may be asking yourself,
"Why oh why would you, or anyone for that matter, want to make such a thing?"
Well for starters it's delicious. It's meaty and garlicky and salty and melt in your mouth goodness.
Meat - Good ✅
Garlic - Good ✅
Jello - Gooooood ✅
For me as well I had tried it a few times when I was younger. My step dad was Ukrainian and used to make it once in a while. I never really liked it back then but figured I'd give it a try as an adult to see if the taste has grown on me. Turns out it has!
Another reason for me to make it is that I like to cook weird and interesting things. I also like a challenge and I like things that are traditional.
Head Cheese is kind of a perfect combination of all of those things.
Weird? - Check ✅
Traditional? - Check ✅
Challenging? - Half check ☑
For me it was a bit of an experiment as well and I like cooking experiments. And in this case, it was an experiment that worked out, so now I will share it with you. Let's begin.
Ingredients
---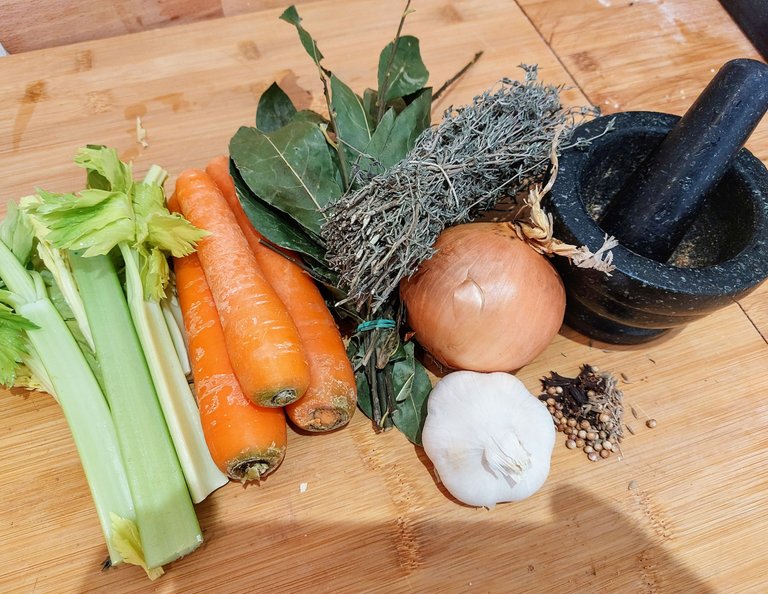 Note: Like most of my recipes, the ingredients are not exact they are just approximations. Please use your discretion and your own taste preferences as your guide.
• Prep time: 10 minutes
• Cook time: 3 - 5 hours
• Set time: Overnight (5 - 8 hours approximately)
1 large pork hock (the one I used was the front knuckle I believe). You can also use pigs feet or half a pigs head if you're brave enough. Basically you just need a cut of meat that contains a lot of natural gelatin in it.
1-2 Carrots
1-2 Celery
1 Onion
6 Garlic cloves (the more the better)
2 gelatin sheets or powdered equivalent.
Herbs: Bay leaves and thyme (you could use rosemary as well I think).
Spices: Most recipes online just call for pickling spices. I didn't have that so I made my own spice mixture using, salt, pepper, nutmeg, coriander, cumin seeds, ginger, and cloves (7-8). I didn't measure I just eye balled everything. There was maybe a tablespoon or so of mixed spices.
I added half a boullion cube late in the process for some added flavor as well.
Directions
---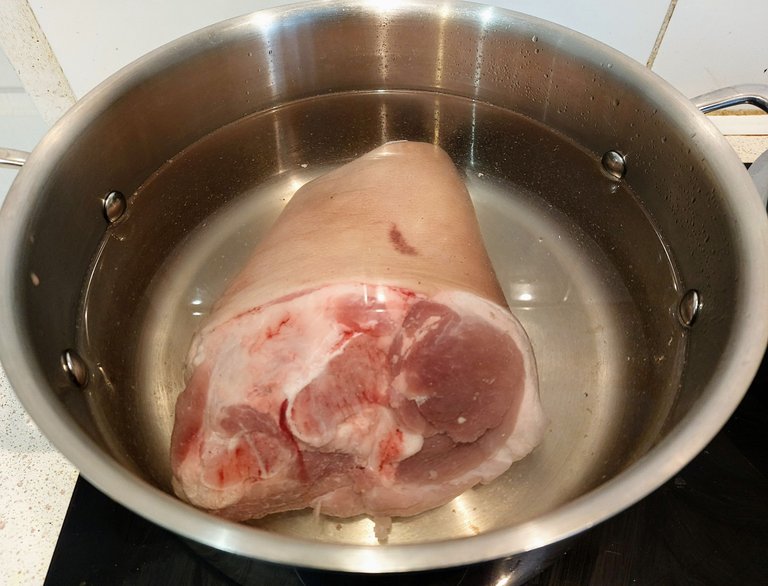 First put the ham hock, pigs feet or head into a pot and cover with water. Bring to a boil and then reduce heat to a rolling simmer. Cook for an hour or so.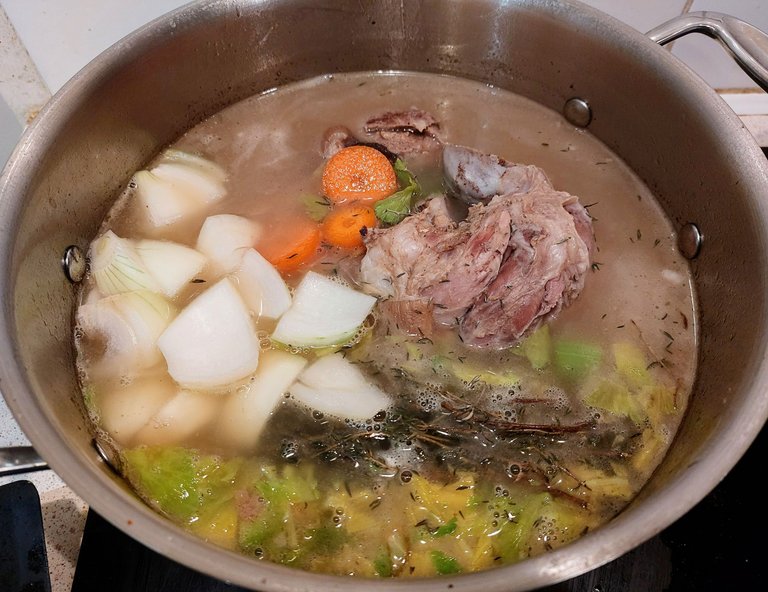 You don't have to add vegetables but I did to give the broth more flavor. It's a good way to use up any older veg as well.
Rough chop the vegetables and add them to the pot along with the herbs and spices. Cook for another 2-4 hours until the liquid is reduced and the meat is fall off the bone tender.
Keep an eye on the water level, making sure that it doesn't reduce too much. I cooked it with the lid both on and off at times in order to control the evaporation process. Add more water if needed.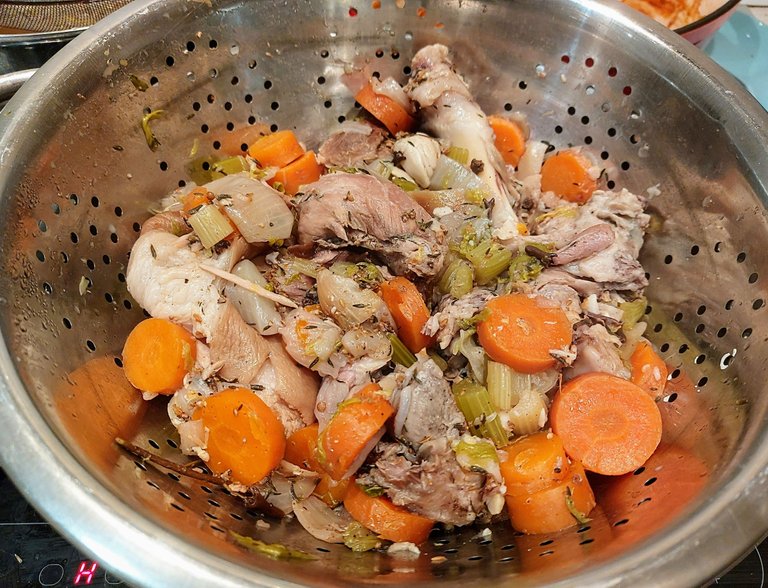 When it seems about done. Strain the meat and the vegetables.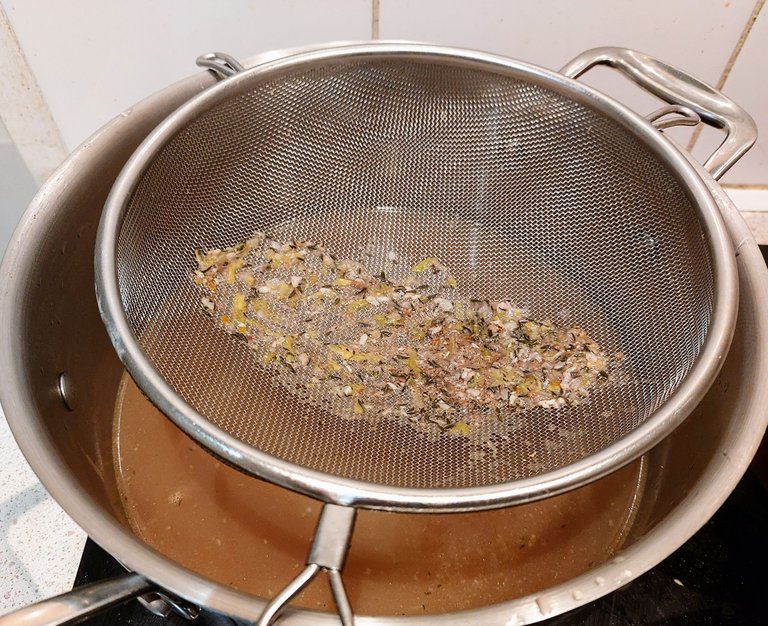 I did a secondary strain in a smaller seive as well to get rid of herbs and the smaller bits.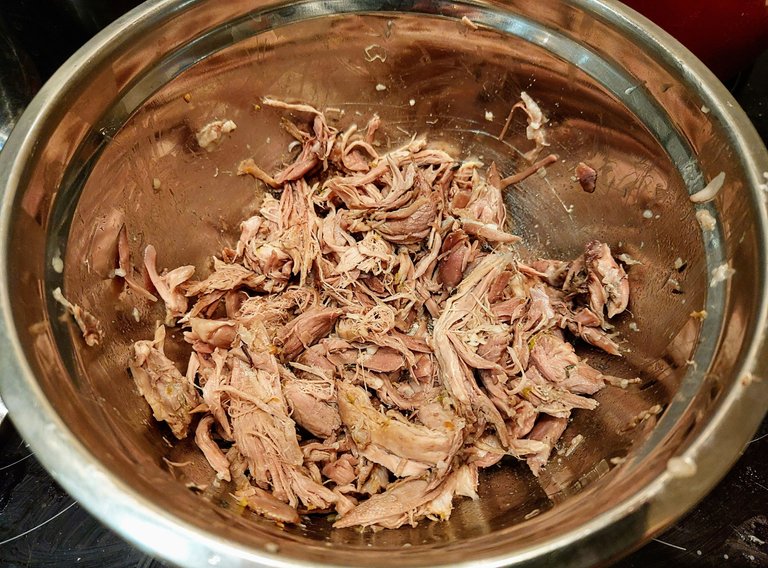 Separate the meat from the fat and skin and the vegetables and set it aside. Some recipes said that you can add the skin to the finished product but I personally found the skin to be quite gross looking, so there was no way I was adding it in.
The meat will likely be stringy like pulled pork. I recommend chopping it into smaller pieces to make it easier to cut when the dish is complete.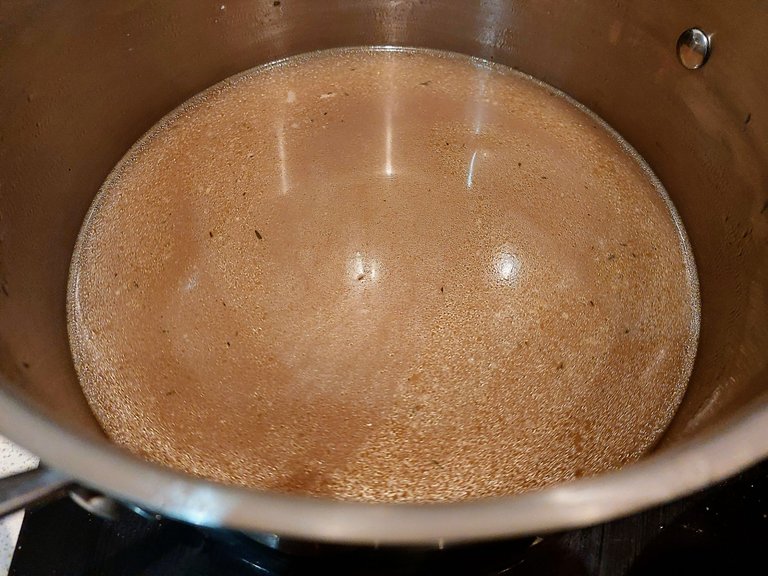 Add the meat back to the pot and allow it to simmer for 15 - 20 minutes. I chopped up some fresh garlic and added that in as well for some extra flavor (this worked out really well. The finished product was nice and garlicky, which I like). I also added half a boullion cube, a bit of nutmeg and some additional salt to really punch up the flavor.
I read online that the flavors in the finished product tend to get a bit muted once it gelifies so they suggested that you make the broth extra flavorful, almost to the point of being over seasoned so that it taste right once complete. I didn't go too far with it but I definitely made sure that the broth was good and strong.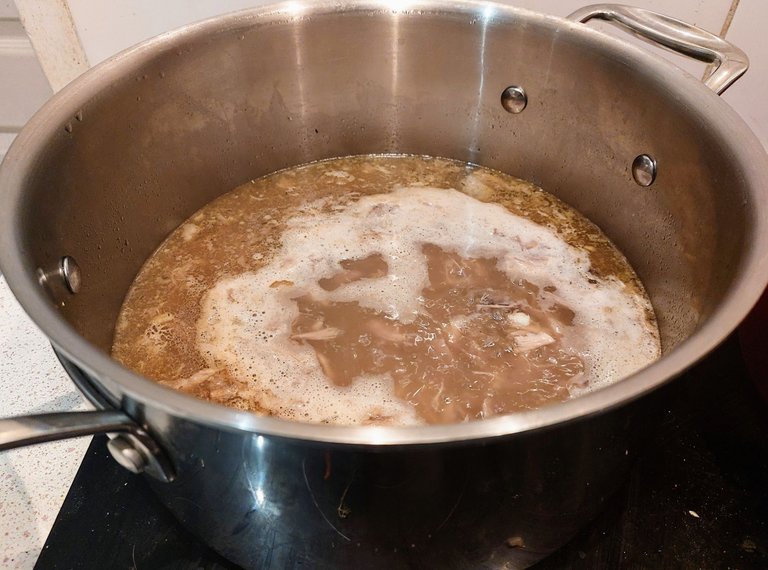 While the broth is doing its final simmer, dissolve two sheets of gelatin in water.
Add them to the mixture after the simmer when the broth is cooked a bit but still quite warm so that they fully dissolve. Boiling gelatin can break it down and make it more difficult to set.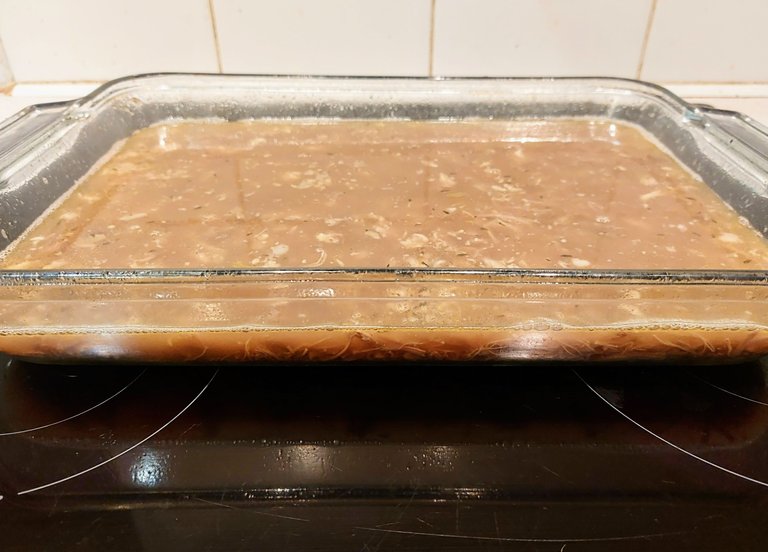 Pour the mixture into a casserole dish or bread tray and let it cool.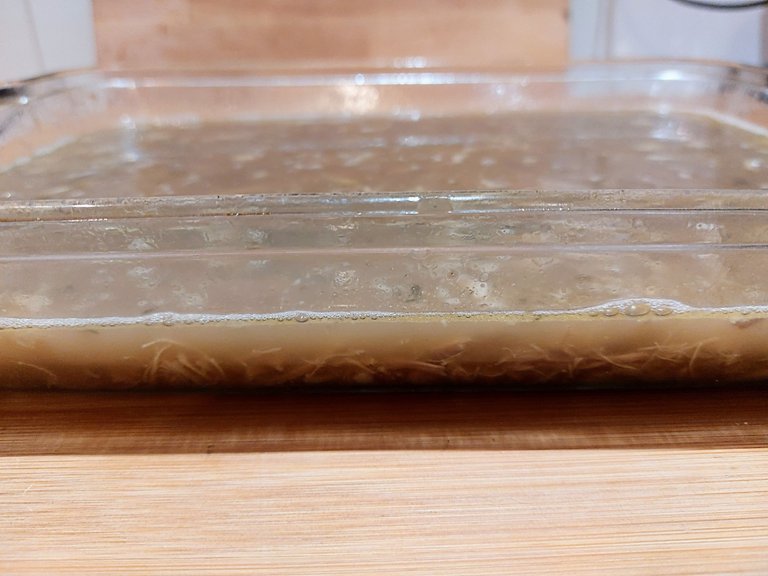 Put it in the fridge over night or for 5 hours or so (I'm guessing here) to allow the gelatin to set.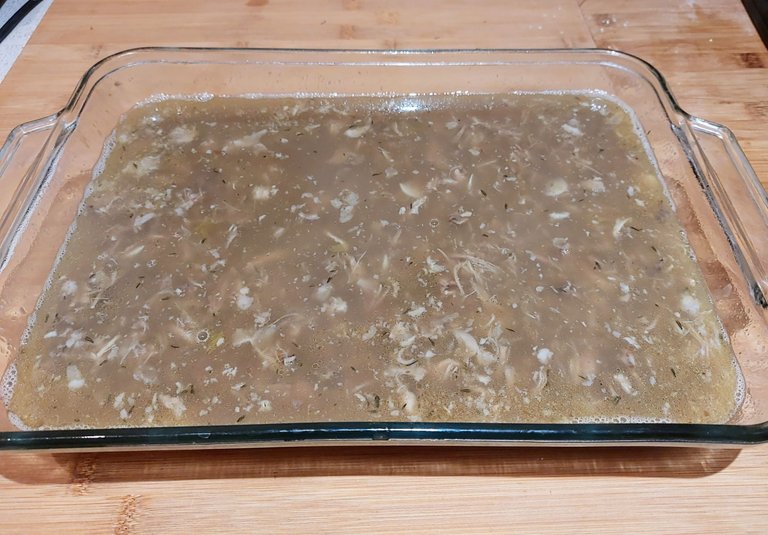 The next day, if the gelatin set properly you will have head cheese! Scrape off any excess fat from the surface or leave it on if you like.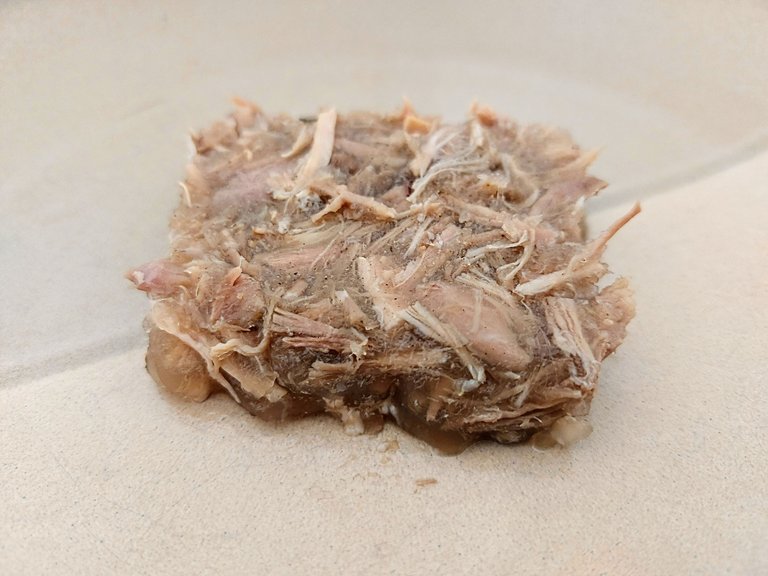 Cut it into squares and serve cold as an appetizer.
It goes good with celery and I personally like to add vinegar to mine when I eat it. I used red wine vinegar but white vinegar works as well.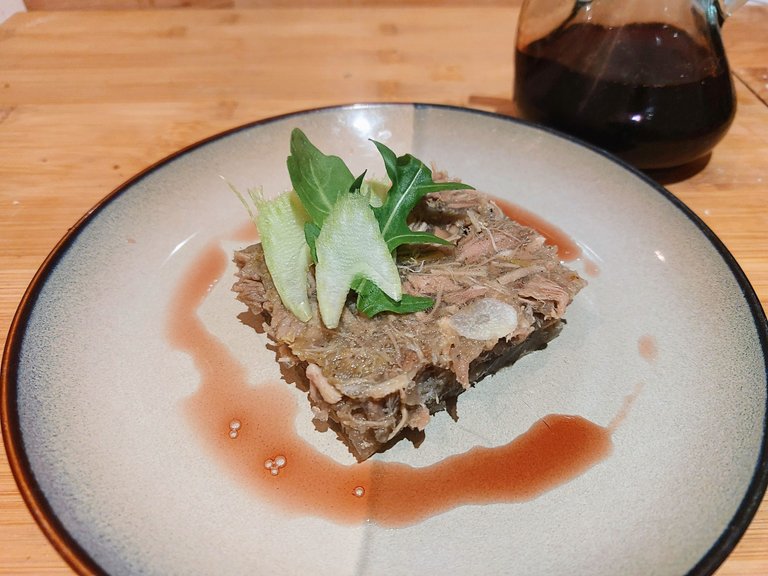 Try it plain and with vinegar and see what you like better.
Anyway, the experiment was a success because it turned out really good. It's meaty and garlicky and super flavorful and delicious. The gelatin is fully set but also melts in your mouth; its not rubbery at all which I was a bit worried about.
Enjoy!!!
Me: Honey the head cheese turned out amazing. Do you want to try it?
Wife: Get that thing away from me. There's no way I'm eating your meat jello.
Well, that's my wife for you. You can't please everyone.
---
If you liked this recipe then stay tuned for next week, when I make delicious Toe Jam!
I kid, I kid. Toe jam! Now that's ridiculous....
Or is it? 🤔
Anyway let me know your thoughts in the comments. Have you had head cheese before? Do you have any tips for me on how to improve the recipe for next time? There will be a next time.
That's it for now. Thanks for reading.