INTRO -
We all are aware of how generous the Splinterlands community on the Hive Blockchain is. Literally, about 80% of Players write about their daily and weekly income, which constitutes how they earn a part of their living. This post has been created to help Beginners to Splinterlands navigate and step up their writing game in the Splinterlands-Hive Community so that they too can unlock a channel of rewards while growing.
I hope that this post can also inspire the constant influx of newcomers to Splinterlands into creating wonderful content for all to enjoy.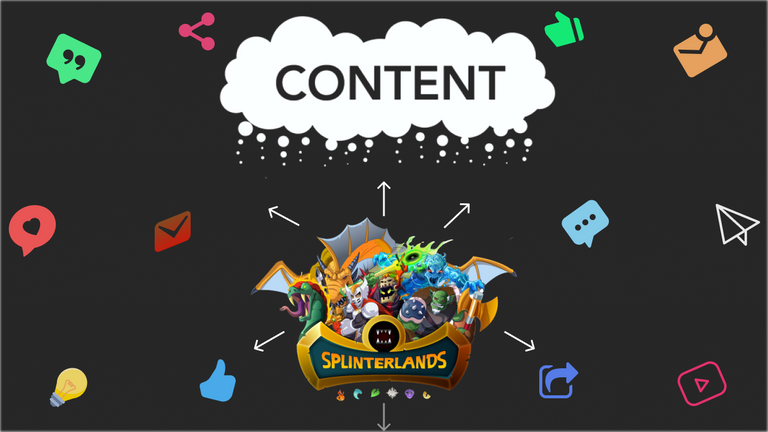 This post is targeted at three kinds of beginners:
Splinterlands players who Regularly play Splinterlands and Compete in the Bi-Weekly Seasonal Competition but what to unlock more Earning Channels by Writing

Splinterlands players who are already Writers and Readers in the Community but want More Diverse Content to UP their Posting Game

Absolute Beginners to Splinterlands, new to both Battling and Writing - You want a Summary of what it Required to start Writing and Earning ASAP
Therefore, If you Resonate with any of the above, this post is for you so Let's Get Started!;
Content Ideas for Gamers & Writers in the Splinterverse
The Following Points are Detailed Intro to Creative Content Ideas, Including the Steps to Generate More Ideas around a Topic, and Finally How to Create your Content in them;
1. Weekly Splinterlands Challenge:
I'll of course be starting from the basic and most obvious way for Gamers to Earn in the Splinterlands-Hive Community which Includes Competing in the Weekly; Share Your Battle, Social Media Challenge, and ART Contest Competitions. These are without a doubt the Top Three Ways.
Social Media Challenge is Open to Posts that Explore all areas of the Splinterlands Game, Asking Questions, AND Answering them. My Last Post for this Challenge was; Are Splinterlands Cards NFTs the Most Unique in Gamefi , Where I provided some insights and answers to a question that mattered to me.
Share Your Battle Challenge requires You to Share About Battling your Monsters in Splinterlands, they occur every week and Most Players use a Template(A Specific Formatting of Post) to Share their Weekly Battles. Share Your Battle Requires Creativity and Diversity which you can achieve by exploring What Makes each Monster Unique. Check Out my Last Entry for the Share Your Battle Challenge, for more Inspiration.
Art Contest Challenge allows Players to Create Monster Artwork Across Many Art Styles (Such as Digital Artwork, Illustrations, Sketches, Card Ideas, Paintings, etc).
To come up with Ideas for this Contest; Ask Yourself about Your Favourite Monster of the week OR Your Favourite Monster in Each Splinterlands Element, and Create Art out of them.
Are you a Beginner Artist?: Get References from Popular Artists' Sites like Art Station, Behance, Or better Still, Directly from Splinterland's Past Art Contests
Are you NOT an Artist? Well, there's a new Concept Called Generative AI Artwork - this means creating artwork from scratch with computer models. If you're interested in this? - Check Out my Last Post on How I went About Doing it.
Finally, by Engaging in these Contests You can Earn a Weekly Income, Become Increasingly Immersed in the Splinterverse while also Creating Content for Thousands of Readers on Hive. It's like a Triple-Edged Sword 👇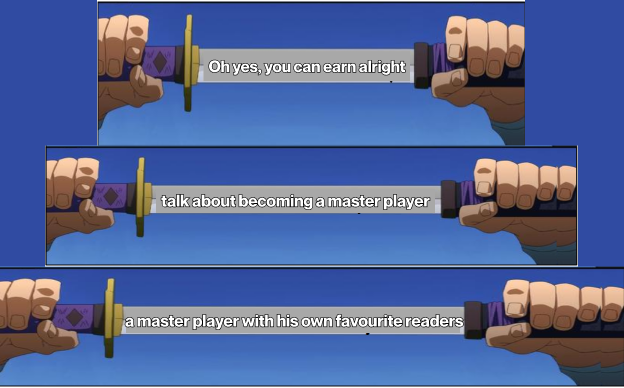 2. Splinterlands NFTs
Okay, Let's Begin with this, Do you Realised how Many NFTs are in the Splinterlands Collection of Cards? You Probably Do Not If You're Really a Beginner and Haven't been Lying to me All Along, 🤔. But for the Benefit of the Doubt, Let me Make You Understand Briefly; Presently, Splinterlands has released a total of 9 Card Editions[Alpha, Beta, Promo, Reward, Untamed, Dice, Gladius, Chaos of Legion, Riftwatchers], and Each Edition contains a Varying amount of 20 - 70 Cards (Including Monsters & Summoners). Each Monster Belongs to One of 7 Elements (Water, Fire, Earth, Death, Dragon, Neutral, and Life). That brings the total number of NFTs Cards at the moment, to about 480!
That's How Crazy it is; But How does this Help You?
You can go about Understanding that ALL these NFTs Monsters are Unique with Different Battle Stats, that Bring Different Results in Battles.
You can Start Sharing about Elementals, Gold Cards Vs Regular Cards, Several Card Editions and How to Combine them in Battle, Which Edition Monsters Cooperate Better. As You can see, there are several post ideas you can generate by asking Simple Questions Concerning Splinterlands NFTs, and you should Share Your Insights on them through Your Battles or By Analysing them Directly.
3. Splinterlands Marketplace
Splinterlands NFTs Marketplaces is a great Source of Creating Content Because we don't just have One Marketplace but Several of them, from The Main Splinterlands Marketplace, to PeakMonsters, Monstermarket, and other Small Communities Frontends.
All these Marketplace Frontends, fetch the Splinterlands API and Update Data about its Listed Cards and card prices, But even though they are Highly Similar in the Contents they share, they still have Their Differences and this is where you can begin Extracting Posts ideas.
Some Ideas Include; Comparing the Features of these Frontends, Which is more Intuitive for Beginners, Cashback Features, How Fast and Accurate is their Data, and Other Such Unique Differences.
You can Further Blog About Your Card Purchases and Sales, The Thoughts Guiding Your Purchase, Upgrading Your Card Decks, and the Special Monsters you're Targeting.

4. Splinterlands Tutorials
I will start off by saying that, we need more of such content in the Splinterlands Community. There are countless things that will be difficult for Absolute Beginners, Let Alone, New Comers to Blockchain to Understand when Onboarding Into Splinterlands. And When I say Countless, I mean Countless.
The Field is so broad, and Considering that it took me months to fully Understand the Space and the Tools I Used for Interaction, I Suppose it will take Others More Or Less.
If You're a Beginner to Splinterlands, this is One of the Best Topics you can Tackle whether You Are a Big Game Player Or NOT. While it's not the Easiest Content to Compose and Prepare, It Sure is One of the Most Relatable; You are Literally Teaching Other Gamers the Process you Have Learned in a Faster Way. Think of it as You Are Saving the time Required to Work things Out for Someone Else.
One of the reasons that I really like Splinterlands is - It is a Moderately Technical Game. In other words, it is not too difficult to understand and not a simplistic game lacking innovation like exists many Games in Blockchain Today.
This tells You that there are many Points of Contact that can be Broken Down and Simplified for Faster Assesibilty. Let's Check Out Some of the Topics that Puzzled me as an Absolute Beginner back in the day;
What is Liquidity Staking & Impermanet Loss?

How Can I Stake my Splinterlands Tokens and What are the Rewards like?

What are the Best Exchanges to Deposit and Withdraw my Play2Earn Rewards?

What is DEC, SPS, and Voucher that Everyone Talks about?

How to Migrate my NFTs Packs between Wax and Hive Blockchain?

How to Stake SPS on Hive Blockchain and How to Stake on External DEFI Platforms?
These are some of the Questions I was asking and these Ideas can further be broken down in several ways to fit more practically around your Tutorials and Make them Simpler for Readers.
You could Even Consider Making a Series from extensive topics - Which Reminds me that - You can Create a Collection of Posts through the Peakd Frontend and this will Include Newer Posts into a Collection as Described.
I Still haven't Used this Feature even though I have Contents that are best suited for a Collection Because I don't know how to work this out yet.
How about we also add;
How to Create a Series out of Your Splinterlands Postings

How to Mint Splinterlands Runi NFTs on Opensea

How to Convert your Splinterlands tokens on "Insert Exchange". Such as Gate.io, Binance, etc.

What does Token Total Supply, Token Total Circulating Supply, and Token Market Capitalization mean?

General Miscellaneous
This includes a General Sphere of Splinterlands Content Ideas that do not fall Under Any Special Category. They also include one of the most Written Content by Writers & Gamers in the Splinterlands Community, so u can continue to get Inspiration apart from those contained in this post;
Some General Ideas include;
Write about Your Daily Rewards and Achievements

Write about Your End of Season Reward Packs

Teach People How YOU Play and Win, What are Your Rewards Like?

Talk about Your Strategies for a High Win-Rate in Battles

Talk to People about Further channels to Increase their Earnings

Blog about Card Rentals, SPS Staking, and Voucher Droppings. What do YOU think about them?
Some of the Terms Used above might Not be Familiar to You if You're an Absolute Beginner, But don't even Start to Worry. START by Taking a Look at the Current Stream of Recent Posts HERE, and See if Any Interests you, FIRST Learn about it from the Writer, THEN Start Blogging about Your New Insights after Putting them into Practice.
One Good Tip you should always keep in Mind is - When a Splinterlands Topic Interests you Greatly, but You are Ignorant of the Terms and Details of it. First Endeavor to Learn about it
I push this strongly without concern, BECAUSE, It's very Easy to pick up new ideas from Several Other Bloggers. There's Nothing Hidden in the Splinterverse as much as I've seen.
So Naturally, you might be excited to blog about certain topics over others, but maybe you don't know much about them. Then Use the Tip above and Get Moving!, You'd be Pulling it Off in no Time!
Summary
This Post is one that I'm truly excited about and I hope that it will Inspire You to Create more Quality Content that will continue to Guide Players in the Splinterlands Ecosystem (whether old or new) to make better decisions and Enjoy the Game better with their Favourite Monster Cards, Elements, Marketplaces, Tools and more
The Splinterverse is an Ecosystem thriving with Utility and a Never Ending Bunch of Cool Updates, Similarly, we all should continue Exploring and Scrutinizing as Gamers and Writers while unlocking various channels of Earnings/ Rewards.
The Gamefi world has unlocked Channels for Gamers to Earn from their time spent Gaming and Creating Content, and the Splinterverse is one such Ecosystem that has been successful in this right and will continue to dominate for years to come!.
Thanks for Reading my Blog, If your Love it, Send me an Upvote 💖, Share this Post🤝, and Follow for More 📰.
Your Gamer & Builder,
Chel_
Check Out My Other Splinterlands Posts