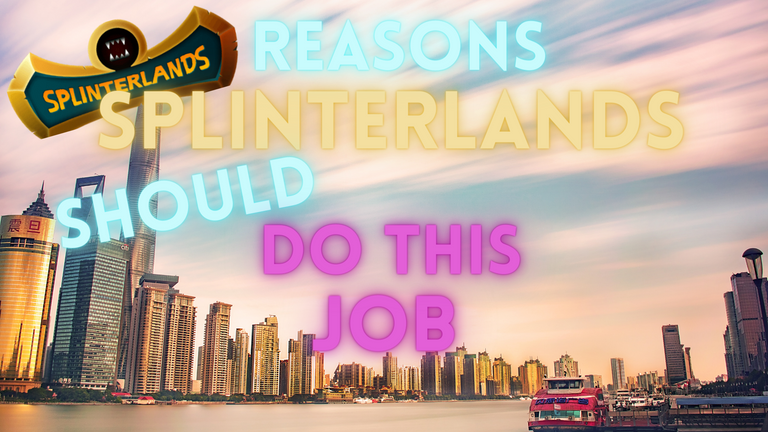 Hi everyone!
I wanted to thank you all for the recent support regarding my efforts to produce the minutes (or transcription) for the Town Hall. I'll start out with (1) why I decided to type up the Town Hall, I'll include (2) what I've learned about its importance to the Splinterlands' community and finish up with (3) what I think Splinterlands might be missing out on as far as opportunities go.

Why I First Started Typing Out the Town Hall
For those who have not followed my story, I started Splinterlands a little over a year ago now, and I haven't looked back. I was completely new to crypto currencies, to the market, to writing blogs, to any of it! I wanted to make sure I could refer back to what was said at the then AMA (ask me anything) events, so I started typing them. I thought maybe others would find it helpful, and I had no idea to the level of how it would help others.

What Transcribing the Town Hall has Done for Others
I've had a lot of people tell me they have appreciated my time and energy so much in typing up the Town Hall minutes, and I appreciate them for telling me. While most people get to just engage with the team and enjoy the casual chat, I am busy typing away, copying/pasting the "eye candy," CHANGING my thumbnail mid-Town Hall because Nate drops some more amazing eye candy last minute... ha ha... add in the YouTube stream for those that want to reference it and then go back and try to correct mistakes as I go. There's so much going on behind the scenes that is more than just transcribing, and it's easy to miss something while I'm trying to manage the rest so I do the best I can and move forward knowing at least it's better than nothing. I've seen though that these little efforts have helped the Splinterlands' community in a positive way.
You must be asking yourself: "How have these minutes helped others?" Well, there are people from all over the world playing this game. And what I don't think Splinterlands is realizing is that the Town Halls in audio form do not translate well for non-English speaking people (or those who have English as a second language). This crypto stuff is complicated, and imagine trying to keep up in another language! I have had multiple people say that providing these minutes (or transcriptions) is so helpful for them! They just enter my text into Google Translate, and now they know what the future is for them as well! They don't have to guess or wonder what was said (although Google Translate isn't perfect mind you, nor is everything I catch I'm sure!)
I have also had people thank me because they have disabilities which prevents them from understanding/hearing the audio version. I was completely touched, with a tear in my eye, that I was actually helping these people in a beautiful way, and all I'm doing is using my little piano fingers and positive attitude to bring this information to others. As I read in Mav Chat, anyone can do what I'm doing. So why aren't they? I think Splinterlands is really missing out on their audience.

What Splinterlands Might Be Missing For Opportunities with this Job
Splinterlands is trying to reach a global audience, but they aren't considering how they are presenting this information to others. They want people who are NOT into crypto to jump aboard our merry little ship and sail away to Praetoria! They forget, however, that people aren't sure of what Splinterlands is even about, how transparent they are with their community and where to go to learn more.
I was so blown away that Splinterlands offers a weekly Town Hall to be transparent, but I think it would be worthwhile of them to take minutes so that people like I've mentioned above can access this information as well. It's easy to do, right? So why isn't anyone doing it? The comment In my opinion shouldn't be "hey, anyone can do that," but more "how to we make this information more accessible to others that cannot understand the Town Hall?"
I think it would be a great benefit for Splinterlands. And if it's so easy to do, by all means, please offer it. I'm such a small person in the grand scheme of Splinterlands' community. If Splinterlands offered these minutes, it would get more eyes and probably more involvement. It is hard for people to give two hours out of their work day to listen in, so those summaries are so important. Please keep them coming Splinterlands! We appreciate the ones you post for SURE!
But it would also be wonderful to provide a transcription for those who do want to feel completely part of the community. When I can be there, I will definitely keep doing this for those who need it. I can't promise I can be there always because I have to work as well, but when I can be there, I will be there!
Thanks for listening. I just wanted to share my opinion about the importance of sharing information to those who cannot access the Town Hall.

If you enjoyed my post and want to try Splinterlands, please use my referral link: https://splinterlands.com?ref=rosiew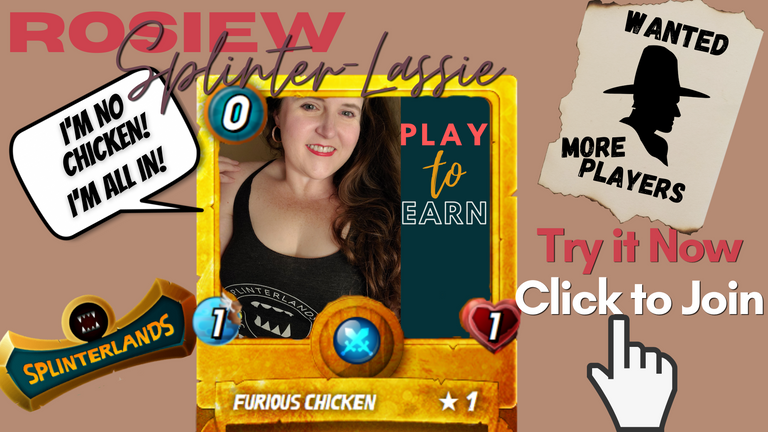 Please remember my post is not meant to be financial advice and is just my opinion.
Follow These Folks:
Splinterlands: https://peakd.com/@splinterlands/
PeakMonsters: https://peakd.com/@peakmonsters/
Monster-Curator: https://peakd.com/@monster-curator/
1Up (#OneUp): https://www.1up.zone/
Here are some great links to join as well!
Splinterlands Discord: https://discord.gg/Tw7KjNsQGs
PeakD Discord (PeakMonsters as well): https://discord.gg/7mQmzZeugE
Monster Market Discord (Monster Curator): https://discord.gg/DR3J9rfRFV
NFT Studios Discord (aka 1UP Discord #OneUp): https://discord.gg/4VYBcNuVQd