It's so easy to get views on your posts but most of us are not doing the things that it requires
PeakD.com released a feature that displays the MOST VIEWED posts.
It has several sorting options: 1 week, Yesterday, Today, 2 weeks, One month
https://peakd.com/views
SUPRISING LIST OF MOST VIEWED
I go through the feeds of most viewed frequently because I'm intrigued who is actually bringing traffic to PeakD and in turn Hive. It's often a very different set of posts. But then again there are key players that would always be on that list. @themarkymark , @blocktrades @theycallmedan @hiveio and a few apps like @splinterlands are always there.
But then some of the most viewed are random users that you wouldn't expect. Lots of vido content lots of apps i don't know a lot about.
ABOUT VIEWS: Keep in mind it only represents PeakD.com and also doesn't include Brave browser or any browsers that have an addon that resists site analytics.
PRESENT EXAMPLES
This is the last 7 days
What can we take away?
The usual suspects are there
The majority of posts are in communities
Several of these accounts you've never even heard of before
5 of the top 11 have already been paid out but are still viewed a lot
Actually several of these have been in the top week posts for several weeks now
A couple of them have barely earned very much.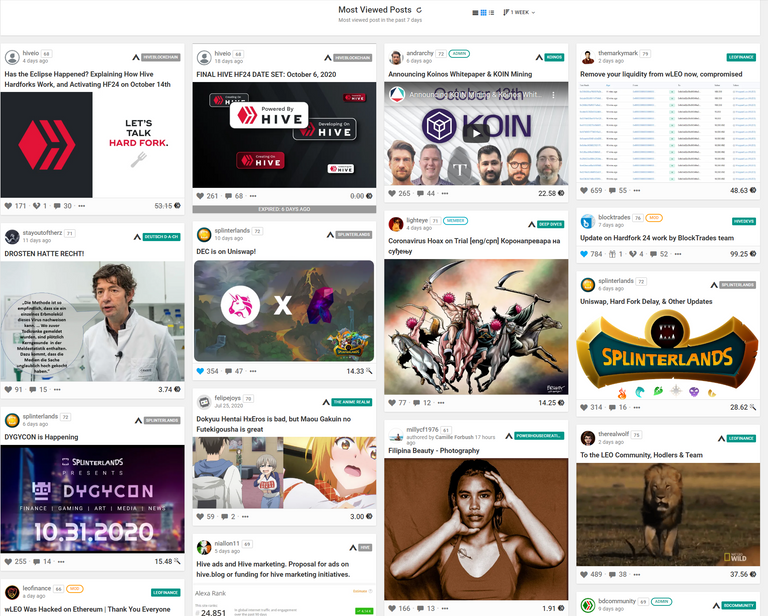 Below is the top posts of yesterday
Yesterday recently ended (GMT TIME) and so let's see what the top posts were.
There are a few of the same posts
Plenty of new posts ... only one already rewarded post on this screenshot
One very familiar face... mine.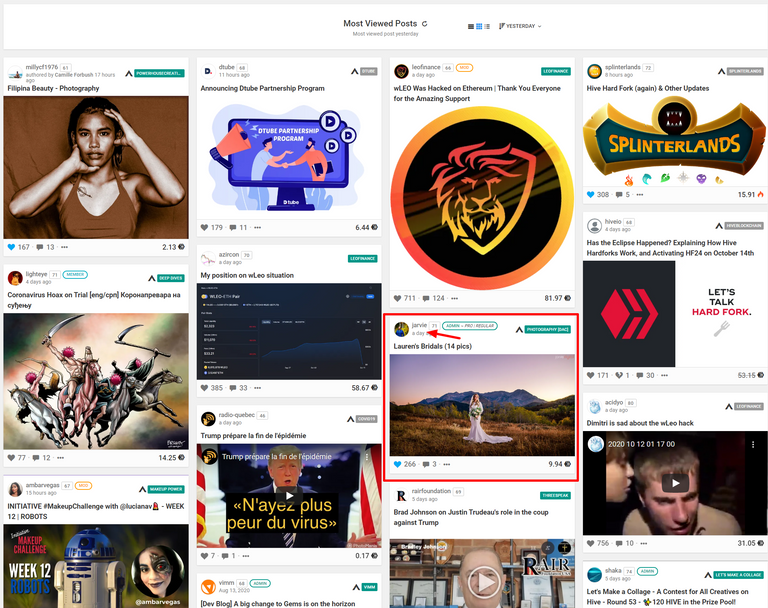 MAGIC RECIPE FOR GETTING VIEWS
Here it is ... are you ready for it?
Share your content where the people who actually want to read/view it will see it.
I put the post from above "Lauren's Bridal" post on Facebook and tagged lauren and her husband. Aka FB probably showed it to her friends and family. Also some of my friends and admirers of my work wanted to see it. That doesn't mean a lot of people (that's how fb operates these day) ... but it's apparently enough to be one of the most viewed posts of the day on PeakD (keep in mind views were split between the previous day, yesterday and now a few hours of today)

PATERN REPEATED
Over a month ago around the time Most Views came out I did a post about Fall Colors in Utah and then put it into a FB group about Fall Colors in Utah. Aka I put the post where the users really honestly wanted to read the content. Not just a show off post but something really useful to their lives. Granted that wasn't probably as DESIRED to hive users because there's like maybe a dozen Utah residents on hive.
But then on these last 4 posts I've continued to share on FB. And it's not a lot that jump over from FB to a 3rd party site. BUT... I give a good lead in and reason to do so.
FB POSTS
CONTINUING THE TREND
So I haven't posted a ton but I have done 5 recently
I shared 4 of them on FB just on my own news feed... no groups or anything. One of the tagged other people so showed up on their news feed. And then the splinterlands one I didn't share anywhere... but I'll let you guess which one got the most rewards. haha

If you're wondering how much more beneficial it was to post something to a group compared to my own page.



Yep putting it into a group was way more beneficial and that's because it was a post that was on topic and really helpful to them.
GETTING YOUR HINTS FROM GROUPS AND TRENDS
If you review the most viewed you'll see a lot of them are posts about something a lot of people are passionate about here on hive (aka #hive #splinterlands #leo) in communities that love discussing that subject. But i guarantee the others that are getting lots of views probably shared them elsewhere.
@themarkymark wrote a post where he suggested going to Twitter seeing what topics are trending and write about that and then put that post right back onto twitter.
I think you should also consider going to FB groups or even better to Reddit... writing an article you think those users would find compelling and then sharing it there.
CHANGING THE CULTURE HERE
Perhaps it's sad how few views are needed to be one of the most viewed posts on all of Hive for the day or week. Or Maybe a ton more people use Brave browser than we expect.
But we know the past culture is about getting rewards, I think most of us would rather get a good vote than get a view. However this sort of thing is not going to bring in serious writers or influential content creators. Why Not? Because creators know how to turn tons of viewers into money already, they don't need hive reward system and wouldn't be satisfied with the tiny amounts anyway if this is what they do for a living. They have partnerships, they have ads they intertwine, they have affiliate links... they work their own products and services and for all those things they need lots of readers that actually go past the feed and actually want to consume what they posted.
So let's change the culture... or maybe somehow MERGE THE CULTURE
PAST: I feel like in the past it was all about creating things that felt like they deserved our vote and the VOTE was what you were after.
NOW: Maybe we can REWARD THOSE WHO BRING READERS!!
@peakd already goes to the Most Viewed page and votes those who bring in readers... specially if they're underperforming in the reward department.
I'd love to come out with tools for communities to know and focus on those who result in readers of posts.
I'd also love to do a sort of daily/weekly/monthly hall of fame for those who had the most views that day or top 10. A place to go check the history of most viewed on PeakD. Maybe put a little badge on their posts so you know they achieved something that benefits all of us...
... They brought lots of people to Hive/PeakD and helped with brand recognition.
VOTING FOR THOSE WHO PERFORM
There are many viable strategies for choosing who to give votes to.
All I'm saying is maybe go through the daily or weekly MOST VIEWED pages
https://peakd.com/views
And reward them for establishing OR bringing in a good audience to their posts, for getting people used to what we do. Maybe look through that list and see who has overdelivered compared to the vote reward they presently have.
YOUR THOUGHTS?