I couldn't let this opportunity go by to join the contest by @galenkp and help christen the new community theme expansion. Well, ok I have to admit, I'm still stuck on the original Pew theme. I do enjoy the others, just Pews at the top of my list!
So my stepson, wife and grandkids drove up for the week last week. He owns a .380 pistol, but hasn't really shot for the last two years since he left the Navy. His wife had never shot. I have to admit I had her pegged as a total anti-weapon person, but she was actually curious.
Of course we took that opportunity to introduce her to some, conduct some safety training for her and the grandkids who would be watching from the house window (still a little small to shoot, but they can start learning safety!).
My stepson of course wanted the opportunity to shoot some of the larger and more custom weapons I own.
We started with his wife on a small .22 Rimfire. The top picture here is this one, a highly customized Ruger Mark IV Tactical 22/45. It's called that because it's a .22 caliber, but with a 1911 .45 style grip. Or at least it used to be, lol. I replaced the grip with the one you see here, internal trigger springs for lighter pull, added a flat trigger shoe, added a Vortex Venom Red Dot sight, and of then of course the Switchback Suppressor.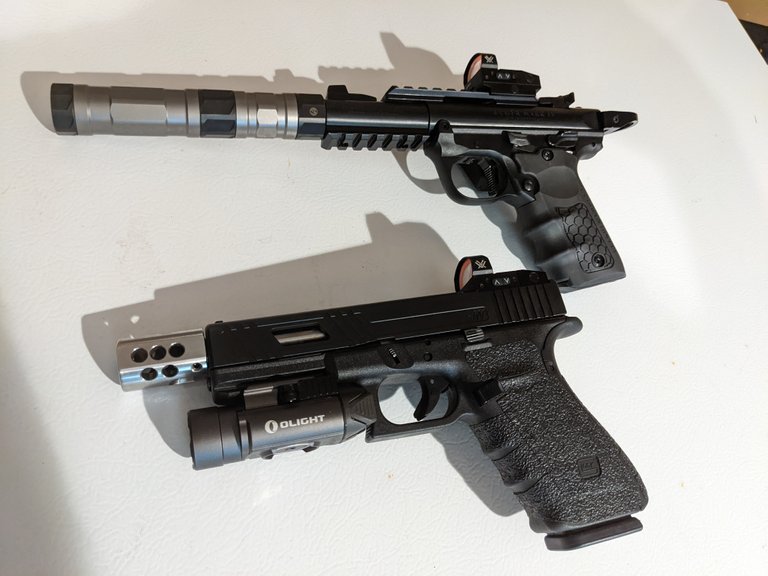 The bottom weapon is a Glock 21 .45 caliber, modified to shoot the mighty .460 Rowland caliber. (More on that one later).
So, we started her on the .22, about 7 yards from the steel targets. I wish I had video, her initial bent arm, holding up, leaning backward stance was hilarious. I guess it's been so long for me I just forgot some people have never been shown or paid enough attention to movies I guess. A little coaching and she was holding better in a modified weaver stance, and popping off rounds. It took her 4 magazines (10 rounds each) of hitting nothing, but then on the 5th magazine she got the hang of it and hit 6/10. Once she started hitting the steel plates, she got a big smile and really enjoyed it. I think there is a .22 in their near future.
This isn't her shooting, but I did film some video later so you could see the fun. I'm a little out of practice and also missed a few. I just love shooting this suppressed, these are not even sub-sonic rounds designed to be extra-quiet, these are 1235 fps CCI Mini-Mag HollowPoints, but still quiet enough to shoot without having to wear hearing protection.

After this, we moved up a bit. We shot a Sig Sauer P365 9mm. She didn't care for that as much, just a bit more recoil than she liked as a newbie. It is a very small frame concealed carry gun and does jump a bit. (No pics today).
Then she went inside and it was time for the big boys to come out. First was the Glock .460 Rowland conversion. It's also had a custom trigger connector, and milled slide to hold the Vortex Venom Red Dot sight. This is a semi-automatic pistol caliber that has just slightly longer case than a .45 (same bullet). You can actually interchange the .45 rounds and .460 rounds in the same magazine (which I posted in earlier pew post). But the .460 Rowland has more powder, a higher pressure chamber, and as much or more power than a .44 Magnum revolver, but a lot less recoil. I was able to get the cherished flame pic off this one :)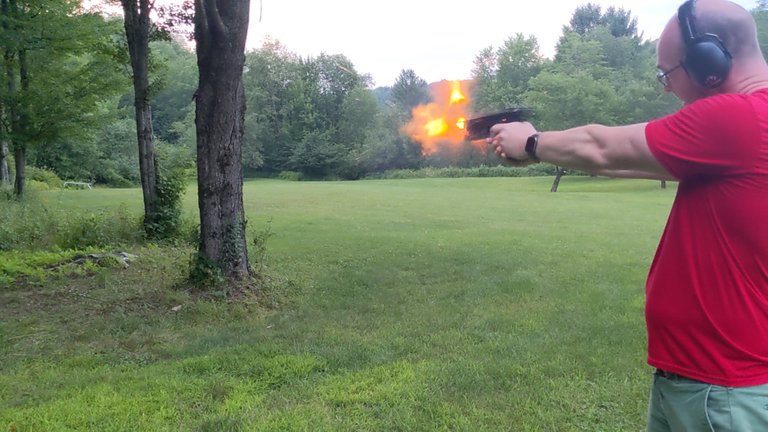 Be sure to check this video that shows what happened when it hit the small steel plate on the second shot. LOL A lot of power when that dog bites.

Luckily there was no damage, these are, after all built to be very portable stands. There was, however a slight mishap after that... he did pull a shot waay right and hit the leg of the stand, oops.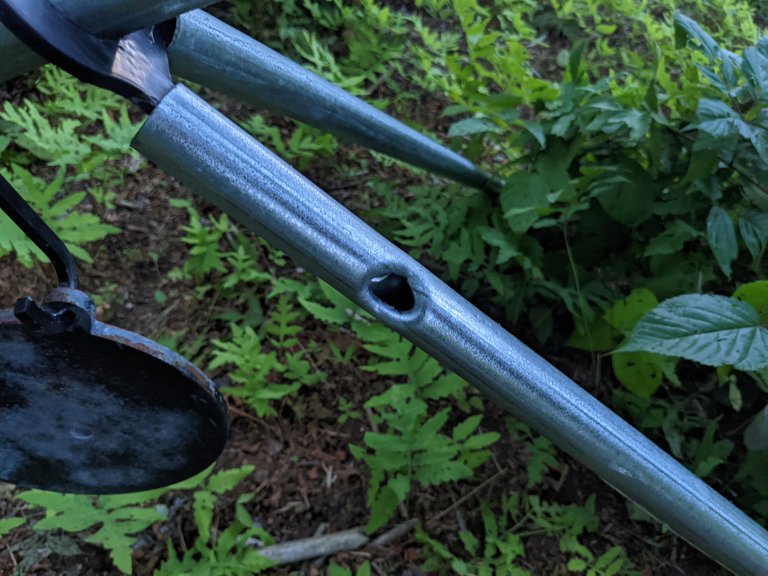 Then he wanted to shoot my big rifle so we broke that out. This is a Savage BA-110 (I like to think that stands for Bad Ass) .338 Lapua Magnum. I handload the rounds for this, shooting 300 grain Accubond bullets at 2,620 fps. We did not shoot the steel, because I prefer not to have holes in it just yet.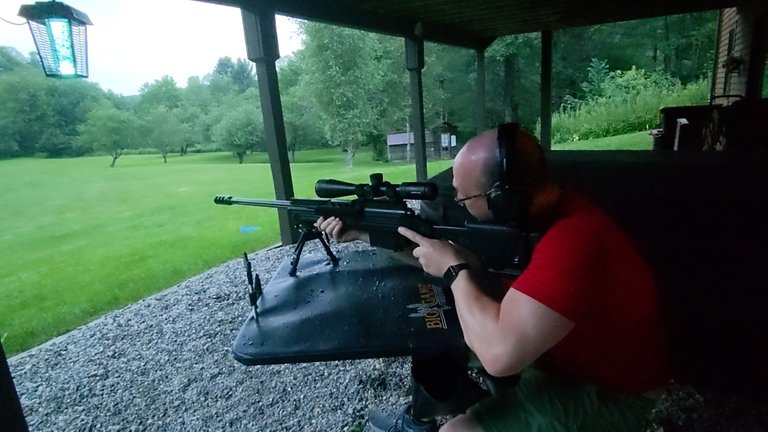 It has a bit of a kick, but not so much that it's unpleasant to shoot. The muzzle brake on the end helps tone it down a lot.

Well that was all the fun we had time for as the rain was rolling in. It's been a while since I had someone to shoot with, and I forgot how fun it was to share. I do love having my own little range. It was a lifelong dream since I was pre-teen and nice to finally get there as I near retirement. It may come in handy for food hunting as well if the stores struggle again.