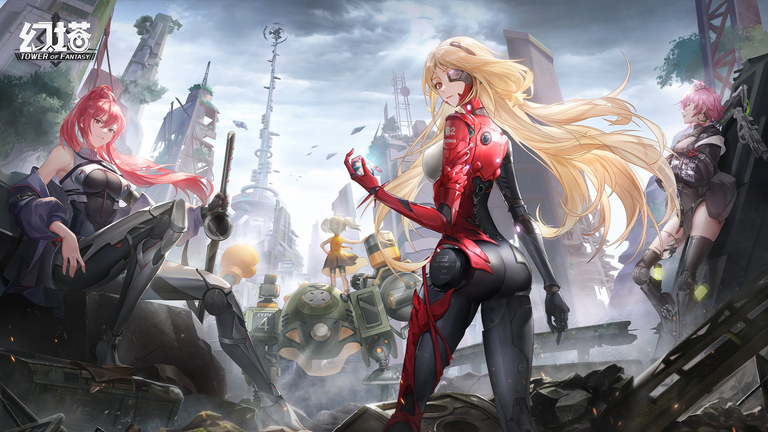 Source

Hola que tal mi gente de Hive como están? espero que bien, el dia de hoy quiero mostrarles mis primeras impresiones del juego que hable hace poco que es el Tower Of Fnatasy, es un MMORPG anime que bueno, siendo sinceros esta recibiendo tanto buenas como malas opiniones, lo cual es normal, pero también es su comparación con el Genshin Impact es lo que todo el mundo suele comentar, yo también he jugado Genshin Impact pero no tanto como para llegar a decir en que se diferencian a la perfección, lastimosamente tengo un par de videos pero preferí hacer un post normal, pero es por culpa de mi internet ya que estas semanas mi internet ha estado muy mal, pero ya este fin de semana es que simplemente no tengo debido a las fuertes lluvias, estoy con los Megas pero igualmente quería hacer el post. HAHAH bueno nos desviamos del tema. Vamos a lo que vinimos.
Hello my people of Hive how are you? I hope well, today I want to show you my first impressions of the game that I recently talked about which is the Tower Of Fnatasy, is an anime MMORPG that well, being honest is receiving both good and bad opinions, which is normal, but it is also its comparison with Genshin Impact is what everyone usually comments, I have also played Genshin Impact but not so much as to say that they differ perfectly, unfortunately, I have a couple of videos but I preferred to make a normal post, but it is because of my internet because these weeks my internet has been very bad, but already this weekend is that I just do not have due to heavy rains, I'm with the Megas but still wanted to make the post. HAHAHA well, we deviated from the topic. Let's get back to what we came for.
---
Creación de personaje: Aunque el inicio del juego es igual a el Genshin Impact, elegir el genero de tu personaje, pero luego ya puedes personalizar tu personaje casi al inicio del tutorial. El sistema de personalización es bastante decente para lo que me tienen acostumbrado los MMORPG exilo anime, aunque en este juego también puedes usar el estilo de los personas que sacas en el Gacha,, esto es una buena variante para darte libertad en el juego ya que muchas veces en los juegos que no te dan libertad de personalizar tu personaje no suelen gustarme pero puedo decir que el Tower Of Fantasy es muy versatil en este sentido, aunque tampoco sea la gran cosa mucha gente hace plantillas de Personajes de anime como Sasauke, Miyuki, Ichigo, Entre mucho mas....Estas plantillas la puede usar todo el mundo.
Character creation: Although the start of the game is the same as the Genshin Impact, choose the gender of your character, but then you can customize your character almost at the beginning of the tutorial. The customization system is pretty decent for what I'm used to in MMORPG exile anime, although, in this game you can also use the style of the people you get in the Gacha, this is a good variant to give you freedom in the game because many times in games that do not give you the freedom to customize your character I usually do not like but I can say that the Tower Of Fantasy is very versatile in this regard, although it is not the big deal many people make templates of anime characters like Sasuke, Miyuki, Ichigo, Among much more. ...These templates can be used by everyone.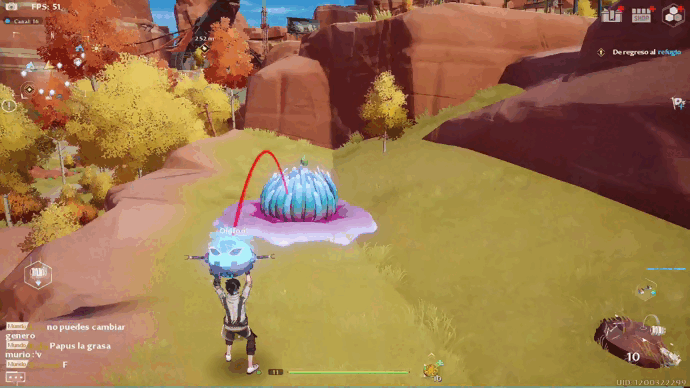 ---
| | |
| --- | --- |
Misiones y exploración: Al inicio de cada juego es prácticamente lo mismo, solo hacer misiones, así que eso es siempre algo que se tiene que tomar en cuenta de hacer cuidadosamente. En el Tower Of fantasy aunque son sencillas ya que tienen auto ruta, hay una buena variedad de que misiones diferentes, hay de infiltrarse en lugares repletos de guardias, transporte de cosas, puzzles (aunque sencillos) ETC... Hablando sobre la exploración me pareció de las mejores cosas del juego ya que hay varias cosas divertidas por hacer, también te recompensan de una buena manera al muchas verte darte tiradas para los gacha, claro son del Gacha que es barato pero aun así siento que eso es atractivo, aunque también hay algunos que te dan las tiradas amarrillas que se podría decir que son las buenas, en este sentido hay mucho para hacer así que me parece que para iniciar es bastante entretenido.
Missions and exploration: At the beginning of each game is practically the same, just do missions, so that is always something that has to be taken into account to do carefully. In Tower Of fantasy, although they are simply because they have autoroute, there is a good variety of different missions, there is infiltration in places full of guards, transporting things, puzzles (although simple) ETC... Talking about the exploration I found it to be one of the best things in the game as there are several fun things to do, they also reward you in a good way by many times giving you rolls for the Gacha, of course, they are from the Gacha which is cheap but still, I feel that this is attractive, although there are also some that give you the yellow rolls which you could say are the good ones, in this sense, there is a lot to do so it seems to me that to start it is quite entertaining.
---
Gacha: Con el sistema gacha tengo una muy buena opinión, desde el punto de vista de los F2P me parece que esta muy bien, ya que como comente arriba hablando de las exploración es que recibes muchas tiradas por simplemente investigar, obviamente completando misiones de la historia principal también obtienes muchísimas, aun siendo de las amarrillas, yo ya tengo 2 SSR, estoy a 10 tiradas de obtener mi 3 SSR, obviamente con despertares es bastante difícil sacar los SSR pero siendo sincero me gusto mucho lo amable que es el juego con los F2P por ahora. Mucha gente tiene una opinión bastante positiva, esta vez la comparto me parece un gran acierto. Incluso ya tengo una SR con unos cuantos despertares.
Gacha: With the gacha system I have a very good opinion, from the point of view of the F2P I think it is very good because as I said above talking about the exploration is that you get a lot of runs for simply investigating, obviously completing missions of the main story you also get a lot, even being yellow, I already have 2 SSR, I am 10 runs away from getting my 3 SSR, obviously with awakenings is quite difficult to get the SSR but being honest I really liked how friendly the game is with the F2P for now. A lot of people have a very positive opinion, this time I share it, it seems to me a great success. I even already have a SR with a few awakenings.
---
| | |
| --- | --- |
Combate: En mi post anterior comente el combate muy por encima pero ya luego de haberlo probado puedo decir que esta mas ambientado para los jugadores de Móvil, ya que es mucho de presionar tu auto ataque como un animal pero el hecho de que sea sencillo no lo hace aburrido, es bastante entretenido porque tienes que aprender a combar tus armas, ya que en este juego comparado con el Genshin aquí si tienes que cumplir un rol en especifico en las mazmorras ya que es en conjunto, ósea tu tienes que tener una base de armas ideal para ser el healer, una base de armas para ser el tank y asi. Esto me parece muy guapo ya que le agrega mucho a el juego en cuanto a que te hace pensar bien tu build. Lo que si es que mucha gente tenia unas expectativas mas altas, a mi parecer esta bien, solo que tampoco tenemos que compararlo con otros juegos como Guild wars 2,tera o Albion, que son juegos mas ambientados a una comunidad tryhard.
Combat: In my previous post I commented on the combat very above but already after having tried it I can say that it is more set for Mobile players since it is a lot of pressing your auto attack like an animal but the fact that it is simple does not make it boring, It is quite entertaining because you have to learn to combine your weapons because in this game compared to Genshin here if you have to fulfill a specific role in the dungeons as it is a whole if you have to have a base of weapons ideal to be the healer, a base of weapons to be the tank and so on. I think this is very cool because it adds a lot to the game in terms of making you think about your build. What is true is that many people had higher expectations, in my opinion, it's fine, but we don't have to compare it with other games like Guild Wars 2, Tera, or Albion, which are games with a more tryhard community atmosphere.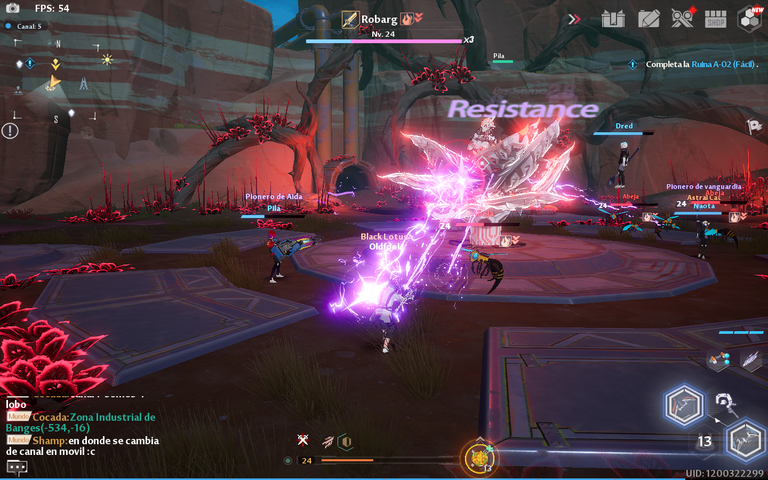 Opinión personal: Puedo decir ya luego de haber jugado 3 días una buena cantidad de horas que el juego es bastante entretenido para jugar casualmente, no es un juego para pasar todo el día como otros MMORPG (Puedes hacerlo, pero en cierto punto te quedaras sin anda que hacer), las comparaciones con el Genshin son inevitables pero me parece que ambos juegos tienen sus puntos fuertes, como sus puntos débiles, si es verdad que este juego esta menos cuidado estéticamente que le Genshin pero tampoco esta mal, lo puse luego ya en una buena calidad grafica y se veía bastante bien, también hay jefes de mundo, portales de oleadas y mas. En fin, me parece un juego que cumple a la hora de ser divertido, si es cierto que dentro de 1 semana la cantidad de usuarios bajara pero bueno eso pasa en todos los juegos. Sinceramente lo recomiendo, es un juego ocasional que tendré por ahí para jugar por lo menos 2 horitas al día cuando ya tenga mi internet bien.
Bueno mi gente ese fue todo mi post por hoy, espero les haya gustado, una disculpa por mi ausencia, es debido a problemas con el internet en mi zona por problemas con las lluvias, espero ya mañana que todo se solucione, Nos vemos en el siguiente post.
Personal opinion: I can already say after having played 3 days for a good amount of hours that the game is quite entertaining to play casually, it is not a game to spend all day like other MMORPG (You can do it, but at a certain point you will run out of things to do), The comparisons with Genshin are inevitable but it seems to me that both games have their strengths and weaknesses, if it is true that this game is less aesthetically cared for than Genshin but it is not bad, then I put it in good graphic quality and it looked pretty good, there are also world bosses, portals of waves and more. In short, it seems to me a game that meets when it comes to being fun, if it is true that within 1 week the number of users will drop but that happens in all games. I sincerely recommend it, it is an occasional game that I will have around to play at least 2 hours a day when I have my internet well.
Well my people that was all my post for today, I hope you liked it, an apology for my absence, it is due to problems with the internet in my area due to problems with the rains, I hope tomorrow everything is solved, see you in the next post.