Time to get this YouTube Channel going with the first "proper" video. If you missed my last post about starting a YouTube channel you can check out that post HERE.
Also take a loot at the bottom of this post for a special giveaway you can join by watching this video and don't forget to subscribe to my channel if this is content you're interested in. Enjoy!
The first game out on the channel is Knockout City. I remember seeing @daltono trying out this game a while back while it was on a free period and concluded that he didn't want to spend $20 to unlock the full game. That might change seeing as the game went fully Free To Play rather recently.
I decided to play this game and make a video about it seeing as it's relatively new as a Free To Play game. I do not regret doing so at all as both playing this game and making a video about it has been incredibly fun.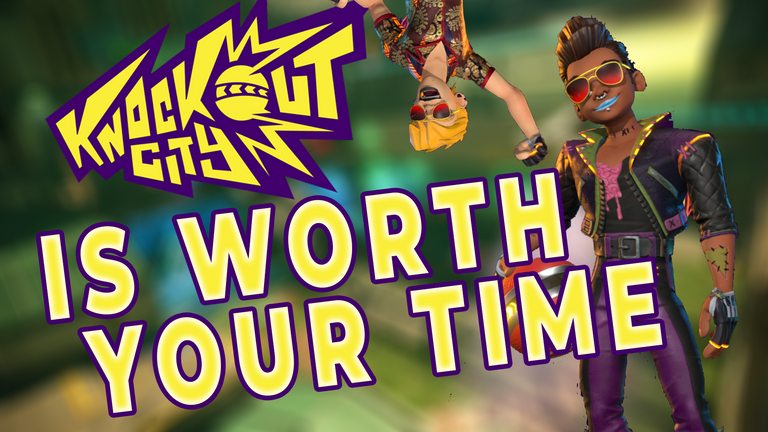 I'm still finding my way when it comes to producing these videos. What is the best and most efficient way to record the content I need? When do I make my script? Do I make it in relation to the content I've recorded or do I just make a script and try and find clips from my recorded gameplay that fits with the script? These were questions I asked myself along the way.
I've also decided that I won't be spending to much time on each video dwelling on questions like; Is this good enough? Should I change that? Not sure if I like this. God, this didn't turn out at all how I wanted it to be. It's a learning process and I'm gonna learn by doing. I'll get more experience by learning from one video to the next instead of making the same video over and over to try and perfect it.
For this video I just sat down to play and recorded pretty much all my gameplay. I recorded matches separately and gave the videos titles referencing some of the things they contained. This way I would have a somewhat alright idea of what each video contained when I got to the editing process and would chose my clips.

Next time I'm going to make more detailed titles to the videos as I spent a lot of time digging through these videos to find the things I needed. Some scenes I went back to record post-script like the Battle Pass scenes and some other stuff.
While I played I also had Google Docs open on my second monitor to write notes while I was playing. I did this in form of making an outline of the things I saw relevant to have in the video. This outline later turned into a full script with some of the bullet points rearranged in a way that made more sense to me.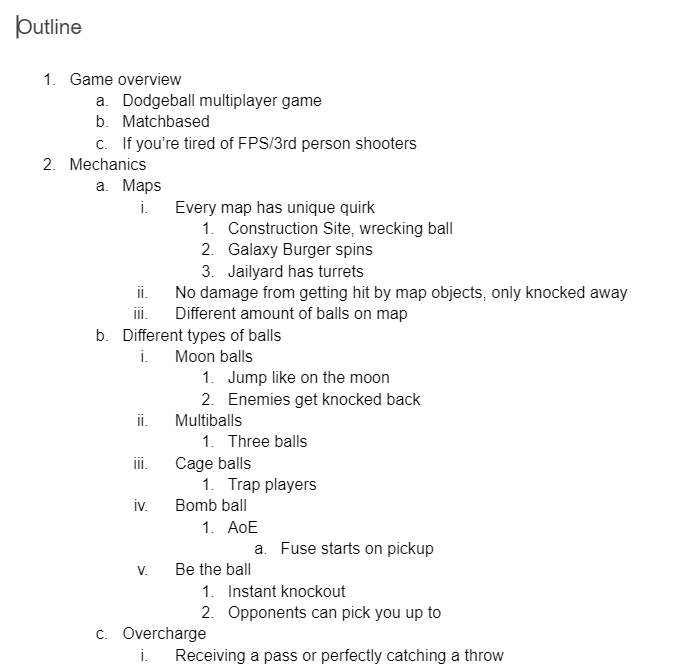 Recording my voiceover was quite efficient. I wrote out my script, proof read it a few times then started recording paragraph by paragraph. I labeled this much like I my video files so I know what each of them contained when I would import them into Premiere Pro. Since I only gave them names they ended up in alphabetical order which was a bit of a mess. Next time I'm gonna label them 1.1, Intro, 1.2 Availability and so on so that they appear in the correct order.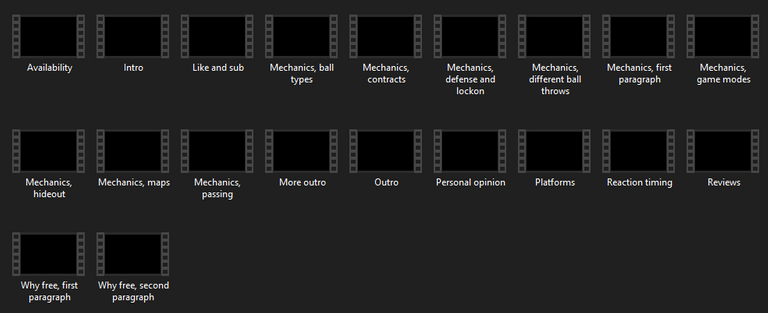 As for the content in this video I feel like it ended up ok. I would definitely have liked it if there was a bit more personality to it. Right now there's a huge section of pure information and very little of me in the video. For the next one I'm gonna try and write the script from a bit more of a personal point of view while still keeping it informative. I would prefer it if it had a bit more wit to it.
Another thing that has helped me a lot is that I've taken the time to learn how Premiere Pro works. Especially when it comes to how key frames and animating stuff works. It really opens up for some extra creativity that I'm gonna be slowly exploring as I move forwards.
So that's it for this one. I'm extremely grateful for any kind of constructive criticism you might have. Feel free to drop that in a comment either here or under the video on YouTube.
It would also help me a lot of you liked the video and subscribed to the channel. I'm almost 1/5th on the way to reaching my goal of 100 followers so I can get my own URL in stead of this random crap: https://www.youtube.com/channel/UCQASWC5vkAlN_4-Io6zi_Og/featured.
Special giveaway!
In the video I say a certain word a certain amount of times while this face: ( ͠• ͜ʖ ͡•) pops up. If you comment on the video (on YouTube) with how many times that happens AND the word I'll enter you in a raffle where you can win 5 HIVE. If your Hive username doesn't match your YouTube username then please leave that there as well. I'll do the draw when this post pays out.
---
All images in this post are screenshots taken by me.