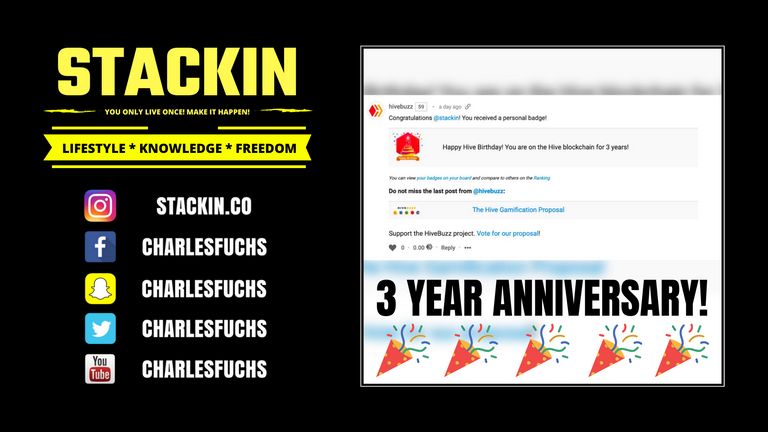 It seemed like yesterday when I joined the (STEEM, NOW HIVE) Social Media Crypto Blockchain on May 20th, 2017... Time sure does fly by pretty damn fast. ⏰
Damn, Three (3) Freakin' Years! 🥳️ 🎉 🎊
I've moved completely to the HIVE Blockchain since the Hard Fork of the Steem Blockchain into HIVE...(Yeah, let's not talk about how Justin Sun created a shit show since taking over). 😅
The only thing that matters at the end of the day is that most of the community stayed together and migrated to HIVE. 💯
There were so many people who have gone and stayed in the last three years I've been here and I'm very grateful meeting so many cool people during that time.
With that being said, I'm here for the long haul! I just wanted to write this post and to say "Thank You" to all of you. 💁‍♂️
As the HIVE Community continue to grow from here on out... I'm looking forward to what the future will hold and continue to spread the HIVE Message to the masses!
Keep on STACKIN! 😎
~ Charles Fuchs
For those who's interested in following my "Content" and "Daily" Posts... you can just follow me @stackin to get my updates.
You Can Follow Me Here:
➡️ UpTrennd: https://uptrennd.stackin.co
➡️ Facebook: https://facebook.stackin.co
➡️ Twitter: https://twitter.stackin.co
➡️ Instagram: https://instagram.stackin.co
➡️ Hive: https://hive.stackin.co
---
PI NETWORK: Pi is a new digital currency you can mine on your mobile phone for free without draining the battery or using data. Use The Referral Code: ( stackin ) to be on my personal team.
---
CRYPTO.COM: Get The World's First ELITE Cryptocurrency MCO Debit Card and we both get $50! NOTE: You must stake at least 50 MCO Tokens to get the $50 + 2% cash back on all your purchases. Be sure to use the REF CODE: ( mqanqykcym )
---
WEBULL: A stock trading mobile app that offers a commission-free trading platform. Get 2 Free Stocks (Value $12 - $1400 Each) for just opening a Free Account!
---