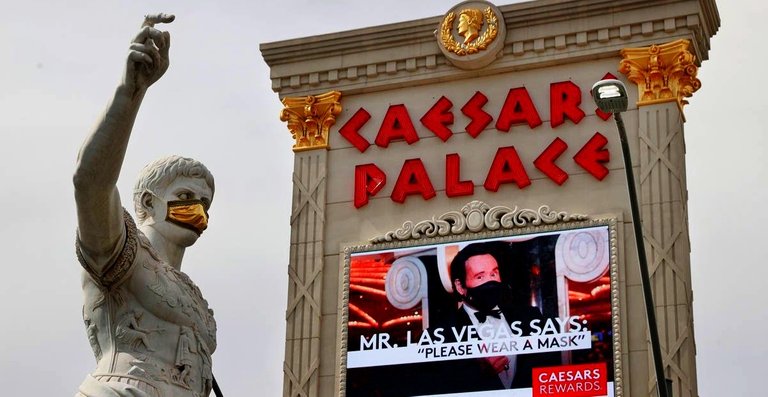 Well, it finally happened... starting this Friday in Las Vegas, it's now mandatory for everyone to wear a mask when in public. 🤦
The Nevada Governor Steve Sisolak is making wearing masks mandatory in the state of Nevada. He felt that Nevada had taken steps backwards in terms of progress, and felt this was a necessary measure to take.
He also stated... "It's not about your rights. This is about protecting the health and well-being of everybody you come in contact with."
You can watch the video here:

In my opinion, I think it's fuckin' insanity. People are just sheep and continue to watch brain washing television programming. 💁‍♂️
We have an immunity system for a reason.
All this shit talking about taking poisoning/toxic prescription drugs, wearing masks, using hand sanitizers, and creating a vaccine is all non-sense.
For months, I have yet to hear anything from any mainstream media news outlets and/or government officials about how one can protect themselves by improving their immune systems by doing intermittent fasting and taking Vitamin C, Zinc, Strands of Mushrooms and, especially Vitamin D.
What are your thoughts? Am I just being an asshole or am I "thinking out of the box" and realized I left the "Matrix" 20 years ago.
Keep on STACKIN! 😎
~ Charles Fuchs
For those who's interested in following my "Content" and "Daily" Posts... you can just follow me @stackin to get my updates.
You Can Follow Me Here:
➡️ UpTrennd: https://uptrennd.stackin.co
➡️ Facebook: https://facebook.stackin.co
➡️ Twitter: https://twitter.stackin.co
➡️ Instagram: https://instagram.stackin.co
➡️ Hive: https://hive.stackin.co
---
PI NETWORK: Pi is a new digital currency you can mine on your mobile phone for free without draining the battery or using data. Use The Referral Code: ( stackin ) to be on my personal team.
---
CRYPTO.COM: Get The World's First ELITE Cryptocurrency MCO Debit Card and we both get $50! NOTE: You must stake at least 50 MCO Tokens to get the $50 + 2% cash back on all your purchases. Be sure to use the REF CODE: ( mqanqykcym )
---
WEBULL: A stock trading mobile app that offers a commission-free trading platform. Get 2 Free Stocks (Value $12 - $1400 Each) for just opening a Free Account!
---