Spectrum in Hand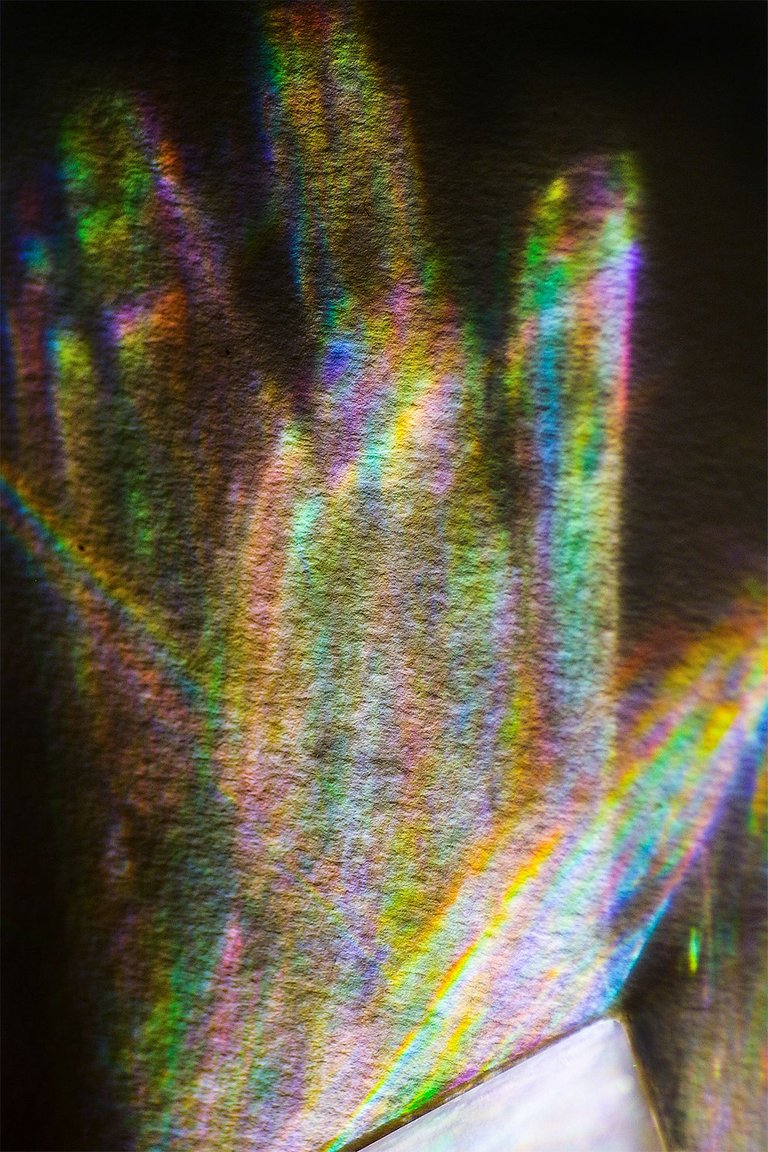 Iceland spar calcite
Brazen rays of light
Hinted hues hand news
Penetrating strike through
Colour streaked window
Blast upon the shadow
Growing twists and turns
Ongoing attempted burn
No time to cower
Into eleventh hour.

Inspiration for Spectrum in Hand was derived from playing around with a large clear calcite crystal, also known as optical calcite and Iceland Spar in late afternoon sunshine. The large chunk I own is the shape of a parallelogram and clear, with some minor internal fractures. It is these fractures that impact the colour display as the calcite is rotated in position, or turned over on different sides.
During two shoots and experimentation with all those rainbow colours projected through the crystal I discovered something unexpected, the suggestion of a hand in the light spectrum display. Both my hands were on the camera during all shots. I didn't see the hand present until I went through the photos and saw a progression sequence with the hand emerging in brilliant colour display.
The final image, a hand of rainbow hued light colours was selected to mint into an NFT. I used Photoshop for minimal editing. From the series, I created a video clip showing the transition emergence of Spectrum in Hand.
Minted into a single edition NFT, Spectrum in Hand is available on NFT Showroom. A video downloadable capturing the emergence of the hand colour play in MP4 format is included with the purchase of the NFT, Spectrum in Hand.
Available for purchase on NFT Showroom:
All photos taken by Nine with a Pentax digital 35mm camera and 90mm Tamron macro lens.