Wounded Flowers Series – Decaying Lily Petal

Decaying Lily Petal I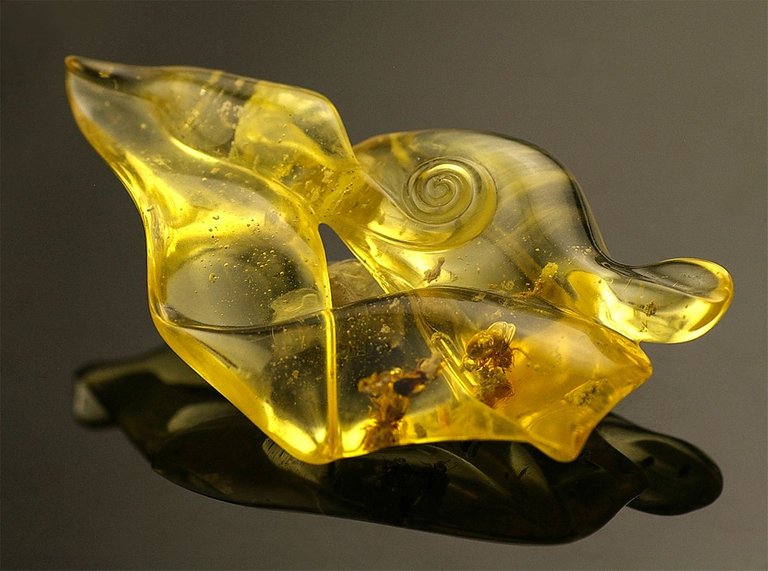 Backstory Bits
Carved in Brazilian amber, "Decaying Lily Petal" is part of the series "Wounded Flowers". Amber is classified as an organic stone, as is Jet, which I've also carved into miniature sculptures. Amber is my favourite of the two organic stones. Why? It's the nature of amber, what I call it's "essence", that intangible, immaterial aspect. When I carve any material, I seek to know its essence, to connect, and dialogue with it.
Amber, despite my having carved it for about twenty years, still has this elusive quality. Its essence is always a hair's breathe out of my reach. I'm climbing the insurmountable, the forever unattainable. It is a perpetual challenge. This is why amber is my favourite. In seeing that, I see it is also reflecting my nature back at me. Challenges are what spur me on. It's all about the race, never about the prize. The process is where all the enjoyment is. Completion of a sculpture means the end of the process, the end of the challenge, the end of the fun of that particular experience.
Before I digress into discussion of "Decaying Lily Petal", I've selected quotes from each post in this series with the post links below to provide background about the series.

"At one point, I was studying one of the lilies she was growing and it occurred to me how flesh-like the flower petals were, plus this sensitivity in their nature. That was the moment it clicked; I had the ideal symbol for my series."

"So what am I talking about with this "Discarded Flower" carving? I'm talking about how we are discarded from youth and all through adulthood. This happens in all kinds of ways to varying degrees."

"Frozen Flower" is all about this extreme freezing up in situations where triggering occurs that snaps one back to a previous experience of trauma that instilled a pattern of helplessness, among other things."

Decaying Lily Petal II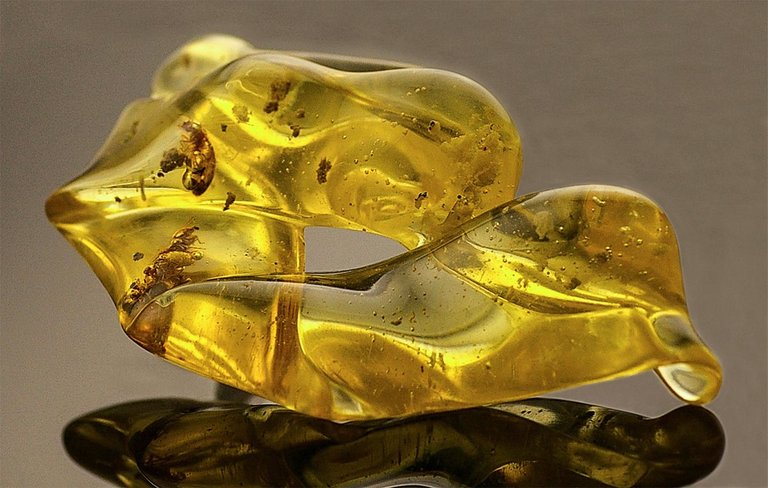 Diving into Decaying Lily Petal
Lilies, my favourite flower, specifically Stargazer Lilies.There's nothing quite like the scent of them. That blast of fuchsia colour splashing out on white. I've had these flowers gifted to me often. I've watched them slowly decay day by day each time. The petals following off, curling, twisting, writhing in their dying moments towards the dry papery husk remains of a life departed. Death. Lilies are associated with death, something I'm long acquainted with, and the reason for my choice of subject matter.

Decaying Lily Petal III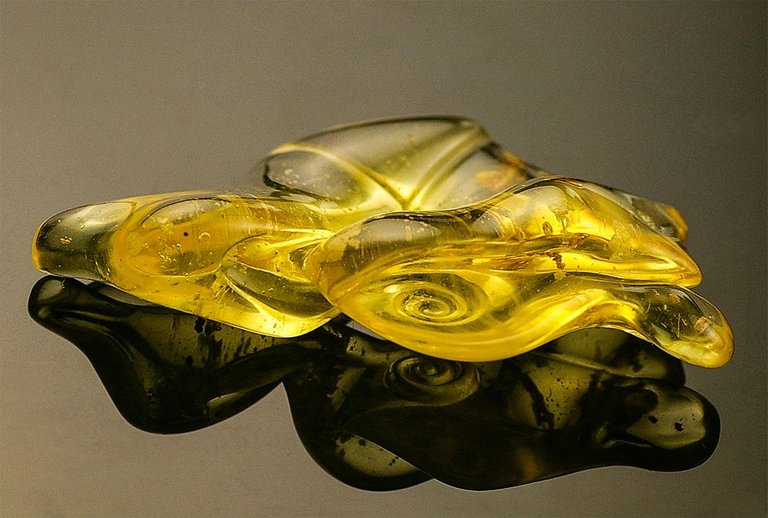 This sculpture in the series is more personal. It's touching on my own journey of healing. It brings me back to when I was child, when I was dying inside, and all the excruciating abuse I experienced during those formative years. I'm not going to detail any of that here. It's extreme. It's far too disturbing to read. There's enough of that all over the place as it is these days.
Death. There are countless ways to be alive and yet dead inside. I've known many walking dead throughout the years. I never wanted to be one of them. I refused to allow what I experienced as a child to destroy me inside, to kill my spirit. That said, there was a lot of rotten decay to clean up after the fact. It meant a tremendous deal of hard work. It took over twenty years. Painful beyond words. There are no words. No journey has ever been as worthwhile as this one was.

Decaying Lily Petal IV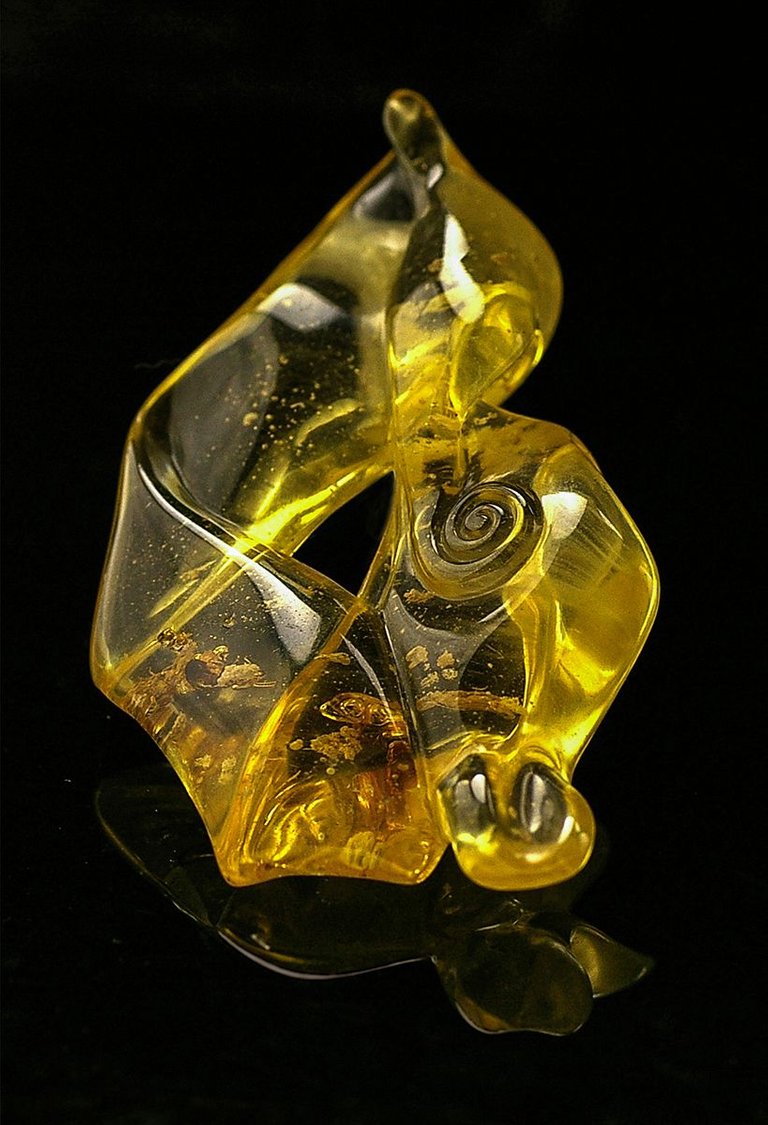 Creating, in particular creating art, has always been one of the primary ways I use to cope with and process experiences I have throughout my life. I work with the materials that I'm given. There's an endless supply.
The piece of amber I selected for Decaying Lily Petal had insect inclusions. It's the only piece of amber I've carved that did. There were a few insects that were removed during the carving process. Other inclusions appear to be some type of vegetative matter. I had an unexpected surprise when cutting into two areas that I thought were air bubble inclusions. The amber cried when I cut it. Not amber tears. Ancient tears of water trapped long ago wet my fingers. Another experience unique in creating this sculpture.

Decaying Lily Petal V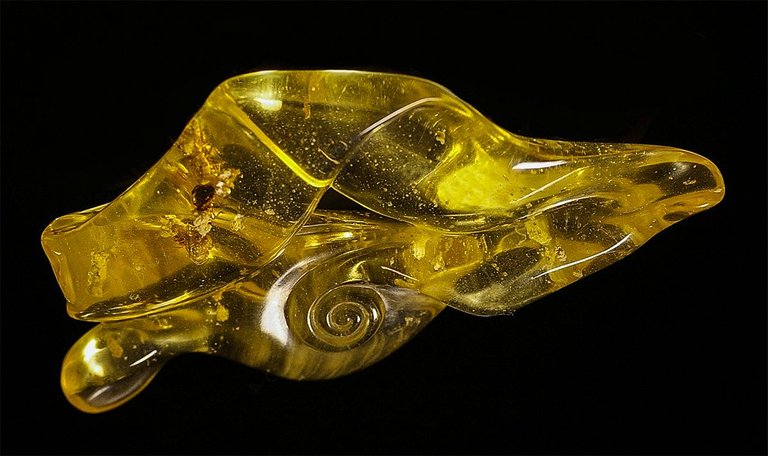 Part of any healing journey is letting go of learned behaviours and habits that hinder and block. It is the death of old ways of being that open the door for new beginnings. New behaviours and habits that create growth and the ability to flourish using adversity to fertilize that development, rather than allowing adversity to crush one.

Decaying Lily Petal VI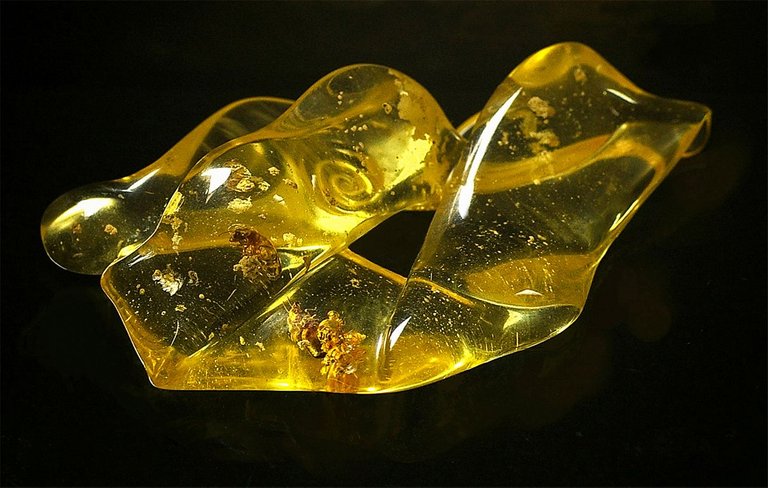 Carving, cutting away decay and dead things. Leaving some behind as reminders. The battle scars of a warrior. Keeping the blade honed and ready. Courage means feeling fear and facing it directly. Using creativity to heal, entering a doorway that brought me home to my true self. Having the amber wash me with ancient tears. Healing from child abuse is a slow process. So is carving amber. Both require patience. The spiral of life.

Decaying Lily Petal VII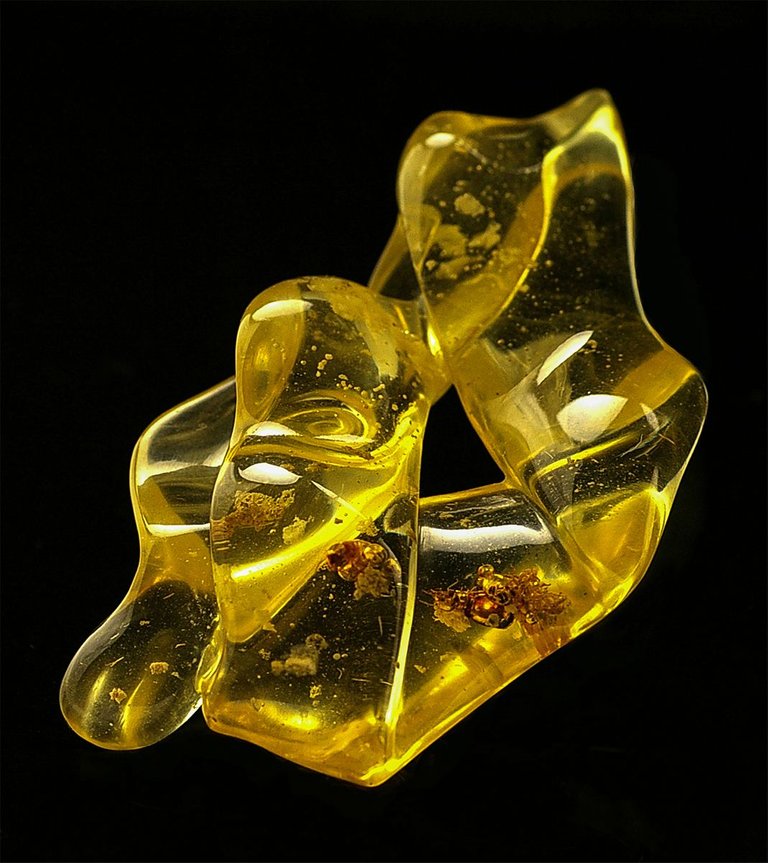 Size of finished sculpture is approximately 2" x 1 ¾" x ¾". All photos taken by Nine with a Pentax digital 35mm camera and 90mm Tamron macro lens.