To talk about Barcelona is to imagine that you are in a huge museum that covers the whole city.
It is designed in such a way that when you walk through its streets you are enraptured by the beauty and grandeur of its monuments.
For me, the work that impresses me the most is La Sagrada Familia.
Because of its history, because of the years they have been building it, because my father QEPD was baptized there and he would have been 92 years old today.
This magnificent work was designed in 1882 by Antoni Gaudí. Currently it is still under construction and observing it from the inside and from the outside produces an indescribable emotion. The date scheduled for completion of this great work is 2026 so we can soon appreciate it without the cranes that break the harmony of the landscape.

Ⓑⓐⓡⓒⓔⓛⓞⓝⓐ
Hablar de Barcelona es imaginar que estás en un inmenso museo que abarca toda la ciudad.
Está diseñada de forma tal que cuando recorres sus calles quedas embelesado de la hermosura y grandeza de sus monumentos.
A mí la obra que más me impresiona es La Sagrada Familia.
Por su historia, por los años que llevan construyéndola, porque mi padre QEPD fue bautizado allí y actualmente tendría 92 años.
Esta magnifica obra fue diseñada en 1882 por Antoni Gaudí. Actualmente todavía está en construcción y observarla por dentro y externamente produce una emoción indescriptible. La fecha prevista para la culminación de esta grandiosa obra es el año 2026 así que pronto podremos apreciarla sin las grúas que rompen la armonía del paisaje.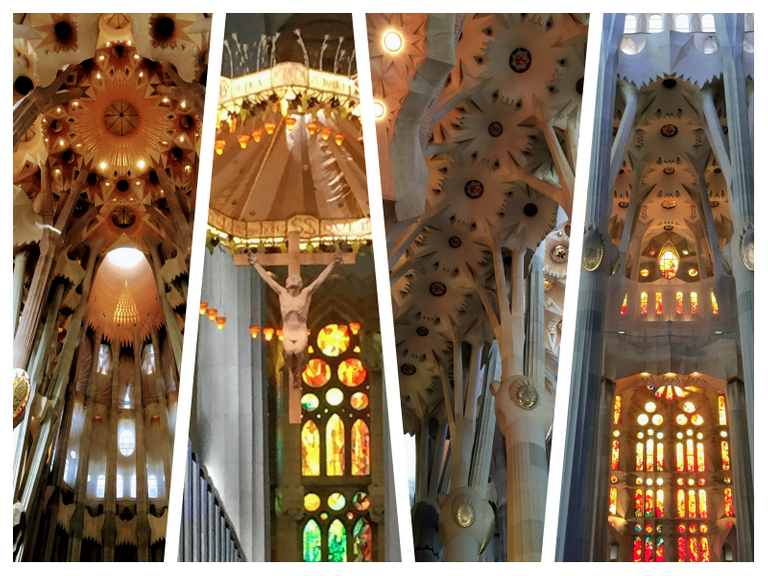 These are details of the temple in its interior, the natural illumination combined with indirect lights produces a strange sensation, as if you were entering a forest.
Ⓑⓐⓡⓒⓔⓛⓞⓝⓐ
Estos son detalles del templo en su interior, la iluminación natural combinada con luces indirectas produce una extraña sensación, como si estuvieras adentrándote en un bosque.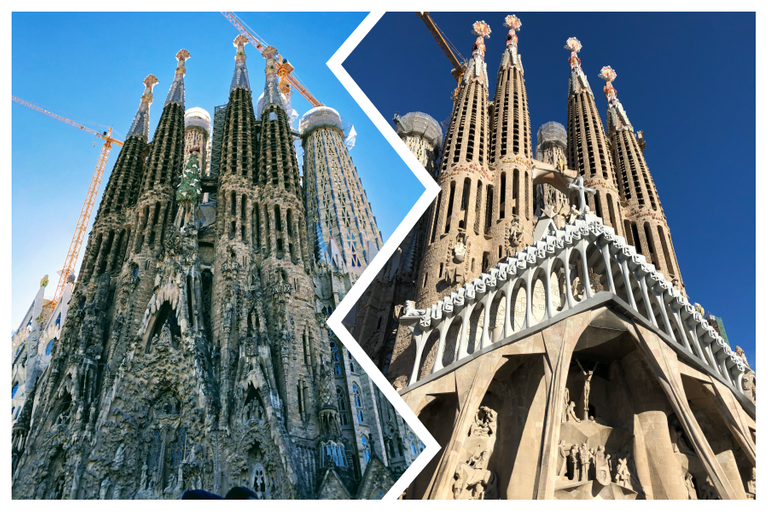 In the external part of La Sagrada Familia you can observe the changes between the main facade, totally gothic, and the back facade where the sculptures take much more modern forms.
Ⓑⓐⓡⓒⓔⓛⓞⓝⓐ
En la parte externa de La Sagrada Familia puedes observar los cambios entre la fachada principal, totalmente gótica y la posterior donde las esculturas toman formas mucho mas modernas.
---
Another work that fascinates me to visit is The Basilica of Santa Maria del Mar
The origins of this church go back to the paleochristian church of Santa Maria de las Arenas, where the body of the martyr Santa Eulalia, patron saint of Barcelona, is said to have rested. It is believed that this early church was built on top of a Roman amphitheater, hence its name "arenas".Fuente
The construction of this church began in 1329 and ended in 1389. It has suffered wars, earthquakes, attacks and fires. And there it stands upright and majestic. This basilica unlike the others is completely austere in its decoration. The illumination is magnificent and takes on strange tones when the sun filters through the stained glass windows. It is entirely made of stone and has no golden adornments or ostentatious riches.
In 2006 the Spanish writer and lawyer Ildefonso Falcones, wrote the novel The Cathedral of the Sea The central theme is the construction of the church Santa Maria del Mar and reading it is very interesting because it tells the story of its construction.
Later they made a series that is transmitted by Netflix I recommend it!
Ⓑⓐⓡⓒⓔⓛⓞⓝⓐ
Otra de las obras que me fascina visitar es La Basilica de Santa Maria del Mar
Sus orígenes se remontan a la iglesia paleocristiana de Santa María de las Arenas, donde se dice que descansaba el cuerpo de la mártir Santa Eulalia, patrona de Barcelona. Se cree que esta iglesia primitiva se levantaba sobre un anfiteatro romano, de ahí su nombre de "arenas".
La construcción de esta iglesia comenzó el 1329 y finalizó en 1389. Ha sufrido guerras, terremotos, atentados e incendios. Y ahí esta erguida y majestuosa. Esta basilica a diferencia de las demás es completamente austera en su decoración. Las iluminación es magnifica y toma tonalidades extrañas cuando se filtra el sol por los vitrales. Es totalmente de piedra y no tiene adornos dorados ni riquezas ostentosas.
En el año 2006 el escritor y abogado español Ildefonso Falcones, escribió la novela La catedral del mar El tema central es la construcción de la iglesia Santa Maria del mar y su lectura resulta muy interesante porque da a conocer la historia de su construcción.
Posteriormente hicieron una serie que se transmite por Netflix ¡La recomiendo!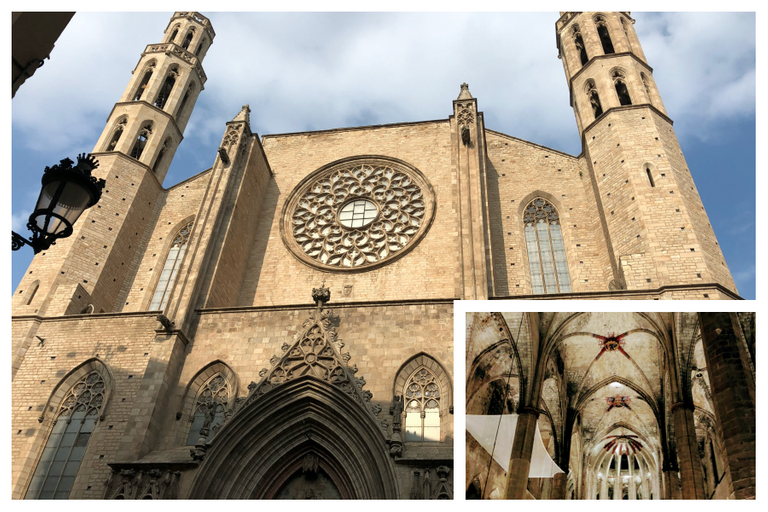 The last time I visited this church there was a great rejoicing because as a result of works of recovery of the lateral facade of the temple they discovered this image of the virgin that had remained hidden for a long time.
Ⓑⓐⓡⓒⓔⓛⓞⓝⓐ
La ultima vez que visité esta iglesia había un gran regocijo pues a raíz de trabajos de recuperación de la fachada lateral del templo descubrieron esta imagen de la virgen que había permanecido oculta por mucho tiempo.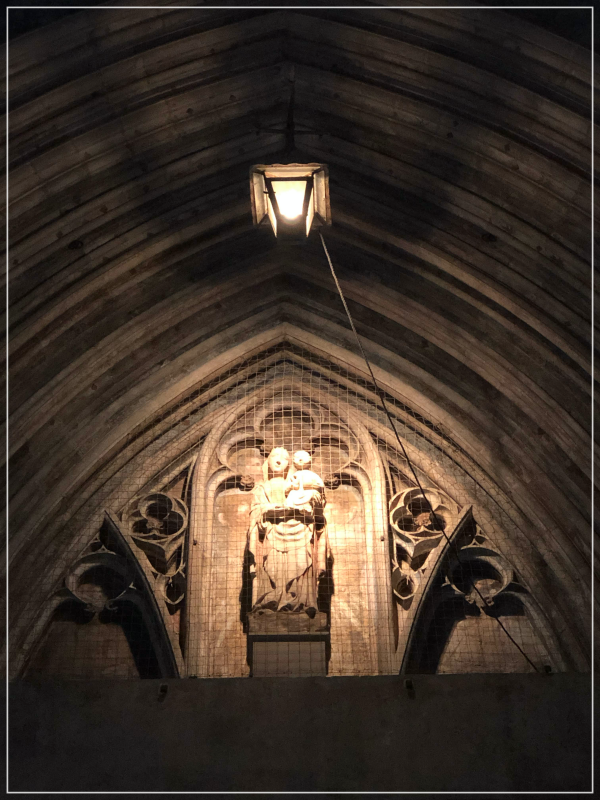 Barcelona's cathedral was built during the 13th to 15th centuries on top of the old Romanesque cathedral. In the year 599 it was dedicated to the Holy Cross, later in the year 877 it included Santa Eulalia who is known today as the Virgin of Mercy patron saint of Barcelona.
Ⓑⓐⓡⓒⓔⓛⓞⓝⓐ
La catedral de Barcelona se construyó durante los siglos XIII a XV sobre la antigua catedral románica. El el año 599 fue dedicada a La Santa Cruz, posteriormente en el año 877 Se incluyó a Santa Eulalia que es conocida hoy como la virgen de la Merced patrona de Barcelona.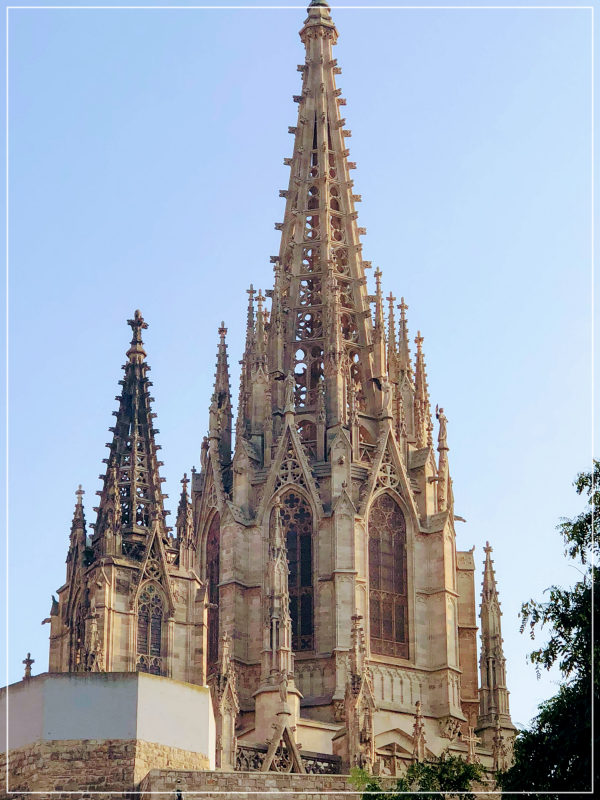 Another building that leaves me dumbfounded is that of the maritime captaincy of Barcelona. It is incredible to see the amount of detail in the sculptures on the facade. I would like to know their meaning.

Ⓑⓐⓡⓒⓔⓛⓞⓝⓐ
Otro de los edificios que me deja obnubilada es el de la capitanía marítima de Barcelona. Es increíble ver la cantidad de detalles de esculturas en la fachada. Me gustaría saber su significado.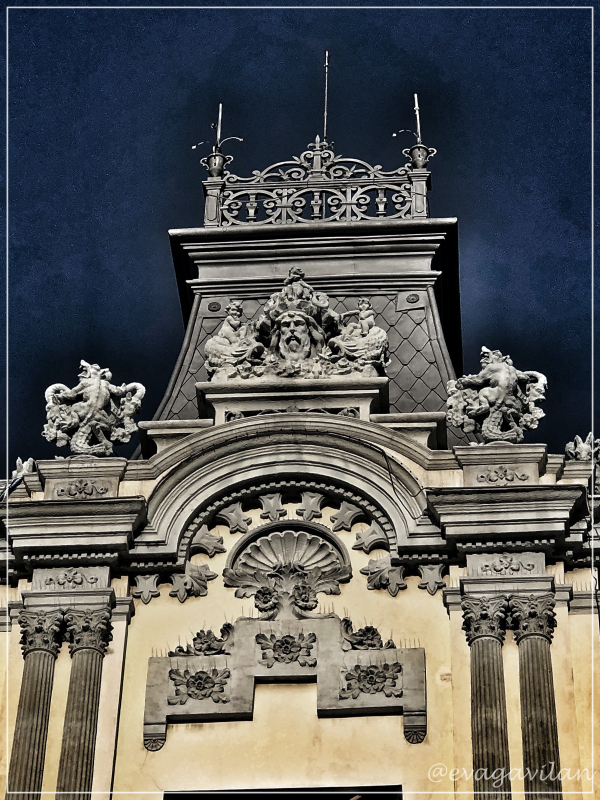 Detail of one of the towers.
Ⓑⓐⓡⓒⓔⓛⓞⓝⓐ
Detalle de una de las torres.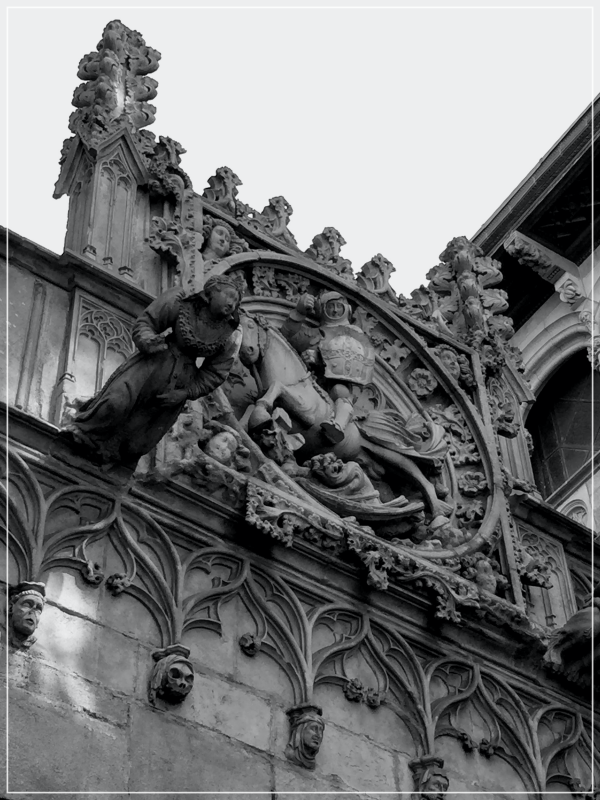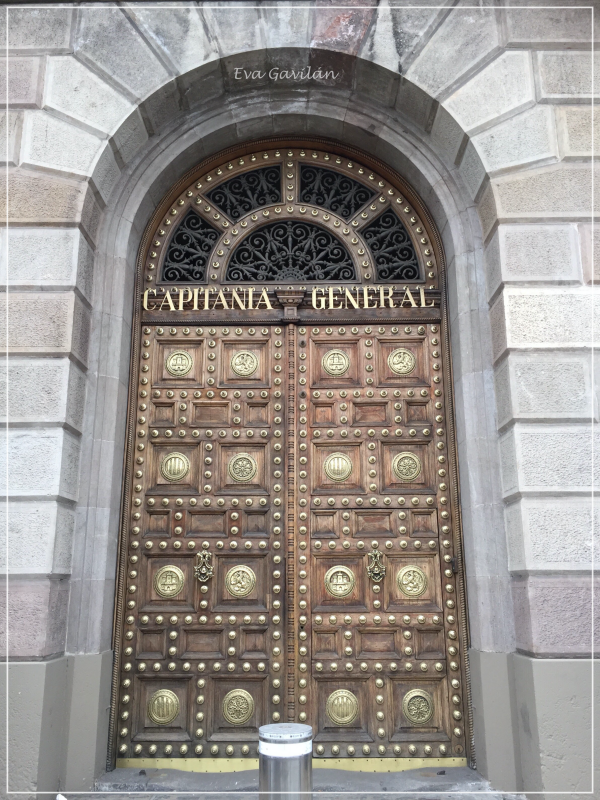 Now I show you the original work of Gaudi
the Batllo house
This is the remodeling of a building from 1800 that he did for the Batllo family, it was his home and modern systems were implemented for the time of pipes and toilets in addition to an original internal and external decoration. Today it is open to the public. A notable detail is the external decoration that they do in the building as a result of each celebration or emblematic date. This photograph belongs to the last Christmas when they filled it with lights.
Ⓑⓐⓡⓒⓔⓛⓞⓝⓐ
Ahora les muestro la original obra de Gaudí la casa Batllo
Se trata de la remodelación de un edificio del 1800 que hizo para la familia Batlló, era su casa y se implementaron sistemas modernos para la época de tuberías y aseos ademas de una original decoración interna y externa. Hoy día esta abierta al publico. Un detalle notable es la decoración externa que hacen en la edificación a raíz de cada celebración o fecha emblemática. Esta fotografía pertenece a la navidad pasada cuando la llenaron de luces.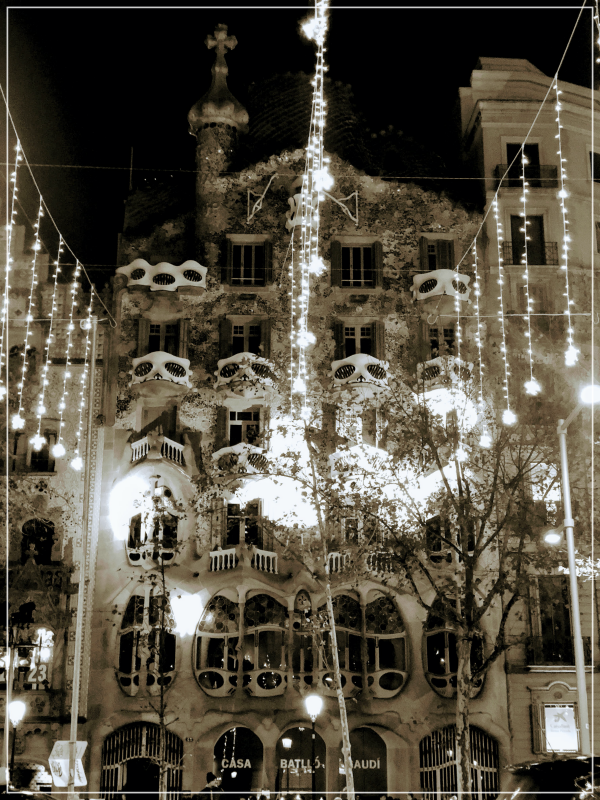 Daylight details of the facade and internal parts of the house.
Ⓑⓐⓡⓒⓔⓛⓞⓝⓐ
Detalles a la luz del día de la fachada y areas internas de la casa.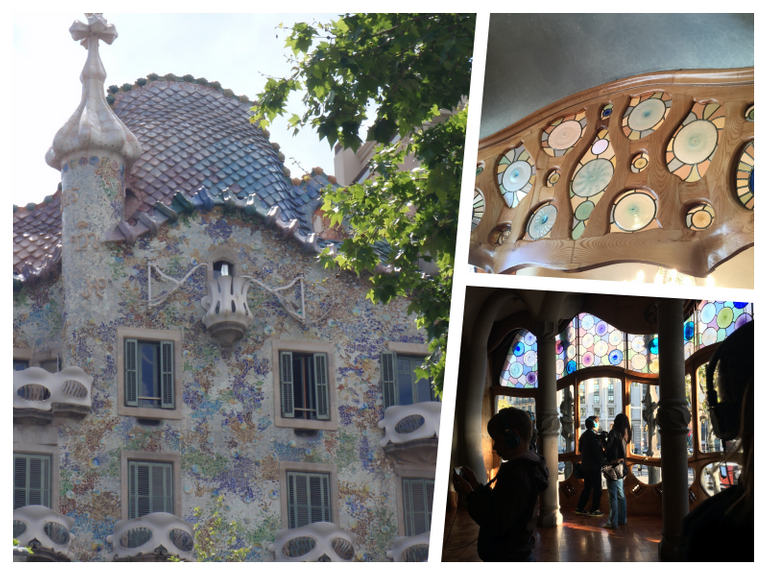 In the Gothic Quarter I cannot let this image pass. It's the Pont del Bisbe.
It is a bridge that joins the house of the canons with the Palace of the Generalitat was built in 1928
Ⓑⓐⓡⓒⓔⓛⓞⓝⓐ
En el barrio gótico no puedo dejar pasar esta imagen. Es el Pont del Bisbe.
Es un puente une la casa de los canónigos con el Palacio de la Generalitat fue construido en 1928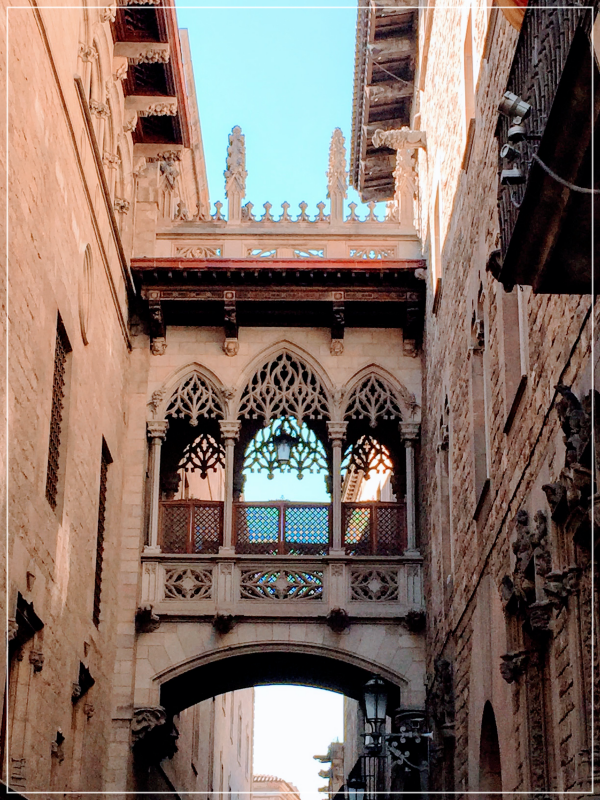 Following the tour we arrive at the Picasso Museum in Barcelona where there are about 4,000 works of the artist including the series of the 58 Meninas as well as prints, drawings, paintings, sketches and all kinds of material donated by the artist, his collaborators, family and friends.
Ⓑⓐⓡⓒⓔⓛⓞⓝⓐ
Siguiendo el recorrido llegamos al museo Picasso de Barcelona donde se encuentran alrededor de 4.000 obras del artista incluyendo la serie de las 58 Meninas ademas de grabados, dibujos, pinturas, bocetos y toda clase de material donados por el mismo, sus colaboradores, familiares y amigos.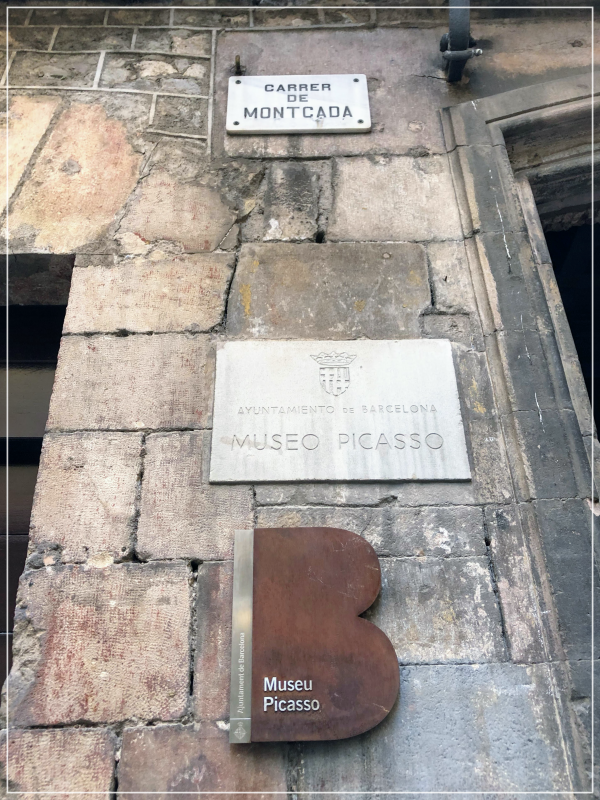 At various points in the city, spectacular living sculptures can be seen, true works of art that leave passers-by wondering if they are really figures or people, since they are completely immobile until some child leaves them a coin and they move and pose for the photo.
Ⓑⓐⓡⓒⓔⓛⓞⓝⓐ
En varios puntos de la ciudad se dejan ver espectaculares esculturas vivientes. verdaderas obras de arte que dejan a los viandantes dudando si en realidad son figuras o personas ya que están completamente inmóviles hasta que algún niño les deja una moneda y se mueven y posan para la foto.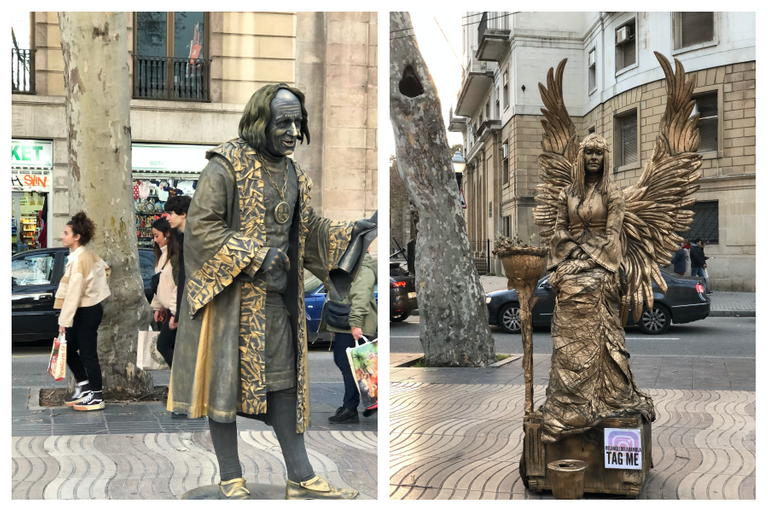 In contrast to the classic and modernist monuments of the city, it is not unusual to find buildings like this one where the Hotel Ohla operates. And suddenly you react and realize that you are in 2020 and not in medieval times. The contrast is very strong and people get used to living in that almost magical environment.
Ⓑⓐⓡⓒⓔⓛⓞⓝⓐ
Como contraste con los monumentos clásicos y modernistas de la ciudad no es raro encontrar edificios como este donde funciona el Hotel Ohla. Y de pronto reaccionas y te das cuenta que estas en el 2020 y no en la época medieval. El contraste es muy fuerte y la gente se acostumbra a vivir en ese entorno casi mágico.



I hope that this tour has been to your liking Barcelona has a lot to tell, that I will do in the next deliveries. So that we can travel together through every detail of this wonderful city.


Ⓑⓐⓡⓒⓔⓛⓞⓝⓐ


Espero que este recorrido haya sido de su agrado Barcelona tiene mucho que contar, eso lo hare en las próximas entregas. Para que recorramos juntos cada detalle de esta maravillosa ciudad.


Access to my travels
Aquí
Acceso a mis viajes

Agradezco tus comentarios


Todas las fotografías son de mi propiedad y fueron tomadas con la cámara de mi teléfono
Protege tu cuenta, cuida tus claves.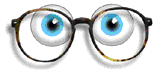 Incidente con mi cuenta @evagavilan




I appreciate your comments


All pictures are my property and were taken with my phone's camera
Protect your account, take care of your passwords.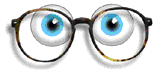 Incident with my @evagavilan account
Translated with www.DeepL.com/Translator (free version)