Since announcing I was powering "down and out" on the Steem blockchain, I have experienced "new life," in a manner of speaking, here on our Hive blockchain. As I have written about fairly extensively now, most of it is tied to what I am steadily learning about the "second layer" opportunities available to us all.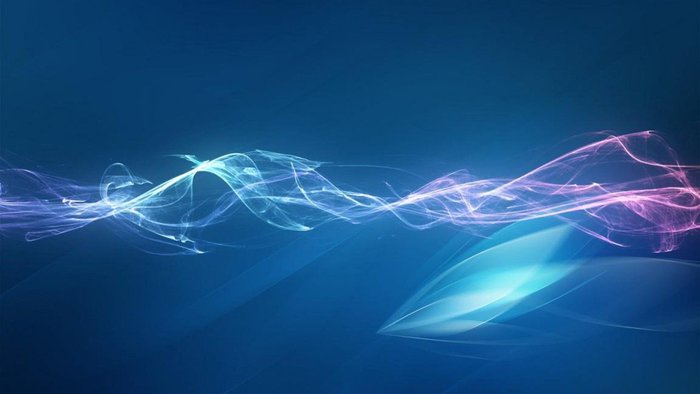 Source: @cardboard's introductory post and HiP Wallpaper
There is one "Captain Obvious" common factor in following up on choosing to invest in any of them. And what is that @roleerob? The old saying is - "it takes money to make money" ...
Where is it going to come from? Here is the answer, for me, as written in my "Money Goes Where Treated Best!?" post:
"... I have always fallen dutifully in line with the "Power Up! Power Up!" mantra so commonly heard. Resulting in no decisions to make about "discretionary funds," as there were none.

With some likely exceptions to be made here and there, that is now over for me."

[emphasis added ...]
Over. Done. Not doing it ... If you are going to chose a similar path, dear reader, you are going to have to have some "dry powder" - readily available funds for taking advantage of market opportunities in a timely fashion!

Source: Creator OpenClipart-Vectors on Pixabay
In the case of investing here into our Hive blockchain, that begins with its external HIVE token. Not its internal HIVE POWER token, with the 13-week "lock up" of its inherent value. There is no "Hold button," on market opportunities, while you wait for 13 weeks to go by ...
There is one problem with the decision to HODL HIVE however. HIVE POWER has inherent within its design the benefit of steadily accruing value, even if you do nothing more than simply HODL it.
Note: This benefit is what led to my original investment in HIVE beginning in August 2017!
But, does HODLing HIVE itself have any benefits? Beyond price appreciation (or depreciation, as this is being written ... 😒) in the marketplace? Nope! Nothing, zip , nada ...
________________________
Except for the benefit of having "dry powder" then, are we "on the horns of a dilemma?" Are we stuck?
Let's take a closer look ... 🧐

Introducing the LHP Token!
One of the indispensable and undeniable benefits of the free market is that problems create opportunities. In response to the "demand" for one, to "supply" a solution! And the solution provider benefits to the degree the marketplace agrees they have provided a good one!!
The problem I have described above is not unique to me. Much has been written about the limitations of our Hive blockchain's 13-week powerdown rule. Fortunately for me, at about the time this issue was showing up "on my radar screen," I saw @cardboard's post discussing Liquid Hive Power and introducing the LHP token on LeoDex.
Yes! 👍 Excellent timing ...
Here is a quote:
"You buy them, you get the HP delegation, 1 LHP = 1 HP delegated. No need to stake them, just hold (have them in your HIVE-Engine wallet).

If you sell the tokens, the delegation is lowered by the amount of the tokens you sold. Placing sell offer does not lower / remove the delegation, only when someone actually buys them from you."

[emphasis added mine]
While a lot of additional details are available in that post to those interested in taking a closer look, this captures the essence of the LHP token.
Gain all of the
benefits of HP


without


the 13-week lock-up
of its value!

Note: Technically, there is one very important benefit lost, which is covered later ...
What is not to like?
Here are some key details:


Your purchase of LHP tokens results in an increase in the Hive Power of the @lhp.app account. Which, in turn, is "instantly" (if possible) delegated to your account:




The available HP linked to your LHP purchases, for "instant delegation," can be found on the @lhp.app account's profile page:




If there is not enough HP to instantly and fully fill the delegation linked to your new LHP token purchase, then "... oldest delegation requests are filled first." (see introductory post for more details)


Since it is HP linked to your money, the delegation linked to your LHP tokens grows over time, due to Hive inflation!
Great, where do I "sign up" @roleerob? We have two options ...

Execution Options: Use @swap.app or LeoDex?
If you are not yet familiar with the functionality of the @swap.app account, dear reader, I highly recommend you check it out! This account's functionality is a great, great resource to have available to us in our "tool kit" here on our Hive blockchain!
Given all that has been written about LeoDex and Hive Engine elsewhere, I am going to just focus on a quick example of my own use of @swap.app, before providing some input on which of these two options to use:
It is a simple one-step process, to convert your LHP tokens in your LeoDex wallet to HIVE, using @swap.app:






The resulting conversion details are nicely displayed in this transaction showing up in your PeakD wallet, a few moments later:




Hard to improve on that! 🙂👍 While I had no need to do it myself, this is easily done in reverse, i.e. converting HIVE in your PeakD wallet to LHP in your LeoDex wallet, as touched on below.
________________________
Okay, then, should you use @swap.app or LeoDex? I believe the choice is pretty simple, based upon what you are wanting to do. There are two classifications:
LeoDex is your choice, if you are wanting to conduct any sort of trading amongst the Hive blockchain's "second layer" tokens.


@swap.app is your choice, if you want to move funds back and forth between your Hive wallet and LeoDex. See my example above!

Note: On August 11th, @swap.app published a post with all of the details needed to transfer HIVE into LeoDex and buy any token, e.g. LHP, in one simple step! Costs no more! Saves time!


Want to move your LHP clear outside of the Hive blockchain to BTC or ETH? Two considerations, based on destination:
Wallet addresses: On August 17th, @swap.app published a post with all of the details needed to transfer any "second layer" tokens, from your LeoDex wallet straight to a BTC or ETH address of your choosing. And it can encrypted!


Exchange addresses: While Option #1 would still work, it is unnecessary and would cost you more in fees. Why? Because all of the exchanges on which you can trade HIVE have accounts on our Hive blockchain! Transfer your Hive to those accounts for free and exchange your HIVE there to BTC or ETH.

Only if the fees of using @swap.app are equal to or less than the fees of your exchange, would it make sense to use @swap.app.
________________________
With the LHP token now introduced to you, dear reader, let's take a step back and finish up with a look at an essential part of its story ...

Market and Liquidity
If there is any common "complaint" about Hive Engine, it is that a relatively tiny market is being served by it. That is a "global" statement. Any particular token will invariably have some subset of those engaged in this overall market.
So ... How is the market for the new LHP token?

Source: LeoDex LHP market, as this is being written
Not looking too bad on the supply side, for getting "in." 👍
A little uhhh ... "light" on the demand side, for getting "out." 👎
While not ideal, we have to bear in mind this token is just getting started. Anyone with any experience at all on our Hive blockchain knows of the challenge of getting "eyes" on any particular subject matter. With that, we have no way to measure how widely known it might be at any particular point in time.
We can just assume, given it was only introduced less than 3 weeks ago, the benefits of investing in the LHP token are still fairly unknown.
________________________
So ... This post represents @roleerob's effort to attract "eyes" to the opportunity that the LHP token represents for all of us on our Hive blockchain. And, in doing so, improve the size and liquidity of the LHP market!
If you like what you see, dear reader, please do what you deem is in your best interest in giving serious consideration to owning some yourself. And passing the word on to your Hive network!

Closing
Wrapping up this post, I would feel derelict in my duty to provide all the information you need (to the best of my ability anyway) to make a well-informed decision, without coming back to the one benefit lost mentioned earlier.
And what's that @roleerob?
Buying the LHP token with your spare HIVE, instead of powering it up, results in a reduction in the number of MVests you have for voting in support of our all-important Witnesses! 😳 Not ideal, admittedly, but ... I think we can agree most of our decisions in life are weighing the pros and the cons, i.e. very seldom is anything 100% ...
From my perspective, this decision is really quite simple. I am going to hold the LHP token, as the benefits override this one downside. Particularly since I still have plenty of Hive Power and can't currently imagine that changing! It is simply a matter of deciding the % of your total discretionary HIVE which you want to have powered up (and locked away ...) vs. investing in the LHP token.
I touch more on my thinking on this split % question in my recent Is the Future Bright in Hive's "Second Layer?" post, if you'd like some more "food for thought" on it.
________________________
With that, I trust you have enjoyed learning more about an exciting new option for us to consider in the "second layer" of our Hive blockchain. I for one, am excited about it!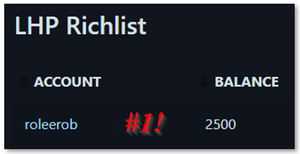 Source: LeoDex "Richlist" for LHP! 🤷‍♂
Putting my $$s where my mouth is, I am currently in the "pole position!" 🤑 I truly hope to see that change in coming weeks, as the word gets out!
I'd love to hear any feedback you may be inspired to provide.
Until "next time," all the best to you for a better tomorrow, as we all work together to build up our Hive Communities and add increasing value to our Hive blockchain! 👍 😊
Respectfully,
Blogger @roleerob
Hive "Dolphin" 🐬, LeoFinance "Whale" 🐋, & Man Cave "Dragon" 🐉


🐝 🍯 🐝

________________________
P.S. I am not a financial adviser. Please consider this post as financial information and / or opinion only. Please perform your own due diligence, in whatever manner you seems best to you, if you have found it to be beneficial.
________________________
Posted using LeoFinance and "immutably enshrined" in the Hive blockchain on Monday, 21 September 2020!
🌲 No trees were harmed in the publishing of this post! 🌲


Interested in reading more of my related posts?
Lead Image
Title, Link, & Summary
Is the Future Bright in Hive's "Second Layer?"

Less than 2 months after my first post on making a decision between further investments in LEO and / or BRO, I wrote this follow-up. On the decision to continue to invest in both! Details why I am glad I did!
"Wrapped" Tokens are the Future?

My "contrarian" view of the speculative "feeding frenzy" surrounding the use of "wrapped" tokens in pursuing the potential of DeFi opportunities. Along with a look at an attractive alternative ...
"Macro" Trading! A Success Story?

Not a trader, by any means, this post details the success I enjoyed in "macro" trading for 5,000 HIVE tokens, from Steem blockchain powering down revenues.
Money Goes Where Treated Best!?

With a decision to make re: where to invest future funds, in choosing between BRO and LEO, I take a closer look at this well-known bit of investment advice. Should we consider whether it really holds true for the Hive blockchain?
💲 Your Money Making Money! 💰 Sound Good?

How can we apply the "eighth wonder of the world" to the new BRO token of the relaunched Man Cave community? This post addresses that question, along with touching on some of the vital discipline needed for financial independence.
Yo! Got BRO? Oh no ... 😞 Go! 👇

Since my discovery of The Man Cave community, I had developed a steadily increasing appreciation for it. And had invested into it accordingly. This post was written to encourage others to seriously consider doing the same!
The Man Cave! New Hive Community and First BRO Tokens ...

How does any "new chapter" in our life begin? Are there ever really any coincidences in our lives? In this post, you will read my story behind the discovery of The Man Cave, a relaunched community for "man stuff!"
Land of Leo: My First LeoDex Transaction!?

With discretionary funds from powering down on the Steem blockchain, I decided to invest some of it into additional LEO tokens. This post covers my experience with attempting to do it on LeoDex.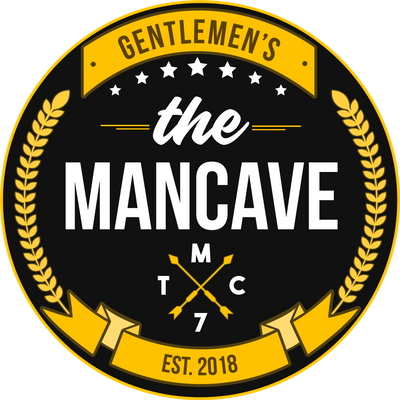 The Man Cave: A Hive community "for men to retreat to their cave and do manly stuff"!
Discord: Engage with The Man Cave's "band of brothers"!


LeoFinance: A Hive blockchain community devoted to investing!
Discord: Engage with LeoFinance's Online Community!
Hive signature GIF created by @zord189. Ask him to create one for you!
This account is protected by @dustsweeper
Posted Using LeoFinance Beta