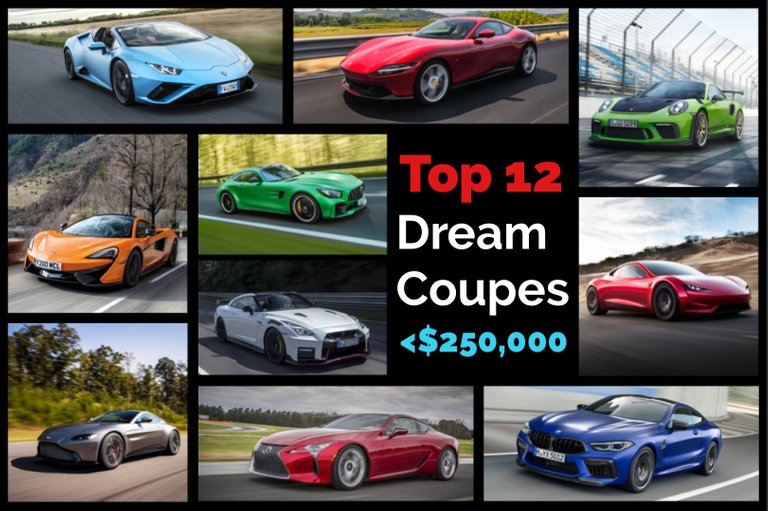 A man can dream 💭
Since a young age I have had a fascination with cars, the faster and more rare the better. Bright colors and customization to stand out even more. I've come to realize that my favorite style of car is a coupe. I'm not a huge fan of convertibles, perhaps it's because I have to deal with the winter season. There are some very impressive sedans, but they just aren't as good as a coupe when it comes to driving them aggressively. Sure there are many great four-door cars, but if I had to choose only one car to drive every single day it would only have two doors.
Selecting that one car would surely be one of the most difficult decisions of my life. There are so many things I love about many different cars. I have been able to narrow it down to about twelve different cars, all of which are newer models. Still I have no idea which one I would actually choose to be my one and only.
Now I have kept this list realistic as I could never see myself paying millions of dollars for a car, even if I had the money to do so. I'd rather have multiple cars that were cheaper so I have more variety. Plus I'd constantly be sick to my stomach nervous driving around in a car valued over a million dollars. It's just to big of a risk with crazy drivers on the road and hazards that can appear out of nowhere no matter how good of a driver you think you are.
With each car on this list I have provided some info and a few words about why I like it. I have also attached a video by Doug Demuro for each one (besides one car that is unreleased). He is my favorite car content creator and does the best job of throughly going over every single little quirk and feature of the coolest rides.
I hope you enjoy looking through this list of amazing cars that are all under $250,000. Most are well below that price at base level, but it's quite easy to start adding extra features and get close to or even eclipse $250k.
---
1.
Audi R8
Price: $142,700
The pinnacle of Audi's German production, the R8. I have a personal affinity towards Audi since I have been driving a 2009 A4 for over 7 years now. The signature Quattro AWD system paired with the latest tech and luxury options that Audi has often pioneered is easy to fall in love with. The R8 is the best of the best from Audi. I first became an Audi fan when I saw Jason Statham driving them in the Transporter movies. Also later on in the latest Hitman movie. Neither of those films featured the R8, but I think the car looks gorgeous and is said to perform very well.
---
2.
Tesla Roadster
Price: $200,000
This is the only electric car on my list and it's American-made. I prefer the hypnotic sound of regular engines going from gear to gear like I'm used to hearing, rather than a silent hunk of electricity. This Roadster here by Tesla is a unique specimen and sure to change the car industry forever, much like Tesla has already done. It has not been released yet, but it will be the new version of Tesla's very first car that was released back in 2008. Currently it is only available to be reserved, but by the time it hits the streets it will still be the fastest accelerating car and most futuristic inside and out. This video is the only one on the list that is not by Doug Demuro, but it does a good job of explaining everything we know about the Roadster so far.
---
3.
Porsche GT3 RS
Price: $188,550
There is no way I could do this list and not have a Porsche on it. Every true drivers dream at some point more than likely will include a German-made Porsche. This version of the 911 is in my opinion the best Porsche that you can get for under $200k. Some may try to debate in favor of the Cayman GT4, but there just isn't a strong enough argument to choose that one over the GT3 RS right now. That comparison will become much more neck and neck once the new GT4 RS releases. In the meantime, if you show up to the track with this ride, everyone will surely know you are taking things very seriously.
---
4.
Ferrari Portofino
Price: $215,000
A red Ferrari with tan leather. This is the symbol of having reached the highest level of exotic car mastery. Most Ferraris are way above the price threshold that this blog has, but the Portofino can be purchased for just over $200k which allows it to prance into this criteria. The accented yellow logos and calipers make for a spectacular looking Italian monster that is sure to provide many thrills when taken out for a proper spin.
---
5.
Lamborghini Huracan Evo
Price: $208,571
Here is another Italian beast on my list. This raging bull is one of the more affordable Lamborghinis. The saying is, "When moon, Lambo". Many cryptocurrency enthusiasts have a vision of one day buying a Lamborghini once prices skyrocket to ultimately high levels. Some already have done so, many more surely will too. There is no denying the beauty of this Lamborghini, but the fact that many have their eyes on it may keep some others who wish to be more unique from choosing this iconic car.
---
6.
Mercedes AMG GTR
Price: $162,900
The German automaker Mercedes is well known for its luxury qualities. Once you step into the AMG Benz territory, not only do you get the luxurious interior, but also elite level performance. The striking look of this AMG GTR is unforgettable, especially if you opt for one of the crazier colors such as Green Hell Magno.
---
7.
BMW M8 Competition
Price: $147,995
BMW is another top-tier luxury brand that is very capable of providing high-level performance with its M series. The M8 is one of those cars that could slip under the radar if you don't know what you're looking at. One thing for certain is that you will not find many cars on the road that can keep up with this German gem.
---
8.
McLaren 570S
Price: $192,500
You won't find anything but super cars from McLaren and they definitely know what they are doing in that category. I first heard of this manufacturer back when the F1 was one of the fastest cars around back in the 90s. Now they provide many different types of cars depending on your price range. The 570s is going to be your best bet for under $200k and looks the part too. One of the most beautiful and exotic cars you will find for this price with performance to match.
---
9.
Aston Martin Vantage
Price: $139,000
James Bond fans will know this car right away. Aston Martin, the famous British manufacturer of 007's weaponized vehicle of choice. Aston Martin has finally updated the Vantage in the last few years. The design is absolutely beautiful and something to marvel over for many hours. Pair that with explosive power and a car that is rare in USA and you have yourself the Vantage.
---
10.
Nissan GTR Nismo
Price: $210,740
Finally I'm getting to the first Japanese car on this list. The R34 GTR was popularized in the movie 2 Fast 2 Furious back in 2003. Fast forward to 2008 and the new R35 was unleashed to USA. The Nismo is the ultimate version of the GTR, which is is nicknamed Godzilla. What this car lacks in luxury features, if more than makes you for with driving pleasure and a true JDM feel.
---
11.
Lexus LC 500
Price: $93,050
Another Japanese car lands on my list. this time by Lexus and for right around $100k. By far one of the most satisfying exhaust notes you will find on the market for this price range. Lexus is sure to eventually update this model with a new look, but I am still in love with what they have stuck with for many years now.
---
12.
Chevrolet C8 Corvette ZO6
Price: $59,995
The only other American car on this list is made by Chevrolet. Featuring the highly sought after Corvette and its American muscle with a mid-engine for the first time. I break my neck to check these C8s out every time I see them in person. This is the most common car on this list, most likely because it's the most affordable. I look forward to the ZR1 which is rumored to cost ≈$130,000. Once that version releases it will surely be more competitive with the other cars in this list. I had to include the ZO6, it's just such a sexy car.
---
Stop drooling 🤤
I think about these kinds of cars every single day, but it's not a daily habit that I write about them like this. It's easy to talk about these technological wonders for a long time, there is just so much to compare between all of the different cars.
One thing is for certain, I will always believe that your car is an extension of your personality. As long as you are able to have some sort of vehicle, it is up to you to make it your own. Sure not everyone may be able to afford their dream car, but mark my words. I will one day!
---
Thanks for checking out my blog 😎🤝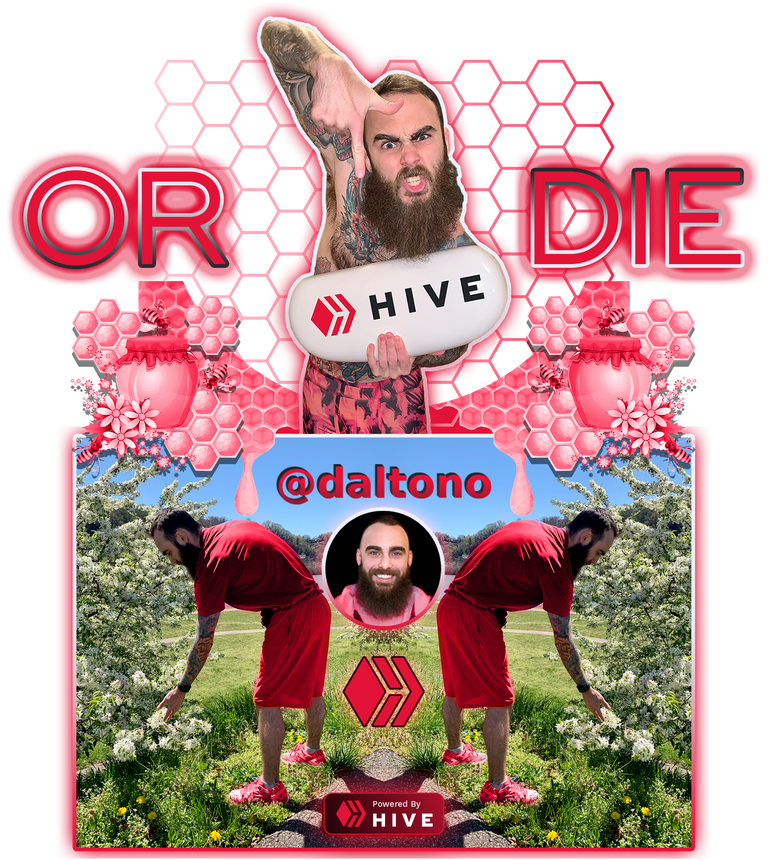 | Join my fanbase on hive.vote ✅☑️ | Message me on Discord 💬 | Follow me on Twitter 🗣🐦 |
| --- | --- | --- |
| click here | daltono#5080 | click here |
y