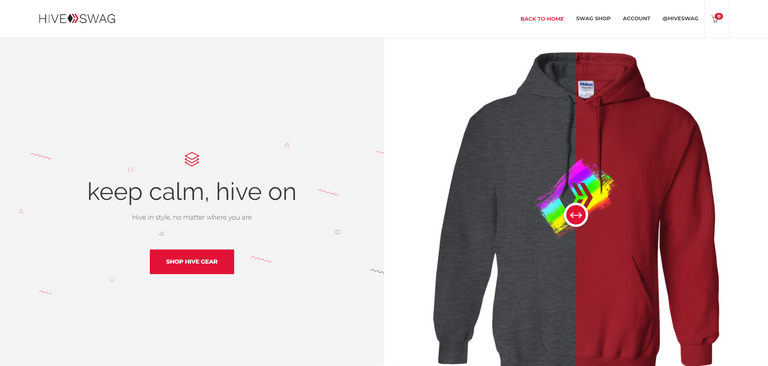 Hey Hivians! I'm happy to announce my latest side project, HiveSwag.io.
HiveSwag.io is a Hive-themed apparel & swag shop that accepts orders paid exclusively with cryptocurrencies!
We currently accept Hive and HBD, as well as Bitcoin, Ethereum, and a few others.
Huge shoutout to @roomservice - he developed the WooCommerce/Hive integration that was used for this website to accept Hive and HBD as payment. We learned about this from his post here: https://peakd.com/hive/@roomservice/plugin-for-wordpress-stores-accept-hive-or-hbd-payments
I also want to give a massive shoutout to @doze for his artwork contributions that were used to create the current swag available - his designs are fantastic, and it truly shows he takes pride in what he does. Give him a follow and show some love because he deserves it!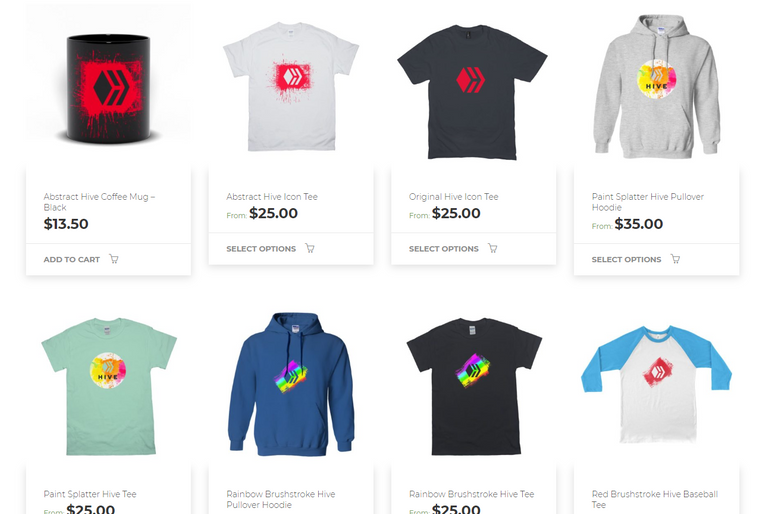 Giving Back
I decided to build HiveSwag.io as a little side project since I'm falling deeper and deeper into Hive lately (bought another 2500 a few nights ago hahaha). I figured I'd start somewhere small in terms of giving back to the community/contributing something.
HiveSwag.io will be donating 10% of all net profits to a charity of the Hive community's choice - if you have a suggestion, please post it as a comment on this post OR visit this post and drop a comment. We'll run a Twitter poll once we have some choices to pick from, and they will receive 10% of all net for the life of this store.
Grand-Opening Discount
We are offering the community a 10% discount on EVERYTHING storewide starting now - 6/8/20 (Monday) at Noon (12:00) PST.
Use discount code: hellohive10
for 10% off your cart order (excluding shipping).
We ship worldwide, however, due to the current Coronavirus pandemic, order processing times are longer than usual (our suppliers have a 7-14 day lead time at the moment 🙃).
Grand-Opening Giveaway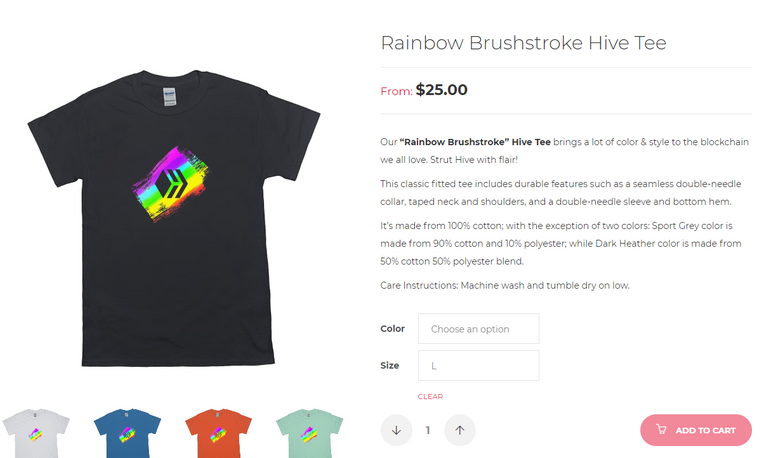 HiveSwag.io is offering a free Rainbow Brushstroke Hive tee to one lucky winner! Simply upvote, comment, and reblog this post for a chance to win. The winner will be chosen at random upon post payout (6/12/20 @ about 5:30 PM CST).
The winner will have their choice of shirt color + size (most of our products offer 5-8 color variants + 5 sizes: Small, Medium, Large, Extra-Large, and 2XL).
Also please note that ALL of our apparel is unisex, so have no fear, ladies - our Hive gear will fit you too!
Contact Us:
We can be found on the following channels:
Twitter: https://Twitter.com/Hive_Swag
Hive: @HiveSwag or @nulledgh0st
Web: https://HiveSwag.io
Email: [email protected]
Good luck, everyone -- Keep calm, and hive on!
-HiveSwag/nulledgh0st
My personal Discord is: nulledgh0st#8704
---