Some simple tips can make your article SEO friendly and perfectly optimized for search engines like Google. SEO friendly article doesn't mean that your article will rank on Google, but it's clear that if you do some SEO works on your posts, you have a bigger chance to rank your content on Google than your competitors. Here I will discuss about the tips to write SEO friendly article. So stay with me if you want to learn some tips.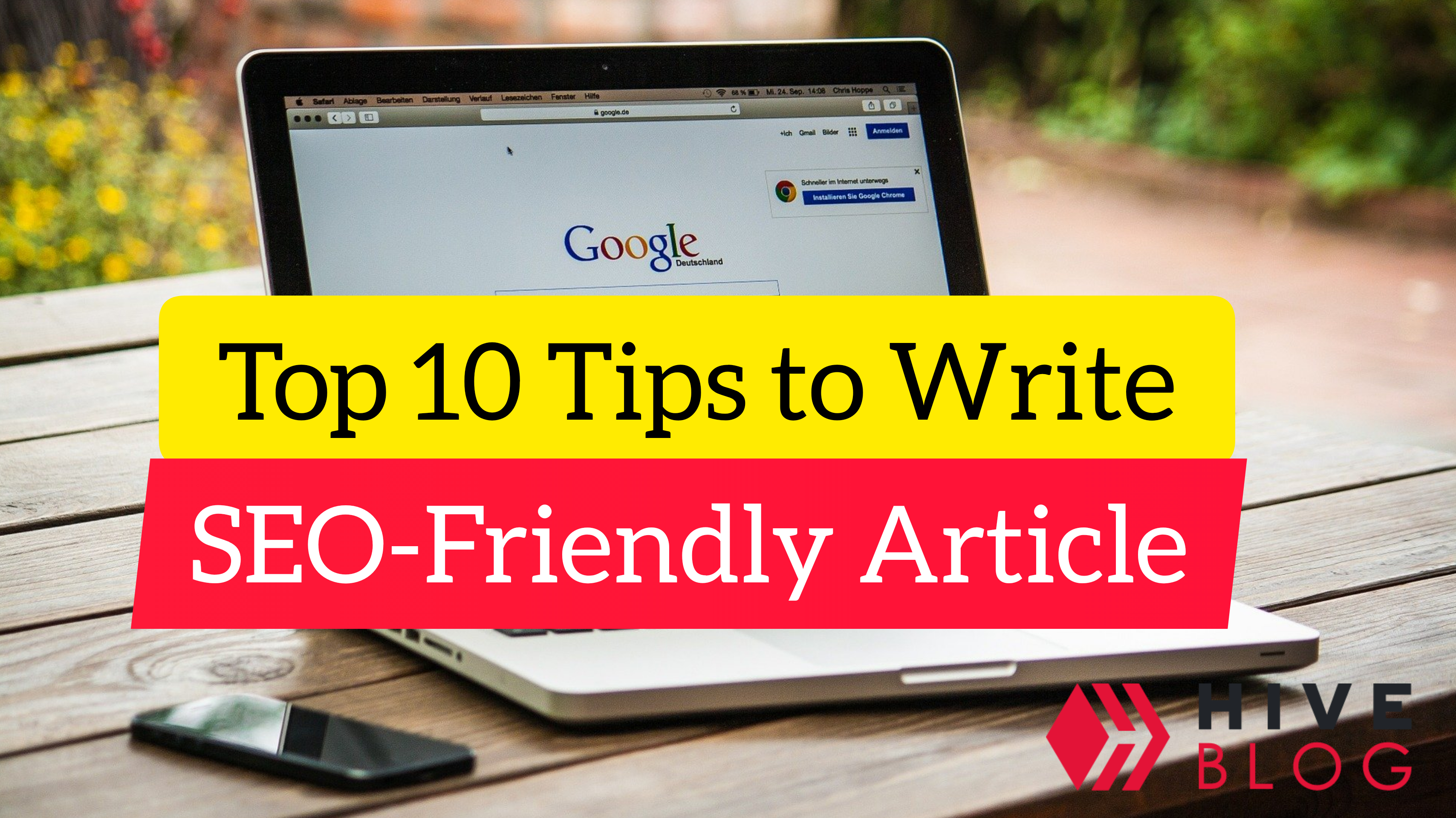 I already have some detailed articles on SEO in the Hive blog. Here I just fetched some basic points. At the end of this post, I will provide links to all of my SEO related articles.
Note: This is just a summarized article for all of my Basic SEO related posts. You can also say All In One Post!
1. Do Keyword Research Before Writing
If you are writing the best quality articles and at the same time with good SEO optimizations, and even after you are not getting traffic from search engines, then the reason may be "not doing keyword research."
If you are writing an article without any knowledge about "what is keyword research" and ''how to do keyword research,'' then in terms of SEO, this is your biggest mistake.
Keyword research is an essential and vital part of SEO (search engine optimization), where you'll find the most searched keywords and key phrases in popular and search engines.
Read Also - How to Do Keyword Research
Moreover, through this process, we can find new topics and key phrases for blog articles that are profitable and interested in people.
The first step to optimize an article for "search engine" is keyword research.
You can get some ideas about keyword from Google Keyword Planner Tool.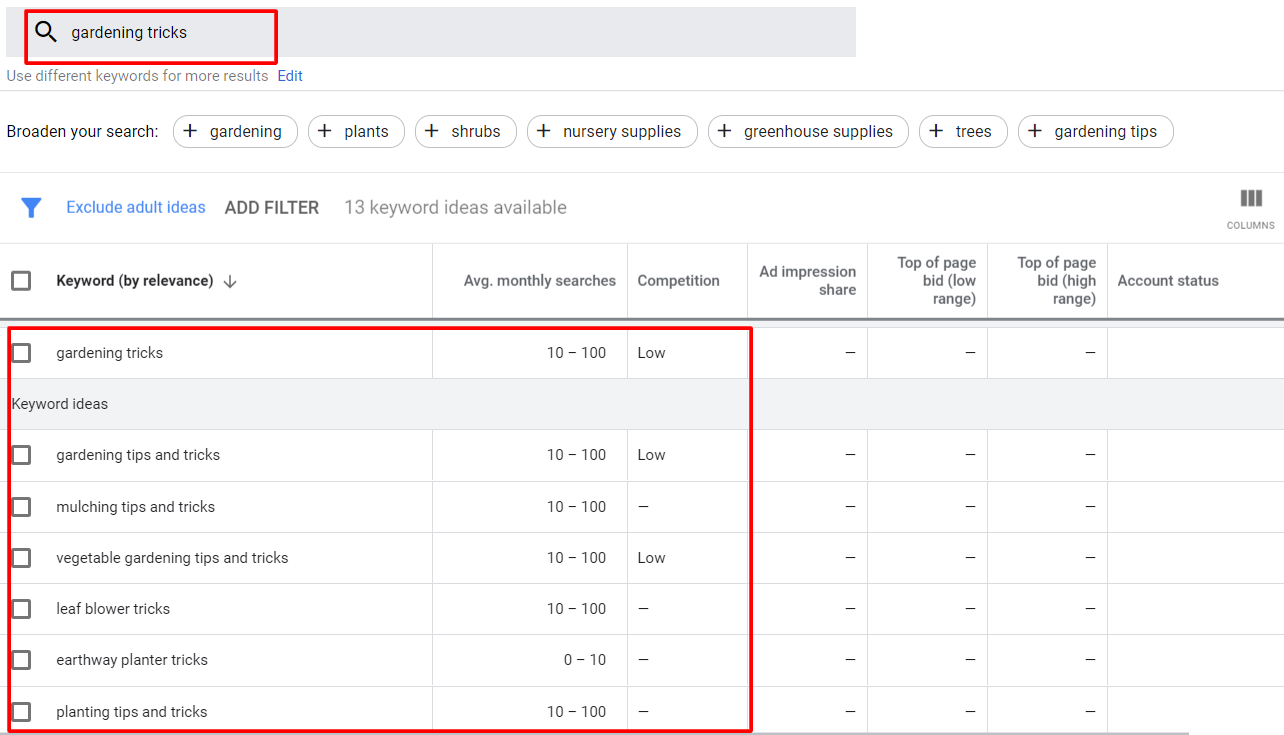 Suppose your main keyword is "Gardening Tricks" and if you put this keyword to keyword planner it will give you ideas about keyword difficulty, alternative keywords, monthly search ratio, etc. I will recommend to use any keyword when difficulty is low or below 25.
To research keywords sites like Ubersuggest and Keyword Surfer is also useful.
2. Think before Writing
Think wisely how are you going to write the article. Your first paragraph is very important. This will tell you the reader whether they are going to get their expected info from your article or not. Check the ranked articles with your targeted keywords. Because those articles or websites are your competitors now. Keyword surfer can help you a lot while planning your article writing.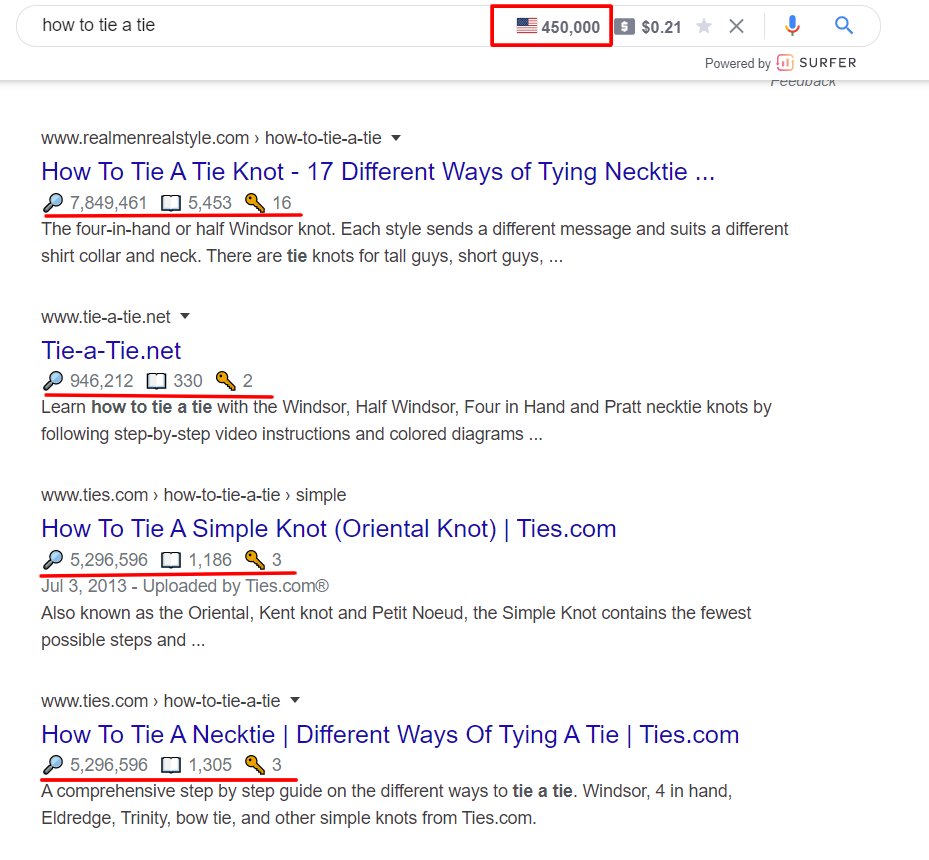 Suppose you did your research and planning to write an article on "How to tie a tie". In the screenshot, we can see that approx 450,000 people are searching every month on Google with this keyword only from the USA. So you can get the idea that this will be a tough challenge. Then look at the competitors website - How many words they used in their articles? How many times did they use keywords in the Article? How much traffic are they getting every month?
If you want to write better than them, you should get the answers to these questions first. Then plan to write your article better than your competitors. Of course, Domain and Page Authority also matters a lot, but writing better than your competitors will give you a chance to rank faster.
3. Provide an SEO Friendly and Eye-Catching Title
Title is the first impression of your post. The title describes the entire article; what is written in the post. If you are unable to attract visitors by your post title, visitors aren't going to read that. Here're some tips about writing article -
Always keep your title short. Lond title bothers the reader.
Write 5 titles for one post and choose the best of them.
The post title should be relevant to the post.
7-8 words for a title are fine.
Make it eye-catchy, so that a visitor can say - I have to read this!
Use interrogative words like why, what, how in your title. This may increase the interest of the visitors.
In this article, my targeted main keyword is "Tips to write SEO friendly Article", tried to make it eye-catchy. And obviously, I used it on my title as this is my main keyphrase.
4. Use Paragraphs
Create so many paragraphs while writing. Do not include so many sentences in one paragraph. Rather make it sweet, short, and simple. Break your paragraph topic wise and sometimes ask your readers question in a single line to make it more interesting.
It will make the article more readable. Right?
According to analysis people don't like long paragraphs and some of them may find it boring. Google doesn't like big paragraphs as well. Writing article in short paragraphs increase searchability of your content.
When your article will be easily understandable and readable for readers, your site's search engine optimization level will increase. That's why readability is so important in SEO.
5. Use Subheadings
Beside your title or Heading, your sub-headings are important as well. Subheadings will help your reader to find sub topic easily and it will make your article more comfortable to read.
Subheadings are the pillars of your content. It makes the content more attractive to the visitors. Make the subheadings also short and simple as like as the title, so that visitors don't lose interest.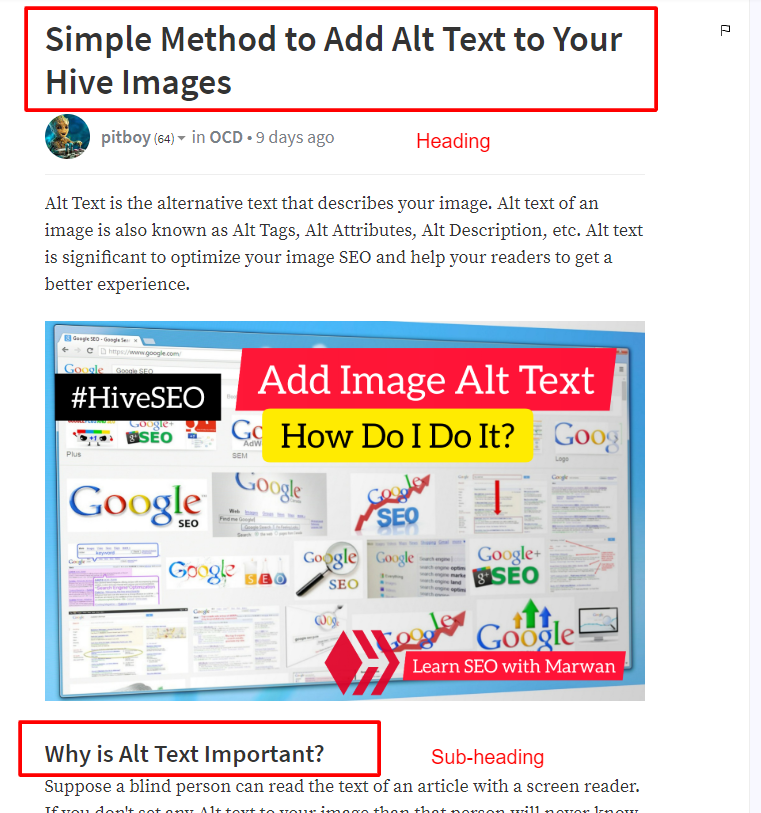 This is how I use subheading in my content. I separate all parts with different subheadings. According to topics, importance, need there are 6 types of headings which is also called HTML heading tags.
This is h1 tag or Title tag
This is h2 tag
This is h3 tag
This is h4 tag
This is h5 tag
This is h6 tag
You can see the size of the heading is decreasing as the number of heading is increasing. Here, we can say h1 is the main heading for your article and the rest are subheading. How you will use the subheading, depends on the importance of the topic.
Suggestion: Always keep your title in h1 tag. And h2 or h3 tags for your subheadings. You must keep your main keyword in the title. But keeping the main keyword in the subheadings is not mandatory.
It is very important to optimize your headings when it comes to SEO. I wrote a detailed post only for Headings and Subheadings. I hope you'll check it out.
6. Add Internal and External Links
Using inbound and outbound links in the article is very good for SEO. Adding links will help Google to find and index your article faster. Add links only when it makes sense, do not provide unnecessary links.
Internal Link
This is a link from one page to another on your site. It is very important. For example, if you have a series of tutorials on your site, you will link to the previous page with anchor text to go from one page to the next.
This will serve as a backlink to your site. This increases the page rank. You will see on Wikipedia site how many links to their site are in each line.
I embedded some of my other article's link in the body as internal links.
External Link
When you're referring to other website's link on your website or article that means external link. You already saw that I used so many links in this article like Ubersuggest, Keyword surfer, etc. These are external links.
To learn more about linking read this - What is Backlink and How Does it Work?
7. Use Keywords in the Article
You must use your main keyword in the title, first paragraph and image alt tag. This article's keyword is "Tips to make SEO friendly article" and if you give a closer look you will see I did all of these with my keyword.
You should also use your keyword in the body of the article where it makes sense. You may use keyword 3-5 times on every 1000 words.
I always try to make it perfect according to the terms of SEO, so that Google web crawler can find my article easily and understand that my main keyword. Remember if you want to increase your chance to rank your post on Google -
You must use your main keyword in the title.

You must use the main keyword in the first paragraph. As you can see I used my keyword in the first line of the first paragraph.

Don't use the main keyword excessively in the body of the article. Make it modest. Over usage of the main keyword can cause ''Keyword Stuffing'' and Google doesn't like it.
Use image Alt Tag and use your main keyword in the alt tag.
Keyword Stuffing is a part of Black-Hat SEO. Filling the page with such keywords that the user can search by typing means keyword overloading. Many times such keywords are inserted in the input tag with hidden attributes so that the text is invisible to the user and the search engine has to read it.
8. Use Image and Image Alt Tags
The image attracts the readers most! Don't just use text in the article which may make it boring. Use copyright free and related images for your article. Now let's check why Image alt tag is important.
Alt Text is the alternative text that describes your image. Alt text of an image is also known as Alt Tags, Alt Attributes, Alt Description, etc. Alt-text is significant to optimize your image SEO and help your readers to get a better experience.
Suppose a blind person can read the text of an article with a screen reader. If you don't set any Alt text to your image than that person will never know what the image is about. As screen reader only tracks the text.
Now, think exactly for Google web crawler. When a web crawler bot visits your article to index it on Google than it will not index your article's image to search engine. As you didn't set any Alt text for your image and we can technically say, your article isn't SEO friendly.
You should check this article if you want to learn more about Image Alt Tag - Methods to Add Alt Text to Your Hive Images
09. Make Your Article Lengthy
You may be wondering how many words should be in your article. The optimal length of your article will help you to rank on Google. And try to make bigger articles than your competitors.

Suppose you're writing a travel blog, so of course, you want to write more than your competitors. If your competitor has an article with 2500+ words, I suggest you make it 3000+. But remember, your post should be attractive and unique as well.
Normally 2000-3000 words are fine for an article. But don't make it less than 1000.
10. Avoid Copy-Pasting and Provide Attractive Conclusion
Copy-pasting can destroy your whole article and Google may kick out your website from Search Engine if you do this a lot. Copy-pasting is also called plagiarism. You may use some sentences from an article but you have to provide source link as well.
As the heading, your conclusion should be attractive as well. To keep your conclusion eye-catchy you can -
Give a short summary of the whole article
Ask questions
End with an inspirational quote
Provide necessary references
You may use the main keyword in the conclusion as well if necessary.
Just keep your conclusion short and informative.
---
So these were the top 10 tips to write SEO friendly article. I hope you enjoyed it.
You know what? Ranking on Google isn't an easy task. If you search on Google by "Ranking on Google" you'll see Google will show about 628,000,000 results just for this keyword! That means if you want to rank for the keyword "Ranking on Google" you've to compete 628,000,000 results to take your place to top 10!
Sounds impossible?
Well, nothing is impossible in SEO if you follow the SEO rules properly!
---
Check out my other SEO related articles on Hive -
You can find all my SEO related posts under the tag #hiveseo. If you want to talk about SEO ping me on Discord.
My discord: pitboy#4591