I always did SEO for my Bengali websites and I thought that day would come when I have to do SEO for my English Article. Truly, it's more fun to do SEO for an English article than Bengali.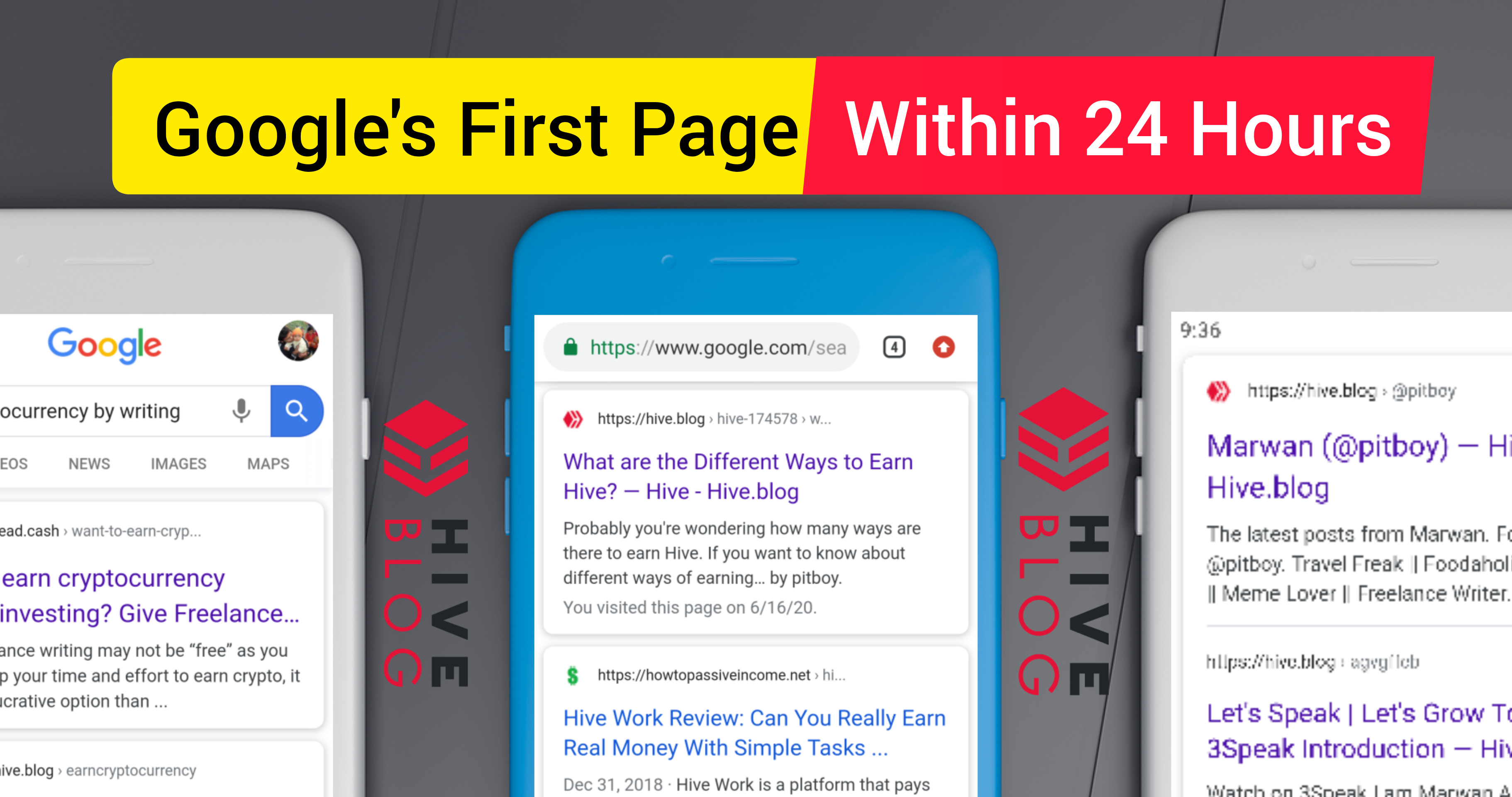 The main two reasons behind this are -
English is the Global language.
There are lots of SEO tools for English articles than other languages.
Let's come to the main topic now. Two days ago, everyone saw the initiative #hivebasics by @theycallmedan, where he offered everyone his valuable upvote for answering some basic Hive related questions.
Honestly, in the beginning, I wasn't that interested to take part. Because I knew a lot of pro writers, Hive experts would take part here. But then I changed my mind when I saw the following quote by Dan.
"SEO is important and we will be looking for answers that provide both value to the end consumer and was written using good SEO (search engine optimization.)"
I love SEO, so why not!
Read the Post - Different Ways to Earn Hive
And now you can see even though I'm an amateur writer, my post ranked on Google's first page for the keyword ''Earn Hive'' within 24 hours! That's the beauty of SEO.
Note - Any article can lose rank anytime if Google finds another better article. It's still on the first page, and don't blame me if it loses rank. ;)
How Did I Do It?
Before writing any content I always target a Focus Keyword for that post. For this post, I chose ''Earn Hive'' as my keyword. Here're reasons behind choosing this keyword -
Competitors Website
At first, I looked at our competitor website. You will be surprised after knowing that On Google, A micro earning site name Hivemicro is one of our main competitors, not any kind of crypto-related blog. Because when we search anything about Hive on Google, in maximum cases Hivemicro is at the top.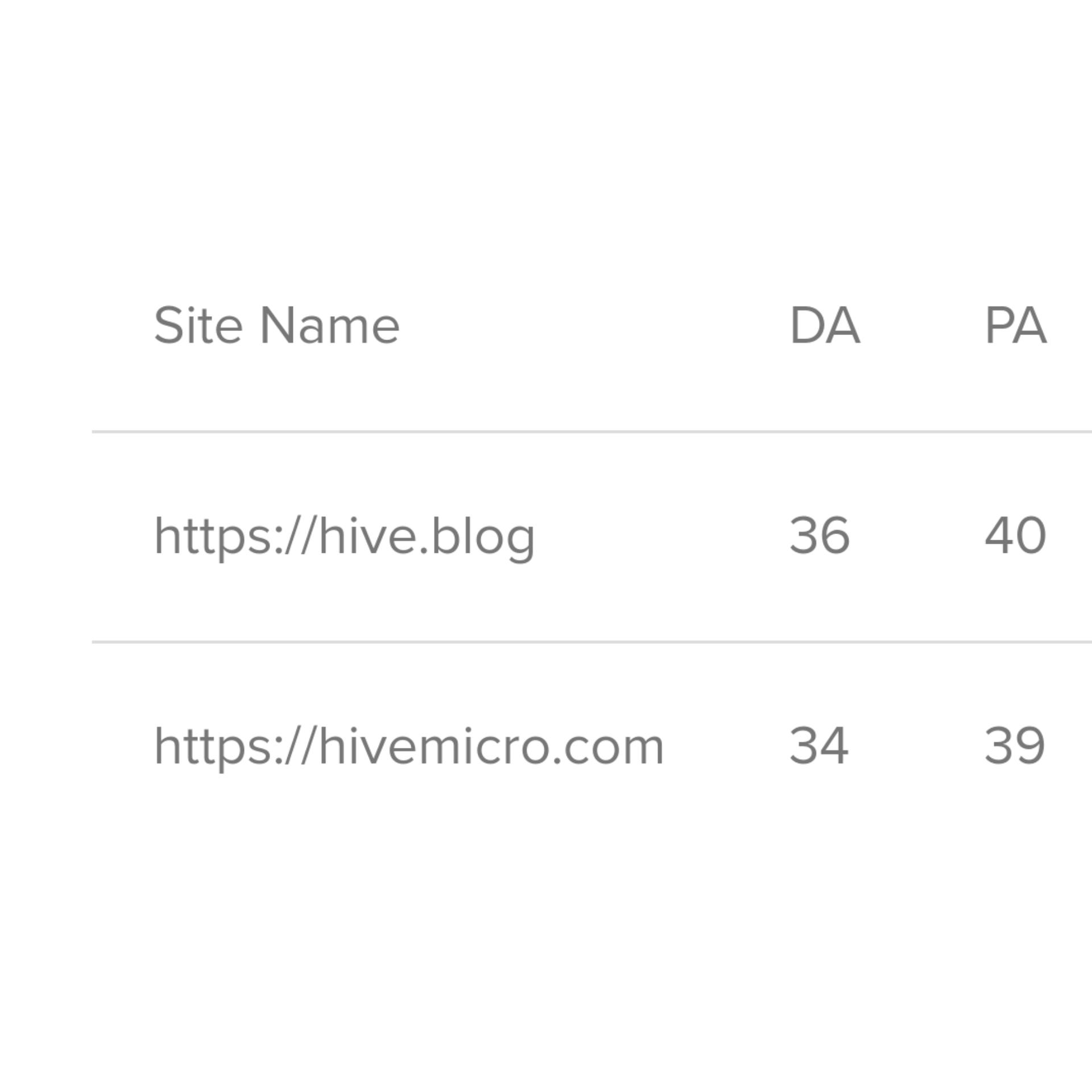 The niche of Hive Blog and Hivemicro is quite the same - Earn Money. So if we can do perfect SEO, then it won't be hard to rank at first place with all ''Hive'' related tags. We already crossed Hivemicro with Domain and Page authority. So it won't be hard.
And the fun fact is when you are seeing someone searching with ''Earn Hive'' on Google, he/she is searching for Hivemicro. Because the term ''Hive Blog'' is still new to everyone. We need to convert that visitor as our user.
Search Volume and SEO Difficulty
I looked at the ''Search Volume'' of the keyword "Earn Hive" on Google Keyword Planner. As you can see in the screenshot below, the monthly search volume of this keyword is 10-100. Though the search volume is not high, SEO competition is really low - almost nil.
To check SEO competition I use the website named Ubersuggest by Neil Patel. To check competition, SEO difficulty, and related keywords I use Google Keyword Planner, Keyword Surfer Chrome Plugin, and Ubersuggest.
Usage of Keyword by Other Sites
I checked the top 10 websites on Google by ''Earn Hive'' using Keyword Surfer and found that, no website used the keyword Earn Hive in their ranked article or page. This means I am going to take the penalty shot, and the opponent team doesn't have any goalkeeper.
You should check this if you want to rank your Focus Keyword to Google. So that you can write your post accordingly.
Use of Main Keyword in My Article
If you see closely, I used ''Earn Hive'' total eight times in my Article.
1 time in the Title
5 times in the Body
2 times in the Image Alt Tag
I tried to make it perfect according to the terms of SEO, so that Google web crawler can find my article easily and understand that my main keyword. Remember if you want to rank your post on Google -
You must use your main keyword in the title.
You must use the main keyword in the first paragraph. As you can see I used my keyword in the first line of the first paragraph.
Don't use the main keyword excessively in the body of the article. Make it modest. Over usage of the main keyword can cause ''Keyword Studding'' and Google doesn't like it.
Use image Alt Tag and use your main keyword in the alt tag. I will write a detailed article soon about Alt Tag.
Use inbound and outbound links.
Create the backlink of your post to other websites.
Note: Google rank actually depends on lots of optimizations. I just focused on the main SEO terms.
My Other Hive Contents on Google's First Page
There are lot's of Hive contents which already made to the top of Google Search Engine with some major keywords. Maybe I will research and give you all a detailed data about it soon.
If you search by a long tail keyword ''Earn Cryptocurrency by Writing'' you'll find my article in the second position. Some days ago, it was in the first position though. Thank goes to @abh12345, because of him I am actually writing and thinking about SEO on Hive.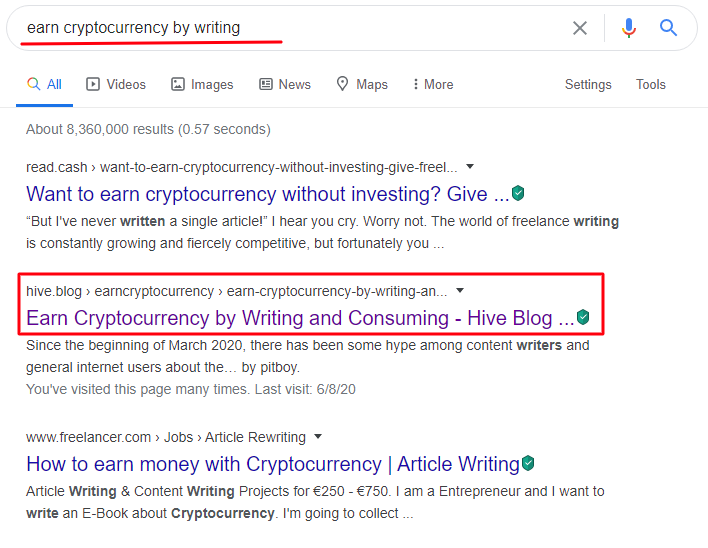 Though my target was to rank the page to Google's first page by the keyword ''Earn Cryptocurrency'' which is quite hard. But very much possible! We just need to write original posts with good SEO (to increase the site's PA and DA) and give some time.
Why SEO is important for Hive?
I know we want to be known by the whole world, and to do that Google Search Engine is the main way. About 450,000 people are searching per month by the keyword ''Hive'' in the Google. And the harsh reality is Hive.blog or Hive.io isn't even in the first 100 websites.
If we can rank to the google's first page by ''Hive'', approx 450,000 people will see us just for one keyword! Can you imagine that? How many accounts, traffic, impressions will we get then?
I ranked a keyword with per month 10-100 view only from the USA. I believe if I even get only 30 visitors per month on my article from Google, one of them will open an account to Hive.
AND THAT'S THE BEAUTY OF SEO.
---
---
Check out my other SEO related articles on Hive -