Hi guys, Sid here with the weekly Hive Newsletter. I hope and wish you are doing great. This week is filled with new listings, coverage, and more social media buzz.

Let's dive right into the newsletter. We have 13 bite-sized updates and each one is crisp, short, and worth a glance.
Note:
If you didn't know yet, you can sign up by
clicking here
. Just enter your email address to receive future newsletters in your inbox. You will receive it every Sunday. With love. ❤️
---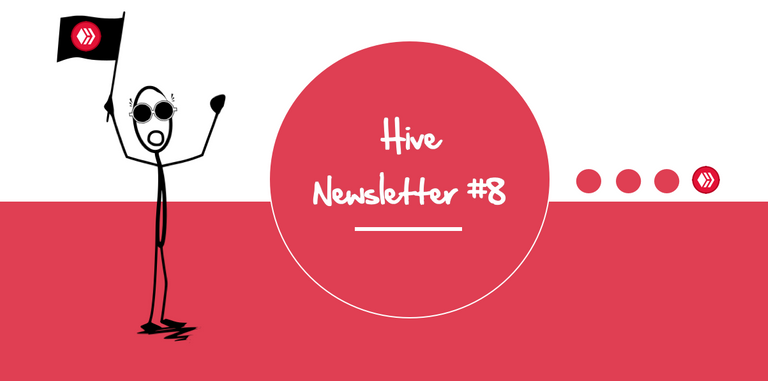 ---
#1: Good news:  South Korean exchange Upbit adds a new Hive pair this week. This pair Hive/KRW (Korean won) led to a 25% price surge. 🎉
---
#2: How to earn crypto? By traveling and staying. This was the theme of the Dapp.com's article. The article features 3 Hive dapps — TravelFeed, Pinmapple, Actifit. [Article here] 
---
#3: Hive is also listed on StealthEX. If you didn't know, StealthEX supports anonymity. You don't have to sign up — just choose your cryptocurrency, enter the wallet address, and complete the payment. Simple and effective. ✔️ 
---
#4: The first #HiveChat on Twitter was a success. Going forward, this will be a weekly event. The next chat will be held on July 28th. ❤️ [Details]
---
#5: Did You Know: The middle class of Hive (Dolphins) have now more power than the Whales? Dolphins hold 5000 to 50,000 Hives while whales hold over 500,000 Hives. [Details]
---
#6: Rabona is a new soccer manager game based on Hive. Still in the development stage, the game draws inspiration from the space simulation game NextColony. 
---
#7: Two Leo updates: 
Leo has a new 2020 roadmap.
---
#8: Would you like to spread Hive through postcards, QR codes, and postage stamps? Then check out this personalised HiveStamp service. Here are two examples: 1, 2.
---
#9: Art marketplace NFTShowroom.com is gaining traction. Not only has it been optimised but was also reviewed by CryptoMoonPress this week. 🎨
---
#10: Previously known as Esteem, Ecency is now live this week. For now, the web version is accessible on Ecency.com. [Details]
---
#11: Based out of Guatemala, Recording Box is a recording studio and agency — and now accepts Hive as payment. Pretty cool to see businesses saying YES to Hive tokens. [Tweet]
---
#12: Here's a fun fact: $50 and above. That's the amount of money over 1000 people have earned on Hive in the last 30 days. Are you one of them? [Tweet] 🙋
---
#13: Tweets of the week: See how others are describing their Hive experience here. The second tweet is a question from David (98000+ followers) asking: How many people use Hive? Feel free to add your response. 🐥
---
Tip of this week:

Wish to check the number of times you have blinked, traveled around the sun, or fell asleep. Just visit life stats to know a rough estimate — enter your date of birth to witness magic. 
That's it for this week! Hope you are resting too! 🎉

See you in the next!

Cheers,
Sid