Dear Hivers,
Sadly, it is getting ugly here. India has today hit a million confirmed cases. The virus refuses to isolate from the society. In fact, things have dramatically changed.
"India will be in the top 5."
One of my European friend told me 4 months ago.
I refused to believe him because cases were barely 10 a day. But then, when we discussed about the "density" — and how homes are closer to each other in most cities — the chances of virus contracting actually seemed higher in India.
Bottomline: He was right. And I was wrong. Look at this: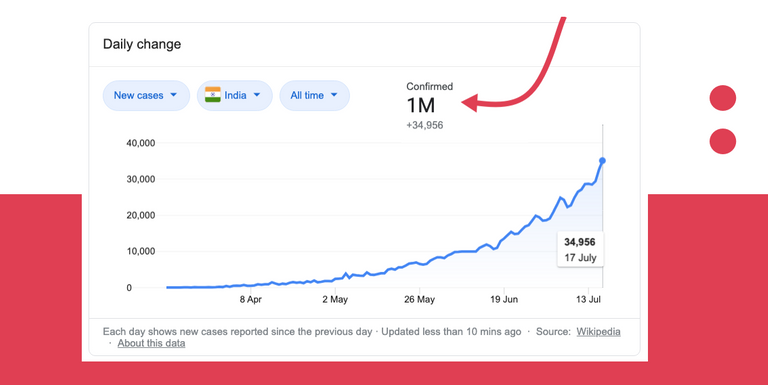 In fact, India smashed through the top 10 — top 5 — and is now sitting at the number 3 spot worldwide. In those one million, thousands have died on the streets — due to the lack of hospital beds. Hundreds of families spread across the country are crying for help. For food. For money. And for a glimpse of hope.
Sometimes I feel this fear is never revealed — yet echoes and walks around us.
Here are some updates:
#1: After 3 long years, I quit my office. Two reasons: The rent was unnecessary. It is also a place where 2000 people worked. Not the best place to be at.
---
#2: Because now I work from home, I get to hear all the stories and rumours. One of the maid near our home contracted the virus. She was working in 3 apartments — which multiplied the effect of the virus. This news spread like wildfire.
---
#3: During the first 75 days of lockdown, my brother worked along with the cops to serve free meals. He distributed roughly 5000 packets of meals working 10 hours a day (that's lot). The worst part is, one of these cops contracted the virus. The mission was stopped thereafter.
---
#4: A son lost his mom due to the virus. The folks at the hospital wrapped the body with a plastic cover. As the son begged to see his mom one last time, they demanded $400. He paid. Most private hospitals are hungry for money.
---
#5: Our tenants are stuck in their village. One of them said life has been permanently altered. Not just old people but also people between the age of 20 to 54 are now hospitalised.
---
#6: Even the robbers were tested corona positive. I didn't believe this when my brother told me — and then I googled to find the news. It seems real. Fact is, no one is spared.
---
#7: In my state, the dead bodies were inhumanly dumped into wastelands. I don't want to share this video but it was trending all over India. In every news channel. It disturbed everyone. Here's the pic: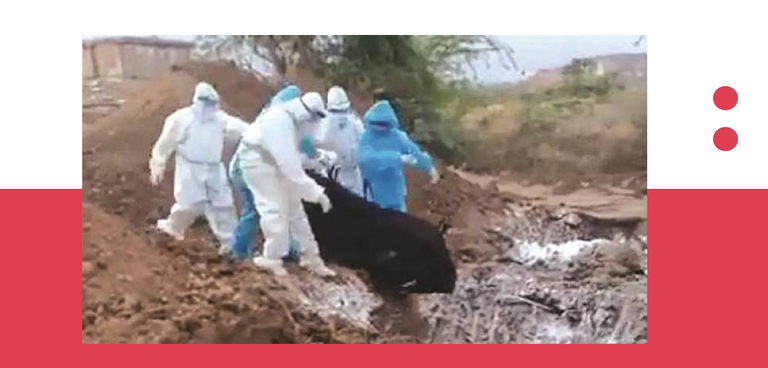 The problem is: Most can never relate to it until it happens. It feels almost like holding a ball of fire in our hand. We don't realize the pain immediately. Only later we do.
There are several other things I have personally witnessed. From cops whacking citizens with a long bamboo stick to... street fear at the corner of the grocery store because someone coughed. Even roads were blocked with muds and stones. The danger zones are increasing with each passing day.
As I read more, some analysts believe this is not the peak yet. Things will get worse in the next few months. More fear I suppose. More panic. And more feeling of powerlessness.
What's the bottomline? I don't know. I can only hope and wish everything returns to normal. Maybe in this untold chaos lies a couple of life lessons I wish to share:
Be kind to people.

No fight is as big as the fight against death.

In fact, life doesn't stay forever. Death does. So enjoy your time on this planet.

Again, it is true: You actually live only once. So let's not delay those dreams.

Let us also untie those old knots. Forgive people. And forget past wounds.

Make an impact in this world. Transform at least ONE person's life.

Fuel goals with absolute passion — and uplift others with the same energy.

Always inspire others to win. And then watch them win.

Remember: A healthy mind is as important as a healthy body.

Know that tomorrow is always a fresh life. Things do change.

Smile.
And with this thought, I hope and wish everyone stays safe and enjoys every moment of life.
Let's be together. 🔥
Cheers,
Sid