Dear Hivers,
The other day I was talking to someone from Venezuela. And his words moved me. He said Hive is putting food on their table and smiles on their face.
And if that's not enough?
Hive is also moving them into a zone of creativity. They are compelled to create unique content. It truly warms my heart. Feels magical as I think about it.
For many people, Hive is a fantastic platform to earn rewards which is then translated into a better lifestyle. That is why even a single dollar matters.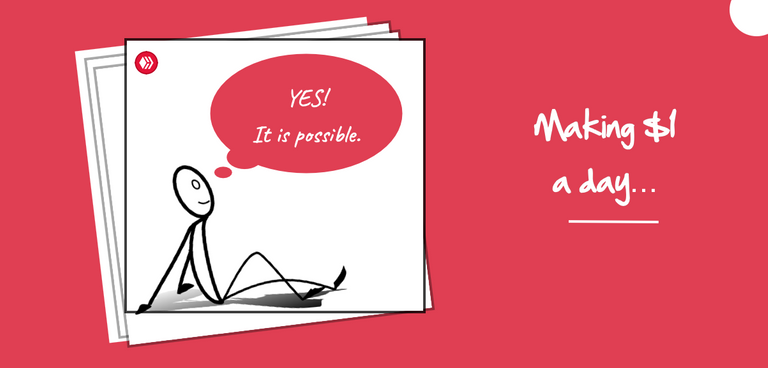 And if you are new to the platform or wish to increase your earnings, then this is the article for you. Most of the time people posting in #introduceyourself earn a couple of dollars right away.
But nothing after that.
So for those who are interested, committed, and driven to make this work — the solution is simple. First, we will start with the actual truth and then look into a simple 3-step process anyone can follow.
Let's get started:
---

---
Be it life — or Hive — there is no progressive growth. Everything happens exponentially. One day you might make a couple of dollars. And another day you will be graced with few cents.
In my first week of Hive, I made a couple of dollars as well. There is also another reason I am writing this. Last month, on one of my article, I received this comment: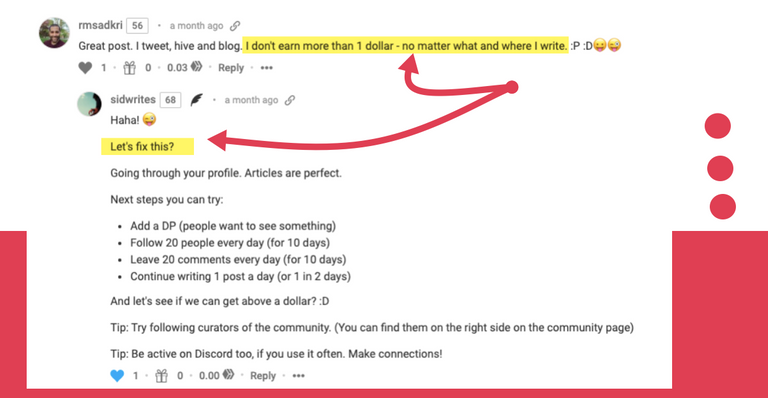 In short: @rmsadkri was making cents on ALL of his post. So we decided to fix it. It was a worthy experiment that worked:

You don't have to zoom into the image to know the details. I will share them (and more) later. But I do want to take the opportunity to discuss something even more important.
Here's the short version: If you want to earn good rewards then you have produce perfect articles — which adds value. You have to commit — for more than you probably thought. So we will discuss all of these right now.
In fact, there are 3 simple steps worth remembering.
---

---
This is the foundation. I call it the market-value fit. Basically, if you think like a content creator, the market is Hive. It already has a built-in audience.
So what does this market need from a content creator?
Value. You fit in — by becoming the value vehicle. You see Hive as your market — your audience — and then offer what it really wants.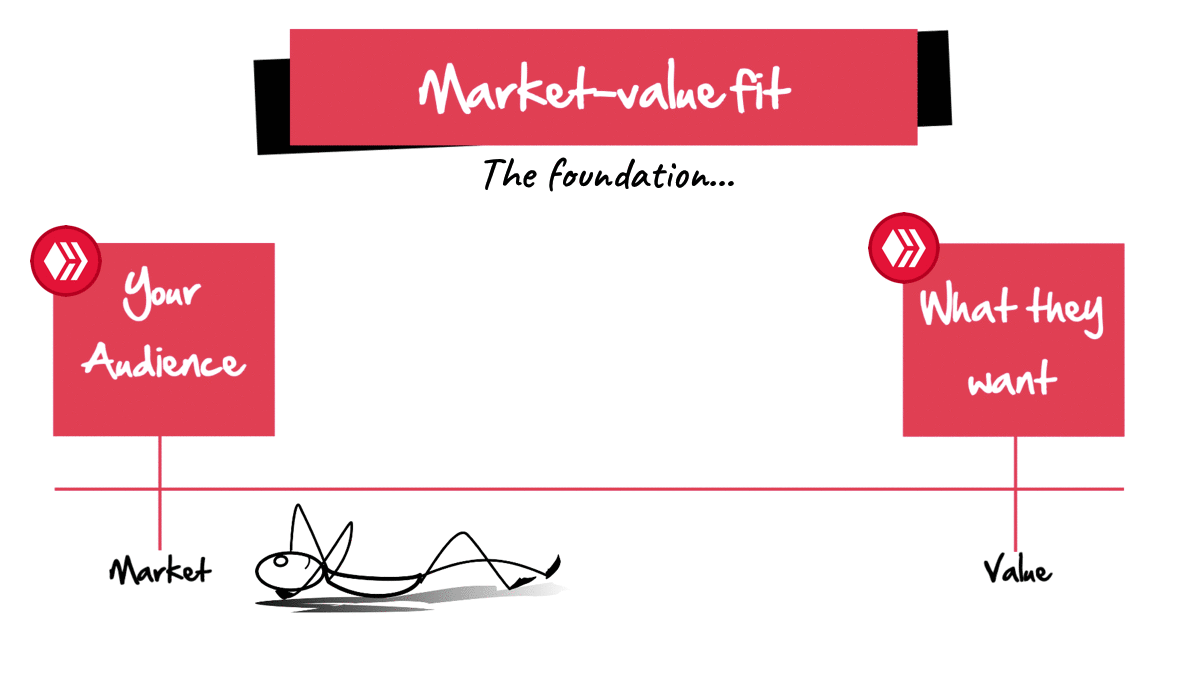 In short: You deliver value to the market. The market loves good value. In our case, everyone here wants good knowledge.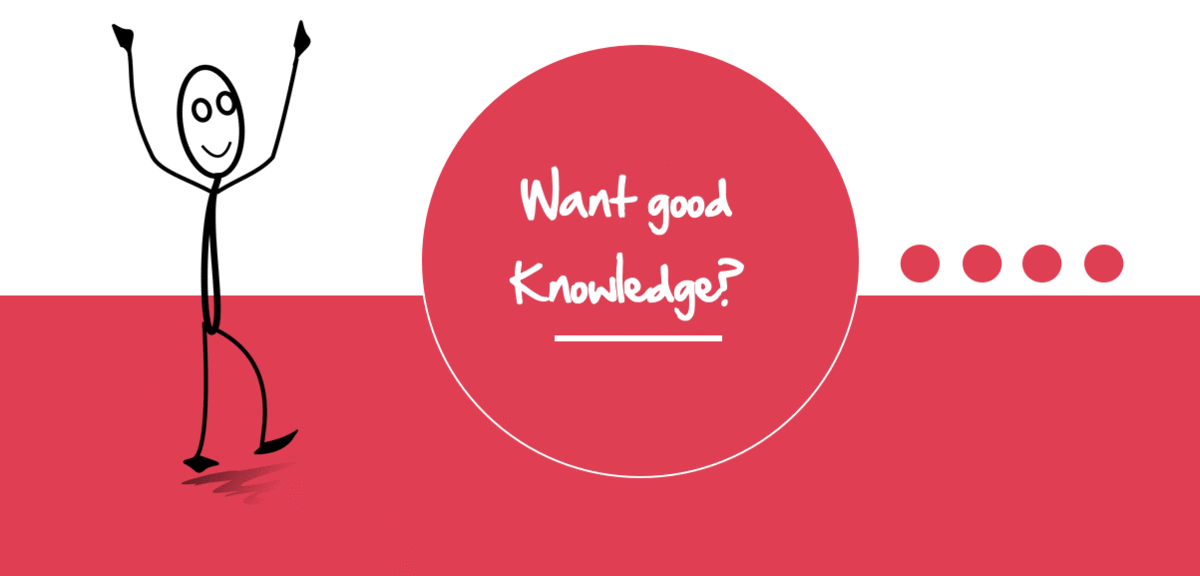 ---

---
As I shared in my life lessons, if you want the result, you have to put in the work. Hard work works. There is no substitute around it.
You have to be committed.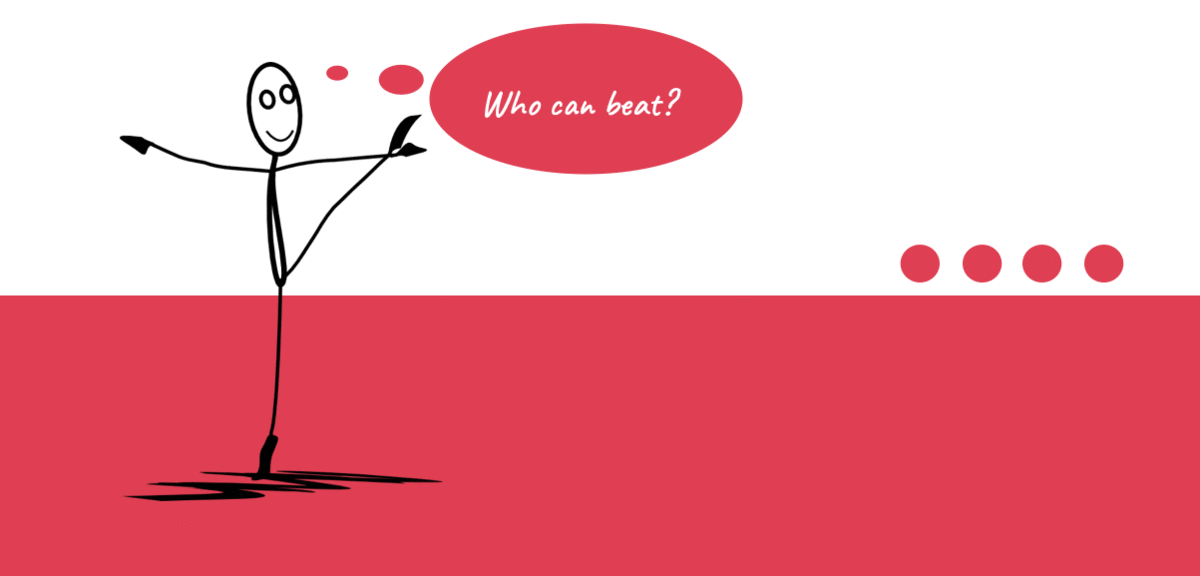 In the early stage, think of all these as entering the ring. No one cheers you right away. There is no crowd. You stand alone punching the air while producing one post after the another. You show up daily. You visit Hive daily — no matter how you feel — you give your time.
Eventually, as you do it often, your punches get better, and the crowd appears to cherish your work. It won't happen in a day — or a week. It might take you months.
In many ways, it is a test of your patience. And keeping this in mind — to be committed — you follow the challenges:
---

---
Here are 10 challenges you can pick up right now. This is mostly for new users and I am keeping them simple:
Let's explore:
#1: Update your profile: This is basic. We are all humans here. So add a picture and complete your Hive bio.
---
#2: Follow people you love: Start following 20 people every day. For 14 days.
---
#3: Start engaging. Write at least 10 comments everyday. If you have more time, go with 20. Again, do this for two weeks. See the do's and don'ts of engagement.
---
#4: Continue writing 1 article a day for the next 14 days. Make sure at least 3 articles are good tutorials / exclusive articles (your best work).
---
#5: Start publishing your post in various relevant communities. Look at the communities here.
---
#6: Make connections: You can do it by being active here and also on Hive Discord. (Make connection because you enjoy learning)
---
#7: Use relevant tags in your articles.
---
#8: Make your content presentable. This is very important. Focus on formatting.
---
#9: Don't spam your article with irrelevant links (at the bottom) or big banners. You will lose people.
---
#10: Have FUN (always important).
---
These are good enough challenges to start with.
With time, you are free to add more of your own challenges here. But you get the point. There is no secret or trick to this.
Basically, the moment you start writing, engaging, and enjoying your time here… you are also inviting other people into your world. And when you do this, one dollar is not a distant dream.
It is a reality.
Here are the 3 steps once again: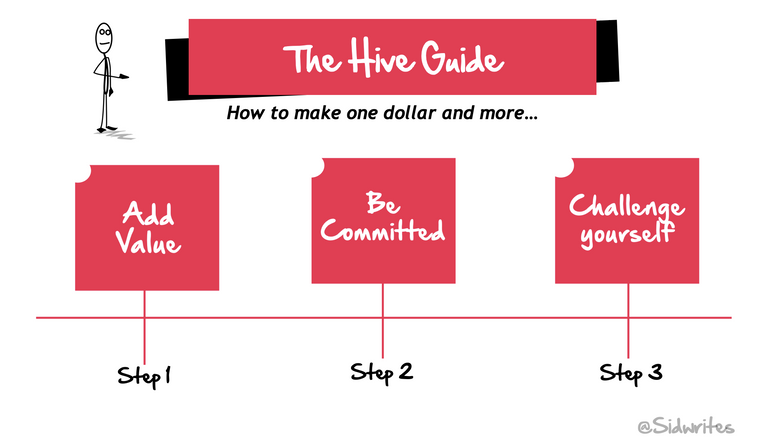 That's it. Very simple, right?
I hope and wish this article helps at least ONE person. I hope and wish everyone treats reward as a by-product for the effort. Always — be it Hive or life — one must pick effort over luck. Because, with time, this effort actually creates luck.
Cheers,
Sid
---
If you liked this article? Feel free to comment and upvote and reblog.