Nestled within the shadowy arms of the campsite, we saw the lake through the trees as blades of sunlight sliced through the leaves. It was small with only four or five other sites. Another couple had arrived earlier and set up their camp right on the beach. Camping wasn't allowed there, and they were being selfish for spoiling the view, but what the hell, right, this was the back-country and rules need not apply.
At the edge of the embankment, a narrow scraggly path led to the beach beside the emerald lake that was filled with glacial water rushing down from the mountains. The little strip of beach was surrounded by forest and was a nice intimate oasis. So we got lucky after all with our own secret private beach. Hehe!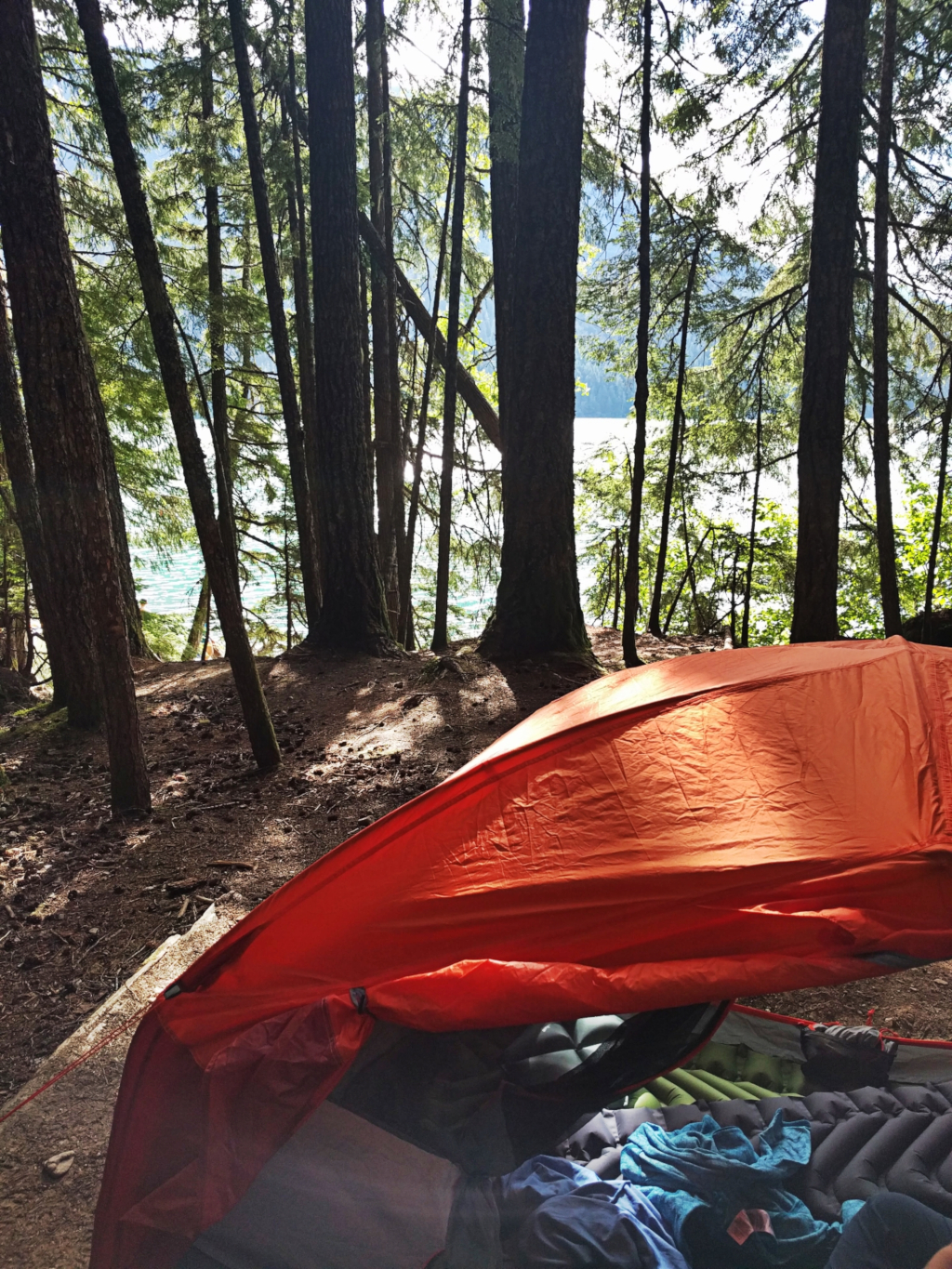 Unpack the tent, set up the tent, where are the stakes? should we put up the tarp? unroll the sleeping bags, dishes, utensils, stove, food, gas, bear spray, knives, and all the other gear necessary to turn the campsite into a makeshift home for the next couple of days. No vehicle. No grocery stores. No rangers nearby. Survival was entirely dependent on our wits and our supplies.
AHH!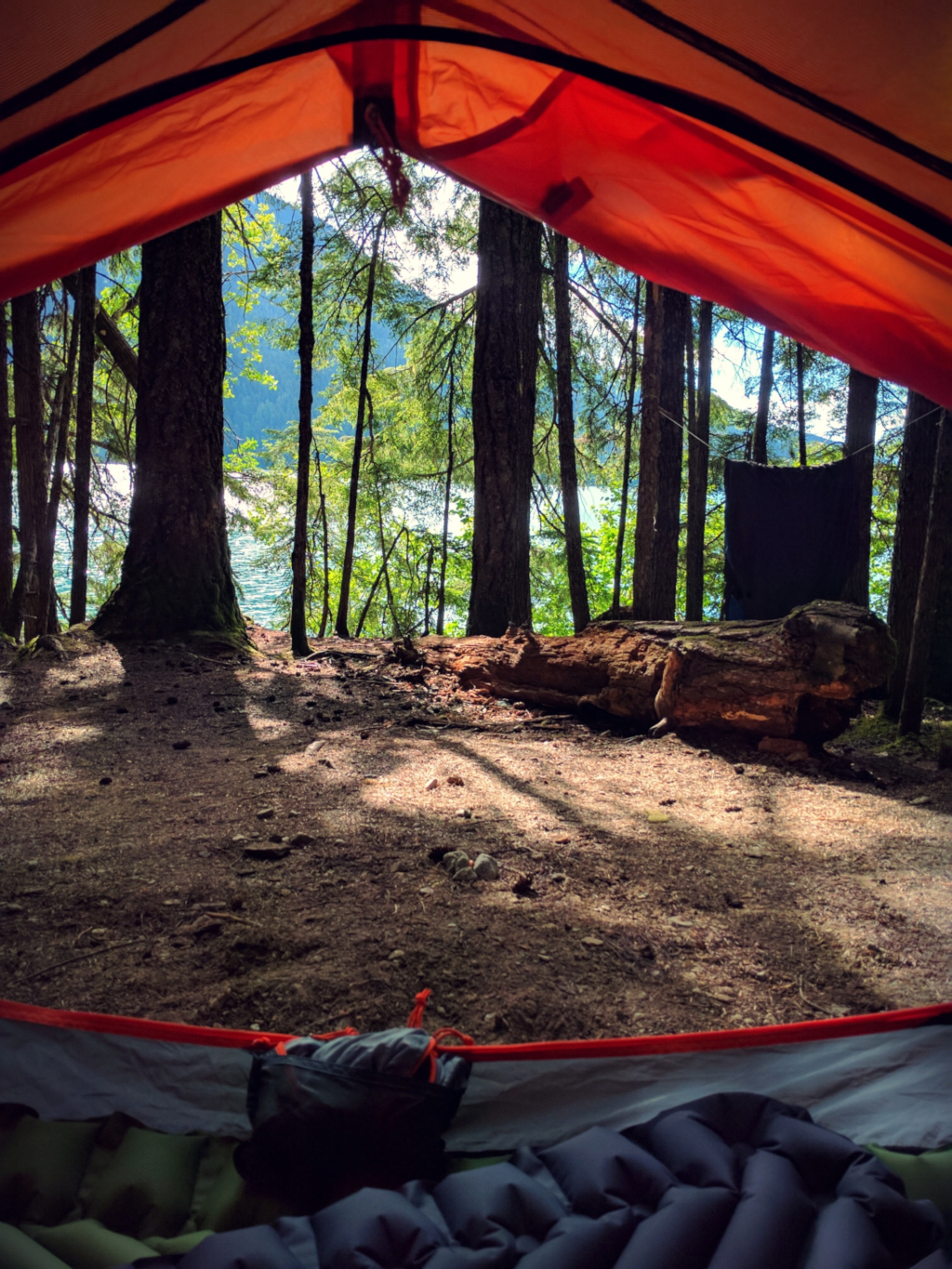 Exhausted. The evening drapes across the austere land. Feet ache. Legs ache. Back aches. Hot. Sweaty. Why am I here again?
A few other campers arrived as the day drew to a close. Thankfully, our site was separate from the rest, and we enjoyed a bit more privacy than others.
Wild and dark. This land. With the shadow of the mountain looming on the other side of the trail. We had to go up a hill to go to the bathroom. As the wind blew from the mountain, it sometimes carried the faint aroma of toilet to the campsite below. But overall it wasn't too bad, especially when the breeze blew from the lake and cleansed the steamy atmosphere.
The evening shadows deepened but the colors in the sky grew brighter and more outrageously beautiful, shifting from orange to red to purple. I could hear the cries of birds across the lake. A soft breeze blew through the leafs. The lonesome chirp of a squirrel.
Night came. Headlamp time. The stars above the tree canopy and the mountains in the distance created a majestic atmosphere. A witch's brew of emotion. Exhilaration. Fear. Excitement. Slumber didn't come easy. Not on the first night. All kinds of sounds in the darkness. Imaginary phantoms. Ancient spirits of the Pacific Northwest whispering through the trees. The lady of the lake. Yes. There is always a lady in the lake. Then sleep.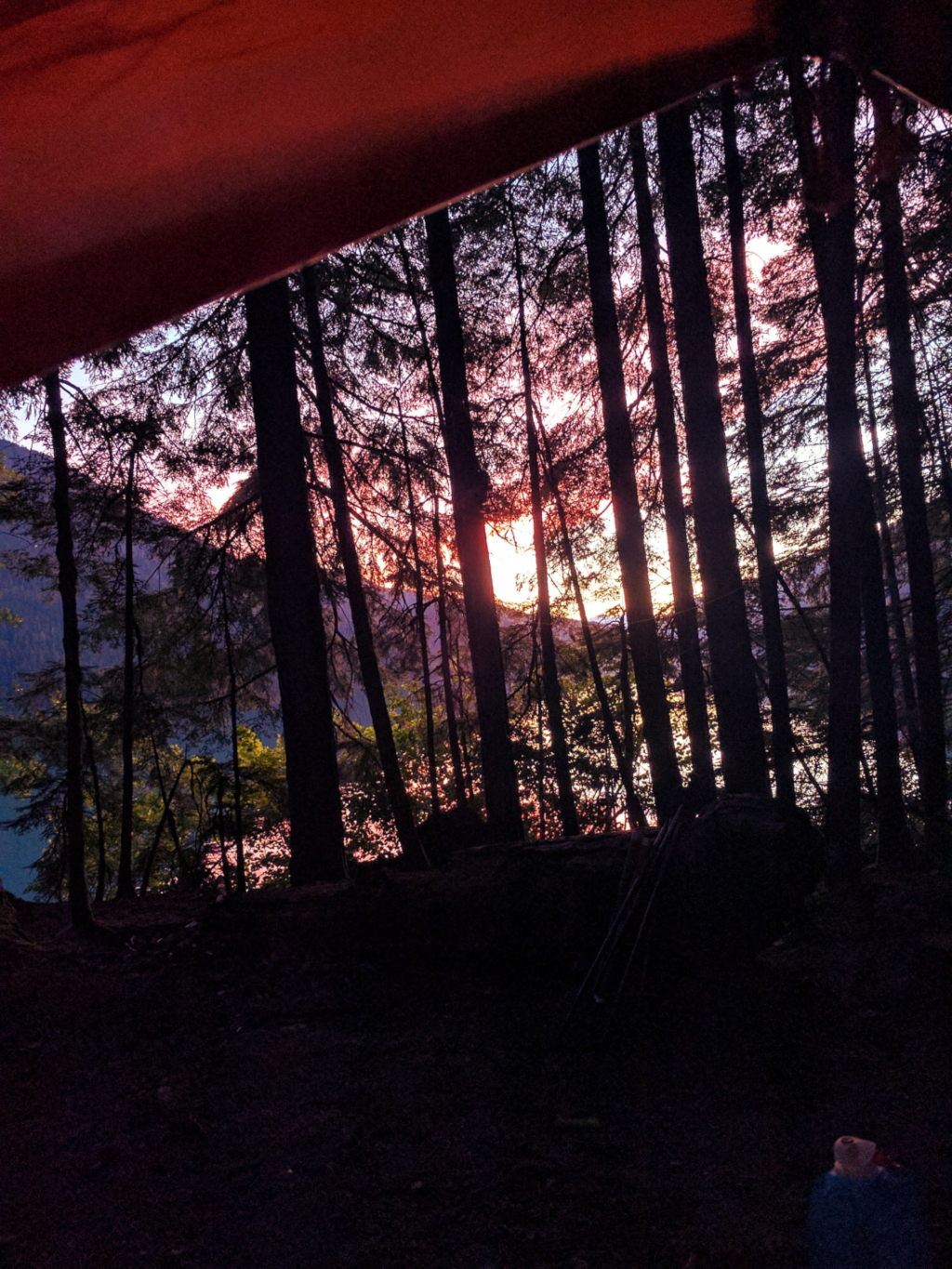 ---
Mood
A Pillow of Winds by Pink Floyd