---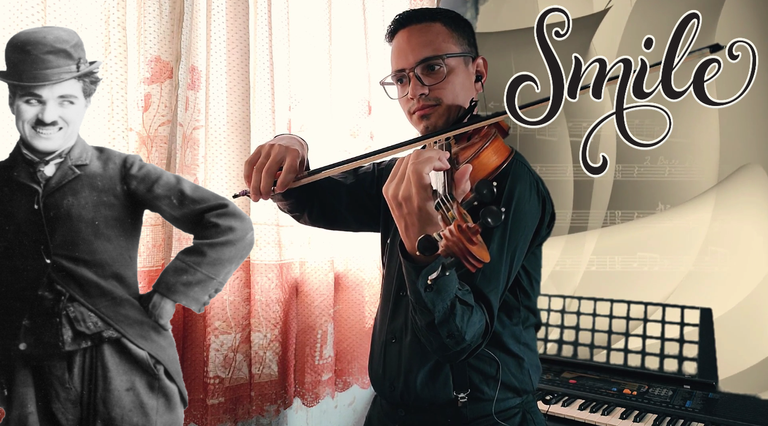 ¿Quién no recordaría a Charlie Chaplin?, icono, símbolo del cine mudo y gran humorista. Muy a pesar de poseer una preparación formal como músico, ejecutó el piano y el violín, dejándonos en repertorio; fabulosas melodías.
Hoy comparto una de sus creaciones, Chaplin creó solo la música de este tema junto a John Turner, mientras que la letra quedó en manos de Geoffrey Parsons.
La letra en lo personal lo relaciono a la esperanza, a poner buena cara al mal tiempo, como decían los viejos. Por su lado, la música nos lleva por el lado reflexivo, en este caso con ese toque de jazz característico en las creaciones de Turner.
No puedo decir de primera mano que parte de mi vida estuvo influenciada por este gran artista, un creador innato aunque polémico para su época por temas políticos en Estados Unidos. Lo que si hay que destacar es que toda su música está llena de notas, a veces un tanto melancólicas y otras más alegres, melodías que de una u otra manera quedaban impresas en sus oyentes.

Who wouldn't remember Charlie Chaplin, an icon, symbol of silent films, and a great comedian? Despite his formal training as a musician, he played the piano and violin, leaving us with fabulous melodies in his repertoire.
Today I share one of his creations, Chaplin created only the music of this song with John Turner, while the lyrics were left in the hands of Geoffrey Parsons.
I relate the lyrics to hope, to put a good face on bad weather, as the old people used to say. For its part, the music takes us to the reflective side, in this case with that touch of jazz characteristic of Turner's creations.
I cannot say first hand that part of my life was influenced by this great artist, an innate creator although controversial for his time due to political issues in the United States. What is worth noting is that all his music is full of notes, sometimes a little melancholic and sometimes more cheerful, melodies that in one way or another remained imprinted on his listeners.

Letra
Sonríe aunque te duela el corazón
Sonríe aunque se rompa
Cuando haya nubes en el cielo, saldrás adelante
Si sonríes a través del miedo y la pena
Sonríe y tal vez mañana
Verás el sol brillar para ti
Iluminar tu rostro con alegría
Oculta todo rastro de tristeza
Aunque una lágrima pueda estar siempre cerca
Ese es el momento en que debes seguir intentándolo
Sonríe, ¿de qué sirve llorar?
Verás que la vida sigue valiendo la pena
Si sólo sonríes
Ese es el momento en el que debes seguir intentándolo
Sonríe, ¿de qué sirve llorar?
Descubrirás que la vida sigue valiendo la pena
Si sólo sonríes
Lyrics
Smile though your heart is aching
Smile even though it's breaking
When there are clouds in the sky, you'll get by
If you smile through your fear and sorrow
Smile and maybe tomorrow
You'll see the sun come shining through for you
Light up your face with gladness
Hide every trace of sadness
Although a tear may be ever so near
That's the time you must keep on trying
Smile, what's the use of crying?
You'll find that life is still worthwhile
If you just smile
That's the time you must keep on trying
Smile, what's the use of crying?
You'll find that life is still worthwhile
If you just smile

Había estado un buen tiempo desconectado por el ballet que estaba haciendo con la orquesta, estaba realmente agotado mentalmente. Recientemente, adquirí un par de audífonos JBL nuevos y una extensión de audio de 3.5mm de macho a hembra, unos cinco metros de cable que me hacen muy cómodo el momento de grabar el video, sin duda una excelente adquisición y lo he usado para la realización de este video, ya que suelo grabar directo a la computadora usando Audacity y posterior a esto masterizo en la web de BandLab.
Espero hayan disfrutado de mi interpretación y una vez más muchas gracias por escuchar, el poder de la música no tiene límites ni fronteras. Soñemos y trabajemos por hacerlos realidad, la vida es ahora, no esperes ni un segundo más para trabajar en alcanzar vuestras metas.
Nota curiosa: Al principio del video, en los segundos 11 y 12 se puede escuchar una especie de silbido, en efecto era alguien fuera de casa silbando mientras grababa. Ya esta sería como la toma número siete, al principio me sentí indignado, pero luego de analizarlo, quedó hasta perfecto con la armonía y hasta tiene sentido. Desconozco quién silbó y fue algo que noté luego de grabar porque tenía la pista en los audífonos a buen volumen.
Gracias al silbador anónimo, le dio un toque único y hasta irrepetible a mi cover jajajaja, ahora que lo escucho varias veces lo puedo hasta disfrutar.
I had been disconnected for a while because of the ballet I was doing with the orchestra, I was mentally exhausted. Recently, I acquired a pair of new JBL headphones and a 3.5mm audio extension from male to female, about five meters of cable that make me very comfortable when recording video, without a doubt an excellent acquisition and I have used it for the realization of this video since I usually record directly to the computer using Audacity and after that I master on the BandLab website.
I hope you enjoyed my performance, and once again thank you very much for listening. The power of music has no limits or boundaries. Let's dream and work to make them come true, life is now, don't wait for a second longer to work on reaching your goals.
Curious note: At the beginning of the video, in seconds 11 and 12 you can hear a kind of whistling sound, in effect it was someone outside whistling while recording. This would take number seven, at first I felt indignant, but after analyzing it, it was even perfect with the harmony and it even makes sense. I don't know who whistled and it was something I noticed after recording because I had the track on my headphones at a good volume.
Thanks to the anonymous whistler, he gave a unique and even unrepeatable touch to my cover hahaha, now that I listen to it several times I can even enjoy it.

- Los separadores usados y muchos otros están disponible haciendo clic aquí (Página no disponible) y su uso es de libre distribución, hay muchos que son realmente geniales, se los recomiendo.
- Fuente de Imágenes, captura de pantalla del video original. Vídeo realizado y editado con mi Xiaomi Redmi Note 10 Pro y el programa Filmora X.
- Grabación de audio con Audacity usando un micrófono condensador Maono, mezcla y masterización por la página de BandLab.
- Fuente de las imágenes y videos de fondo utilizados en la edición del video: 1, 2, Video Background
---
- The used separators and many others are available by clicking here (Page not available)

- Image source, a screenshot of the original video. Video made and edited with my Xiaomi Redmi Note 10 Pro and Filmora X program.

- Audio recording with Audacity using a Maono condenser microphone, mixing and mastering by the BandLab website.

- Source of the images and background videos used in the editing of the video: 1, 2, Video Background

---

Banner made in Canva ||| Banner realizado en Canva



---
▶️ 3Speak