Hello Hive community! We hope you have all experienced as much great enthusiasm for our blockchain over the past week as we have following the 1 year anniversary since the Hive HF, a 5 year anniversary since the start of the chain, and some well-deserved movements in the HIVE price recently.
We see all of the above as great opportunities for some grassroots community marketing, and would like to encourage everyone to assist in showing the social proof for our chain by making some noise on social media. Whether it is sharing @hiveio's great article Celebrating the First Year of Hive, or simply giving a like and comment to its recent tweets sharing it. One year ago, we made sure the whole world was aware of our story, we can do it again!
But also, we thought this was a good opportunity for us to share some thoughts on the past year that has been, what we've done as a witness, and some of the things that we look forward to doing more of in the year ahead.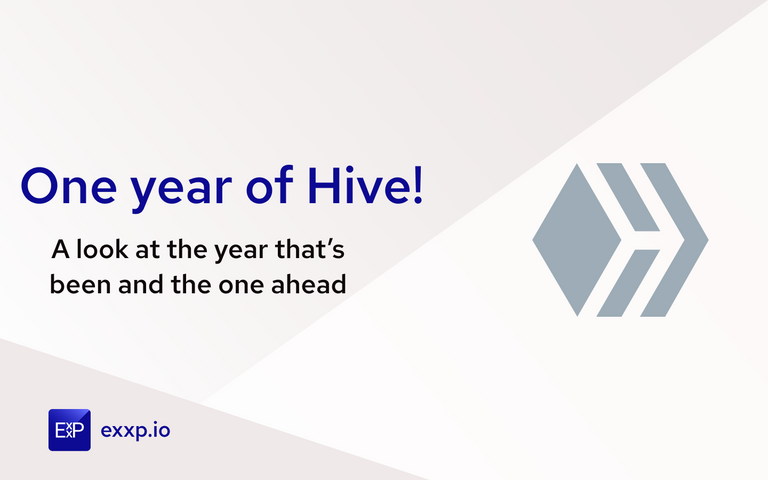 ---
It's been an exciting year since Hive's unique birth, but we think the next one will be even better
Hive's story is special, not just for us
Looking back to this period last year, it is almost hard to believe everything that happened. It is safe to say that it was one of the craziest and eventful experiences we've ever had, and likely one of the most special stories ever to take place in the blockchain space. Which says a lot.
One year ago, our team got to play an active role - alongside many other witnesses, developers, stakeholders, and long-time community members - in dealing with the circumstances our chain found itself in. Late nights were spent discussing the right courses of actions, coding a fork, and getting up late at night to try and have meaningful dialogue with the Tron Foundation. The rest, as they say, is history. But today, one year later, it's easy to be proud of what we did and everyone else who helped make it happen.
So what have we as a witness done the past year?
Looking back at the year that has been, the list of things that our witness, @steempress, has been involved with is starting to become a long one as we've:
The best for Hive is yet to come
Looking forward on the year ahead, we are particularly excited about the new capabilities for second layer applications and increased flexibility those will bring to communities and dApps. To us, this will further cement one of the key pillars to our vision for Hive, namely it's ability to allow multiple different teams and community projects, covering entirely different topics of interest or completely different types of products, to build and grow their own projects on Hive and achieve their own success while bringing value back to the blockchain and token in pursuit of their own ambitions.
We've come a very long way since Steemit Inc first introduced a blockchain mainly designed to support a very specific reddit-like website. In the five years since, the chain has evolved to also include projects, businesses and communities that are completely different to this original plan. Although some of these new projects have very little to do with social media themselves, they still benefit greatly from Hive's innate social features, capability to integrate a social platform, and to provide instant access to a supportive community. This, we believe, will continue to be the most vital value proposition and differentiating factor between Hive and alternative blockchains. One that if showcased correctly can help attract more projects and businesses to Hive going forward.
Therefore, we will do our best to contribute to new development in this direction, and prioritize work that supports this vision for Hive's success. That's why we are particularly excited and motivated to help advance Hive communities once we've successfully and securely completed HF 25. Much more of this to come later, but we already know you'll like it!
We hope again that you, the Hive community, are as excited as we are for the next year ahead and look forward to building it with you!
@Fredrikaa and @Howo