This week marks some incredible milestones for the Hive blockchain, and the community and technology that embodies the idea of Hive Power.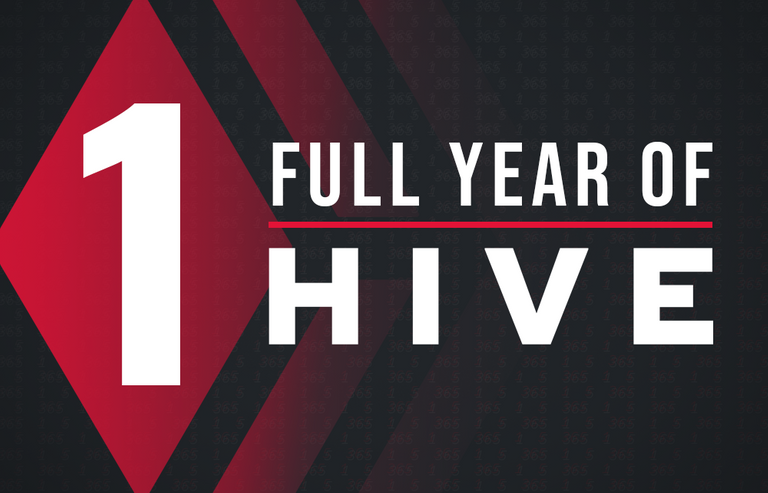 The first anniversary of the creation of Hive's decentralized, open source, fast and feeless network has empowered an entire community to show the world that the most important aspects of blockchain success are people and resilience. While a first birthday is always special, this celebration is made even more notable by the fact that it marks five full years of development on the legacy codebase, core community and the spirit that powers Hive. It's hard to express how important and exciting it is to have a battle tested blockchain with half a decade of history that has also been able to unite an entire network of people and apps behind decentralized community values. Value is created by people who are supported by the best technology, and the Hive blockchain is proof.
A full year has passed since the story of Hive captured the attention and hearts of the blockchain world as underdogs in a space where most new chains are dominated by corporations, exchange interests, or mining groups. In that time, new projects around the cryptosphere have risen and fallen with devastating rug pulls and financial structures, vaporware and abandonware are the norm- not the exception- and hype moves from start up to start up without creating a meaningful base of dedicated people. And for a full year, Hive has been expanding the technology that supports a vibrant, growing ecosystem full of immutable information, ownership, services, marketplaces, games, businesses, and connections between people. Momentum is building.


Taking a look at everything that has happened around our network over the past year, there's one thing that is becoming undeniable: Hive is built by community, and Hive is built to last.
This past year has been an incredible success at laying foundations for growth and resiliency: the codebase has been fully overhauled for scalability and functionality, for ease of use and eco- and cost-efficiency, and has focused on creating a decentralized network that anyone can use to take ownership of their data and their value in a world that desperately needs ways to do so. With this first year of work and prep behind us, the future ahead is bright- full of builders, dreamers, creators, and connectors- and it's time to focus on helping the world discover what Hive has to offer. There aren't many blockchain projects that can pair flexible, powerful technology with an ecosystem full of users, content, and social aspects the way that we do. Where the first year of Hive has focused on building, the future stretching ahead is prepared to power the next generation of the web.
Today, the ADVFN International Financial Awards announced Hive as the winner of 2021's Most Innovative Crypto Product

A panel of traditional market, cryptocurrency and investor experts selected Hive out of a wide range of projects as their top choice in innovation. This recognition of the capability of the Hive blockchain is a perfect way to enter into a new year:
Hive Power has a lot of meaning around here.
While the term HP is most notably a wallet reference to staked HIVE tokens, it's time to start talking about the power of Hive in ways that underline everything that this ecosystem has built over the past year. Staking your HIVE is a way to secure your voice in the ecosystem - you can allocate value, weigh in on governance, and create an immutable record of what value and connection mean to you. It has taken this past year and the challenges surfacing in social media, in governments, in economies, in education, and in self sovereignty to remind us of just how it important it is to take advantage of a network like Hive to take power back and use it to make the world around us the one we want it to be. People who have been a part of this genesis year, who have gotten in on the ground floor, and who took a chance on the curiosity about what a blockchain built for people can do all understand just how far that power reaches. As Hive enters this second year we're starting to see that rising energy impacting the markets, and the interest in how social blockchain can shape the world - not to mention almost every app and service in our day to day life.


It might be time to ask yourself...
What will you do with your Hive Power?
use a single human readable wallet address to log into an entire ecosystem of services, content platforms, games, marketplaces, chats, and more securely
create and engage with content and people to build connections that you own and no platform or person controls
earn, store, and hold to earn interest on a cryptocurrency that can be sent p2p or used in any network app seamlessly, in less than 3 seconds with no fees, on an energy smart, eco-friendly blockchain
store information, build dApps, start businesses, or create tokenized communities with open source tools and code, free public resources and nodes that decentralize and protect the blockchain with a global network
take part in governance decisions, allocate rewards, apply for and vote on funding proposals as a community to bring new development, products and ventures to life
play games with tokenized, unique assets; create and buy and sell NFTs in the art space and beyond; explore interfaces that specialize in decentralized video and free speech; trading and investing in crypto, finance, and DeFi; live streaming and gaming; podcasting; 3d VR and AR metaverses; blogging and short-form posting, commenting, and curation
be part of the incredible community that has routinely dominated the rankings on Dapp Radar, Block'tivity, and LunarCrush in real world blockchain use for its entire existence


This list barely scratches the surface of the things a Hive account can do and all of the projects and people that Hive was created to power. These are the first days of the future ahead, and after a successful year of getting ready to take on the world, it's time to start talking loudly about all the things that Hive has to offer.
The Hive blockchain was created because a community was determined to see if a decentralized network could break away from controlling interests, traditional social media and content platforms, and slow and expensive transactions on restrictive and stagnant codebases.
To the users, community members, developers, project managers, content creators, node operators, cypherpunks, decentralized and open source evangelists, traders, speculators, gamers and bloggers... thank you for making this first year an unbelievable one. Thank you for showing the world that it takes people and technology together to build an ecosystem that lasts, and get ready to start showing the world just why that matters so much. Innovation starts here.
It's been a full year since the Hive genesis block, and we've proved that it's not just possible - it's powerful. 🐝