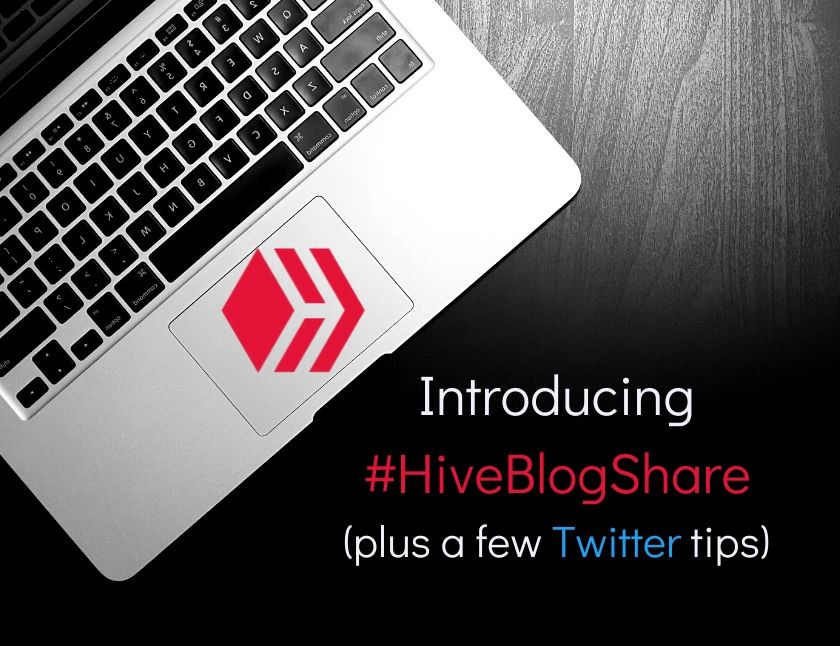 On that auspicious 20th day of March 2020, during those final hours of waiting for the creation of the Hive blockchain, I was scrolling through Twitter, trying to distract myself from hitting the refresh button on the hive.blog main page every 2 seconds. A thought popped into my head (as they sometimes do...lol) - ten or so minutes later, the Hive Blog Share Twitter account was created!
Here's the Twitter bio -
RT account for #HiveBlogShare - bloggers on the #Hive Blockchain can use this tag to find each other & share blog posts.
And this is what the very first tweet said -
To celebrate the new #Hive #Blockchain, here's a new hash tag! Use #HiveBlogShare when sharing posts from @hiveblocks & related Dapps. Follow the tag to find friends (old & new) and share their stuff. Let's show the world what our content creators have to offer!
I've been liking & retweeting tweets Hive blog posts (with the occasional comment) at a steady pace ever since. On April 24th, I figured since there was such a good response that I might as well grab the account name on Hive as well.
The story behind the name
Back in 2014, when I first decided to jumpstart my blogging (after nearly a decade of on again off again posts), one of the first things recommended to me was Twitter. I'd had an account for a number of years at that point, but didn't make much use of it. Once I really started paying attention, I discovered accounts like @MondayBlogs, and @SundayBlogShare, which were garnering lots of attention from all sorts of different kinds of bloggers from all over the world. Through those tags, I connected with an amazing bunch of bloggers (WordPress, Blogger, et al.) - many of whom are still blogging buddies today.
Something many of the participants had in common - they weren't so much interested in metrics or numbers as they were with in engagement from other bloggers/readers (in the form of shares and comments). The phrase, "comments are gold" got tossed around a lot, because getting people to interact with you on your posts is priceless in terms of getting your blog noticed.
After seeing Twitter become so instrumental during this blockchain's genesis, it suddenly clicked for me that having a similar Hive specific tag to share blog posts could be an awesome way for everyone to increase their engagement, and for all of us to get our blogs noticed outside of the blockchain.
But Hive is all about getting paid for your posts, right? Who cares about engagement?
To be honest yes, money is one of the main reasons I joined Hive (back when it was still called something else) in 2017, but my feelings about this have evolved over the years. While it's always nice to get a hefty payout, I think that in the long run, connecting with other bloggers and building an audience for your work is a far more valuable commodity right now, here in the early stages of Web 3.0
For me, the beauty of the communities feature on Hive is being able to find like minded people, and read about things you know you're interested in. But there's also beauty in having a disparate group of bloggers together, reading, commenting, and sharing each other's work. There's something awesome about stumbling over gems you might've otherwise missed. Any time I've participated in WordPress blog share groups, I've invariably connected with people I wouldn't have found simply searching the interwebz for tags.
The type of curation I'm doing is focused more on sharing content, and increasing the visibility of the Hive blockchain as a whole. I mean, the more we share and chat on Twitter, the more likely more people with similar interests will find us, and want to join in the fun!
Okay, you said curation, so that means you're gonna upvote us, right?
I've given this a great deal of thought over the past few months, and I think there are plenty of amazing curation initiatives that include upvotes on the blockchain already. As I said, I'm aiming for curation of a different sort - getting posts out there where they can be seen by the most eyes, which will hopefully lead you to amass a loyal following (which may, in turn, lead you to being discovered by some upvoters with big wallets - an extra benefit, but not the main goal).
So for now, I won't be upvoting through this account, and any rewards received will be powered up. On the off chance I end up with a decent amount in this wallet (I put in 11.111 Hive Power in today to start it off), I'll probably offer a 3 week delegation award to add to @streetstyle's Hive Power Up Day prize pool. Speaking of, if anyone knows where our dear SPUD/HPUD creator has gone, please let me know - I'll be taking over the reigns in his absence, but I'm more than a little worried that he's been off chain for so long... 😟
Do you RT (retweet) everything?
Naturally, I focus mainly on tweets that share posts with the #hiveblogshare & @hiveblogshare tags, then I look for other imitative tags currently in play - for example, @theycallmedan's #HiveBasics initiative. After that, I'll scroll through the #Hive tag, and if there's still time left in my day, I'll take a peek at individual Twitter accounts (you'll know I visited by the sudden spamming of your notifications...lol) to see if people have tweeted out posts without using tags.
The majority of my RTs and tweets have links to content here on the blockchain. I try to keep the chatter on the account down to a minimum, to make it easier to scroll through the feed. I will occasionally share Hive Twitter discussions (like asking exchanges to list Hive, or explaining to people how Hive works) to help boost the signal. Chances are slim that I'd RT a Medium article, personal blog post, or other Hive-related-but-not-on-the-chain types of things, again to keep the noise level down on the feed. I want people to be able to scroll through easily when looking for interesting things to read, share, and comment on.
Oh, and at the moment, I'm only following accounts on Twitter that I know have Hive accounts, or I've seen sharing posts from Hive & the various related frontends. I think there might be a handful who are only Hive-related (like exchanges), but for now I haven't had the chance (or inclination) to weed out possible fake accounts (that might happen down the road a bit). So if you looking to add more Hivians to your Twitter friends, please feel free to check out who the account is following, but keep in mind that a follow isn't an endorsement, and #DYOR. If you happen to find any bad actors, please shout out and let me know.
So what do we need to do?
Share your Hive posts on Twitter with the tags #Hive and #HiveBlogShare. Scroll through the Twitter feed for @HiveBlogShare and like/retweet at least two tweets from other Hivians. If a post catches your eye, go ahead and click on it - after reading it, maybe even reblog and/or comment on it (extra coolness points for mentioning you saw it on Twitter). If someone RTs one of your posts, maybe go to their Twitter profile and see what they've shared.
Obviously I have no way of tracking what you do, so it's not a requirement for me to share your stuff. However I'm sure you'll find one good share leads to another... and they might tell two friends to share it... and so on, and so on... 😊
And what do we get in return?
Exposure, a possible bump in your Twitter analytics (which, thanks to those mysterious algorithms, helps to increase your Twitter reach), and the potential for amassing a group of interested followers who will engage on your posts. Maybe even a side benefit of moving up in the ranks of @abh12345's Hive Engagement League! Wait, what do you mean you haven't joined the league? Get over there now and drop a reply to his post, saying you want to join the EL (yes, that's all it takes!) - it's wicked fun, and there are even prizes to be won!
Why do you sometimes RT with a comment and just tag someone or some hash tag?
Again, metrics. If I see someone share a post from another author, and I happen to know their Twitter handle, I'll tag them to help gain visibility for the tweet, as well as help the metrics of the person I tagged
If you'd rather I didn't spam your notifications by tagging you (like I've been doing mainly with @hiveio, @leofinance, @esteemapp, and @theycallmedan so far, but also a few others) shout out and I'll refrain. And if anyone has information that RTing with someone's name/hash tag hurts their metrics, please let me know, but for now I'm operating under the assumption that Twitter works off the idea, "say anything you want about me, just spell my name right." 😆
Which reminds me - you know when people play games on Twitter, like "Name your favorite actor" and then they tag one person for each letter of the name? They're not doing it just for the fun of it (although that's part of it), but also to network and grow their metrics. I might start doing something like that every now and again on Twitter, to help foster that sense of community I'm hoping to grow.
What's next?
Well, along with the aforementioned Twitter games, I'm toying with the idea of doing a weekly post (similar to the blog share groups on Facebook) where I shout out what's expected to participate (for example, share a tweet to one of your recent posts, then retweet & comment on the post of someone else participating that day). If you think you might be interested, shout out in the comments and I'll tag you if/when I start them up.
I might also eventually extend the my curation by reblogging some posts here that caught my eye on Twitter, but that's probably won't happen in the immediate future.
Speaking of Twitter
Yes, that's right - I promised Twitter tips, didn't I? 🤣
These are some things I've picked up over years of hanging out in the Twitterverse. I'm not an expert in the workings of the platform's mysterious metrics, but here are a smattering of observations & tidbits I've gleaned from other Twitter folk, in no particular order...
Visiting someone's Twitter profile helps their metrics
Mentioning someone's handle in a tweet also helps their metrics
If you like something enough to like it, you should retweet it too because again, it helps metrics. I usually only "like" when there's a long conversation and I want to show I agree, but the tweet isn't "meaty" enough to RT.
Images are important when sharing links. If you tweet out posts, but get that dreaded "Grey Square of Doom," consider manually adding a picture of some sorts for attention. It's one of the reasons I started sharing so many gifs in my tweets - Twitter likes them (so they get more attention), plus they're fun!
Participating in a Twitterstorm (tweeting a ton in a short period of time about a one particular subject) hasn't seemed to hurt my statistics - in fact, according to my Twitter analytics, I've been bouncing around between 175K and 300K Tweet impressions ever since I started ranting like a crazy person about the hostile takeover! And the tons of RTing I'm doing with the HBS Twitter account seems to be building the account's metrics nicely...

That's it for now!
That's all I can think of for the moment, but feel free to shout out if you have specific questions about Twitter, Hive Blog Share, or anything else and I'll do my best to answer them!
Okay, one last thing - the tl;dr version
~ Tweet out a Hive posts with #Hive & #HiveBlogShare & you will more than likely get a like/RT from the Hive Blog Share Twitter account.
~ After tweeting out your post, check the HBS Twitter feed & connect with other Hive bloggers by RTing, reblogging, and commenting.
~ The Hive Blog Share Hive account won't be upvoting posts, but might start reblogging at some point in the future.
~ The current dual goals of this endeavor are a bigger Hive presence on Twitter & more interaction between bloggers on Hive.
Happy Twittering & Hiving!
If anyone needs me, I'll be...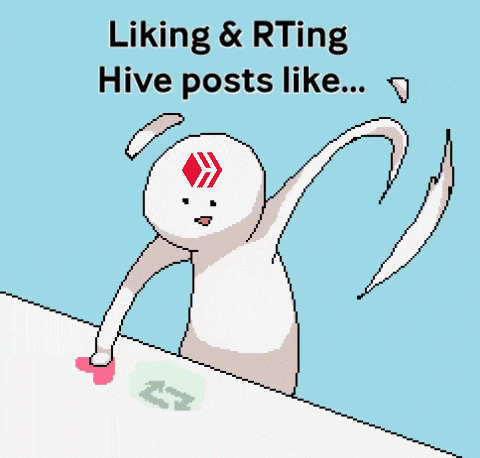 ~ Traci, aka @traciyork