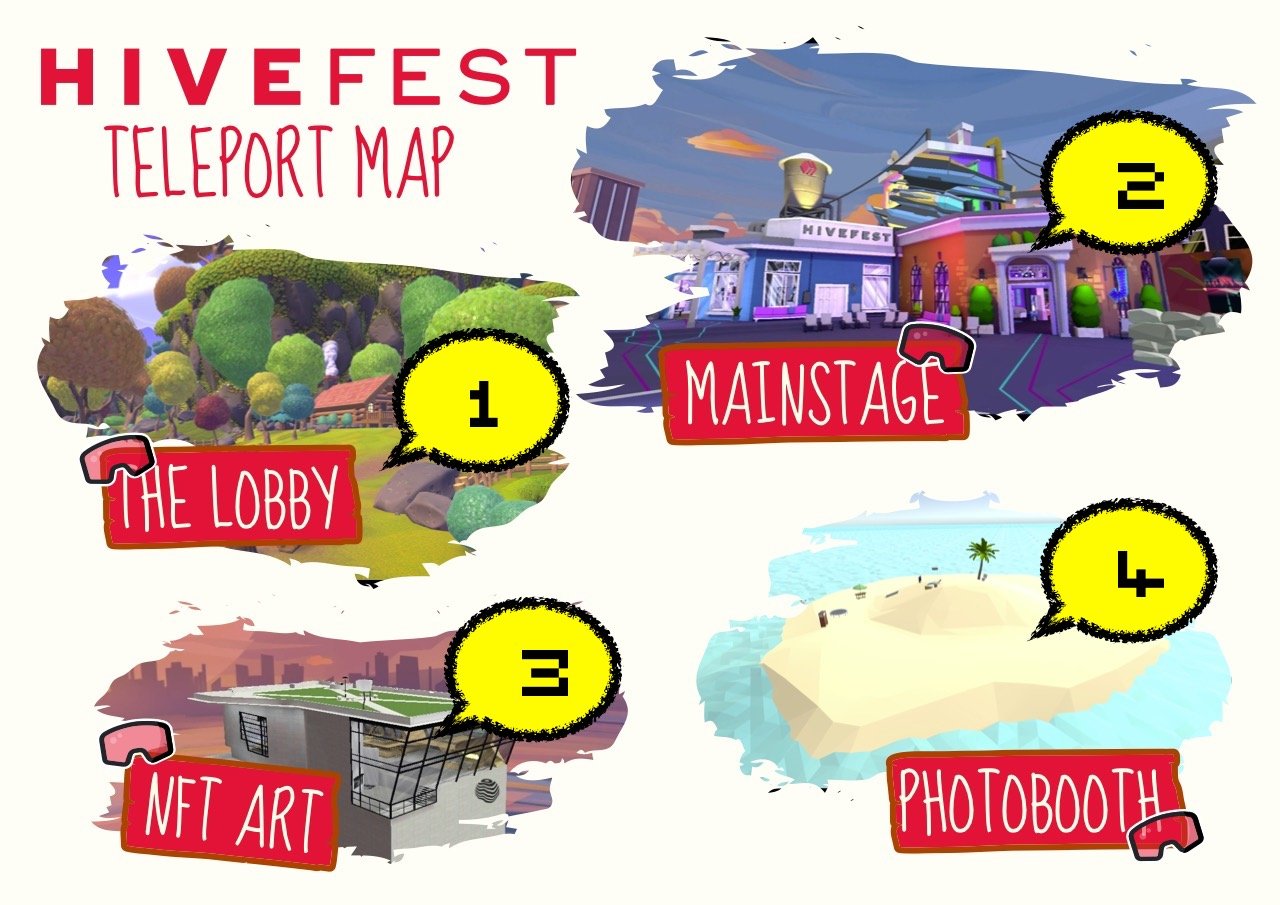 In 24 hours Day 1 of HiveFest is in full effect. By now you should really have downloaded AltspaceVR and walked around a bit. This post has all the generic tips and tricks to make it easy on you late laggards!
1. Timetables:
HiveFest Checkin & Hangout lobby opens at 3:30 PM UTC. At 4:40 PM UTC the presentation room opens too. At 5PM UTC sharp the presentations start.
Day 1 - Friday 18 December
Day 2 - Saturday 19 December
2. Livestream platforms
If you can't be there, join 'em!
Did you know AltspaceVR is available for Mac, Windows with 2D gamelike experience next to the full immersive VR headsets?
3. Your todo list to get ready for HiveFest
| Todo | Done? |
| --- | --- |
| Learn about HiveFest's Worlds | [X] |
| Download AltspaceVR & practice | [X] |
| Customise AltspaceVR Avatar | [X] |
| RSVP on AltspaceVR | [ ] |
| Get some HiveFest IRL Merch | [ ] |
| Decode your HiveFest Secret Word memo :) | [ ] |
4. You make it! Let others know they have audio problems!
In VR there is no such thing as annoying as glitching audio, or people you can't hear, or even worse... People echoing everybody.
You can fix it! Easy! Point others out when they are having audio issues:
Echo? Put on a headset quickly fixes things.
Glitching? A simple "room re-enter" most of the time fixes things. Menu > General > Re-enter.
Muted no matter what? Check your apps permissions and/or reboot your device
5. Have fun & connect! Did you 🗝 decode your memo you received from @hivefest?
If all software plays nicely as tested and debugged you should be able to have some fun with your own conference badge during the event. Be sure to check your hive wallet and decode the 0.001 HIVE deposit which you received yesterday (Thursday) with an encrypted message containing your personal secret word to use in the HiveFest worlds!
6. Recap: HiveFest official worlds
Official HiveFest Worlds on AltspaceVR
AltspaceVR is a collection of worlds. Each world is an experience on its own with its unique design and rules. I did a recent (databased / api) count and noticed over 360,000 unique worlds (!). HiveFest on AltspaceVR will consist of 4 worlds between which you can easily travel through the Teleport Map, by clicking on your destination of choice:
worldmap.jpg
1. HiveFest Lobby (campfire, chat, lolz, livestream)
This is your starting hub. RSVP for HiveFest on AltspaceVR and this is where you enter. Pick up your interactive badge and start the ride. The HiveFest Lobby is the place for:
Meeting, chatting and having fun with fellow attendees
Following a livestream of the presentation room
Play some hoops or have fun with hidden interactionables
Use the HiveFest Teleport map to visit the other worlds
Explore AltspaceVR through a curated list of worlds in "Portal Hub".
2. HiveFest Mainstage (presentations, discussions, on-topic)
Through the HiveFest Lobby's Portal Map or the dedicated blue portal near the livestream screen you can enter the HiveFest Mainstage. Note this venue is "On Air"-livestreamed during presentation times and here you can follow the presentations from up close. (Check all names on https://hivefe.st). If available you can use the "🤚 Raise Hand" feature to ask questions and interact with the people on stage. In this world we encourage you to keep chats between fellow attendees to a low. If you want to have conversations invite your conversation party to go to the Lobby together.
3. NFT Showroom Gallery (awe at art)
40 artworks from the Hive based NFT Showroom Gallery have been selected and are on display in the High Rise art gallery. Hop in and explore them all. All artworks are for sale in the NFT Showroom website by looking up the artist's gallery. Here you can also play a game of chess or some piano.
4. Photobooth Island (remember december)
Grab some fellow Hivers and teleport to Photobooth Island for some fun pictures. Our dedicated photographer will tirelessly keep on clicking, don't you worry! All pictures will be published in the HiveFest Pics Telegram group
---
That's it! See you tomorrow! Pump it.
Any questions? First check the HiveFest FAQ https://hivefest.freshdesk.com then join https://t.me/hivefest and/or #hivefest on https://openhive.chat