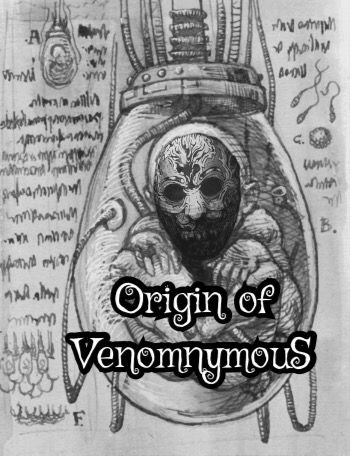 Hi, I am VenomnymouS and this is my official introductory, like after nearly a year of being on steemit.
So before we talk about whom VenomnymouS is, I think we need to go back before I became VenomnymouS. Back to late 2010. That was the time I went from being a sleeping pawn to an insomniac for truth.
I remember my wife and I had recently learned about Monsanto and GMOs. We were trying to figure out how to avoid these poisons without breaking the bank. It was also around that time I came across a flyer at a bus shelter on my morning commute to work. It was from a group called "Anonymous" ( you may have heard of them) on the flyer was a website called "Whatistheplan.org" or .com I don't remember. Either way the site no longer exists.
It was on that site I met and learned about anonymous. I learned the government was untrustworthy and to question the narratives. I aligned myself with this group, I bought a Guy Fawkes on eBay and together I worked online to help disseminate information and get the word out about Anonymous. It was at that time we were in phase 2 (I think) in a 5 phase plan. Phase 2 was all about getting the word about us. Who we are, what we are about and what we stand for. Our goal was to get as many people on board as possible before the next phases. Now honesty I can't remember what the other phases of the plan were anymore, but suffice it to say we achieved getting the word out about Anonymous.
After a month or so with anonymous, I finally had a chance to see other anons at the "We are the 99%" march in my city. If you remember, it was part of the whole occupy wall street movement thing.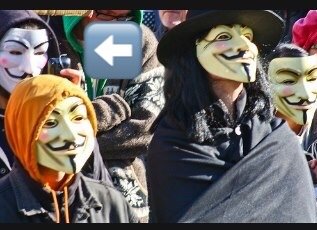 After the march I started to focus on activism with my wife and newborn son. We attended the first March Against Monsanto (MAM) and helped to organize the second one and a bunch of the MAM marches that followed thereafter. We took part in many other types of events. Geoengineering, save the bees, seedy Sundays etc. Too many too remember. Most events I didn't even wear a mask, despite having the Guy Fawkes mask available. I was too busy with the kid and co-organizing, concealing my face wasn't a priority.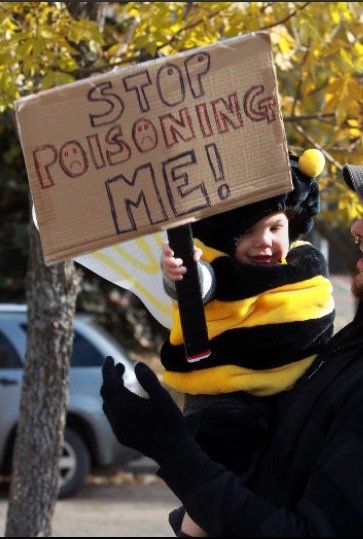 However online I was creating a persona for myself. I decided to pursuit music as another way to get the message out. Writing lyrics about important issues rather than the usual crap people talk about. Instead I would write on subjects such as GMOs, geoengineering, fluoride and government corruption (to name a few).
I gave myself a name 'ThePilGriim', dawning a few masks but mainly my Guy Fawkes mask would be the face of my persona. I worked hard on making connections with other independent rap artists. My Pilgriim moniker wouldn't last for very long, for I had borne from the rifts of my imagination a name that for the better part of the last four years, has built a legacy in the local and online activism scene.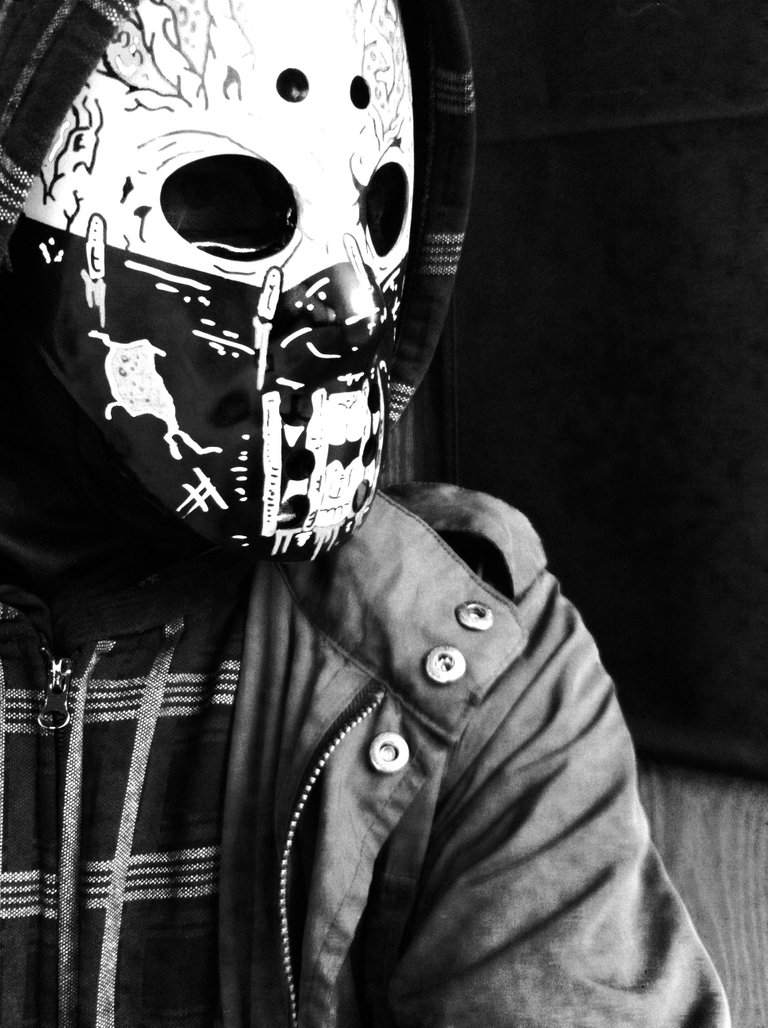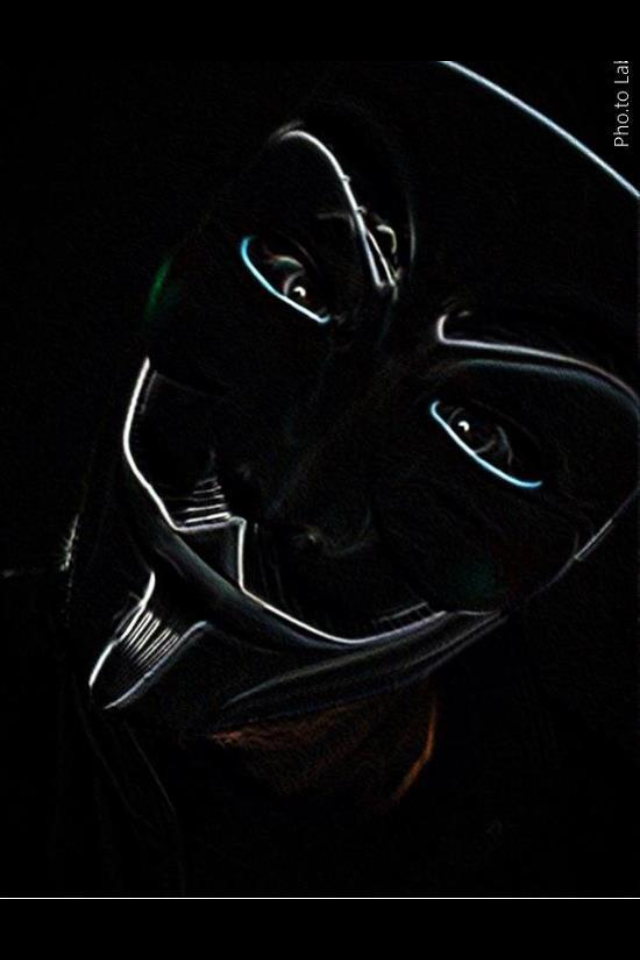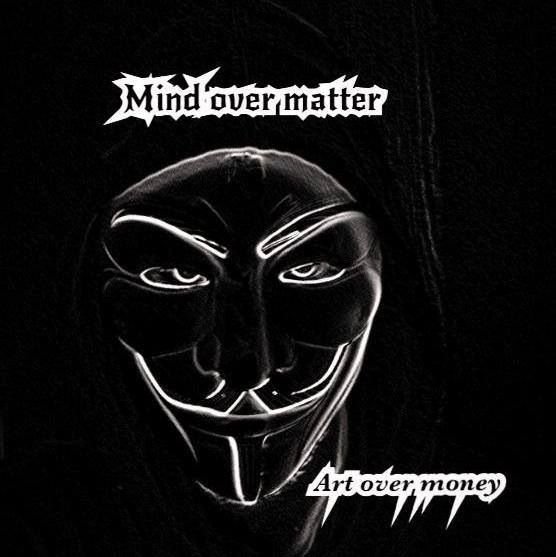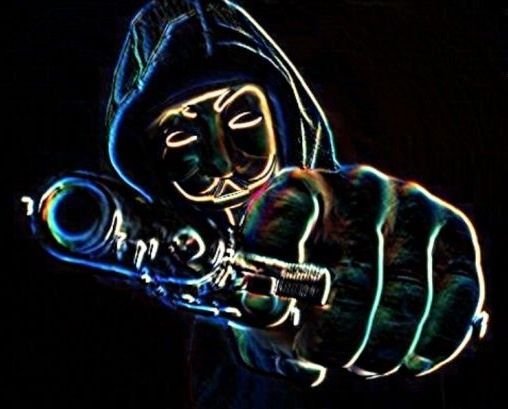 ---
Birth of VenomnymouS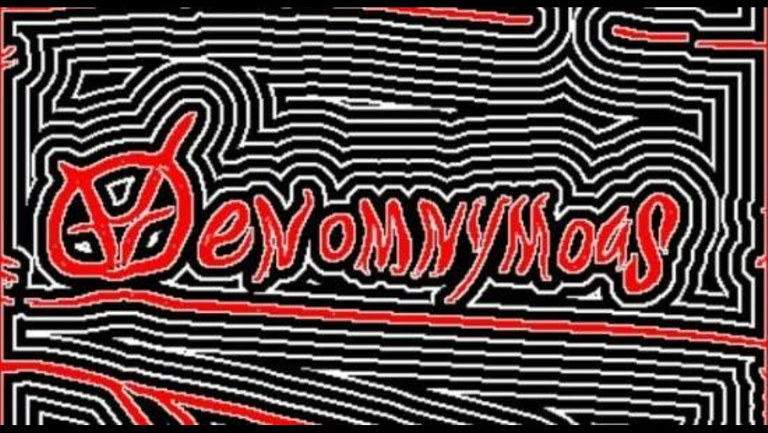 It was rather accidental, my wife and I were going to get tattoos for our wedding anniversary. So I was trying to think of a cool tattoo idea. I wanted it to have something to do with anonymous but not just a typical Guy Fawkes mask. I wanted something stronger. I thought of venom the only marvel comic character I like aside from carnage. Venom + anonymous = venomnymous. It was like Wow! That's friggin awesome! I got my wife draw it up for me and I got it tattooed.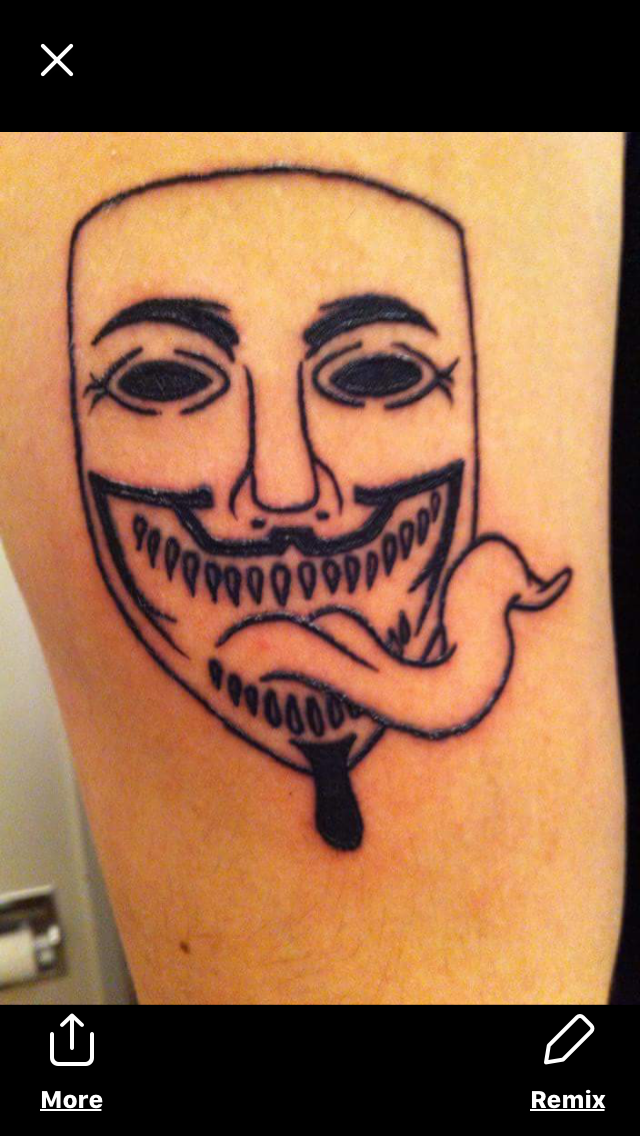 It was not long before i dropped 'ThePilGriim' and switched to VenomnymouS moniker, but I couldn't just keep using the Guy Fawkes mask as my image. The name venomnymous needed a face, I fiddled around with photo shop and tried to make it look right but it wouldn't do. I needed a new mask.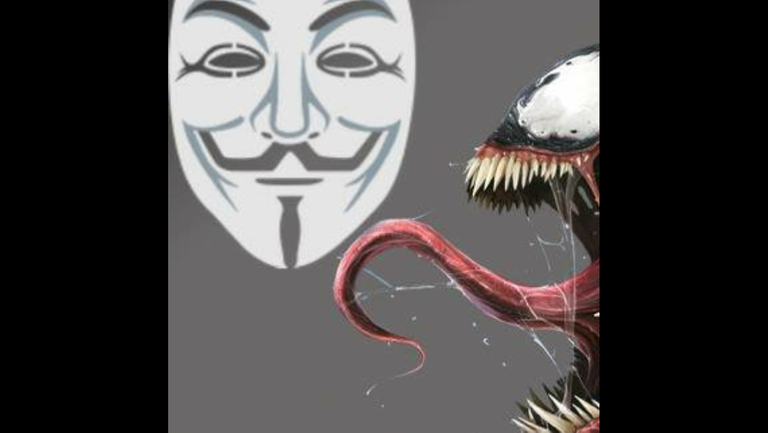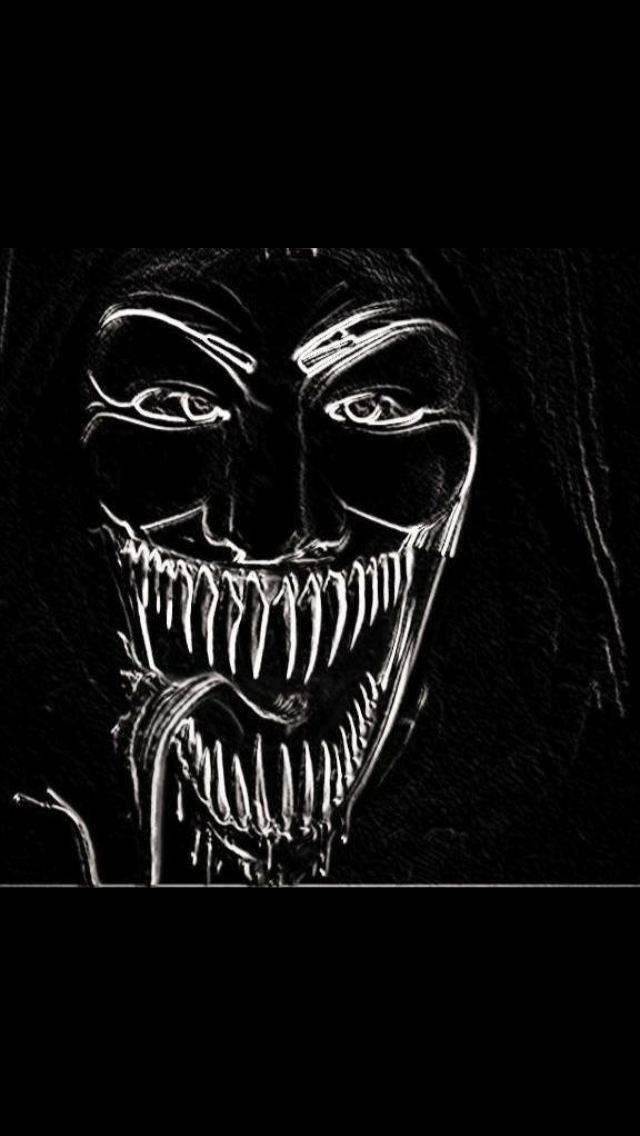 ---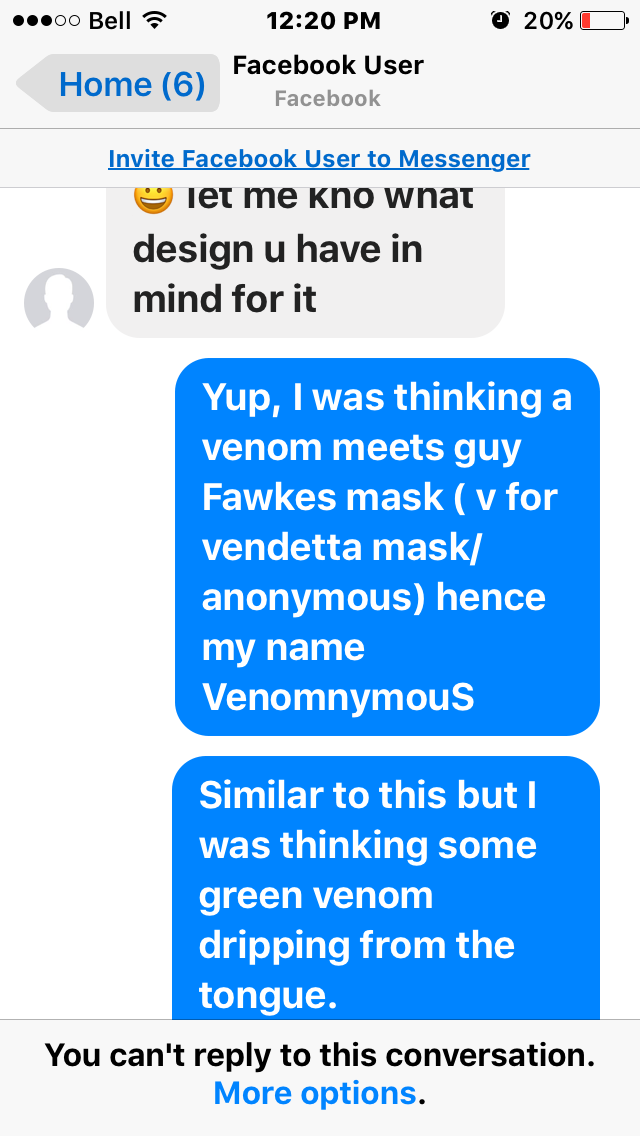 I contacted an independent artist from the US, who does custom painted masks.
---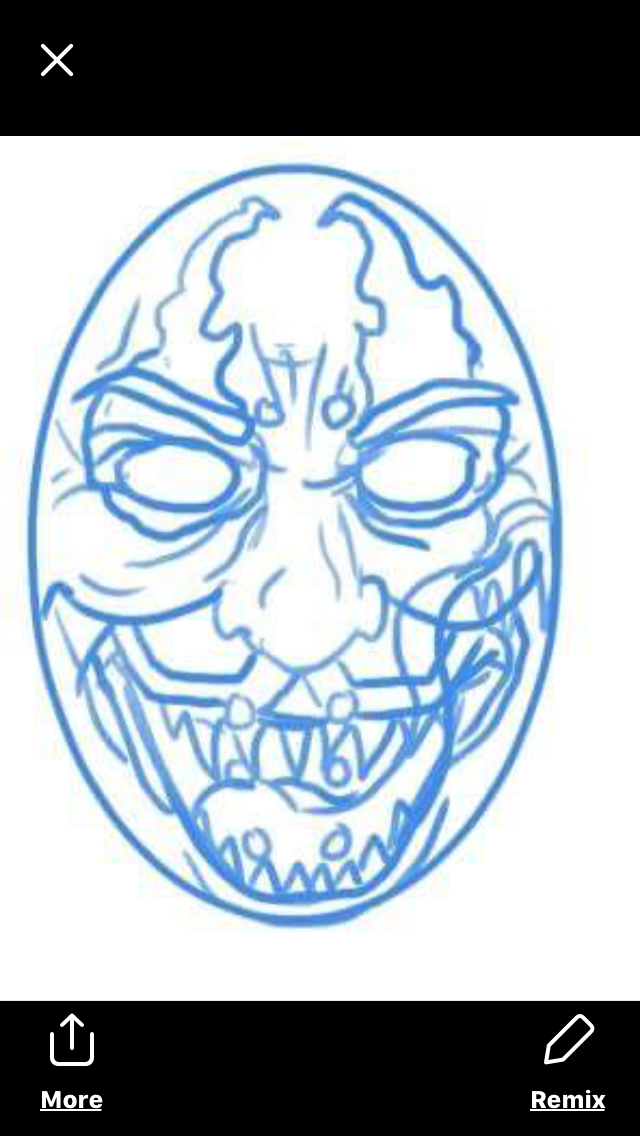 Here's his rough draft of the design
---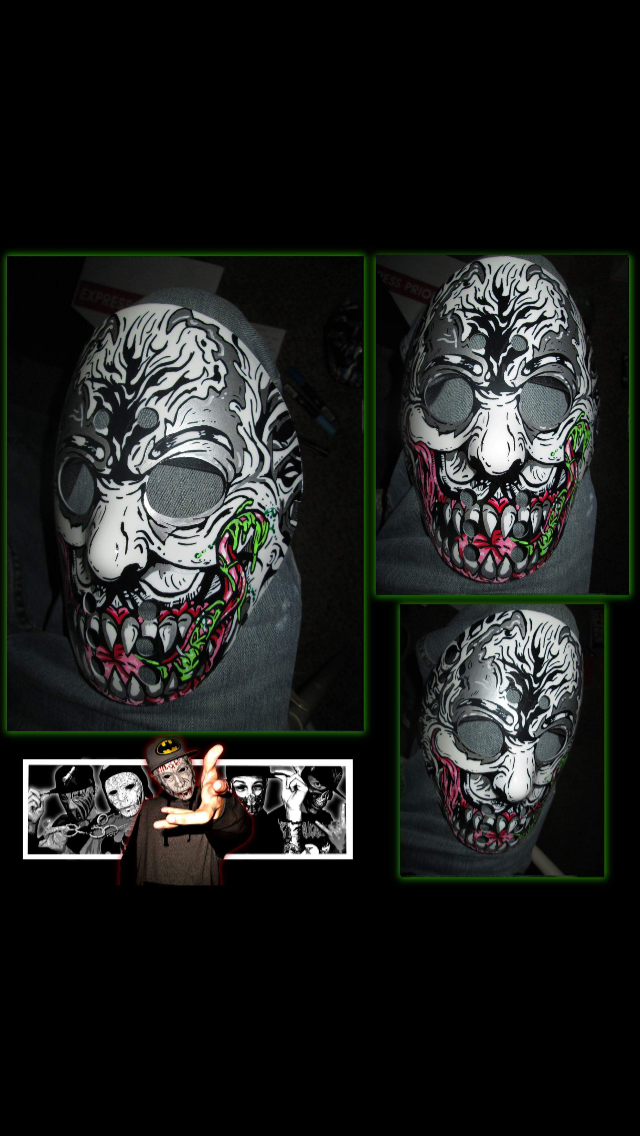 VenomnymouS manifests. Amazing right? I think so.
---
Now finally with a mask to match the name, I doubled my presence, in both the local and online community. Protest after protest, I was there!
It was at this time I connected with a group "Anonymous Edmonton". Meeting up at events, marches and protests. I became friends with a few individuals who were the main organizers of anon Edmonton events. I too became an organizer for anon Edmonton as well as an admin for a number of their FB pages (still am).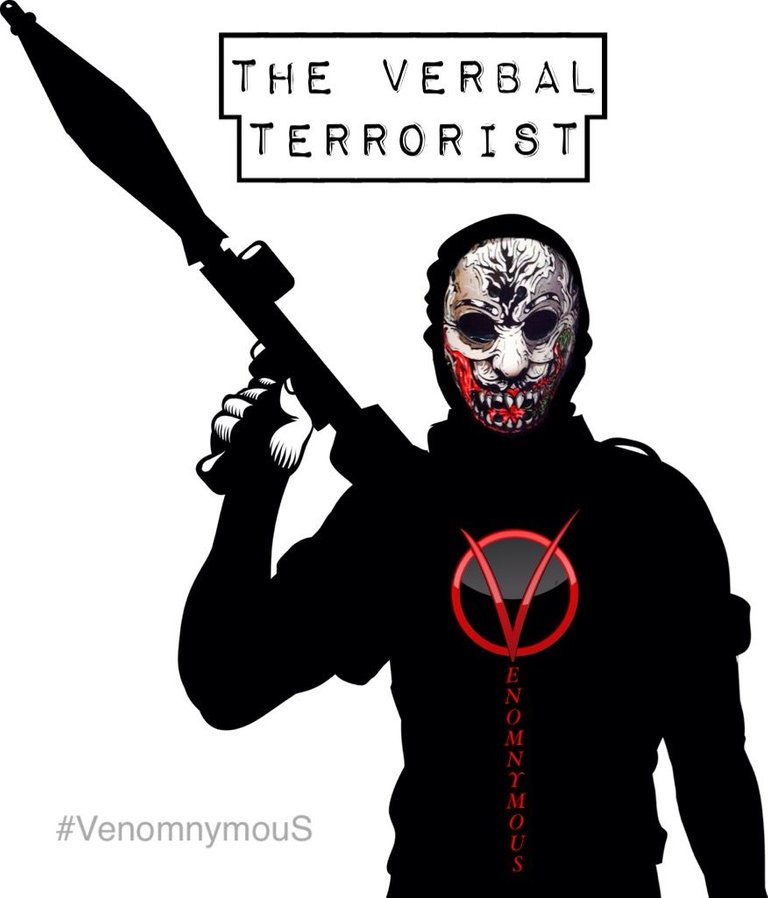 ---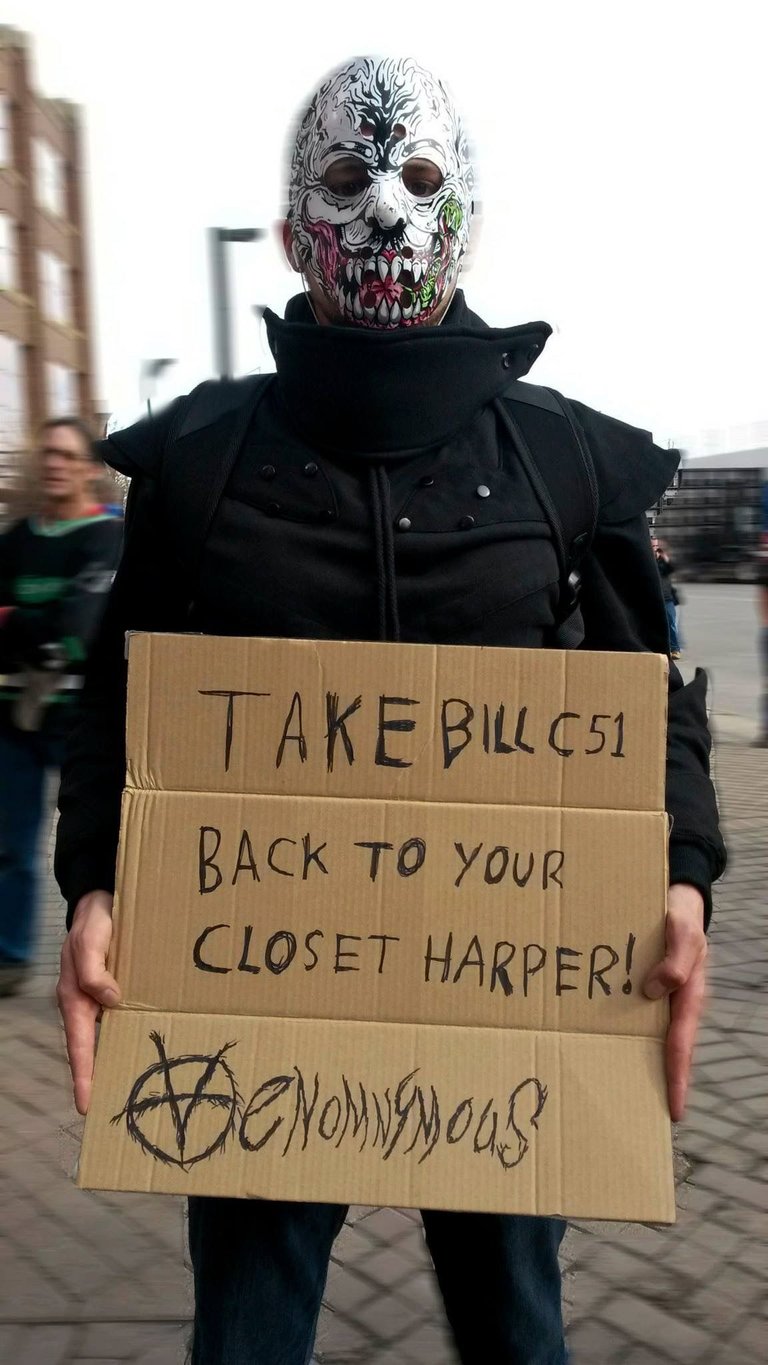 ---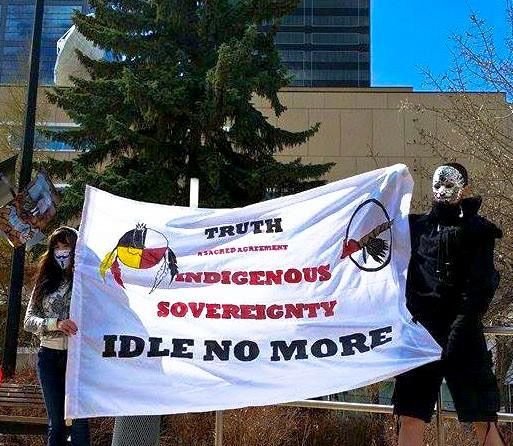 ---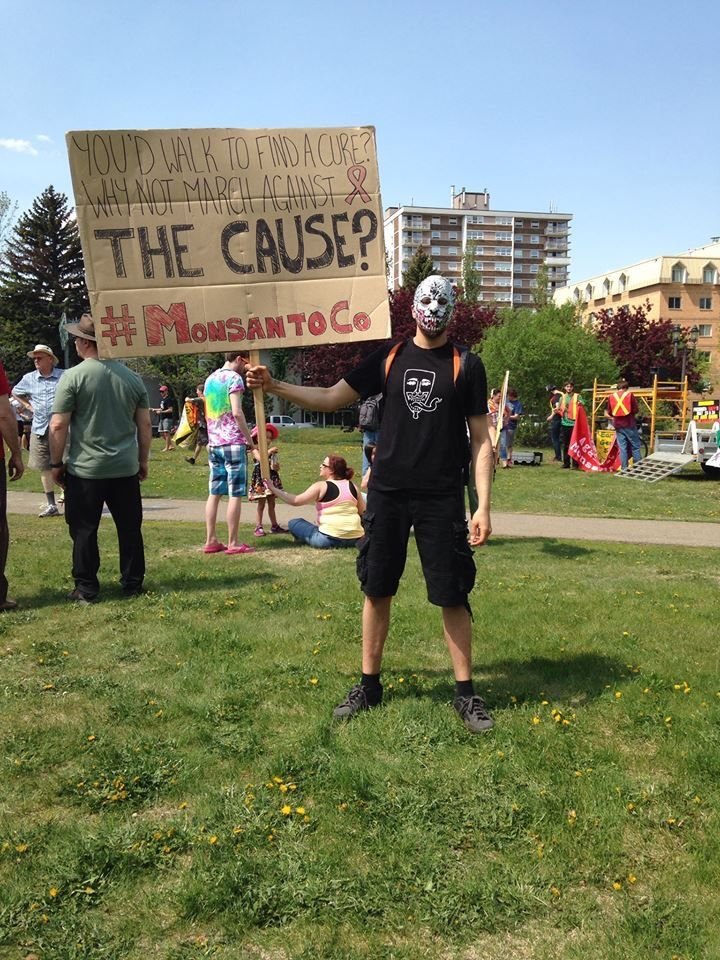 ---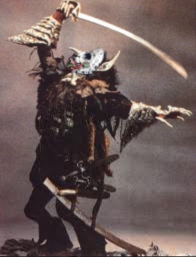 ---
We rolled like this for a couple years but things started to die off in my town for the entire activism scene. The MAM marches went from1000 for the first march to like 14 people at the last one I attended. The anon run events became few and far between and when they do, it's focused on social justice issues. No one is fighting Monsanto or the fluoridation of our city's water, instead we have #metoo. Instead of anti war marches, it's #blacklivesmatter and Antifa vs the 'nazis'. The movement has been hijacked with the left vs right false dichotomy bs. They have effectively killed real activism in my city.
I have since gone my own way again. I'm out the activism game (except for the actions I take on in a personal level every day). I'm still rolling with the truth movement online, however I changed up what truther circles I'm in these days. I ditched FB except for the occasional pop in to drop a link to my steemit post. I'm mostly on twitter, discord and steemit these days. All with the @venomnymous handle.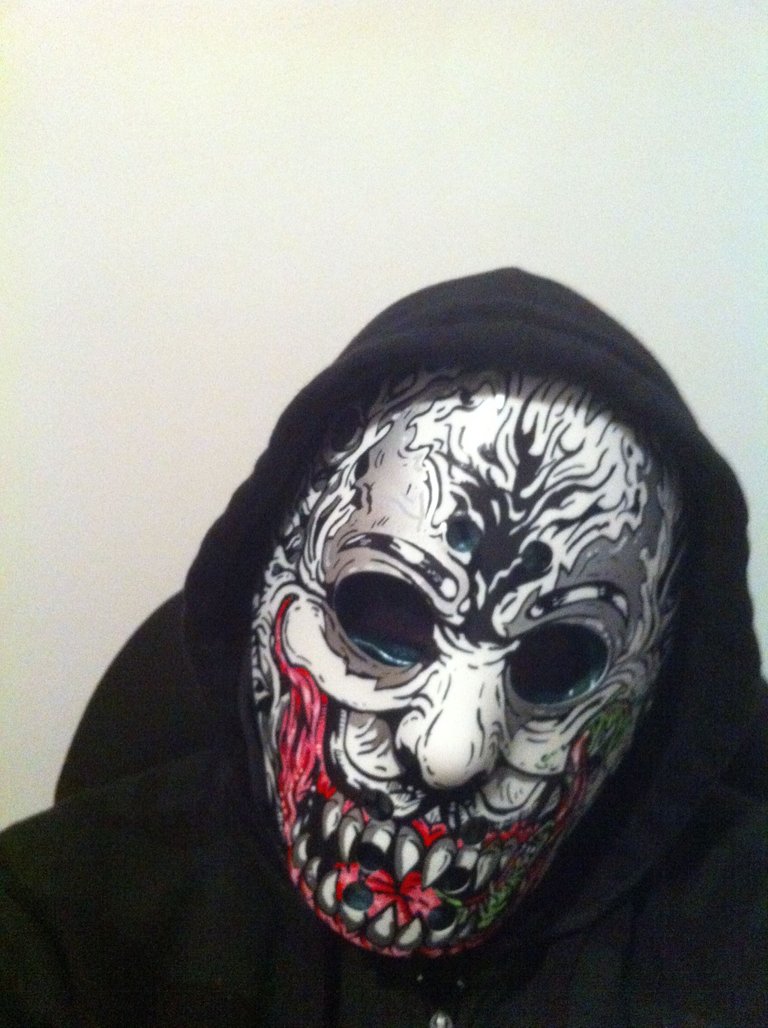 ---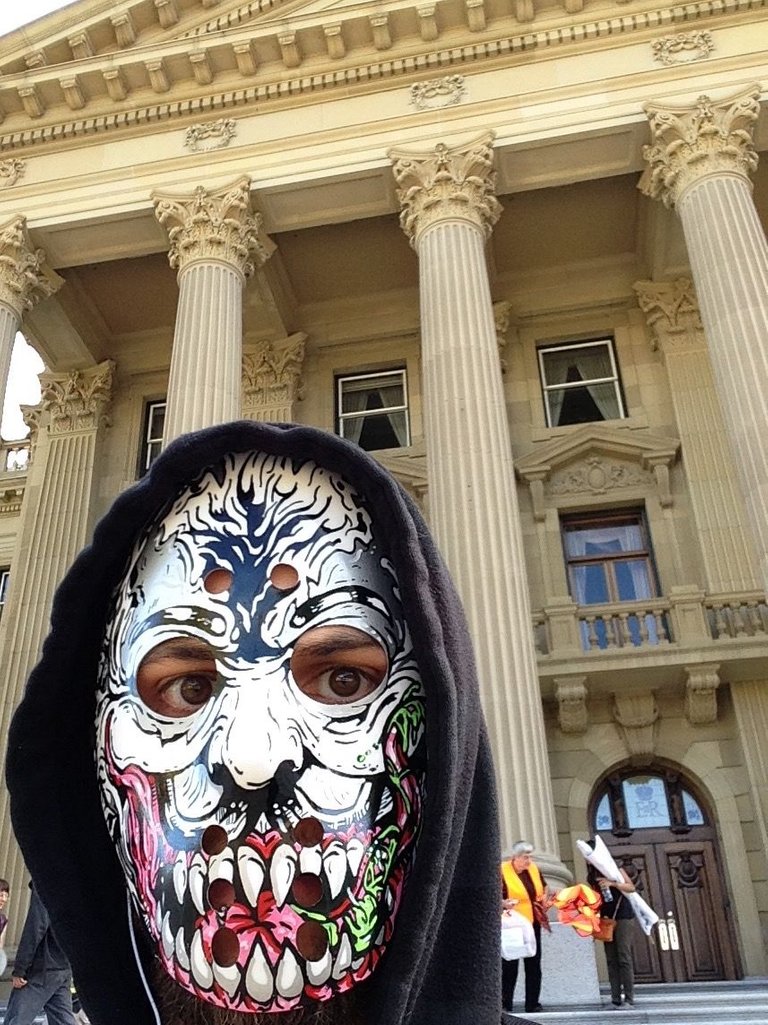 ---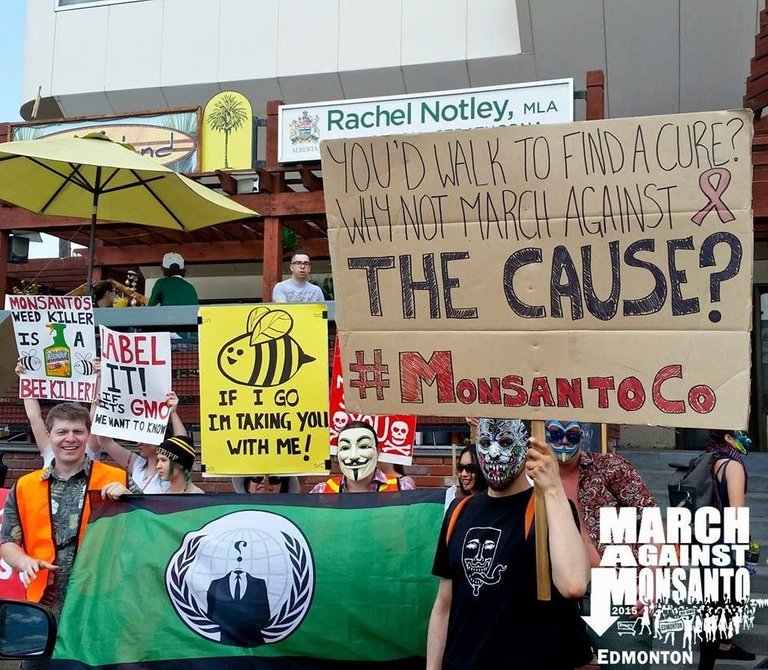 ---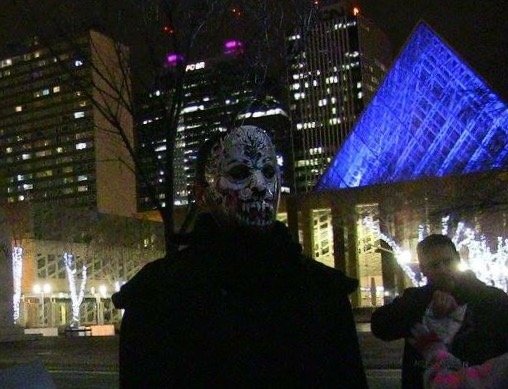 ---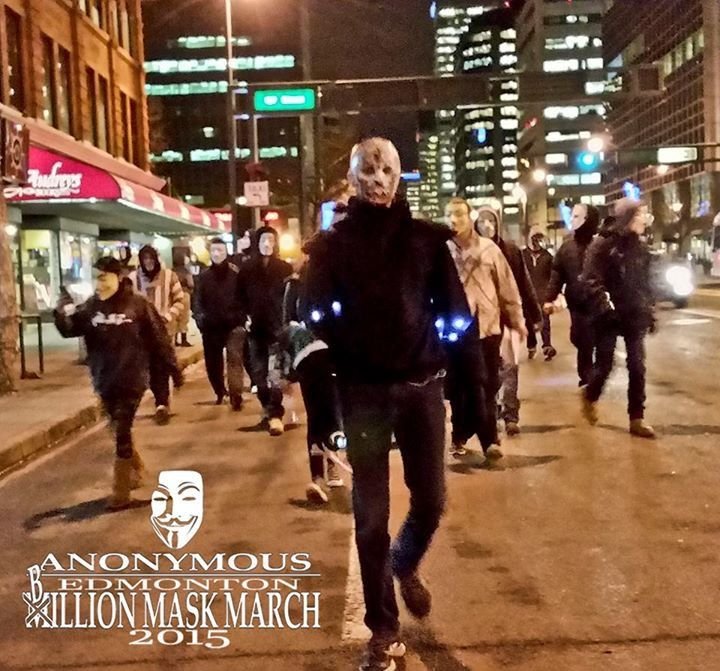 ---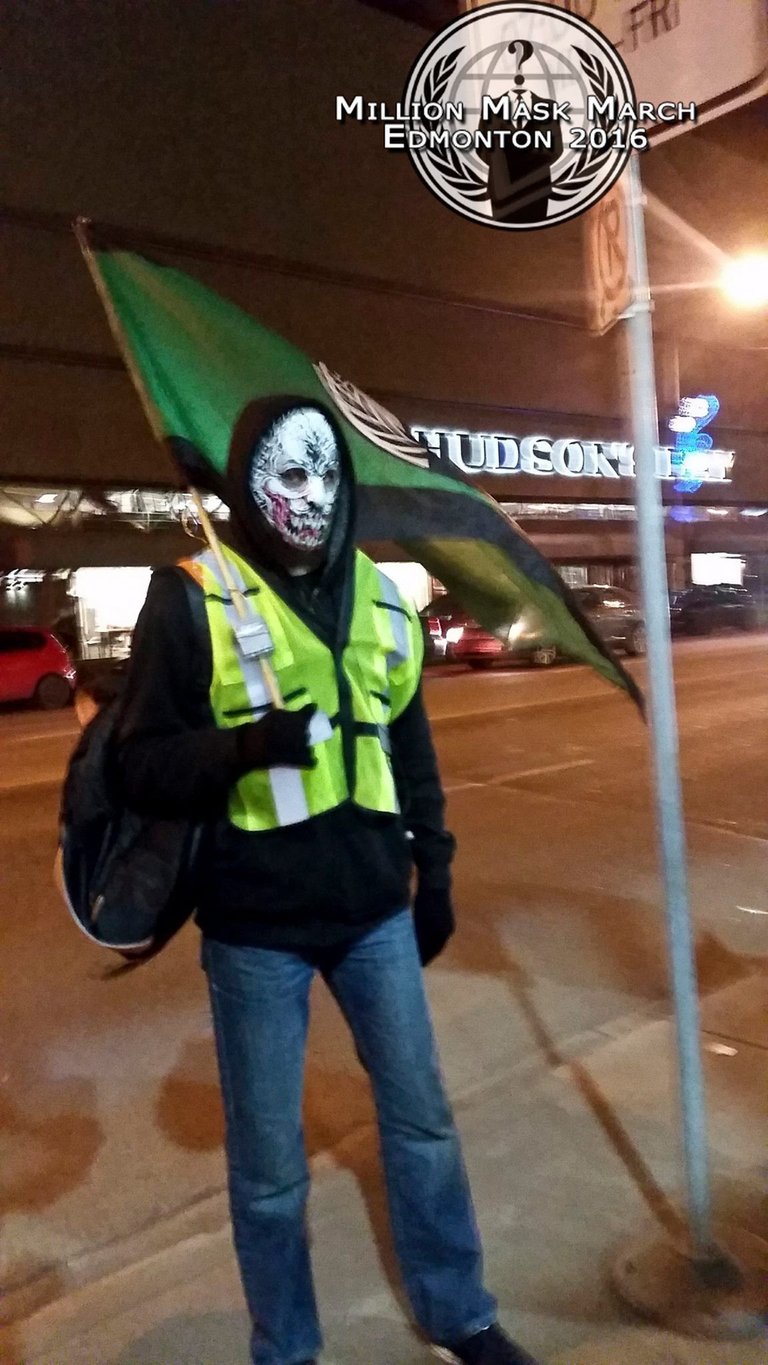 ---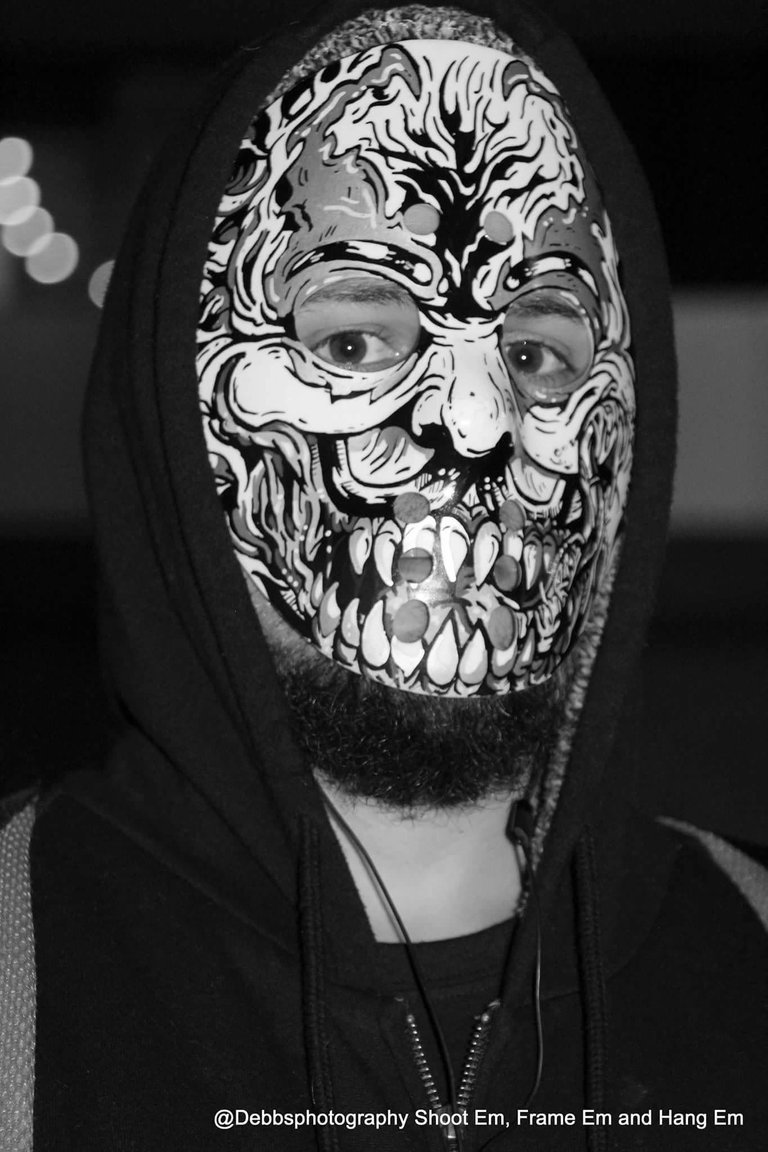 ---
My children (see the resemblance?)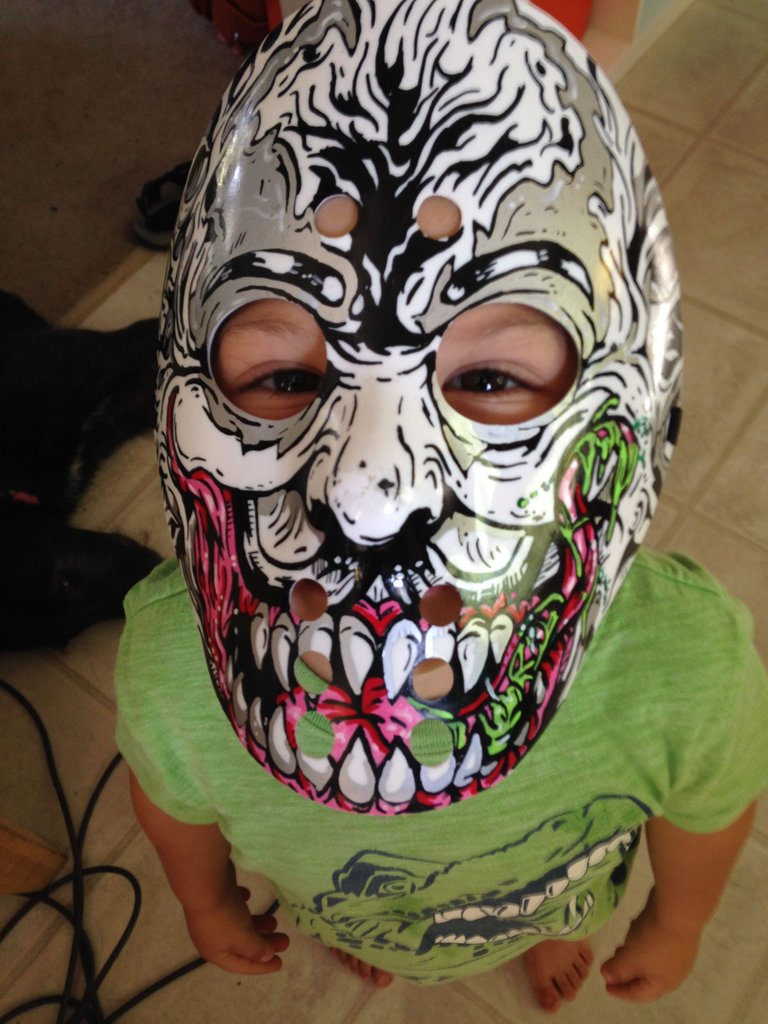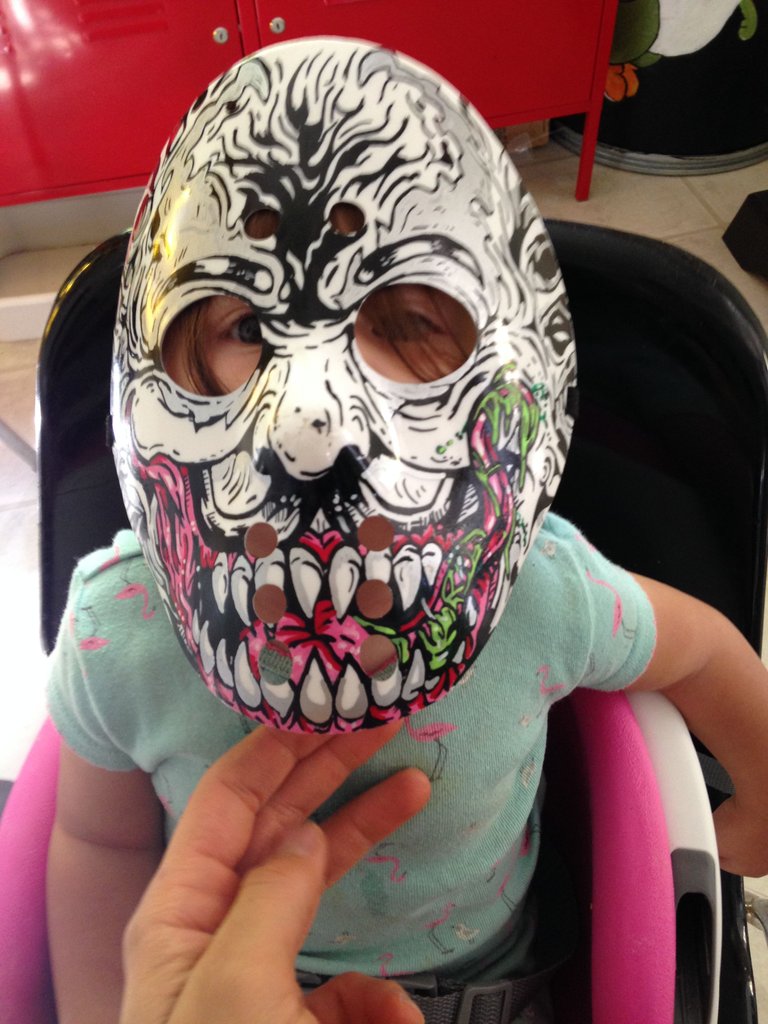 ---
Other stuff about me
When I wasn't at a protest or spreading truth info online, I was trying to stuff my head with knowledge on how to grow food and other homesteading skills.
Last year I grew sweet potatoes for the first time. The SP's needed the soil nice and warm, but living in a northern climate creates a challenge. However, it was a challenge I was prepared to meet.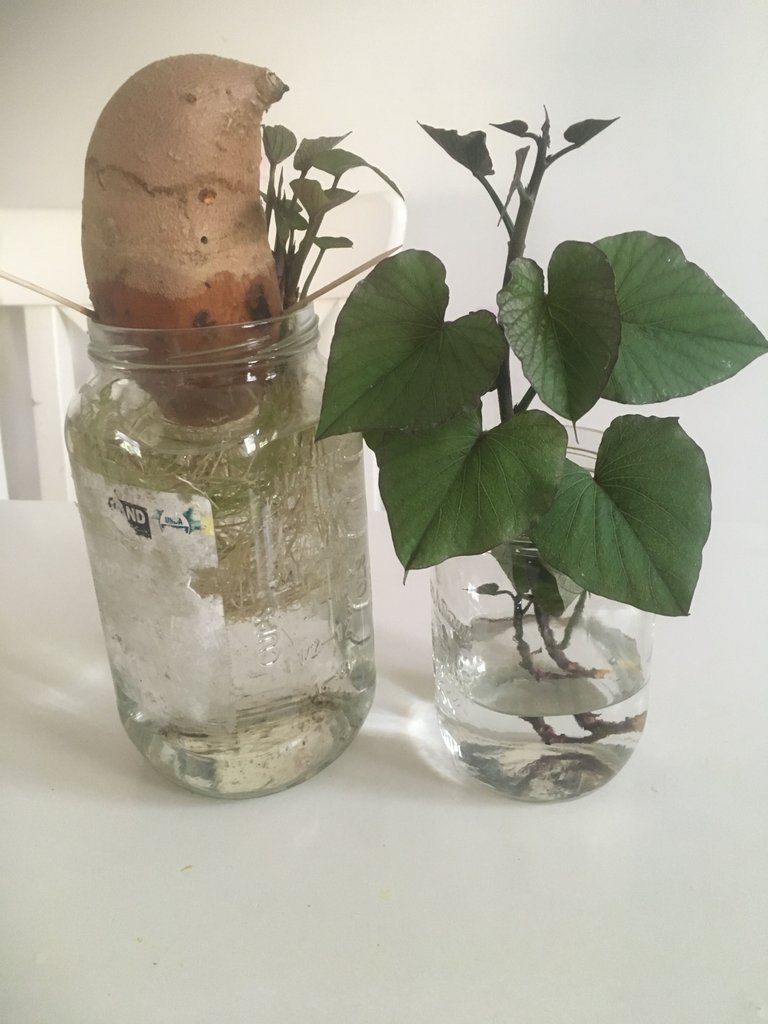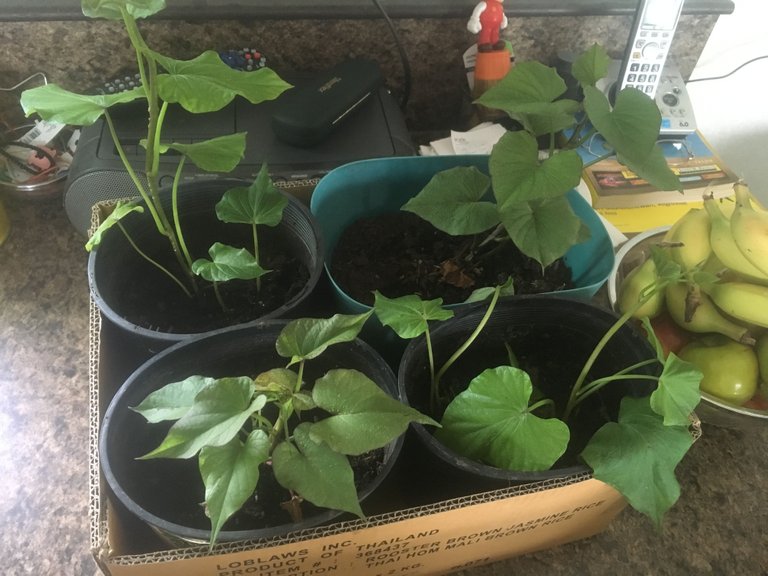 I grew the slips from store bought sweet potatoes prior to the start of the season. I had to wait til about July when the weather was hot enough to plant the slips.
---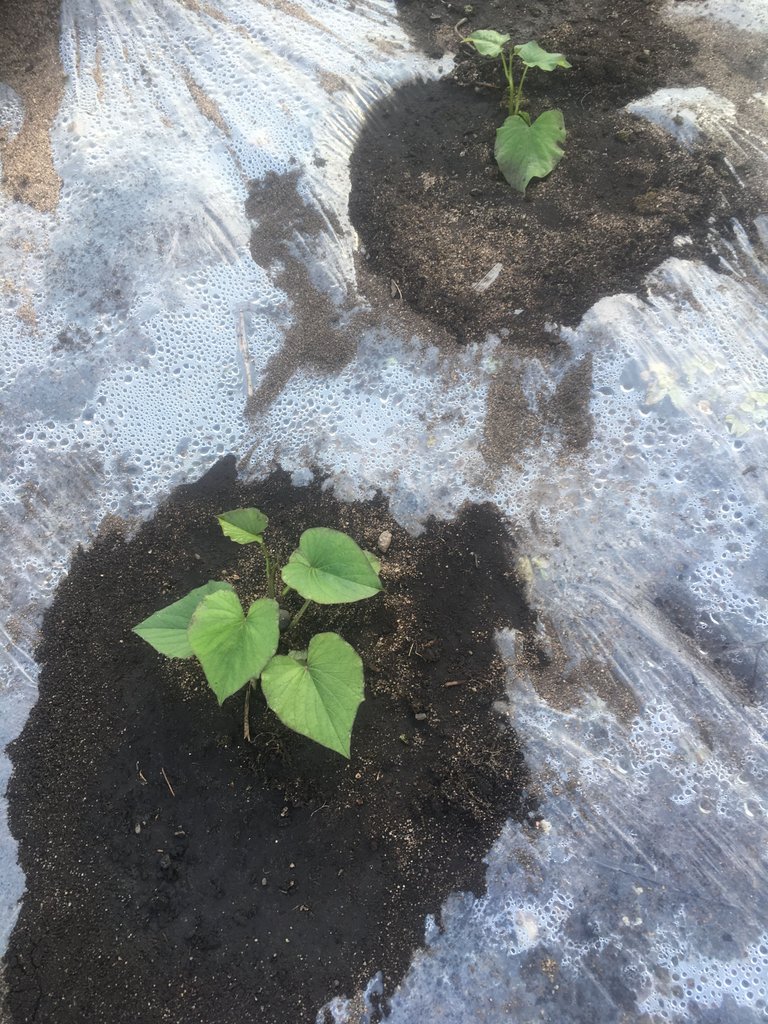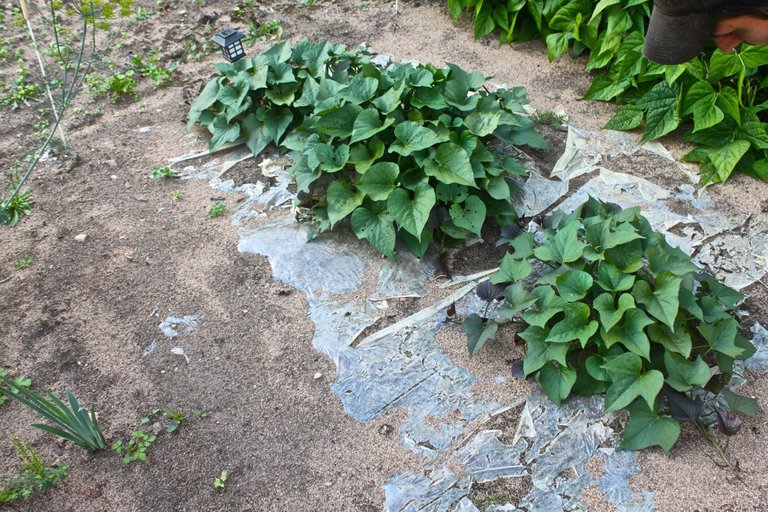 ---
Made a short video of myself harvesting the sweet potatoes.
https://m.youtube.com/watch?v=zqNwcbQk11M
---
Below you will see a few photos of the 'crypto-garden' I had at my work last year. I planted and grew potatoes, tomatoes, peas, beans and squash. I managed to get a decent amount of tiger eye beans. I grew enough of them to plant a few rows on my mom's land this season. My work doesn't know I did this and I'm going to do it again this summer. 😉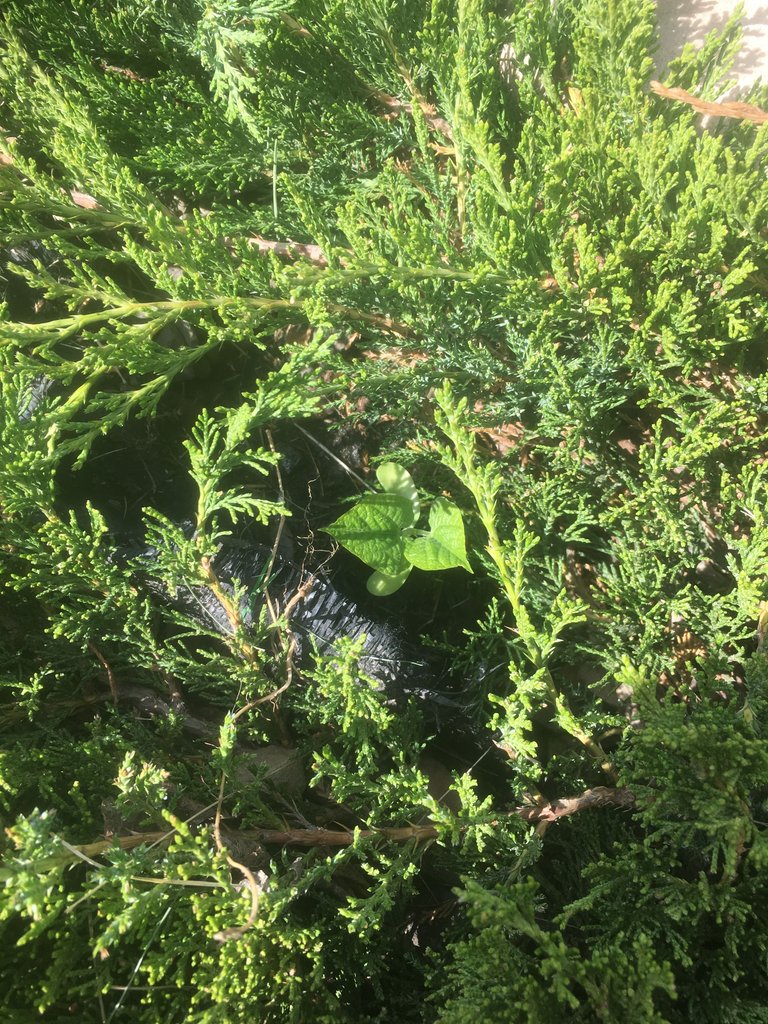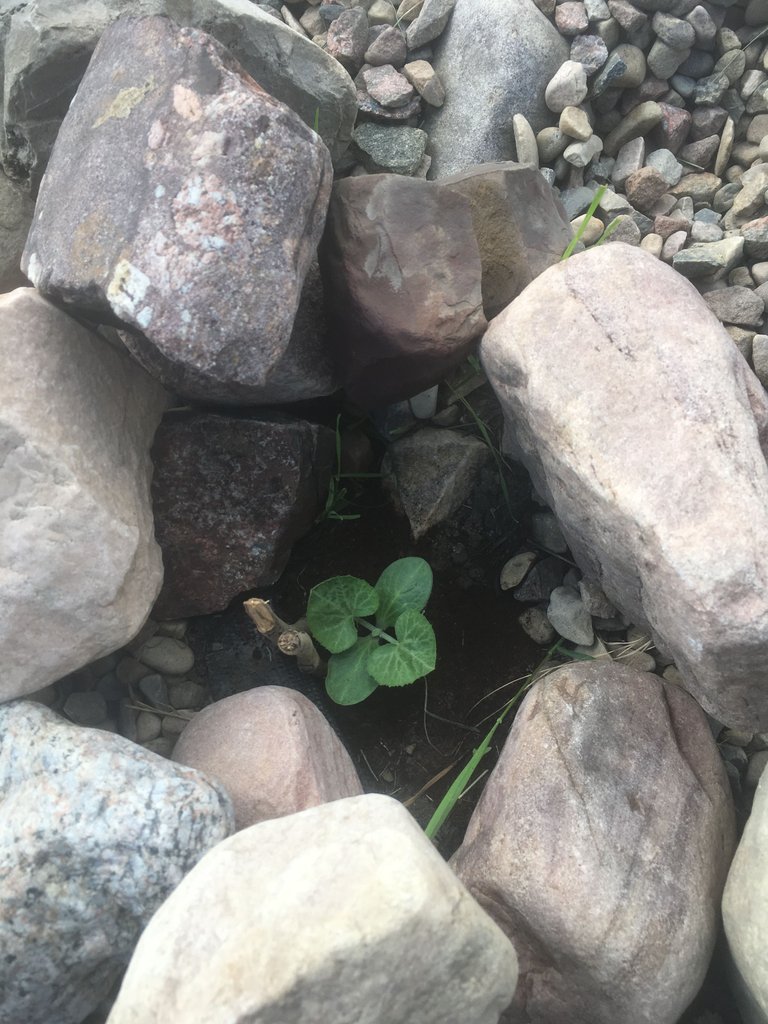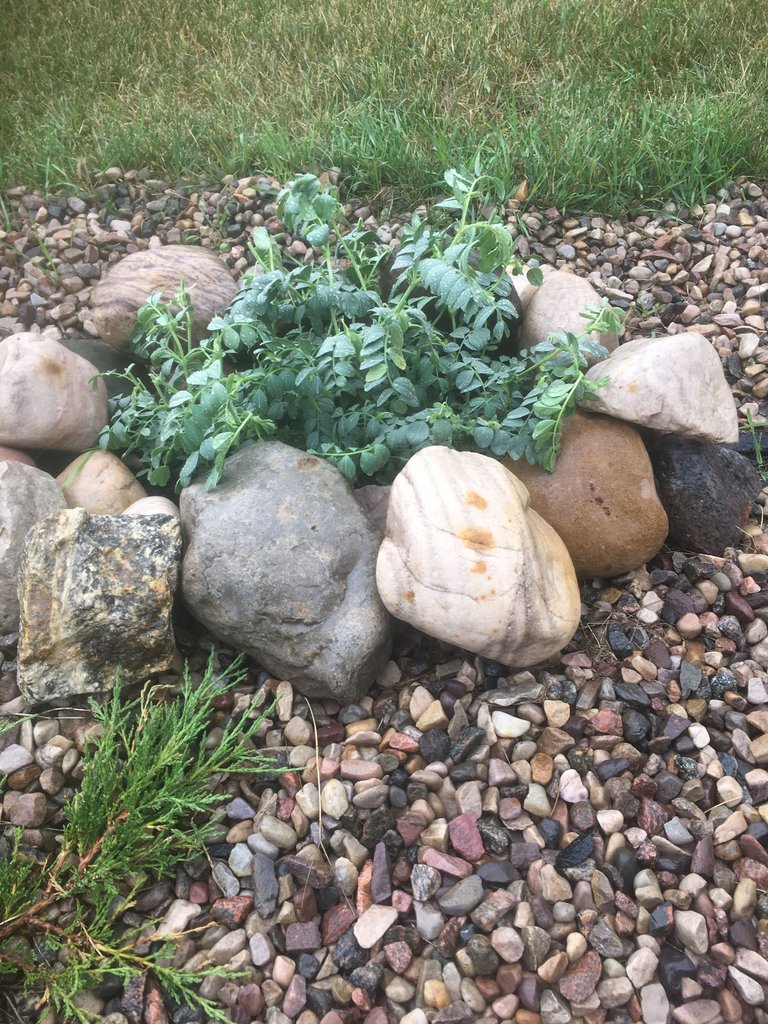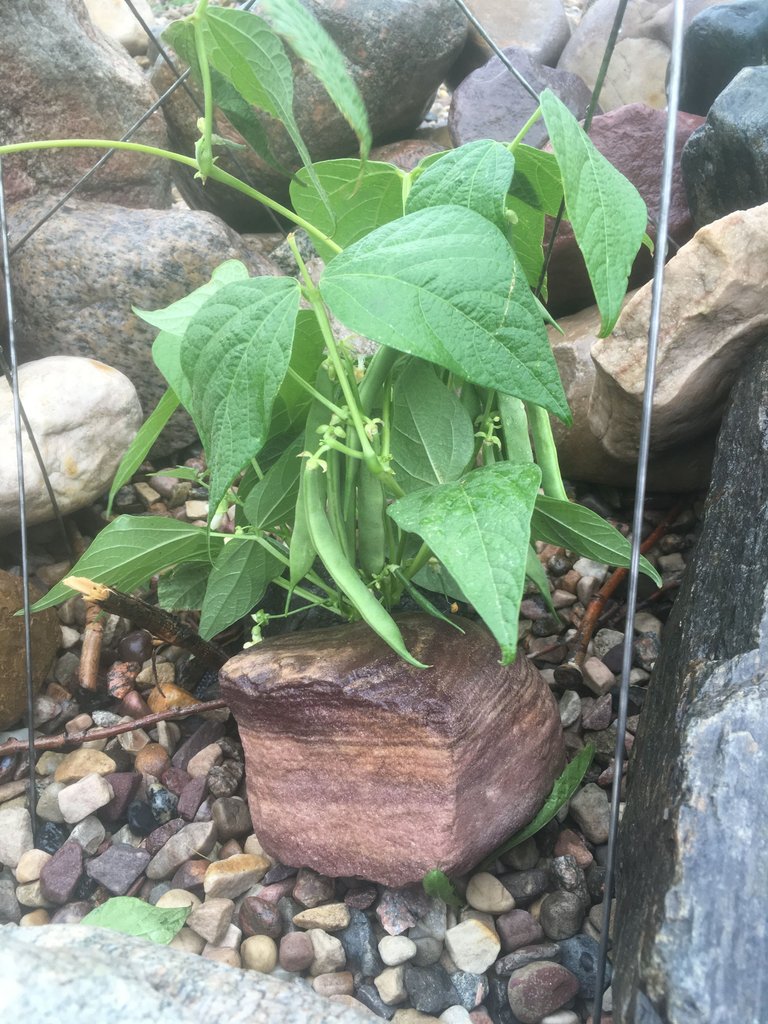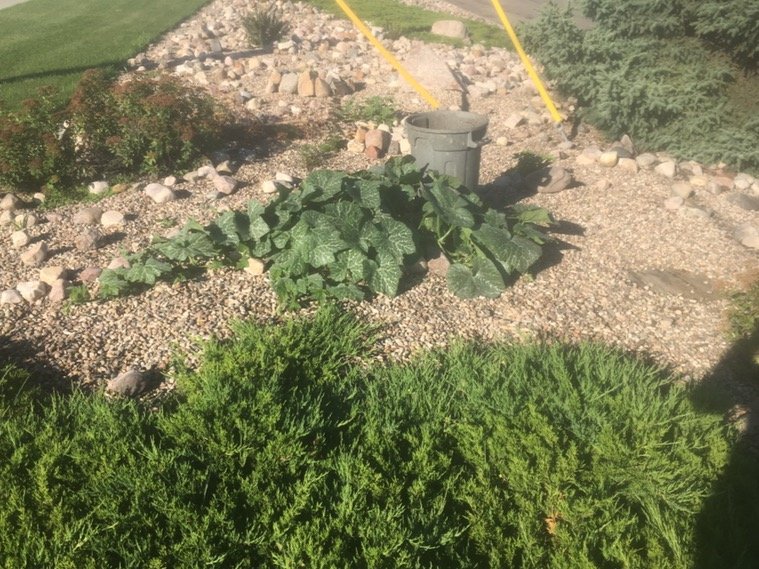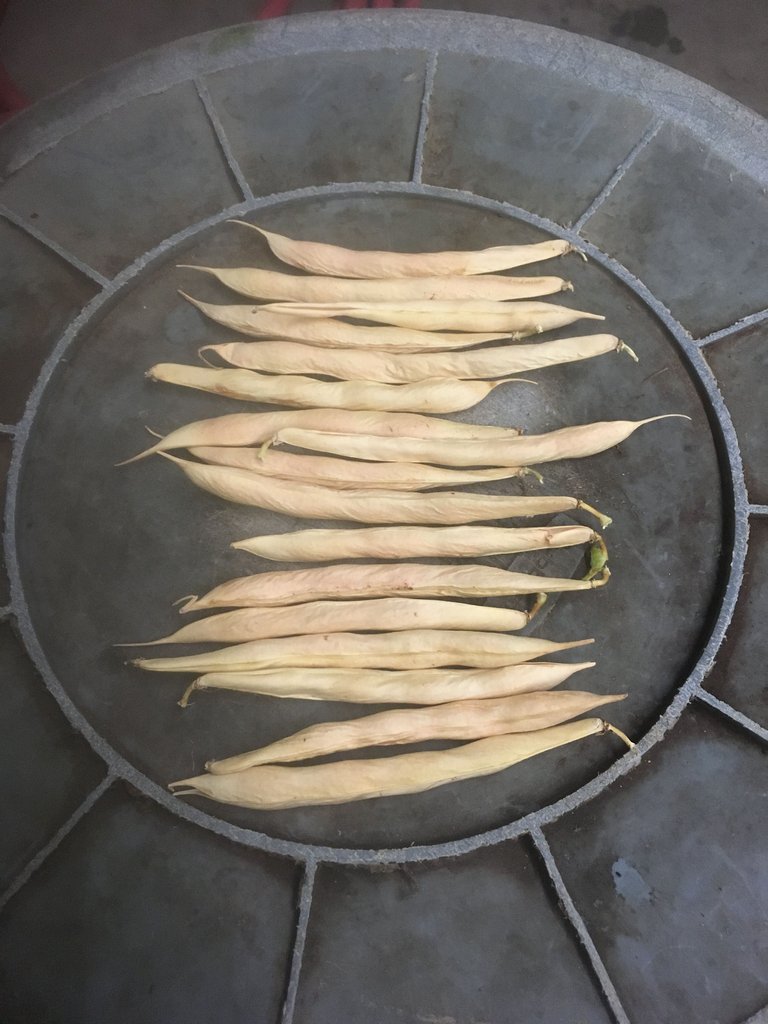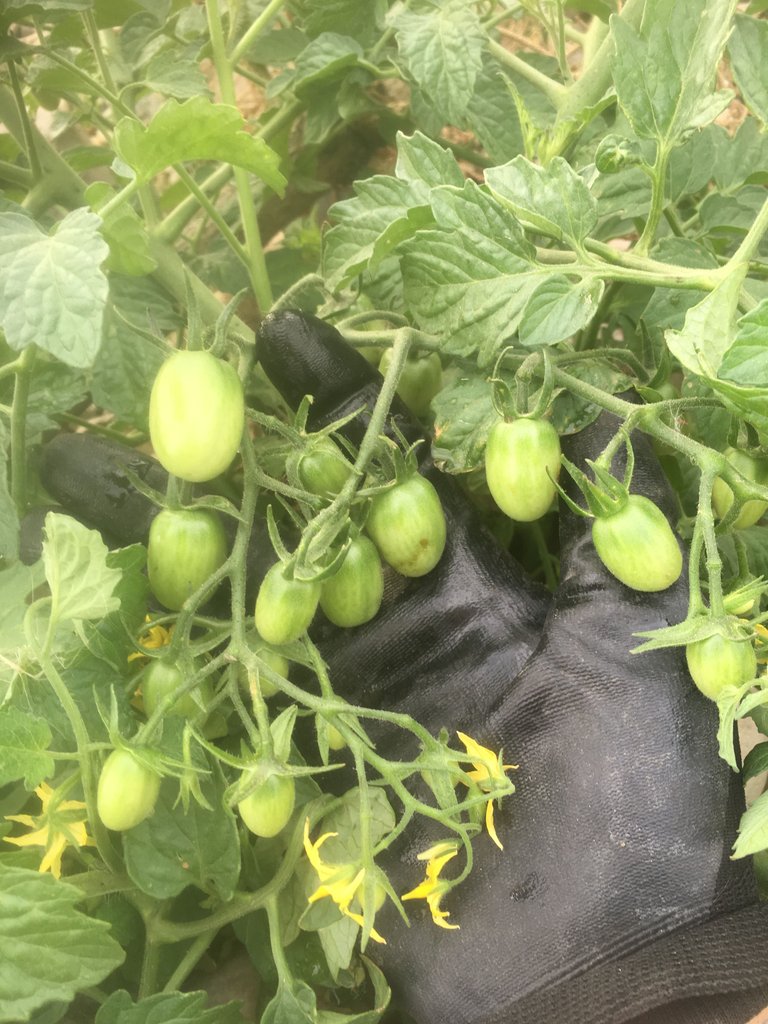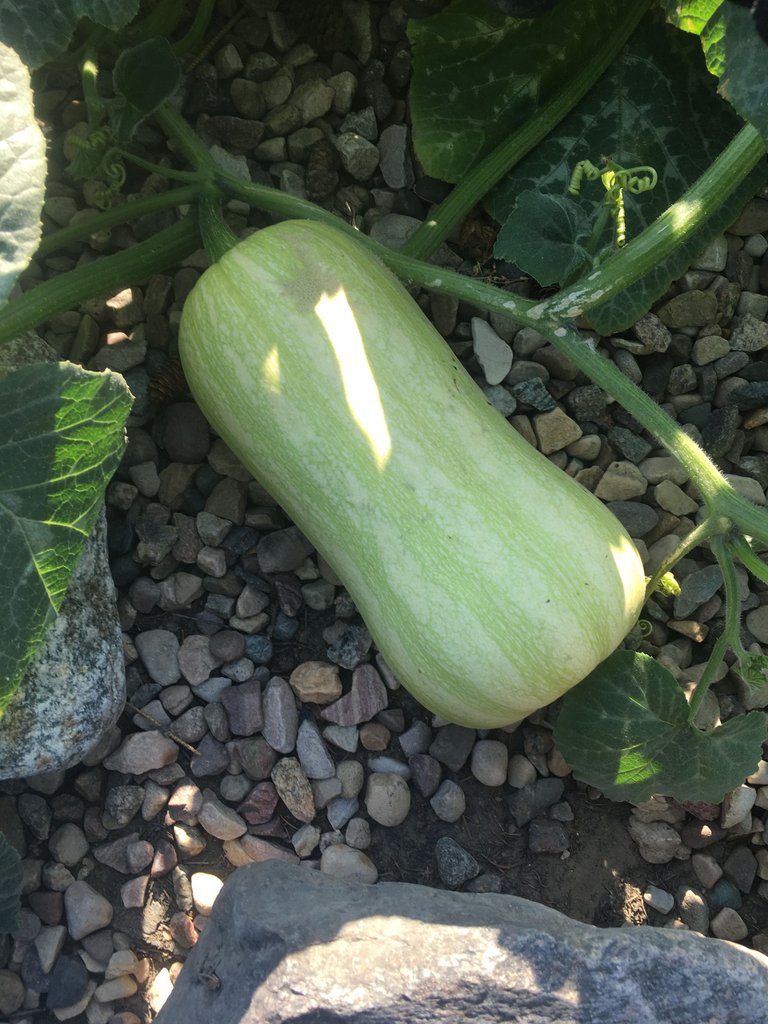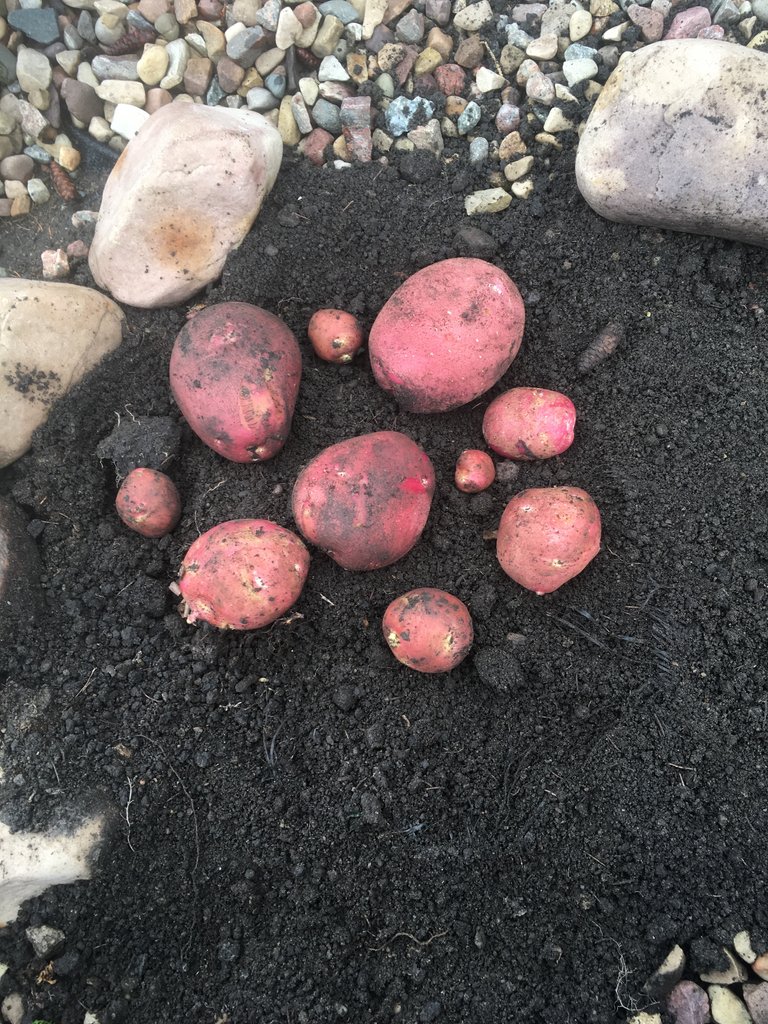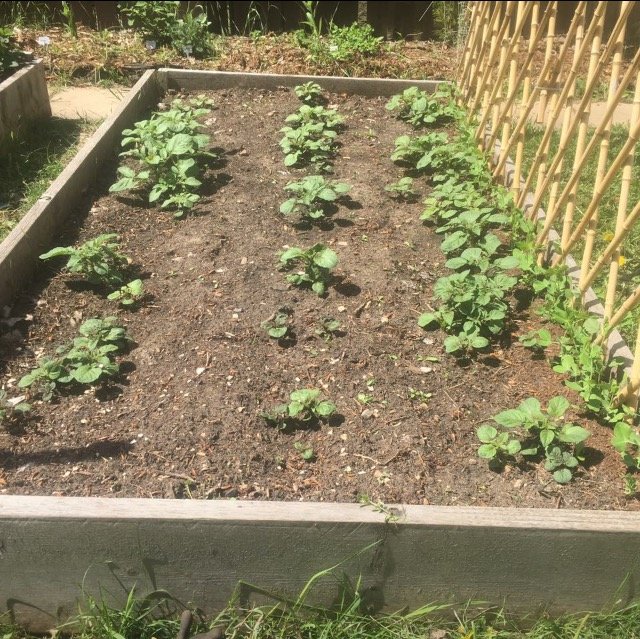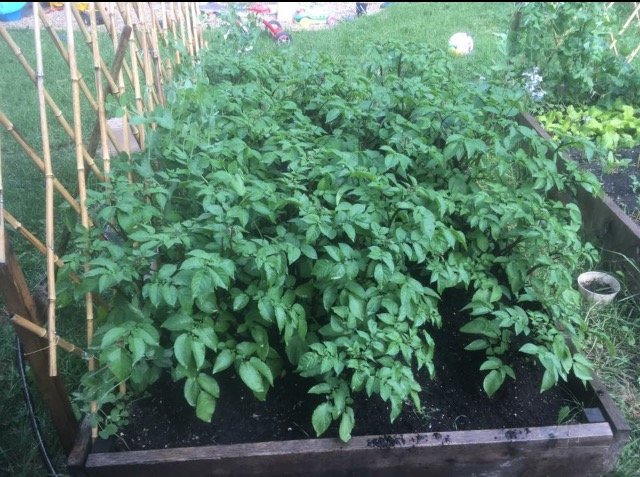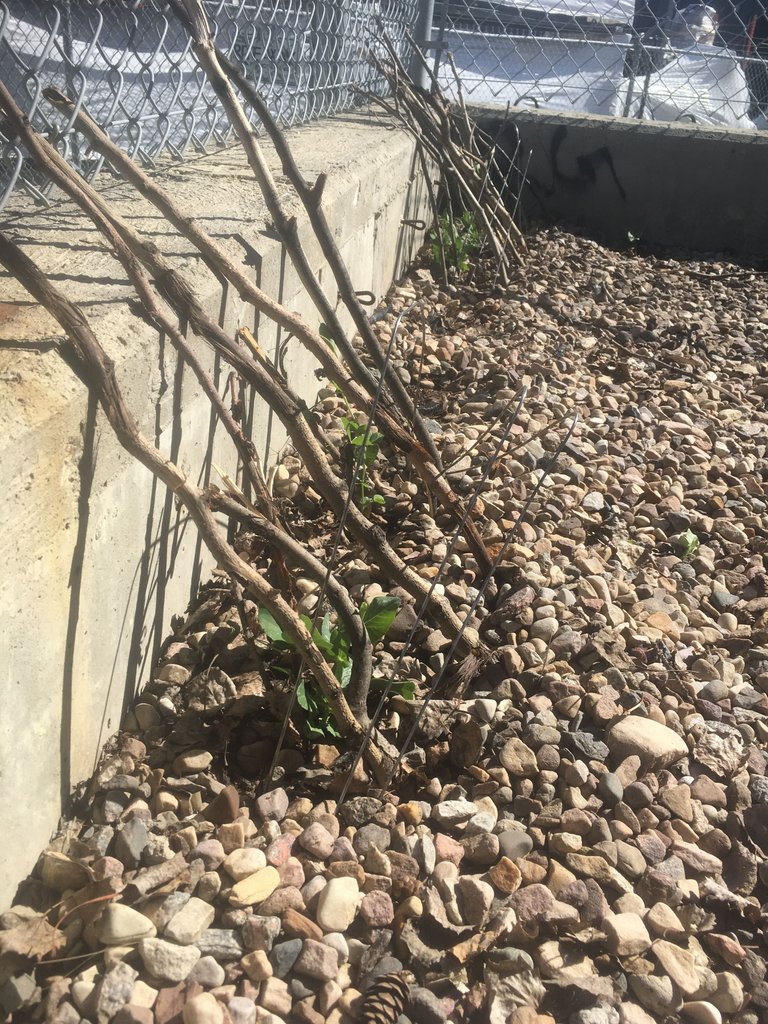 ---
I written a few posts in the past that talk a bit about myself, my interests. So I'm going to provide links to those posts below.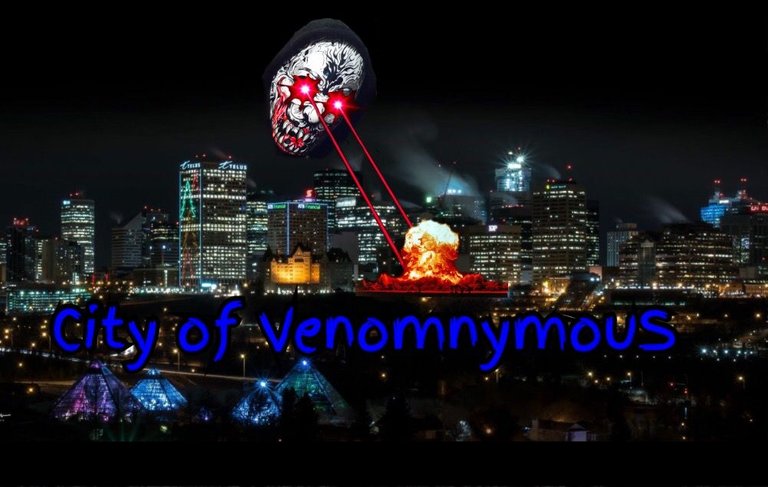 My 2018: A Tour around my town: "City of VenomnymouS"
---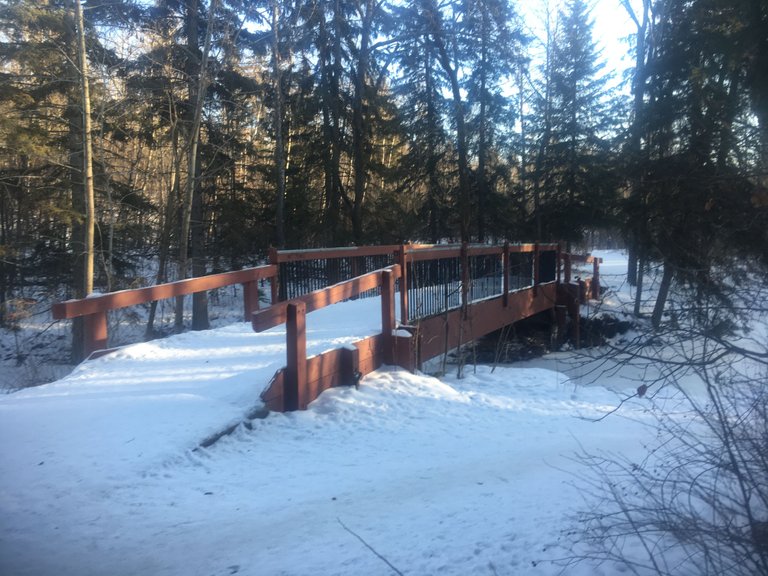 Walk with me or whatever: A Ravine Time Adventure
---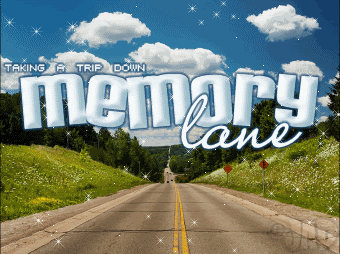 Venomnymous takes the #iwasakid challenge!
---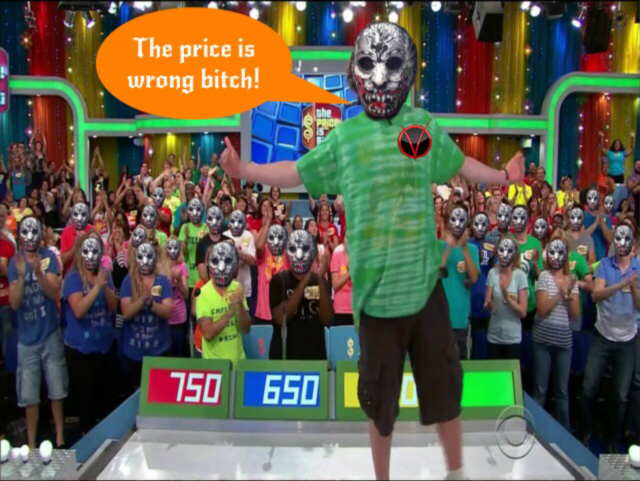 How steemit has changed my luck.
---
So that's basically who I am, how I became this character in the truther movement. Please feel free to ask me questions about my story or anything else you are curious about.
As always I thank you for reading