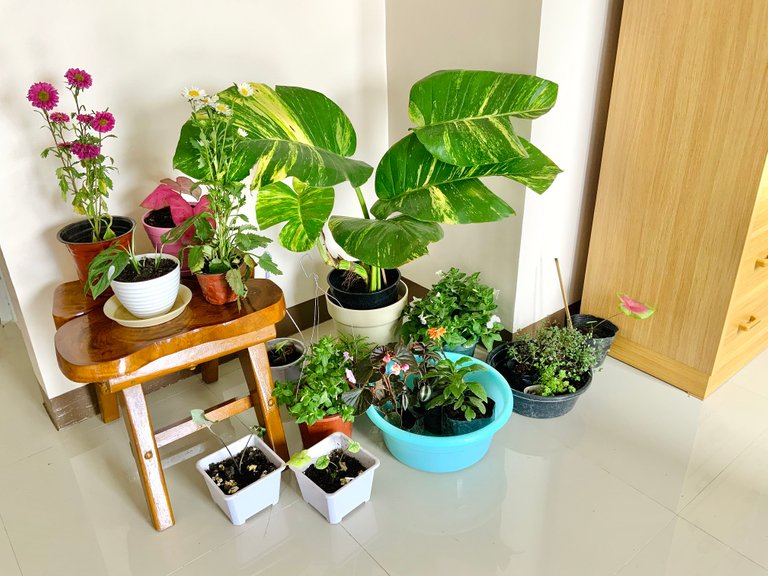 Mom's plants, I don't know what these are tho.
So as you can see, I haven't been active on Hive lately which is quite unusual but it's cos it's really been a hectic week! The past two weeks, I've been making works, fixing things, slowly moving things to the new house, buying stuff, budgeting, had two exhibits, and a lot of babysitting!
I haven't been to the laptop as well since the the iPad Pro really acts like one, and at the same time I got no energy to write since my head is pretty occupied.
Goodbye old home
We have been living at the old house for 20+ years now and time flies so fast! The house didn't change that much since like, 15 years ago probably, and that was the last major renovation but most parts they didn't change since we moved in there. Most appliances and furniture lasted for years too, like the mattress is older than me (25 years) and still works fine til now (survived those years without getting bed bugs! XD).
The old house will be up for rent to a family who has been waiting to rent there since February this year (cos good location!).
Messy stuff
We have transferred most of our things and they are messy til now. I mean, we just moved yesterday! So, I haven't set up my table yet and I'm typing this now on my laptop on my lap which I haven't done since... 4 years ago?
I have most of my things inside my studio now as well but can't find the time to arrange them. I still need to buy a sofa and I can't wait to finish everything and calm things down. :/
New works!
Even though the days have been hectic, I still was able to find time to paint, thanks to my iPad Pro LOL. I can literally paint while babysitting or while having coffee outside. I have 4 new works that I obviously haven't posted yet except the WIPs on Twitter. But I will post them once I get settled here properly. Excited to show them!
---
The new home is sweet and the location is pretty good... peaceful community and nice windy and chilly nights. Better than the old one, of course. There's so many new things that I'm going to try which I will also write in the next couple of weeks or something.