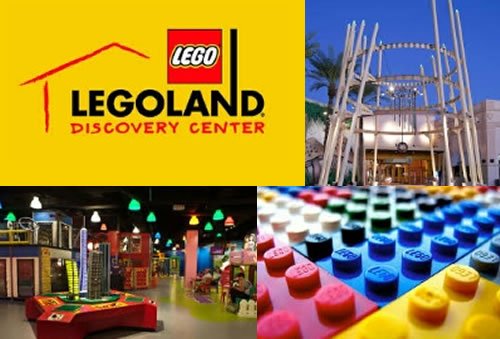 This past weekend I had the pleasure of visiting Legoland for the very first time. If you are not familiar, Legoland is a theme parked centered around legos. With the recent success of "The Lego Movie", these theme parks have become increasingly popular. 
They currently exist all around the world. With many in Europe and the United States with several popping up in Asia as well. The parks themselves are not owned by Lego, but instead are owned by The Merlin Group.
The one I visited was called Legoland Discovery Center. It is located inside the largest Mall in the State of Arizona. Yes you read that right, the theme park is located inside of a mall. Times sure have changed haven't they?!
If you would like more information about the theme park, the site can be visited here: 
https://arizona.legolanddiscoverycenter.com/
My Experience:
The first thing I noticed was the line to get in. It wasn't just a couple people, we are talking 20-30 people all standing in one long line. This doesn't sound like that big of a line but at the mall it really stands out. Thankfully, this line went extremely fast, we waited no more 20 minutes before we got up to the front. 
The pricing was about what you would expect. It was $22 for general admission while children 2 and under got to go in for free. I felt like that 2 year old cutoff was a bit steep, and should have been more like a 6 year old cutoff, but they gotta make money somehow I guess. 
Luckily my stepson found a coupon when we were walking in, that got him in for half price. So we only ended up paying for 2 and 1/2 of us while my baby daughter got in for free.
Once we got our tickets they immediately took us into a room where we lined up on a specific color (red, blue, green, or yellow). After a couple minutes of waiting in that room, a door opened and we entered according to the color of the line we were standing on. My family and I happened to be on the green line so we entered first and were told to go to the "green station".
This next room was a giant circle with huge interactive movie screens surrounding us. It was like a giant IMAX, but slightly interactive as the control center in front of us let us control to some extent what we were seeing on the screen. Each color had their own station. 
It looked much more like something you would find at Disney World as opposed to a little local theme park that doesn't even have it's own separate building apart from the mall. The technology really was pretty neat. 
We were instructed to build or own avatar on the screen using the control stations in front of us; choosing between numerous faces, hair styles, clothing, and accessories. Each of us had our own unique avatar that we created before moving on to the next stop on our journey. 
In addition to creating the avatar they also took us on a virtual tour of some of the manufacturing plants of all the lego toys. It was interesting to learn that the majority of the work is done by robots. Very few human jobs are actually needed to run the massive manufacturing plants. That is a scary notion when thinking about the future...
Once we were done with our virtual tour, we were directed into another room. This room was much bigger and marked the opening to the rest of the theme park similar to the picture shown above. 
The arrows directly in front of us directed us towards "the lego ride". The lego ride was built to look like giant lego blocks. You sit in one and it takes you on a journey where you are equipped with a laser gun and expected to shoot the "bad guys" that jump out at you along the way. 
For each "bad guy" that you shoot, you earn points. These points don't really mean much and don't really earn anything but they are a fun way of having some competition among your ride mates. The ride itself lasts 5-8 minutes or so. Not very long, but it was pretty fun none the less. 
They also take a picture of you while you are on the ride which is available for purchase once you complete the ride. We ended up purchasing one. The colors are outstanding but the price is a bit steep ($16 for a single picture). At this point you kind of expect everything to be wildly overpriced every time you visit a theme park or arena...
This is already getting a bit long so I will continue with the rest of the review in Part II...
Image Sources:
http://www.spectra-electrical.com/
https://community.brickpicker.com/blog/community-lego-blogs/legoland-discovery-center-arizona-opens-april-22-r17372/
http://www.azcentral.com/story/news/local/tempe/2016/04/14/sneak-peek-legoland-center-opens-april-22-tempe/82942166/
http://www.familyvacationcritic.com/news/legoland-discovery-center-to-open-in-phoenix/
Follow: @jrcornel