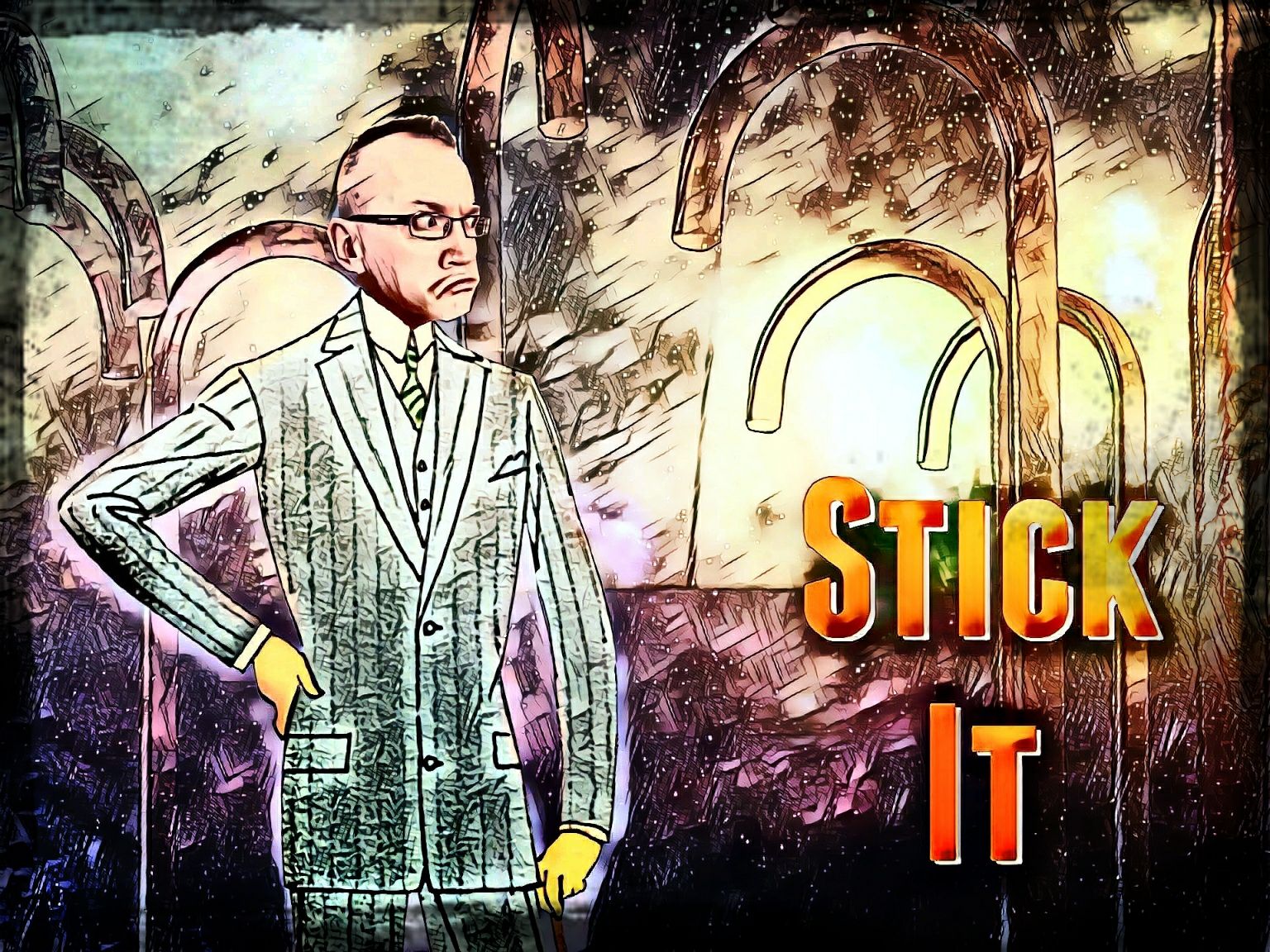 Well, look who it is? Howdy neighbour, long time no see!
My old neighbour The Jim waved at me from where he stood on his front drive. Despite the waning August sun, he still managed to look like Santa without his red suit.
Alright Jim.
I grunted as I sought to navigate down my front step on to the level ground.
My knee had been feeling a little better today and I decided it was time to try it out on a very short walk. A decision I was starting to regret as the pain of just getting down the front steps was making my eyes jut out of my head like dog's balls.
And look at this? I see we have a new member of the club.
The Jim waggled his walking stick in my direction as if it were a big floppy penis made of liquorice.
He was pointing at my own stick.
To my horror, when I had hurt my knee earlier in the week I had discovered that I could barely walk. This was fine for a few hours until I felt a wookie's finger start to prod urgently at my back door.
What to do? What to do?
Should I just sit there on the couch, shitting myself and letting them harden so that eventually I would look as if I was sitting on a giant termite mound?
Or worse than that... I could ask the Good Lady for help?
Hmm, I was not sure how that would go. The last time I had asked her to cup her hands and catch my toffee-pops she had been less than impressed and that had been for science.
But, as the Wookie's finger had begun to poke in and out inquisitively like a Turtle's head I had little other option but to seek her help.
She had listened to my predicament before nodding sagely and running out to the garage.
Moments later, she bounded back into the lounge with a victorious whoop brandishing something long and stick-like.
What in the name of funny buggered fish is that?
I cried, my face cracking with puzzlement like a leper's cleavage.
It's a stick... A walking stick!
She grinned and did a twirly dance-like thing as if she were one of those curious fucking buffoons in old movies that insisted on a tap-dancing scene in every film.
Ah, now I recognised it. It had been my Dad's old walking stick. I still wasn't making the connection, however. Unless... NO?! Surely she wasn't implying I used a walking stick? Me, I mean I was practically Zeus?! And she thought I should use a stick like an old man?!?
At that moment, my turtle's head attempted a jailbreak and only by making an odd mmrrmmmeeewph noise and twitching my buttocks like a matador buttering a bread roll was I able to hold the barbarian at the gate.
Gives it then.
I gasped, holding a hand out for the stick.
She passed it and gripping it tightly, I attempted to stand.
Which, astonishingly, I did with relative ease. I couldn't believe it. It was really helping. In no time at all, I had whizzed off to the porcelain post office and deposited my parcel.
I had been using the stick ever since although I must admit, I did find it a little embarrassing.
And so it was that I was outside when The Jim who was old enough to have helped build the pyramids chuckled at me and him being in the same gang.
I opened my mouth, ready to unleash a stinging rebuke to him when he spoke again.
And you know, the missus loves it!.
He waggled his stick about again and chuckled madly.
I winced as if eating a pickled egg before nodding slowly.
Does she indeed. Well, that's just magic. Cheers, Jim. Catch you later.
I headed back in the house with the solid conviction that I wasn't leaving ever again until I could walk without the damn stick.