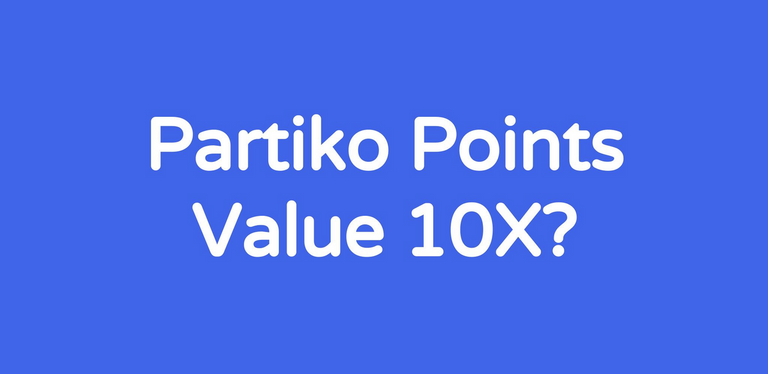 Hello Partiko lovers,
In July 2018, we launched Partiko Points, a fun way for Partiko users to stay engaged and earn rewards.
Users can earn Points by checking in, posting, commenting and upvoting, and we recently allowed users to earn Points by referring Partiko to their friends!
For each successful referral, a Partiko user can earn 1000 Points, and the referred user can earn 3000 Points!
For every 5 Points the referred user earns, referrer can earn 1 Point! That means you can earn passive Point income when you refer enough people!
Partiko Points are valuable. Partiko users can exchange them for Steem token very easily in the Partiko app. And we increased the value of Partiko Points by 12% last month!
And that brings the question:
How high can the value of Partiko Points go?
How about 10x the value in one month?
We would like to achieve this together with you! Below is the plan:
If Partiko total user doubles in March, we will 2x the value of Partiko Points
If Partiko total user 3x in March, we will 3x the value of Partiko Points
If Partiko total user 4x in March, we will 4x the value of Partiko Points
...
If Partiko total user 10x in March, we will 10x the value of Partiko Points!
Every 1000 Partiko Points worth 0.018 SBD now, 10x means they will worth 0.18 SBD!
Is it even possible?
Short answer: yes!
Partiko currently has 30K users.
Steem has 1.2M users. Only 2.5% Steem users are using Partiko, yet Partiko already accounts for 20% of the activity (post, comment, vote, data source: https://steemapps.com)! There are a lot of users who haven't even heard about Partiko! Think about how active and vibrant Steem will become if more people start to use Partiko!
If every Partiko user onboards 10 Steemians, Partiko will 10x! Its' definitely possible!
What to do now?
Simple! Look at your followers and people you follow on Steem, those who have 0 Points means they haven't started using Partiko.
You can reach out to them on Steem or Discord, let them know how Partiko has helped with your Steem experience, and send them your referral link (https://partiko.app/referral/your_username)!
Be polite:)
When you tell people about Partiko, try to be polite and patient!
Saying something like this probably wont't help: "Earn Partiko Points using this link! https://partiko.app/referral/xyz". Instead, read their post, care about them, and ask if they would be interested to join you on Partiko! Make them think you are a cool person!
If people say they are not interested, or even say something rude, just say "thank you" and move on! Showing them you are a good person is more important than the value of your Points!
If this post received 1K resteems in March, we will further 2x the Points value!
We will constantly post the latest progress on our total user! Be sure to follow us to stay informed!
Have questions when referring Partiko to people?
Join our Discord server and post your questions in the support channel!
Together, let's change Steem. And then change the world.
Onwards and upwards,
Partiko team
Posted using Partiko Android