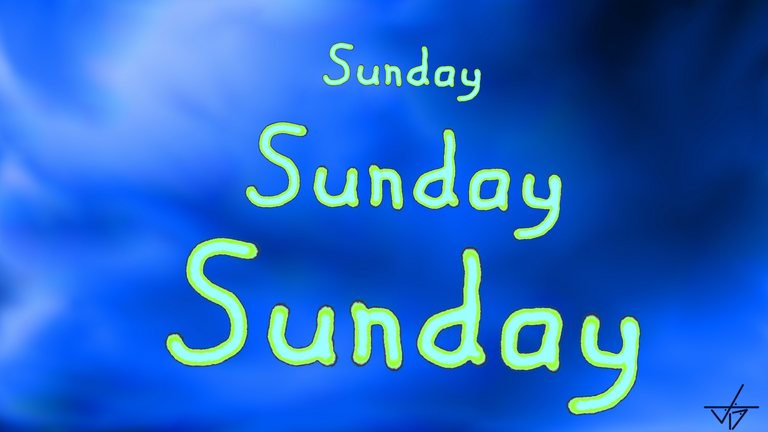 I will not be boring your short attention spans to death with a long post today.  Instead, I will share two of my previous posts from long ago, since it's Sunday, and that's what we do for #Showcase-Sunday, because I said so.
See what I did there?
In much of my previous work from long ago (it can still be accessed here on Hive), you'll notice a trend or maybe a common theme.  More often than not, I'd combine artwork which I was taking quite seriously, hiding that fact, then combining that effort with humor and basically making myself look like a fool.
Rather than preparing people and telling traditional jokes, sometimes I would step into characters and write as those personalities I had created.  Often I'd use a larger than life narcissistic type character combined with a pompous prick artist stereotype to deliver the humor in a post, then at times remain in character and respond to comments using the same attitude problems.
It's not unusual for people to step into character to be funny.  I'd say Martin Short played some of the best and funniest narcissist roles in the history of entertainment.  Of course all of that comedic gold we see on camera always starts out as a few ideas and lines first written, then expanded upon and even improvised while acted out.
Most folks at the time knew I was joking around and just trying to be entertaining, so they'd play along; we'd all have fun.  They learned the difference between my true self and these characters.  Some folks still don't get it, known of me for years, assume @NoNamesLeftToUse The Writer/Artist Himself is how I really am, and most likely roll their eyes any time they see me.
Of course that's fine if they hate me because all it means is I did a good job.
Moving right along...
Act 1 was just a simple post, with simple humor written then published in character.  Act 2 was a follow-up post I wrote, once again in character, using the same art but taking a different approach after the character received what he thought were outrageous comments after publishing Act 1.
Enjoy:

Act 1

@NoNamesLeftToUse The Writer/Artist Himself here again and today
I won't bother writing, much.
Just a painless piece of simplicity.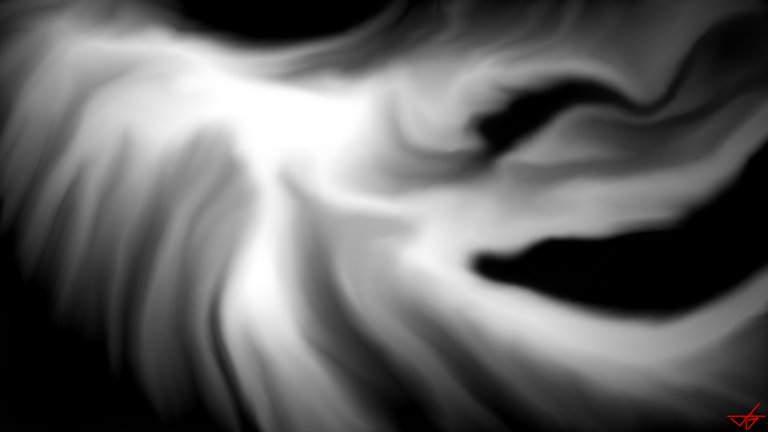 Something So Simple
People.
They really seem to enjoy my simpler works.
"That makes my life easier," is what I could say.  I could also say, "Yup.  Just a few simple wavy lines of gray and white on a black base."
"Perfect for bedrooms, hallways; maybe even a dining room somewhere."
I could say that, too.
Then someone random like Barbara from Oregon would be all like, "Oh!  That's pretty, I like that," as she pulls out a wad of cash to hand to me in exchange for that oh so simple piece of wavy gray and white lines on a black base.
She'll find the perfect spot in the living room, above the couch, and hang it there before Harold gets home from work.
After admiring it for a few minutes, taking a few selfies with it to share on Facebook to show the girls, she'll get on with her day, feeling proud of herself; savoring the improved quality of life and satisfaction an authentic @NoNamesLeftToUse piece brings to any household.
A few hours later...
Harold arrives home after a long day of work driving the forklift at the microbrewery.
Barbara quickly hides her bottle of wine, puts a bra on, plasters a fake smile on her face, then opens the door for Harold because he's tired and shouldn't have to do any more work.  Harold gives Barbara a gentle peck on the cheek, pinches her butt, then drops all of his dirty work clothes and effects right there in the doorway for Barbara to pick up, like any other day.
Barbara's heart is pounding.  She can't wait until Harold notices the surprise above the couch!  She hides around corner, watching Harold scratch his buttocks until he finally notices the wall and says:
Barbara?  Why is there a picture of a monkey on my wall?

Act 2

Do I have to shitpost just to explain a monkey to you people?!
I am an artist and when I say 'monkey', I mean monkey!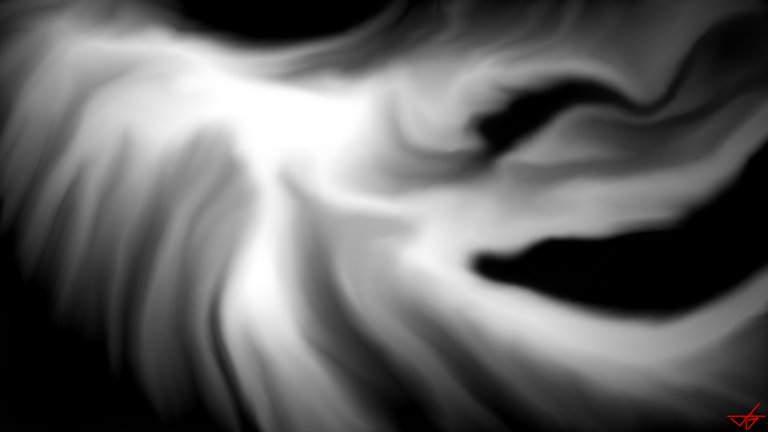 It's a monkey!
Now do you see?
Pretty obvious, isn't it?
A monkey!

It's not a wavy gravy, @meesterboom!  I think you're a little bit wavy gravy in the head!



It's not a lobster or a donkey either!  It's a monkey!
You can put your magnifying glass down now, @therealpaul!  There's no mystery here because it's a monkey!  Problem solved!
Still can't see a monkey?
Here!  Let me draw you a map!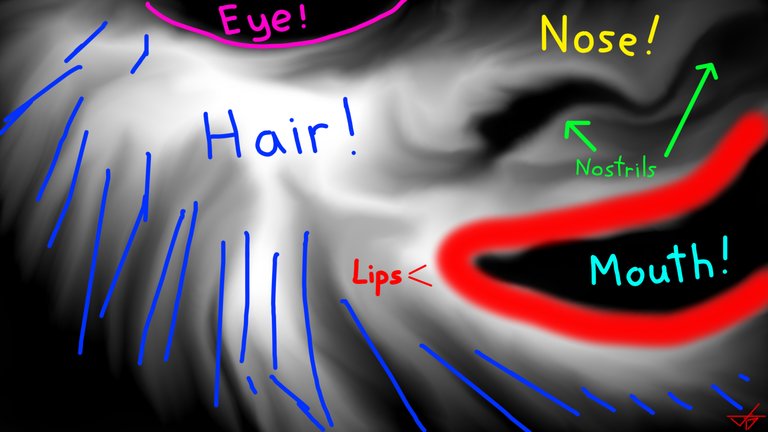 It's a monkey!
At least this random talking sheep knows what's up.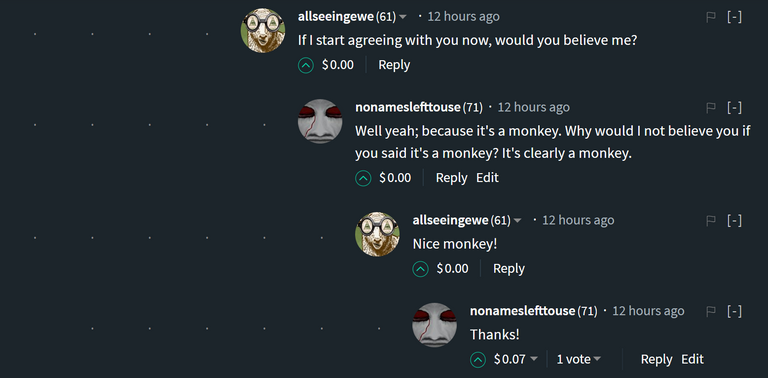 In Conclusion
It's a monkey.
Next time I paint a monkey, you people better be ready to say, "Nice monkey!"
I lost sleep over this shit!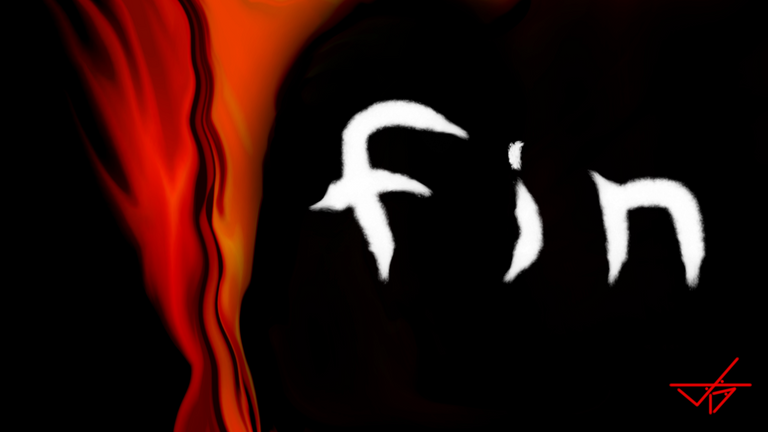 Of course in reality, I did not lose sleep.  It was all in good fun.  I remember having a blast back then, quite often.
The posts didn't make much back then.  They were published on October 24, 2018.  Back when bidbots ensured we'd only make a few bucks no matter how hard we tried.  Those posts combined had 106 comments under them though, which was common for this blog.  Low rewards, tons of engagement.
Good times.
In my previous post I had stated I'd be considering taking a break.  After thinking about it more, I've decided to go ahead and be quiet for a couple days at least.  I need a good rest.  Been going hard for nearly three months straight without much time off.  I'll still be around curating though.  I'm officially an Orca today!
Have a nice day.

Credits:
All art and images seen here were produced digitally, by me.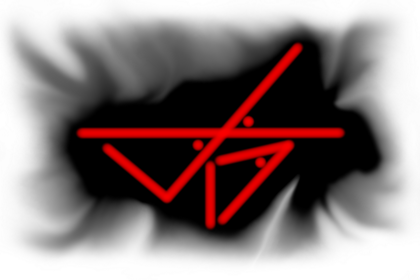 All content within this blog is 100% organic ACTUAL CONTENT and contains no paid vote additives!
"If you're doing #showcase-sunday be sure to tag it properly. Thanks!"
© 2020 @NoNamesLeftToUse.  All rights reserved.