The release of Facebooks white paper on Libracoin has caused quite a stir. It's a hot topic in the crypto and fintech world and I have read a lot of different opinions on the subject.
On the negative side, we have the centralization, ownership, and control by the very thing many think blockchains purpose is to oppose.  On the extreme side, there is the die-hard anti-establishment crowd which has nothing positive to say at all about Facebook's Libra coin.  Many of these would consider XRP not to be a true blockchain, although its not only the die-hard anti-establishment crowd that feels this way towards XRP.  Yet XRP has managed to hold top 3 position in the crypto world for a long time now.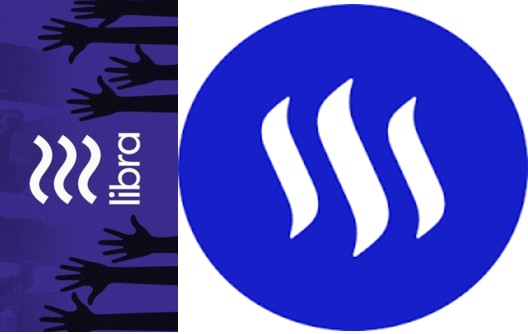 I don't come from a technical background.  I might know a lot about the inner workings of STEEM, but when it comes to blockchain in general, I am by far an expert on the topic.  I didn't come to crypto to escape from centralized control or to protect my data.  In fact, like 90% of the world, I don't care to much about all that stuff.  Its part and parcel with the online connected world we live in.
I came to crypto as a business person, with the intentions of exploring opportunities for online entrepreneurs like me to utilize this technology to gain competitive advantage.  And though my research I wondered here into steem.
Many of you are aware of how I have been using STEEM with my online business. If you are not familiar with what I am doing, you can check out this blog post to get the gist. The Quick story is, I teach Excel online, I publish a blog post every week which includes a learn and earn activity.  Readers of the blog that carry out the activity and leave a comment with the solutions are rewarded with upvotes.  The aim is to get people engaging more on my blog, and for my blog to become more popular than others of the same topic because I am rewarding learners with steem and so seen to add more value than just another blog that doesn't value their reader and yet competing for their attention.
One of the challenges I have found is that people are 'scared' of crypto, the fear of the unknown.  The bad publicity crypto has received in the past still rings loud.  There is also a mindset that crypto is an investment vehicle and a risky one at that.  We all know only too well from the level of power-ups on steem alone, not everyone has an investment mindset.   Then there is the complexity of getting involved. Wallets, Keys, exchanges.  There are just too many steps, too many clicks for the 'general' people to bother with.
Personally, I see Facebook entering the crypto space as a good thing.  And I know many agree. With billions of users, all the advancements Facebook have made todate have been accepted and used by the general public. And most often, with no questions asked.  If not Facebook would have flopped by now.  Launching crypto is just another innovation from this Global giant.  Most people won't even notice it happen as it grows in usage and popularity. That's what Facebook are good at.
I believe this will take crypto currency into mainstream use.  I believe STEEM will benefit from that and I wanted to test the theory.
Testing my Theory
Each week I create a post on my blog and market it using my email list, social media and other traditional online methods bloggers would use.  It works well and always creates a spike in my traffic.  With the announcement by Facebook, I decided this week I was going to piggyback off this topical trend.  Never before have I mentioned the price value of steem in my newsletter or marketing, and I very rarely allude to cryptocurrency.  I have avoided this because of the challenges I have found and I have kept things really simple.  
This week however I went all out.  Knowing Facebook coin is trending, I decided to piggyback my efforts this week.  The quote below is taken from one version of the email that went out.
This week, instead of a new post, you have an opportunity to catch up on some of the learn and earn activities and earn yourself some STEEM tokens. These tokens are currently valued at over $0.40 and can be easily traded for Cash, Bitcoin, and other Cryptocurrencies.  With Facebook launching their own coin soon, I'm sure it won't be long before you can swap Facebook coins for Steem and Steem for Facebook coins.  You have an opportunity to get ahead of the game, just by learning Excel
Other social posts yesterday include the likes of: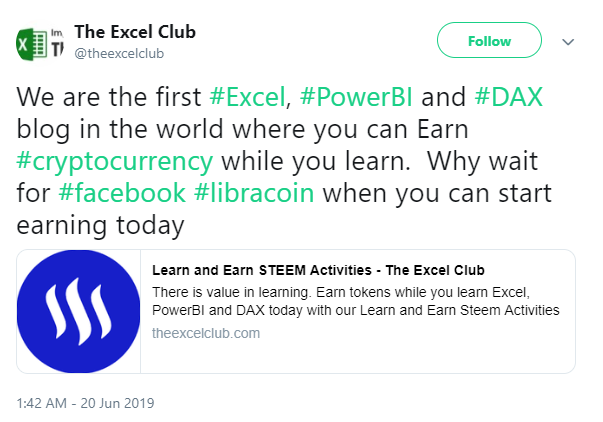 Results
Damn dude, this is going to work.  Below is the daily traffic stats to my blog.  The marketing campaign yesterday (unpaid by the away) was a tremendous success.  

Other comparable campaigns were done on the 29th May, 5th and 12th June.  This campaign had a 65% increase in traffic over the campaign on the 5th of June.
Although it could be a coincidence I think this is strong evidence Facebook Libracoin will help Steem and carrying out this experiment has left me rather excited about the possibilities. 
Yes there will be libracoin haters, but here comes mass adoption. 
The next question is, are we ready for mass adoption??????