I started writing a series of posts on steemiquette rules before the summer vacation - two articles so far:
The work got a bit stalled as I started writing vacation blogs instead, but it's time to steem on ... in this post I will try to cover upvoting - as in upvoting others. I'll cover self-voting and flagging later.
This post has also been procrastinated because I found it very hard to write a set of guidelines that I would try to adhere to. Looking back on my voting pattern, I must say ... I'm probably not a very ethical voter. I can probably do better though. And if it's that hard writing a set of guidelines for myself, then it's even harder writing guidelines that I would hope others would adhere to.
Basically, one has a set of coins that one should give away every day ... that's one aspect of voting in steem ...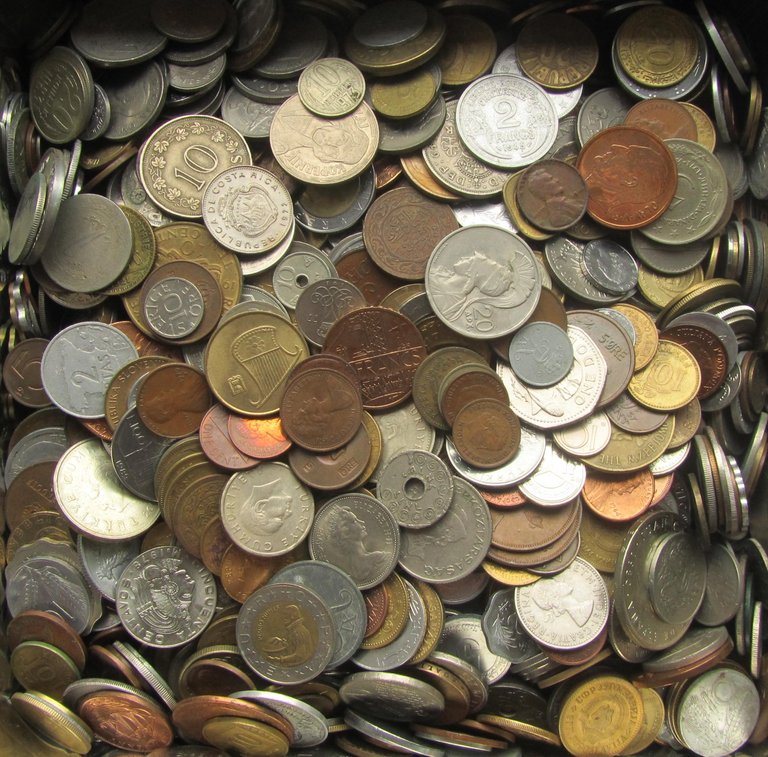 Image source: Wikimedia Commons / Michael Sander, CC BY-SA 4.0, https://commons.wikimedia.org/w/index.php?curid=52790922
First of all, I would like to try to list up the different reasons to vote for others:
One may vote on posts coming from author B, in hope that author B will reprociate and vote back, or maybe follow back.
One may vote on posts coming from author B, because one thinks B is a nice person and deserves upvotes
One may vote on a post because one believes it's a good article that ought to hit the trending pages
One may vote on a post because one believes the author deserves some compensation for the work he put in while creating the article
One may vote on a post to earn curator rewards
Ultimately, if we want "trending" and "hot" to be nice, then there is only one of the reasons above that is truly legitimate - the middle one. Do I follow only the middle one? No. But still, here is my rule:
Consider giving good upvotes to good content
Scratching backs
The derogatory word "circle-jerking" has been used now and then on the act of voting exclusively on a "circle" of "friends", hoping to get upvotes back again - and the "follow"-button makes it easy to distribute the very most of the voting power over a limited set of people. It's also a part of human nature to favor friends and acquaintances over random people. It's also a natural instinct to "scratch back" when we see that someone gives us a lot of upvotes. Yes, I do it too. It is bad, as it makes it very hard for newcomers to gain an audience and get any upvotes, as well as reputation and "user-authority". Voting for someone for no other reason than a hope that he will return the favor is not so much better than self-voting. At the other hand, it would be silly to suppress human nature too much. Many people find value in being part of a smaller group of people on Steem. However, I do have a simple rule here that I do try to follow, and that I believe everyone ought to try to follow:
Give some of your votes to people outside your follower-list
Every now and then, I'm looking beyond my feed, sometimes just on all the new posts, sometimes I filter by a list of tags that I'm trying to follow. I'm using http://steemlookup.com for this purpose.
Here is another rule that I'm trying to adhere to:
Read through an article before upvoting it
That's not something I adhere strongly to, and I do enjoy getting votes from people who have set up auto-voting-bots, and sometimes I'm just skimming quickly through an article before I decide it's worthy an upvote or not.
Votes as donations
In many cases one is encouraged to vote to support good purposes, one example is the weekly support posts from @steemchiller, which is needed to cover hosting expenses for his project https://steemworld.org/ - other times there are useful services (say, @steemcleaner) posting daily stat reports, and hoping for enough economic support to continue running the service.
I see one problem with this - the purpose is efficiently to vote for something else than the post itself, but in the end the result is that those posts may get a prominent position on the trending page. To be honest, those posts usually aren't awesome enough to deserve a place on the trending.
It's possible to deliver votes in a bit "stealthy" way, by upvoting "deep" comments rather than posts. Hence, my rule:
If upvoting for other reasons than "awesome content", consider "stealth voting".
Voting for awesome content
I've already covered it, you should consider giving upvotes to awesome content. That's pretty obvious. The devil is in the details.
To be able to upvote awesome content, one needs to find the content. Even when it's in my feed, I don't always have enough time to look through all of it - and as said above, it's really important that one looks a bit beyond the feed.
Then, when finding something I believe deserves an upvote, I sometimes ask myself, "is this really awesome? Does it really deserve a 100% upvote?" - most often, when thinking like this, I end up with "no", and give a slightly less upvote. Then the next day my voting power is at 100%, and I'm kind of in despair finding enough content to vote for, and I'm back to voting 100% on content that is not awesome at all. I wish I could have been more consequent on my voting pattern.
Whenever I see some content I do consider what value I think the post ought to have, and I look at what value it already got. If the post already got more than what I think it deserves I will hold back a bit, either skipping voting or giving only a small vote. Does this make sense? I do think so, so I will promote it as a rule:
If a post already got a higher vote amount than what you think it deserves, don't give yet another 100% upvote
There is another issue I'd like to raise as well - there is a general trend in social media that we upvote the things we agree with, and eventually downvote the things we don't agree with. That's quite bad - we should actually upvote things that are well-written and with good arguments even if we don't agree with it. If we disagree, we should upvote and comment on why we disagree. So, yet another rule:
Consider that an article can be "awesome" even if you don't agree with it!
Compensating for the work put down in the article
As a general thumb of rule, I believe it's the result that should be awarded, not the process of getting there. At the other hand, I think it would be nice if people could post the results of hard work at Steem (say, original research, a film which is more advanced than simply filming yourself while you're talking nonsense, some music production, etc) and actually earn on it. However, I think it's wrong to reward people for the work they have put down if the results aren't impressive. I'm not going to postulate any rules here. Personally I do sometimes consider the amount of work put down prior to a posting. However, if I don't like the results, I probably won't give it any upvotes anyway.
Earning curator rewards
Unfortunately, voting for awesome content is not ultimately the way to maximize your curation rewards. In the best case, it's like a Keynesian beuty contest - to maximize curation rewards one should vote for content that one believe others will vote for - and one need to hit that vote-button before too many others do it. If an article already is several hours old, the window for earning curation rewards is probably closed. If the purpose is to earn curator rewards, unfortunately one may do better by letting a bot distribute votes than actually doing any curation - it's just to throw votes to the authors that usually get a lot of upvotes, one just has to make sure to do it early, and skip it if the post already got a lot of upvotes. Obviously it would be very bad for the Steem ecosystem if everyone would be employing bots trying to gain the maximum curation rewards without considering the quality of the posts upvoted. I even think that's worse than if everyone would be self-voting exclusively. Hence, I consider this to be a strong etiquette-rule:
Don't throw votes only for the purpose of gaining curating awards
As said above, I consider it a good thing to have a look at the amounts of votes a post has gotten before giving yet another vote. This is also usually good on the egoistic level; the potential for earning curator awards is rather low on articles that already got lots of votes.
Sometimes one sees a seriously undervalued post even days after it was posted. Perhaps the poster is new and have few or no followers. The probability that someone else would see the post and vote for it is probably low, hence from a selfish point of view one should not give it a vote (or, perhaps you may profit if you first give it a vote and then resteem it). From an altruistic point of view it's important to give a vote and encourage the poster to continue steeming.
Another observation, we cannot all be earning curation rewards - someone has to be the last voter and earn no curation rewards.
So, another rule:
Every now and then, give a vote without any expectation of earning curation rewards on it
What do you think? Does those rules make sense? Are you observing them already? Do you plan to?