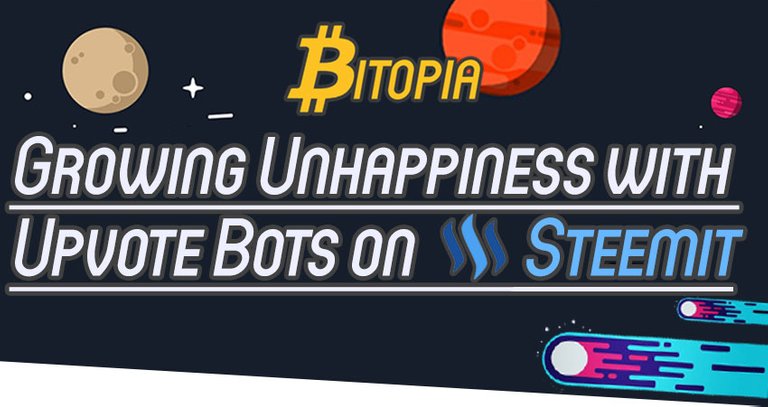 Of late, there has been growing unhappiness within the Steemit community in regards to Upvote Services on Steemit.
@Acidyo posted in his post : [Pre-ANN] OCD-Bot his dissatisfaction with Upvote services.
In a post from @fknmayhem : Rethinking The Position of Upvote Bots in the Steem Ecosystem
I loathe upvoting bots though, by which I mean most definitely the paid services which have come to prominence in recent times and have Facebookified the hot and trending sections.
I think they're evil, I think they're the biggest threat the Steem ecosystem faces and if not dealt with soon, they can be absolutely detrimental to the platform and our community.
as upvote bots will continue to take ever larger shares of the reward pool, and be among the strongest economic forces of Steem, the platform will end up with a one-sided economy which isn't that different from Facebook. A one-sided pay-to-win market.
@SteemitAdventure chimed into the post:
In my ideal version of Steemit there would be no bots and no selling votes
This post will identifying the problem with Upvote Bots and their effect on Steemit, alongside a second article posted on utopian.io as a proposal to the issue you can find here :

In general, since I have arrived, I have heard a lot of hate for Upvoting Services for a variety of reasons.
---
So what really makes upvote bots so bad?
---
These are the few main issues I have gathered that Steemians have in regards to upvote services.
It is taking a large portion of the rewards pool from publishers
Upvote services allow whales, by providing no value to the eco-system, to constantly take a big portion of the rewards pool earnings by simply selling their votes and turning a profit leaving less for actual creators.
In so doing, it is killing the spirit of Steemit as, in essence, Steemit is supposed to be about being rewarded for the value you bring, instead, with upvote bots, it is much more about how much capital you have. By virtue of having a lot of Steem Power, you make the majority of the rewards without providing any value to the community.
---
Upvote Services creates a Pay-to-Win system drowning out smaller creators
Users with more capital to spend, utilize multiple Upvote Services which pushes their content higher than the rest of the content creators. This creates an 'Arms Race' of who has more money to throw to get seen, instead on the focus being creating high quality content.
In so doing, it also creates the issue of smaller creators who may be new to the platform, do not have the know-how of utilizing the Upvote Services, or simply not having capital to use upvote services, doom to have high quality content to never get seen and never rewarded.
---
Upvote Services creates an uneven playing field
By virtue of the fact that so many people utilize Upvote Services, it is impossible for anybody who doesn't use them to have their post be seen, as regardless of the content of anyone's post, you have to boost your own post to have it seen at all. This creates an uneven playing field for users who do not use Upvote Services as their posts will never get seen.
---
Upvote Services enables abuse of the rewards pool
By making it profitable for anyone to pay to get upvoted and turn a profit, it allows schemes from smaller users to abuse the rewards pool by creating often garbage or even outright plagiarized content and upvote themselves for profit, without bringing any value to Steemit.
This situation really only applies to @minnowbooster as it is the only upvote service that guarantees a profitable upvote every time.
@Minnowbooster themselves have admitted that this is a problem and they are trying to counter such actions. Some action has already been taken by lowering the rewards.
Initially, per $1 you pay to Minnowbooster, will get you a return of $3 at full voting power. However, for the most part you will never get voted at full voting power and the rate is actually more like $1 : $2. It has since been lowered again to the likes of $1 : $1.50 cost to upvote ratio which definitely will limit the amount of abuse as you don't get back the same amount of SBD you put in, however it is still profitable to randomly boost your content for profit and for higher visibility.
---
Upvote Services take a portion of the curation pool rewards
The issue people have with this is the fact that curation rewards are awarded to Upvote Services even though they aren't curating anything. As long as an account upvotes on demand, and not on the basis of the post being good content, it isn't curating anything, and as such, should not have a share of the curation rewards.
---
My Own Experience
---
It has been 1 month since I took a Leap of Faith with Steemit, and began and actively contributing on a full-time basis on Steemit. My initial thought being that, as long as I focus on creating high-quality content which brings value to others, it would get rewarded.
I'd very quickly learn that this simply not the case.
Post after post, it became extremely clear that good content was absolutely not enough, especially when you do not have a following. I can account for numerous days of work ending up with sub-dollar earnings.
Then came the point where I realized that if I wanted my content to ever see the light of day, I'd have to utilize an Upvote Service or simply pack it up and spend my time elsewhere.
It is just that simple, I do not believe, with the current state of Steemit, that it would be rightfully possible, especially without a following, to create high quality content without also utilizing Upvote Services.
I'd say my experience is echoed by basically every minnow out there who is putting an effort to grow on Steemit.
---
I Don't Hate Upvote Services
---
I obviously don't, I use them myself, and will do so with this post as well, unless I want to see my time and effort never seeing the light of day.
Upvote Services were created because there is a demand for them. I am part of the community that creates a demand for it. Because there is no other avenue for me to go, to ensure that my hard work and effort ever gets seen.
I do not believe that the owners of Upvote Services have any malicious intent whatsoever, they are simply acting upon a demand in a free market, capitalizing upon and profiting from it. The way entrepreneurs do.
---
Upvote Services have an Overall Negative Impact on Steemit
---
As much I believe Upvote Services are not at fault, I do believe their existence on the platform is negatively affecting the Steemit ecosystem as a whole, and upsetting the core function of Steemit.
It is affecting the "Defining Factor" of 'Value' of posts
The amount of money that a post makes is the defining factor of whether or not a post is of value here on Steemit. That is the core metric, both algorithmically and sensibly.
Algorithmically, the more value a post receives the more exposure it gets. The dollar metric, in my experience and in studying the Steemit sorting algorithm, is the absolute defining factor to the value of a post, outweighing number of upvotes and engagements on the post significantly.
Sensibly, the amount of payout a post has, plays a huge factor in determining which piece of content that any consumer choose to invest time in consuming. The likelihood of me, or anyone for that matter, presuming that there will be good content behind a post, made 24 hours ago with $2 earnings is extremely low.
Yet, due to Upvoting Services, the actuality of the matter is that, what sits behind that post may very well be of equivalent and even possibly, a higher quality piece of content then a post I may find on Trending, posted 2 hours ago with $150+ earnings.
It is creating an uneven playing field
Any author who spends time and effort to craft a quality post with high value, will absolutely desire for enough eyes to fall upon their work and stand the chance of earning a deserving payout, relevant to the time, effort and quality of their work.
In the current state of affairs, that is utterly impossible given the fact that unless I use an Upvote Service, the sheer odds of my content ever getting enough views and earning a deserving payout is almost impossible.
The sentiment is echoed by almost every minnow author on Steemit. As such, the only way to ensure that work gets seen, everybody has to use Upvote Services.
The end result is a ton of authors having to use Upvote Service just to climb up to the even playing field which would be the case if Upvote Service weren't used by anyone in the first place all while having the entirety of this situation be a massive tax on the rewards pool.
---
Paying for more views is not a bad thing
The issue of having to pay to have my work seen more often stands as a non-issue to me. That is the nature of being a new publisher on any given platform, nobody knows you, nobody knows that what you have created is of value, and thus your content is going to be shown less. I have no issue paying to be seen more.
It is also an important factor in defining that I have put enough time and effort in creating a genuinely valuable piece of content if I were willing to spend money to promote it. The issue is where the money I spend is going, and how it affects the ecosystem as a whole.
---
Upvote Services are messing with how posts are sorted and valued
The serious issue, stems from the fact that Upvote Services upends the entire sorting algorithm. The sorting algorithm in place, does not account for it's most discernable means of a valuable post to be completely skewed by anyone who throws money at a Upvote Service and have their, otherwise garbage content, to be perceived as tier 1 content, both by the sorting algorithm, and by unlearned users who do not have a complete understanding that the majority of the earnings that are on some posts were not rewarded based on the quality of the post at all!
For content publishers, this means that even if you take the time to craft a really quality piece of work, and use an Upvote Service to let it be seen more often, your quality post will still be swimming alongside posts which are not really quality at all, rather, was simply upvoted for a similar amount as you did.
For the content consumers, it is to have the entire curation process be upended and still having to wade through garbage posts on Trending and Hot. Worse, it is the thought, "If this piece of shit is considered Tier 1 content, there really isn't much good quality content on here".
Sensibly, for both consumer or creator, who sees a shitty piece of content with a high payout, who does not understand that a big portion of that payout is actually self actualized cost, will perceive Steemit as a platform which rewards lousy content.
It creates a situation, where new and talented publishers who are trying Steemit out end up thinking, "This piece of shit is rewarded $100+ yet, when it looks like the author didn't spend a solid hour on it. Yet my work, which is of way higher value, gets paid $0.50" and is completely demoralized and stops posting altogether.
As such, the entirety of the Steemit eco-system is a mess.
If things are left the way they are, I do not think Steemit will be able to cultivate the platform and community is aspires to grow. This situation will drive out both quality content publishers and consumers alike.
---
I'd like to reiterate the point that this isn't the fault of Upvoting Service they are simply fulfilling a gap in the market where there is a massive demand, the negative impact it has on the Steemit ecosystem is an after-effect that they did not presume or intend.
As @SteemitAdventure voices his concern :
The problem I see is how does anyone actually stop the vote buying ? if you don't stop it then it's going to be used.
The thing is that I don't believe anyone really likes using Upvote Services. The reason for the mass use of Upvote Services is users clearly defining a major gap of utility on Steemit, which Upvoting Services are poorly providing, having to play within their capabilities of the platform.
Users are clearly defining that they are willing to spend money to have their work seen more often. That they are discontent with just posting and "Letting Jesus Take The Wheel" with whether or not their content gets picked up is simply not acceptable to most users.
---
So what exactly is the issue?
---
The real problem users are facing is how poorly implemented the 'Promoted' function is.
I believe most users agree that they would much rather the additional SBD they spend to be burnt to negate some inflation to be a better solution than the SBD they spend promoting their post to be taken out of the rewards pool.
Unfortunately, the 'Promoted' function is simply too ineffective to getting a larger viewership, and too poor at providing a cost-efficient means of advertising their content.
I believe that a new and improved 'Promoted' function would be the solution to the inherent issue facing the Steemit ecosystem in regards to the use Upvote Services.
Not only can it solve the issue, I believe it will massively benefit the Steemit ecosystem. A new 'Promotion' platform is not hard to design either, it can be modelled after social media platforms who have more or less perfected their promotional platform and adapt that to Steemit.
If content creators have access to a better means of paying to have their posts to be seen by the right users, all while lowering the rate of inflation, they would very much rather use that than Upvoting Services.
As such, I have created a proposal for just that. It is a system which I believe, if implemented, will greatly alleviate the issue currently facing the Steemit ecosystem.
I have posted the proposal on Utopian.io and you can find it here :

---
In Closing
---
I took a Leap of Faith with Steemit. I believed that if I were to focus on bringing value to Steemit, I would be rewarded. That didn't turn out as I had hoped. Not that I have not earned anything so far, rather that it is far cry from being rewarded according to how much value you bring.
Had I known earlier about the situation about how Upvote Services worked and how to fully utilize them for getting seen more often, maybe things would have been different.
However, just as hordes of talented and unknowing authors land here with the exact misconception how Steemit is supposed to work as opposed to how it actually works, they may leave before understanding.
I still believe very much in what Steemit is created for and I believe that vision can still be achieved. This issue has to be resolved for Steemit to make it however, and I do believe I have came out with a proposal that will very well solve that problem.
God Speed Brethren.