All voters on this post win huge curation rewards. Frontrunning, the frontrunners that frontrun @booster.
As you know, every vote that comes in after yours raises your curation reward right? Well...
vote here for the next day or two
then frontrunner guild members vote (100-300 more votes)
then booster comes in with a monster vote to top it all off.
It's like voting with 400% voting power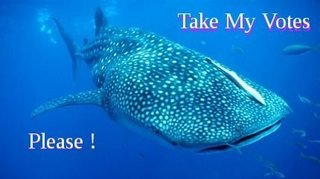 It's under the #takemyvotes tag, which has to do with the new frontrunner guild. By simply voting for this post (the one you are reading)you are entered.
Hours later, there will be between 100 and 300 big hitters voting on this post, which increases your curation -That's the prize!
You win simply by having many whales voting after you did. It is that simple.
(I take care of getting the whales here - don't worry about that)
You have twenty four hours or more till the whales arrive!
---
For more fun - we usually have a comment contest.
This week I wanted to see you posting your results. Are you making more?
See below for prizes. (only voters who used 100% voting power)
Check your curation rewards...

You should see the money you got for your vote last week
The reward will be from today or yesterday with the title
STEEM POWER for htooms/takemyvotes-frontrunner-and-comment-contest
If you like, comment with something like...
I have 6,550 SP
A 100% vote usually gives me 0.090
But voting for @thooms gave me 2.80
(any other remarks or commenting you want)
I want to see that you all are getting results - I pay a lot to @booster for these contests.
I will be awarding two or three of the most positive results.
That means if you voted well, and used 100% of your steam power, you could win.
Comment prizes will be five, ten and twenty Steem. (No SBD this week - that cost me big time)
Good luck!
---
For a look back at the contests see...
March 20, The Announcement.
March 21, The first run.
The March 26, The second run.
June 6, The third run.
June 8, The fourth run.
June 10, #takemyvotes FAQ post.
June 11, The fifth run.
June 14, The sixth run.
June 18, The seventh run.
June 21, The eighth run.
June 26, The ninth run.
October 5, Frontrunner voting.
November 6, More takemyvotes Fun.
November 9, 24hr. takemyvotes Fun.
November 19, 48hr. takemyvotes/frontrunner event.
December 5, takemyvotes/frontrunner event.
---
I am up and running on OpenLedger - The decentralized crypto exchange!

Click here to get your Account and trade with @htooms - go Bitshares!
If you like what I am doing UpVote and Let Me Know Below!!!
---