Now that we have moved upstairs into a freshly renovated space, it is time to dig into the downstairs renovation, which means making some plans on just what we are going to do. Tonight, I think I am going to spend a few hours after my wife goes to bed building some 3D models so as to get a sense of the space and have the possibility for my wife to "imagine" it before we commit to anything. She has a good eye for design in general, but she has to see it, she can't create it herself.
This frustrates me when I try to explain a vision to her, but I understand that we all have our own skill areas and not everyone is good at visualizing space - just like not everyone is good at cooking and cleaning. Even though I get frustrated, I don't make her try and visualize it, so I don't know why she forces me to do the things I am not good at. Seems unfair.
Before I get into more trouble than I am usually in, I will move on.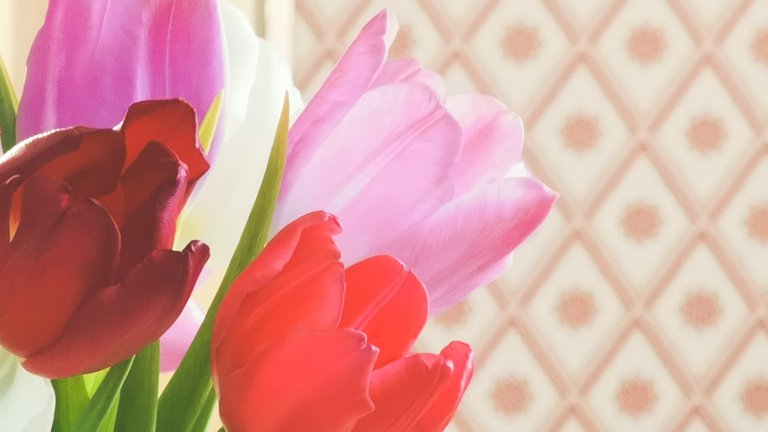 Whereas upstairs was an intensive renovation, downstairs is more of a surface only kind of thing, as while we are doing the toilet area, most other things are more aesthetic. The thing that I am going to plan tonight is the doorway and walls between the loungeroom and the dining room, the space you can see pictured below.
The wall will be taken out and the entrance widened, but we will put new, glass-door cabinets built into the walls for plates and glasses and the like. Since we are working on a budget, they will most likely be IKEA cabinets and doors, but because they are built in, they should feel quite sturdy and luxurious. We were at IKEA yesterday having a look and we couldn't quite find what we are after, but I think we will manage with a little mix-n-matching.
The other thing we noticed is the prices seem to have gone up quite a lot on much of the stock - closing the gap to other stores, so we will look around. All in all though, we have used them for kitchens and bathrooms before and have been very satisfied with the quality regardless of the lower price. The kitchen we have now is from an expensive Finnish company and, we haven't liked the way it works at all. Buying local is good - but it still has to be functional.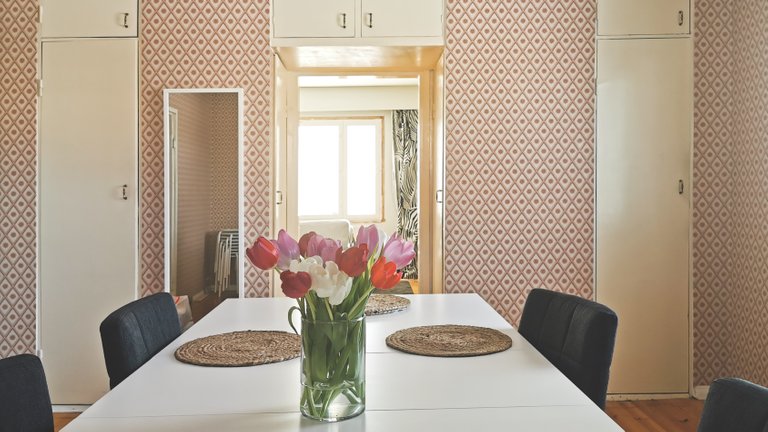 So, the challenge isn't really this side of the wall though, it is more on the other side, as in there we will put in space for wood next to the fireplace and we will have to back the cabinets with something, which will likely be built in bookshelves. I like the idea from a looks perspective, but I am guessing that over the next decade, our book collection is going to reduce even more than it is currently, as digital takes over.
I am hoping to make our home both pretty and functional for years to come, so I think it is good to think through what the "to come" is going to include. For us, storage space is always top of the list as neither of us like clutter around the place, so I think that given the lack of walls space in the lounge due to the fireplace and the large window on the outer wall, we probably don't want cupboards against the two remaining, one of which will have the standing piano we inherited against it.
Space is a funny thing in my opinion, as it is a resource that affects the way we think and behave in such subtle ways that often, we do not fully recognize it. When there is clutter we can feel oppressed, when stuck in traffic we get frustrated and when there is room to move and light coming in, we feel like we can breathe. For each of us, we have different preferences, but we are all affected.
One of the interesting things about the way our mind work is that we don't actually think in pictures, we think in space. When we imagine things we are orientating them and manipulating them as if they are there to touch and our mind is driven by the inputs it receives. I think that this is why it is so important to make a space that positively influences our thinking and encourages us to improve ourselves. While it isn't always possible to do this as one would like, positive spaces can still be created.
I grew up in a large house and I live in a large house now, but they are quite different in form and function. In between however, I have lived in quite tiny spaces on budgets that didn't allow for the purchase of a better space, it required the creation. One thing that I have always found however, is that when people have entered my homes in the past, they have visibly relaxed as they sit down, they feel at home. While I know people who want everything pristine, having a space that people feel comfortable and open is valuable to me as it enables far more candid conversation and the formation of better relationships.
I am hoping that when all of the renovation work is over, we will be able to host people who come into our place and feel like they have lived here for years themselves. Where things are functional and intuitive and the mind can get lost in space and be found in thought, focusing on what needs to be done - even if what needs to be done is enjoying a glass of wine.
Taraz
[ Gen1: Hive ]