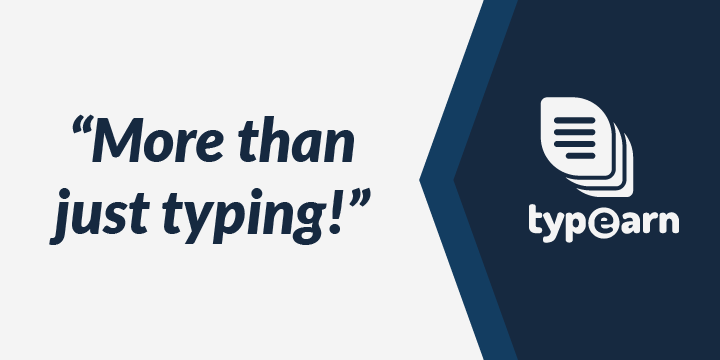 I've been an active Steemian for over two years, and I've been a part of a couple of projects and Utopian was one of them. I've had the thought of adding value to the Steem BC in a fun and engaging way. Less down three months ago, I with a few of my folks started working on a project that people can use to track their typing speeds and skills with more added value, which could drive more professionals here (Steem BC). The result of the work is www.typeearn.com.
What is typpeearn?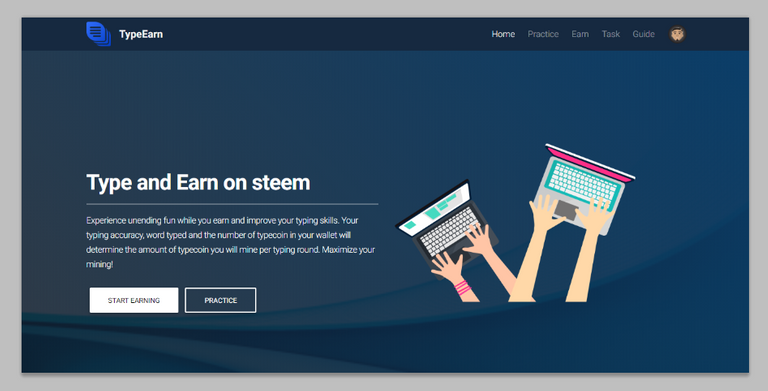 Typeearn is a project for people to learn and track their typing speeds as well as earn. That is not all. There is another layer that allows people to create tasks of different types. The feature is not live because we will need to get professionals that will take up tasks depending on their fields of experts.
We leverage on the fantastic Steem side-chain project, Steem-engine to create a tradable token called Typecoin (TPC) to reward people as they involve in the typing challenge, and working on the platform.
Purpose of Typeearn, and why Steem bc?
As written, I have been here for years and witnessed the rise and fall of the Steem tokens. Many people are leaving the Steem BC because of the continuous bearish movement of the token. I don't want to leave or fold my arms. Rather, I wish to add more value to the BC with fun, simple to use and quality service providing platform.
Typeearn is created for users to have fun.
To track their typing speed
To increase typing speed
To serve as a medium for people to access quality services from freelancers.
To get monetary value through the Typeearn coin
And more
TypeEarn Components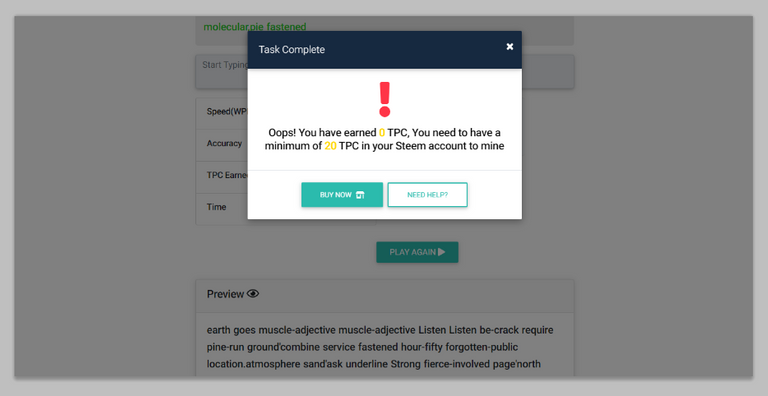 Earn
This is the section to mine while improving your typing skills. There are chances of mining five times in 24 hours. The number of words typed, and your typing speed will determine the amount of Typecoin you will earn. The additional and smart way to maximize your earnings is to hold a tangible amount of Typecoin in Steem-engine wallet. The amount of Typecoin in your Steem-engine wallet is converted to the Typepower by default which will be added to the volume of TPC you will be earning.
The mining and earning metrics
Word typed x WPM (Word typed per minute)+ Typepower/ 1000(Standard value)
---
Note:
There must be a minimum of 20TPC in user Steem-engine wallet before he/she can earn. This is to reduce potential abuse. Also, the mining metrics are subjected to changes depending on how effective they are on the value of the token and the growth of the project. Plus, we are not storing any token, and Steemconnect is used to sign into the app.
---
Write about your activities and post on steem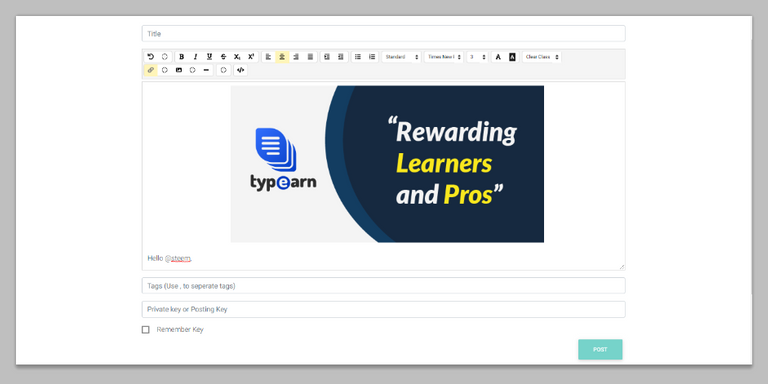 There is a posting functionality where you can write about your typing activities and post on Steem. After every round of typing, there is a pop up that asks if you wish to share on Steem. This feature will direct the user to the posting editor, and the user can write and post directly through the site. There is no feature to access blogs or feeds on www.typeearn.com for now. But, we will be improving the project, and implement some Steemit like features in a couple of weeks.
Practice
The earn is limited; practice isn't. We create an unlimited section for users to keep typing. No added thing here. The section is as well accessible without signing in. This is solely meant to engage our users in continuous practice.
Task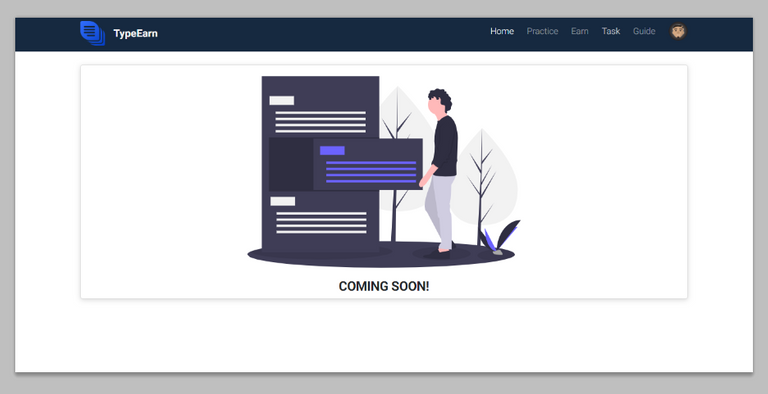 This is another important part of the project which is not fully ready. We will improve this part for users to create different writing tasks, such as Business Plans, Project documentation, Content writing, Translations, and so on. Typeearn will have a list of whitelisted, and certified professionals that will work on created tasks to ensure quality services are being rendered. Typecoin (TPC) and Steem will be the means of payments for all services on the platform.
Guide
We believe most people that will come in may not know how to start here effectively. So, we created this page as a means of guides for users to start. Also, the Typeearn team will be available to help all the Steem newbies.
Profile components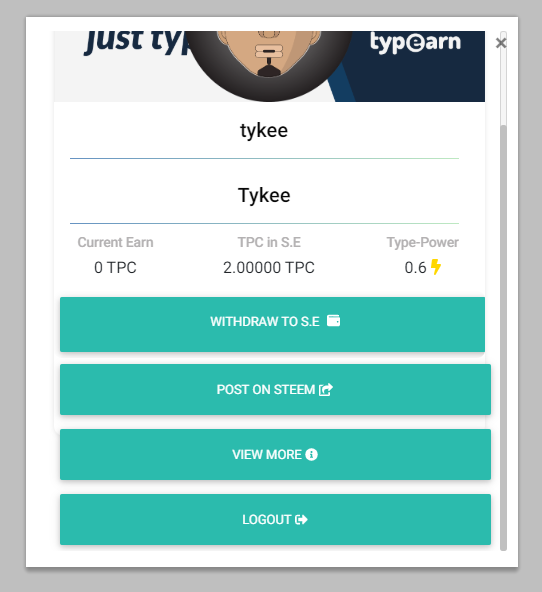 Current Earn
This component shows the amount of the TPC that has been earned through the typing tests, and it can be claimed to user Steem-engine wallet by a click on the Withdraw to S-E button that is provided below the component.
TPC in Steem-engine
This shows the amount of TPC in the user Steem-engine wallet.
Type-power
Typepower is the engine that determines the amount of TPC users can mine per round. 1Typecoin (TPC) =0.3Typepower (TPP). TPP is not a token on its own, and it is powered by Typecoin. If you wish to have huge Typepower, you simply need to hold many Typecoin.
Typecoin
Token distribution
The total supply of Typecoin (TPC) is 100,000,000 (One hundred million), and 500,000 is currently in supply.
Airdrop
We will airdrop 30,000 TPC to people that can write reviews about the project on Steem. The airdrop will run for two weeks.
For Airdrop eligibility:
Steemian must have the minimum of 100 followers.

Reputation score must be from 50 and above.

User must not be in Steem cleaner, Buildawhale or any steem abuse fighters blacklist.
Process
A minimum of 500 words.

User can use any steem interface to publish their promotion post.

Ensure to use typeearn as the first tag.

A user can publish twice within the stipulated time.

Share the post on Facebook and twitter. If possible, share on Medium.

Drop the link to the post on #typeearn promotion on our discord server.
Reward
The Typeearn team will review each entry, and all will be rewarded accordingly. The minimum reward is 100TPC, and the max reward is 400TPC. The post quality will determine the reward.
Current price
Typecoin (TPC) current price is $0.06.
Six(6) months Road map
We will be improving the project actively, and we can say the fun is yet to come. The below-listed features will be achieved within six months.
Compete and play with friends and online users.

Share your activities on Facebook and Twitter.

Completing the Task components.

Daily Leaderboard and all time leaderboard.

User extensive profile and wallet improvement

Enabling charity donation

User timeline... Like steemit.com and other steemit like features.

User statistics.

Feature for unlimited mining.
Conclusion
If you type adeptly with 10 fingers, you're typing faster than your mind is working. says, James A Michener.
You can be a fast ''typer'' if you learn with www.typeearn.com. While improving your typing skills, you are getting rewarded with TPC. Having you around on www.typeearn.com will be fantastic, and we are always prepared to improve the project on every aspect to serve you better.
We are already reaching out to different professionals so that our aims could be achieved as soon as possible. We will enable delegations when the task component is fully ready to provide an additional rewarding system for users and the freelancers.
Follow @typeearnblog for upcoming announcements, and you could join our discord server.
Let's start hearing the clacking sound of your keyboards. See you around!