Dear Steemit Friends:
Today we will explore the beautiful Museum Hotel in Cappadocia, Turkey. This area of Turkey is located in the Central Anatolian Region, the second largest region in the country of Turkey.
Today we will explore the beautiful Museum Hotel in Cappadocia, Turkey. This area of Turkey is located in the Central Anatolian Region, the second largest region in the country of Turkey. Cappadocia is most famous for its ancient cave dwellings and unique fairy chimney rock formations.
In times long past the region has been a safe haven for different groups of people, many fleeing persecution for their race, religion or beliefs. Because of this, the cave dwellings of the region made perfect sense for those living in the area as excellent hiding places.
In addition, the climate is one of extremes. Cappadocia sees deep snow for the duration of the winter months and then temperatures in excess of thirty degrees centigrade in the summer. The cave dwellings offered the inhabitants of the region a perfect way to survive the different temperatures throughout the year. During the hot summer months, the caves remain cool and provide shelter from the sun and the heat. The cave dwellings remain a very similar temperature inside year around so when the snow comes, the caves then feel warm and protect their inhabitants from the freezing temperatures.
Museum Hotel Cappadocia, as you will discover with me today, is built around many of these early cave dwellings. Many of the rooms are renovated ancient cave dwellings which helps you get in touch with the history of the region. Very appropriate for a hotel called Museum Hotel.
Museum Hotel Cappadocia
---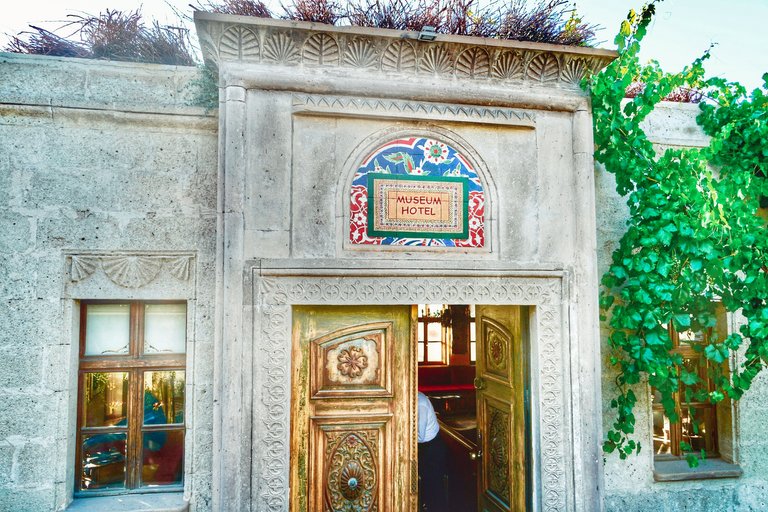 With thirty rooms and suites, Museum Hotel first began its renovation to become what you know today in 1998, becoming one of the first luxury hotels in Cappadocia. It is part of the world renowned Relais & Châteaux group of hotels. Founder Mr. Ömer Tosun, is an avid collector of antiques. He wanted to dress the hotel with beautiful examples of antiques and art work that you could fully appreciate and experience by spending time in the hotel.
After four years the hotel was officially opened in 2002 and its reputation has grown and grown. It's not surprising because as you'll see today, staying in the hotel is a unique and luxury experience. The hotel is made up of many caves and stone houses that are thousands of years old. The stone houses that make up the hotel's reception area and restaurant date back to the Seljuk period from around 900 years ago.
The caves and houses that make up the rest of the hotel would have been used for everything from accommodation and kitchens to stables and store rooms and would have been used by the Hittites, Persians, Romans, Seljuks and Ottoman peoples. So, not only is the hotel full of hundreds of priceless antiques, the very building and rooms are antiques too!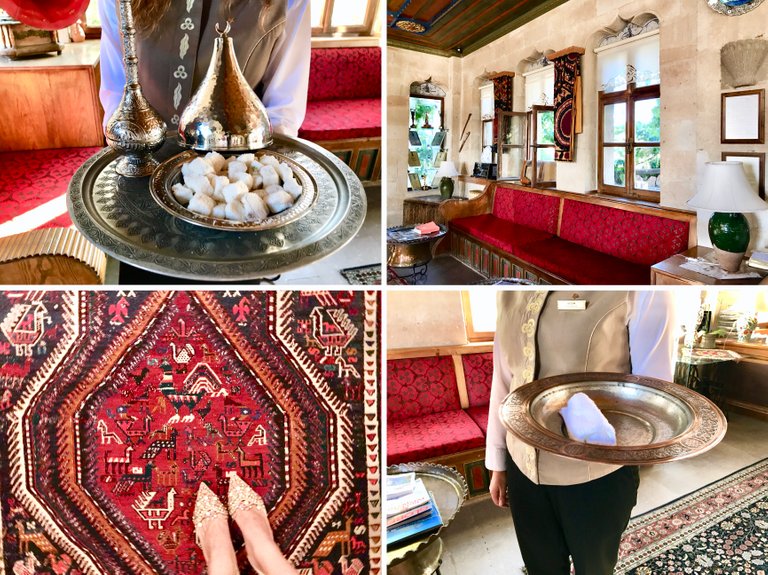 Upon arrival I was greeted kindly by the staff in the beautiful reception area with hot towels and welcome snacks on beautiful, antique looking platters. I knew then that this hotel really was a museum. As I looked all around me, I saw examples of astounding art everywhere - even on in the carpets beneath my feet. Every single wall was covered with various pieces of fabric, trinkets and antiques. I knew I was in for a special stay in a very special place.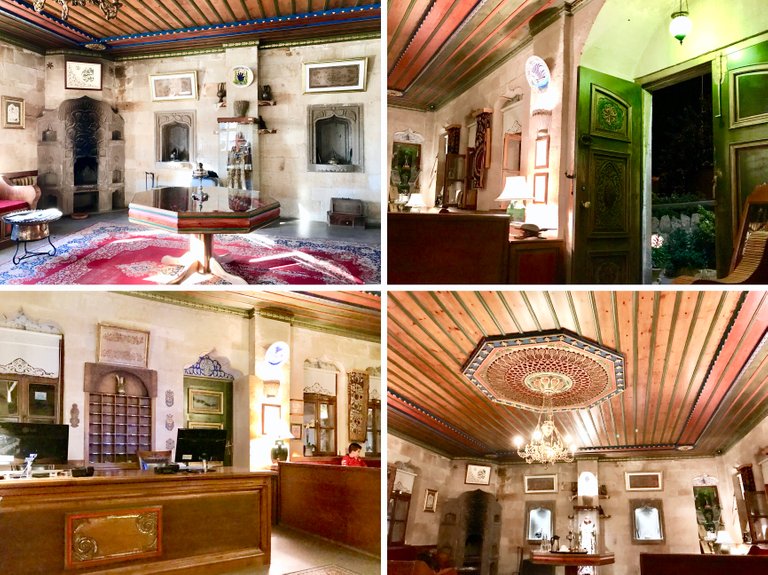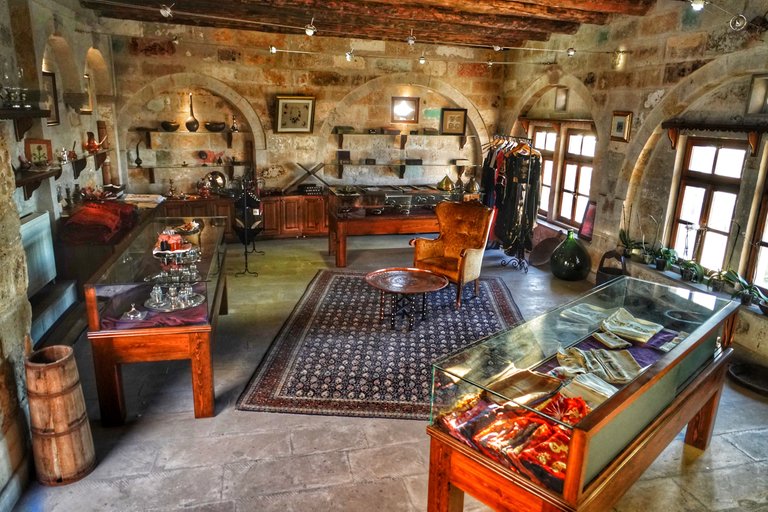 Moving further in to the hotel, I discovered rooms full of display cases. Each case was packed full of art and antiques, many of which were completely priceless. In fact, a lot of the pieces of history in the hotel are looked after and loaned by a real museum from the local area. Normally, when you visit a museum, you have to leave before closing time! But not in this hotel, because I will get to stay in the Museum Hotel this night and enjoy the art for even longer.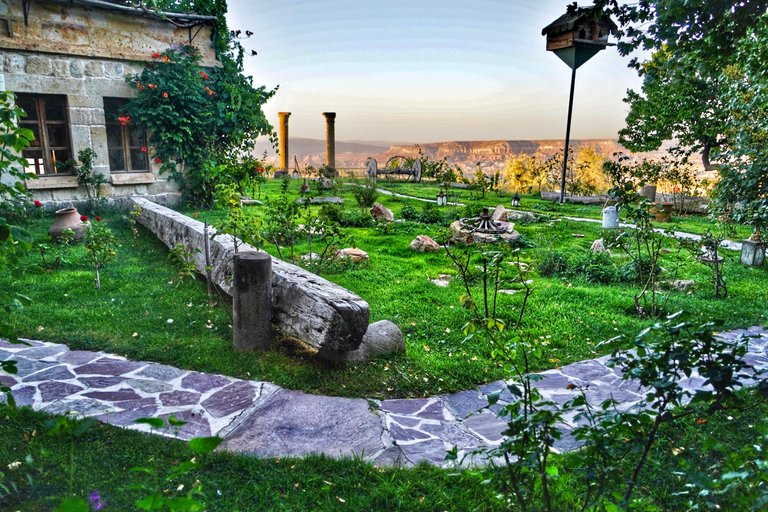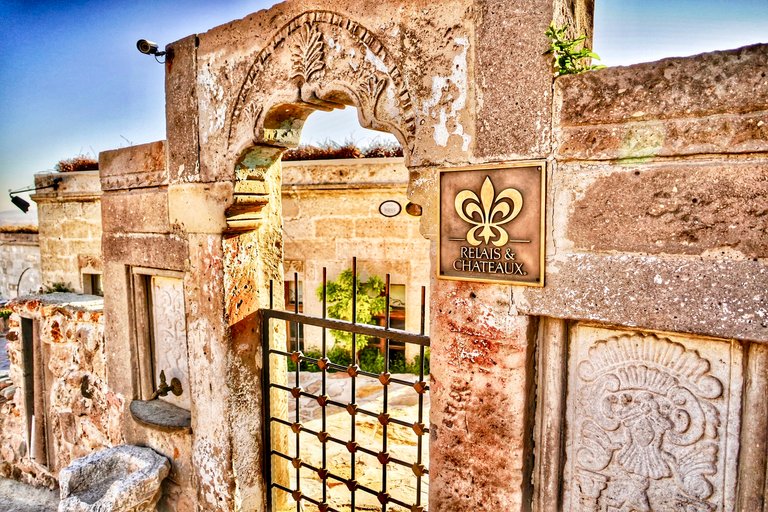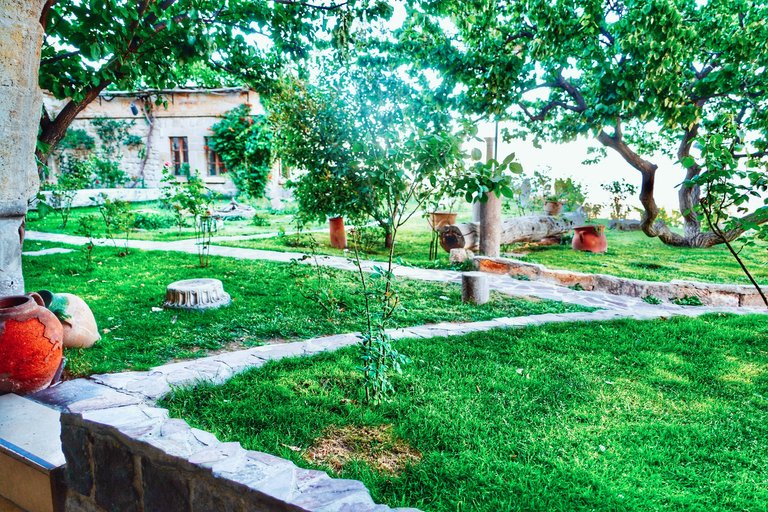 Museum Hotel has a stunning location on the outskirts of Nevşehir, the capital of the Central Anatolia Region. The views of the surrounding area are quite spectacular. I have to say it was very difficult to choose whether I wanted to be inside or out. As soon as I went outside I was captured by the beautiful views, the quiet and secluded location and the atmosphere of the area. But after a while I started to miss exploring the trinkets and antiques to be found inside every room and corridor of the hotel. It was such a difficult choice of where to spend my time. I tried to experience everything.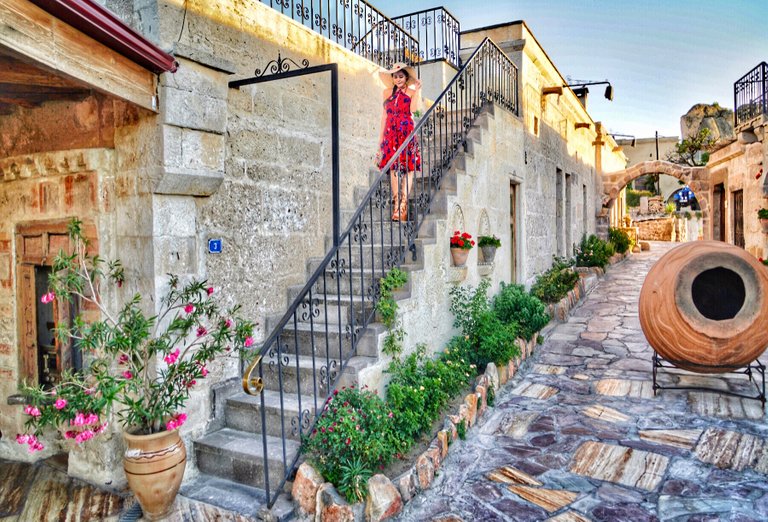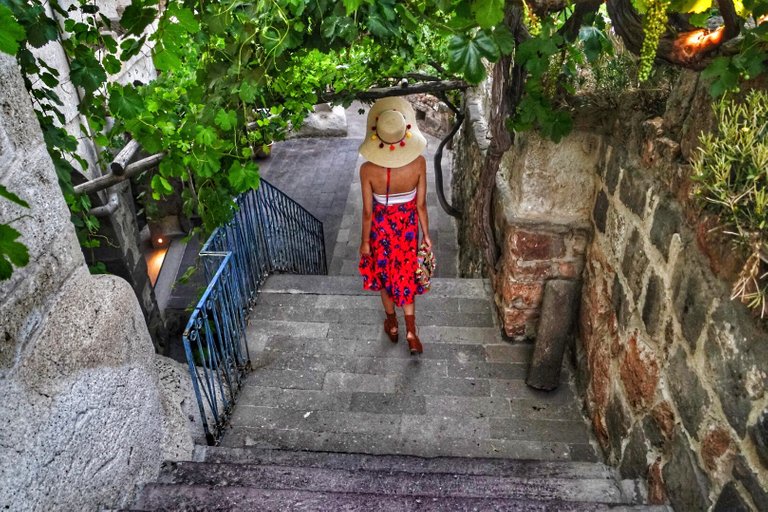 The hotel is a complex of many different stone houses and ancient cave dwellings. It's a bit of a labyrinth as many different residences have been brought together to form the rooms of the hotel. Sometimes you had to go up stairs, down stairs or through alleyways to make your way around the hotel. Because of this it really felt like you were a bit lost in this magical hotel. I loved it so much that I didn't really mind being lost! There was so much to see that I was happy just wandering around and enjoying the atmosphere.
The Museum Hotel perches on the side of a hill, which means it has many amazing views. There are plenty of outdoor terraces to go and sit and enjoy the panorama in front of your eyes. It's all very relaxing just to explore the different outdoor areas and it was always possible for me to find a little nook to spend alone to enjoy the quiet and admire the scenery.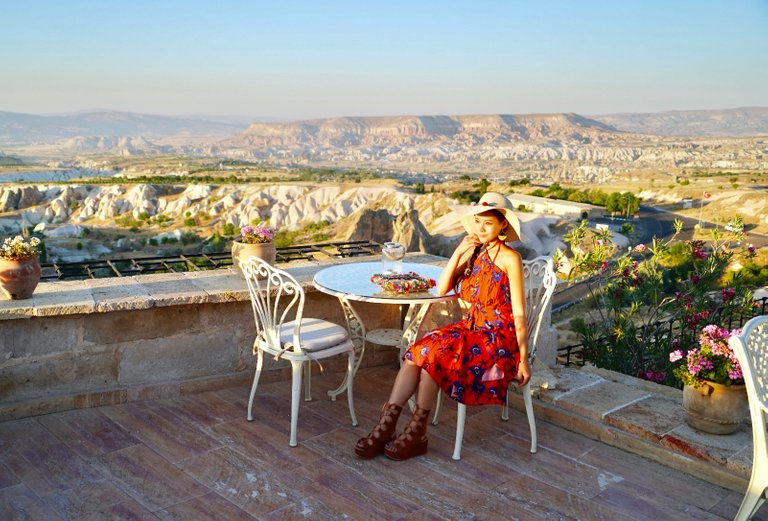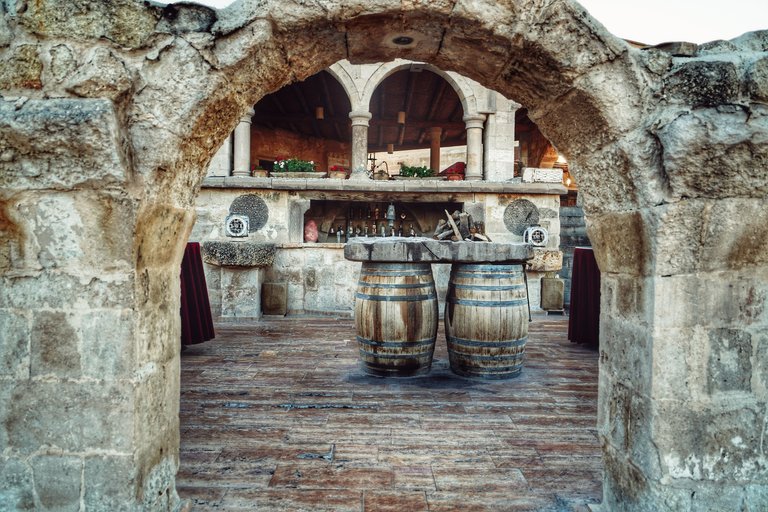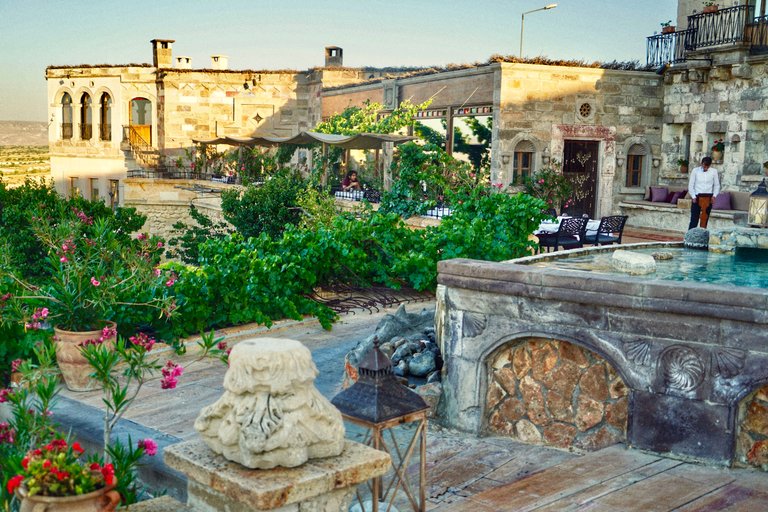 As you can see these little terraces hug the outside of the hotel, offering guests lots of lovely places to enjoy the views. And what views they are. There's not many places you could sit and enjoy a drink at sunset with this kind of landscape stretched out in front of you. You feel like you are hovering above the valley below you and the mountains stretching up on the horizon were spectacular.
The Swimming Pool
---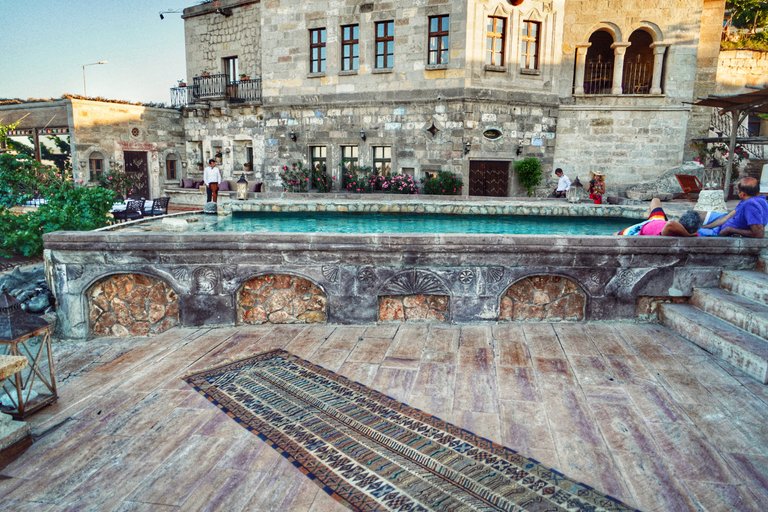 Out on one of the terraces was the swimming pool. Surrounded by rustic feeling stone, this modern convenience blends perfectly with the antiquity of the surrounding buildings and scenery. It had been a hot day in Cappadocia and as soon as I found the pool on my explorations, I knew I had to get ready to have a swim as soon as possible!
Having a swimming pool, surrounded by ancient buildings, is quite surreal. Having a pool surrounded by ancient buildings that also had such a view, was very special.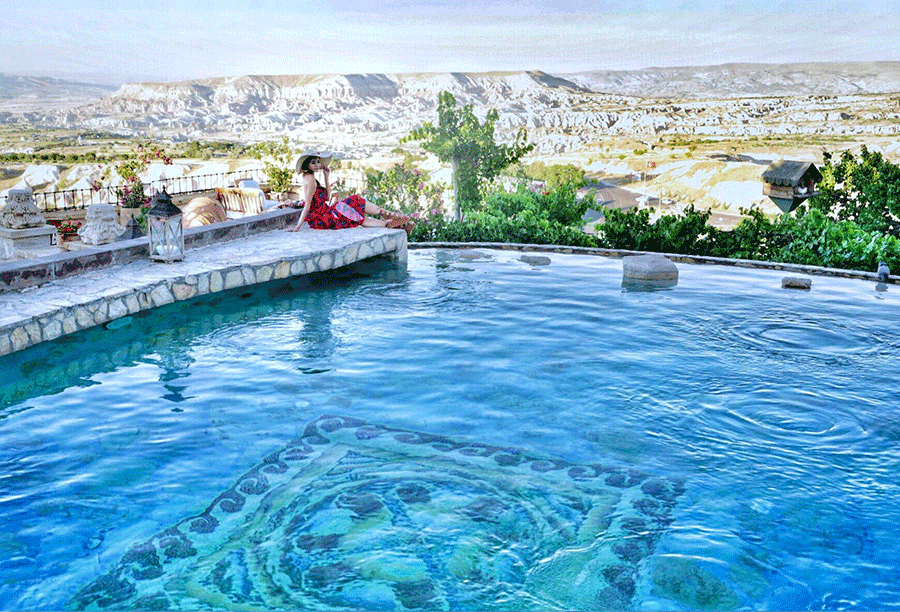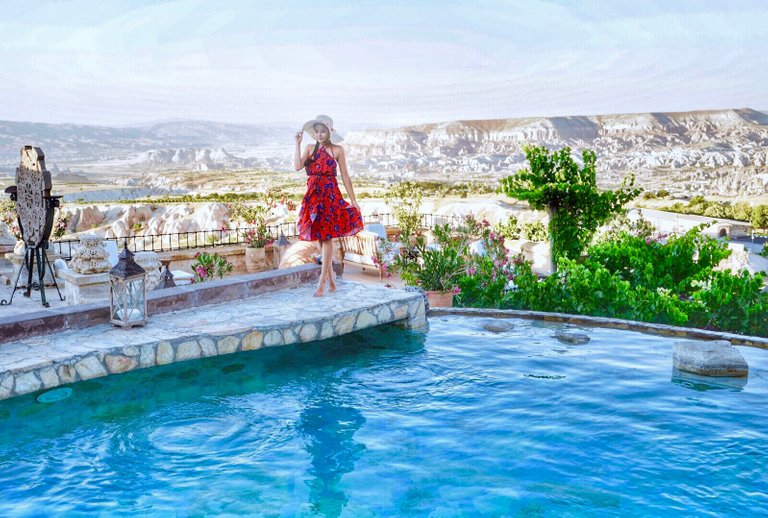 Slightly different to some of the other areas of Cappadocia that I visited, the rocks of the mountains here were a little more white than the oranges of other areas. The crisp white rock, contrasted against the rich green trees and plants, made this landscape very interesting. The sky was the most crystal blue and the pool felt like it was mirroring that beautiful blue sky , surrounded by white stone that was mined from the local area.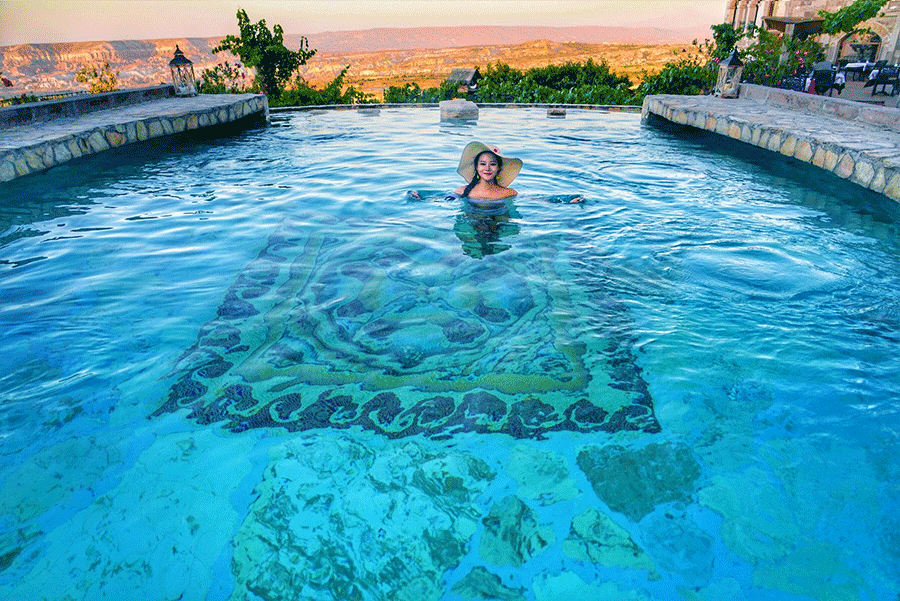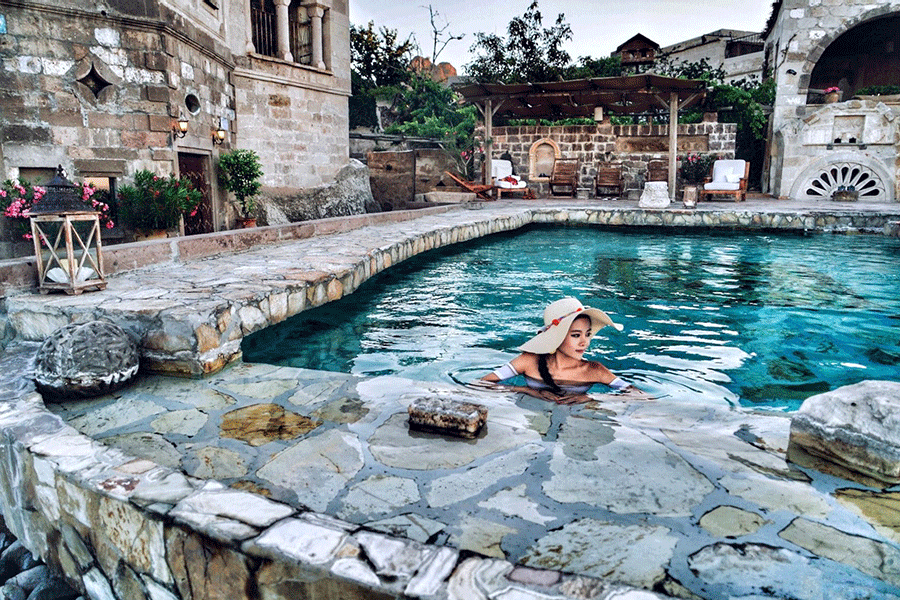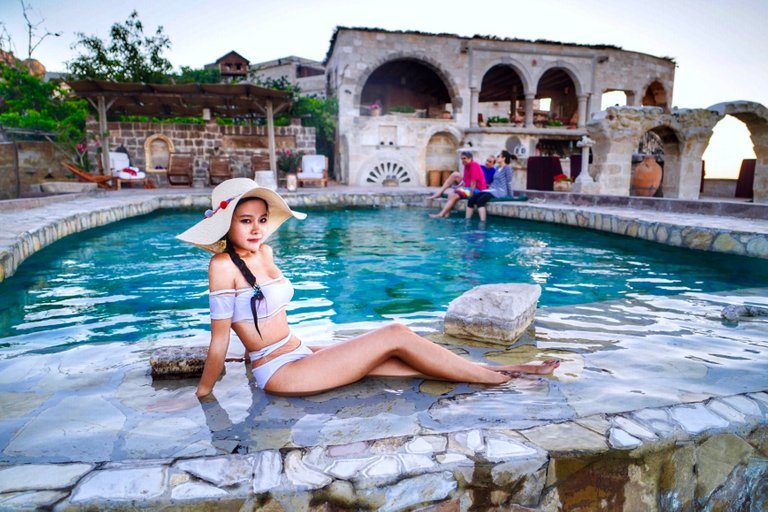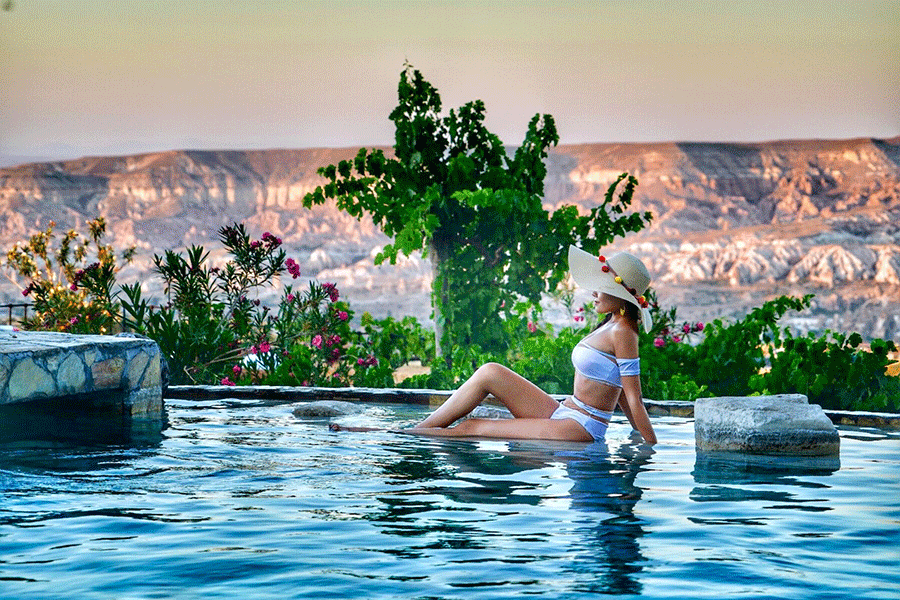 As you can see I just couldn't wait to get in the water. In the season I visited Cappadocia, it was quite hot so a refreshing dip in the pool was just what I needed after a long day. You sometimes get hotels that have the swimming pool in the middle of all of the hotel buildings, or just wherever they could find space. Museum Hotel wanted to make a statement with their swimming pool, so you'd feel part of the environment while swimming. They cleverly created an infinity pool so you feel like you could swim straight out into the horizon.
The white stones of the pool were almost identical to the rock you could see in the mountains before you. Because of that you felt like you were fully immersed in the landscape, physically and visually. This was just what I needed to relax before going to further explore my room and get ready for dinner in the hotel restaurant.
My Cave Room
---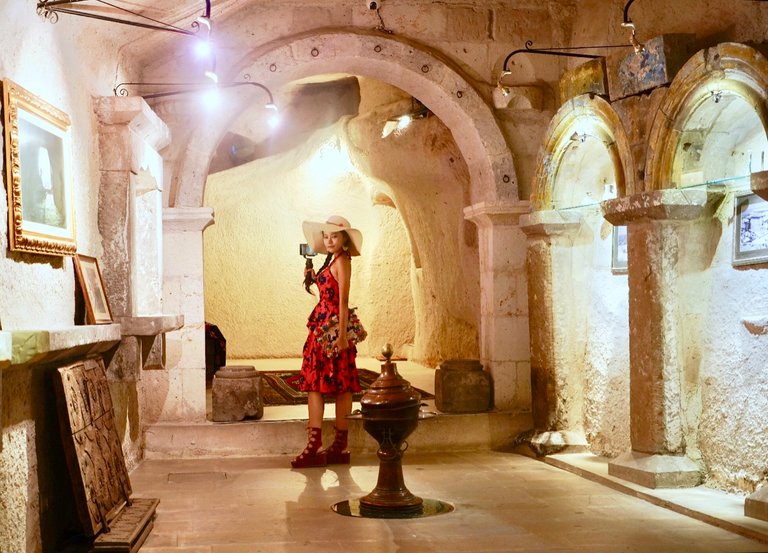 The corridor leading to my room was once again lined with art work and it was easy to forget that I was walking to my bedroom for the night. I thought perhaps I had got lost and had wandered in to a museum and wouldn't in fact find a bedroom at the end of the corridor.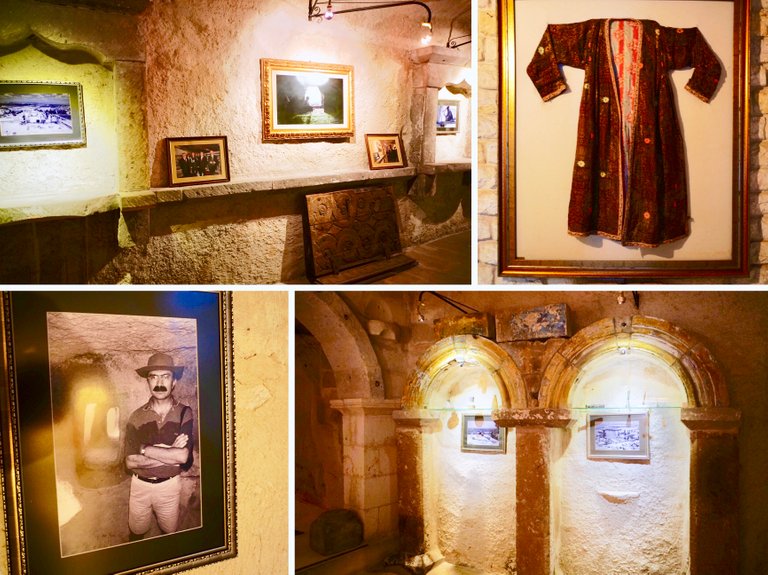 Everything was beautifully displayed and well lit. Many of the corridors and rooms in Museum Hotel are original ancient caves and stone structures so there aren't always windows. That could make the place feel claustrophobic but the hotel has lovely lighting to make it feel bright and airy while spotlighting the art work and antiques.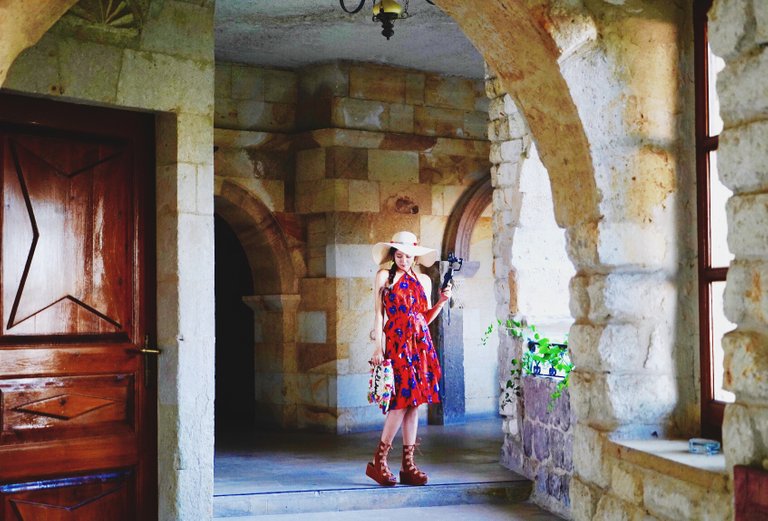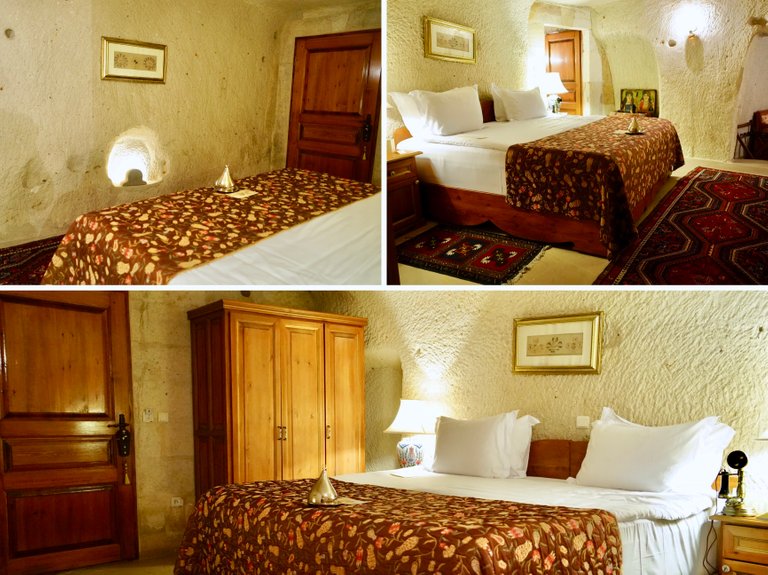 Styled with authentic feeling soft furnishings, and brightly lit, my room was a refurbished ancient cave dwelling. You could see all of the rough stone on the walls of the natural rock and I felt a little bit like I'd gone back in time. With all of the antiques around the hotel and the snug little cave bedroom, it felt like a bit of a fairytale dream.
One thing I've noticed often in Cappadocia is that the people who used to inhabit these caves used to make themselves little recesses in the walls for storage. I loved these little touches and the hotel had used them to display antiques and house unique lights.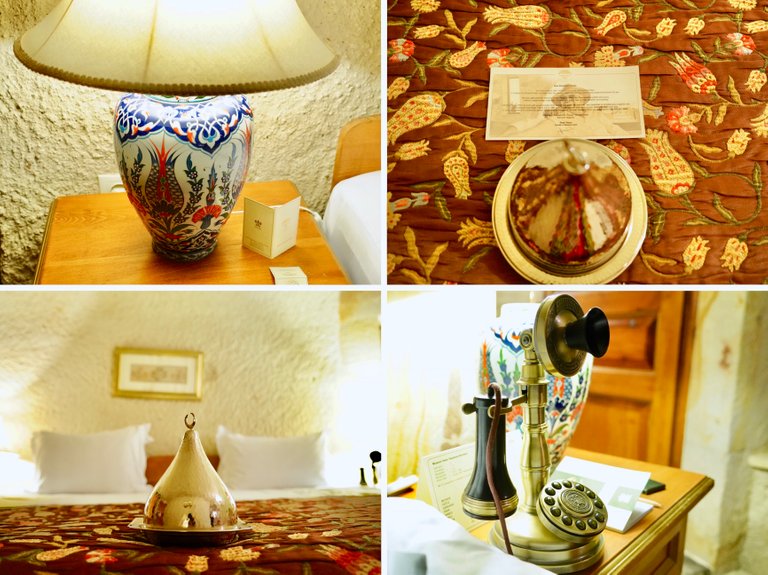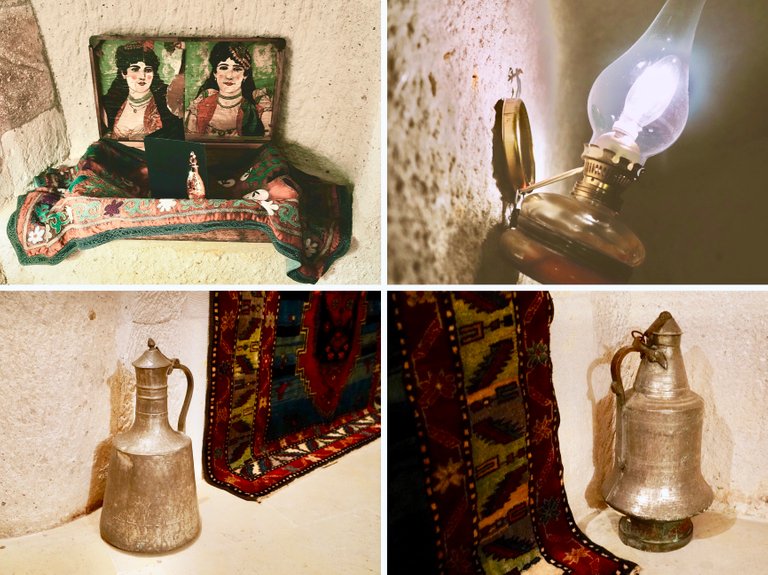 The attention to detail is really amazing. Everything from the lighting brackets, to the dressings on the little shelves and alcoves to be found in the original cave structure, felt like pieces of history. I have to say the hotel really does earn its name of Museum.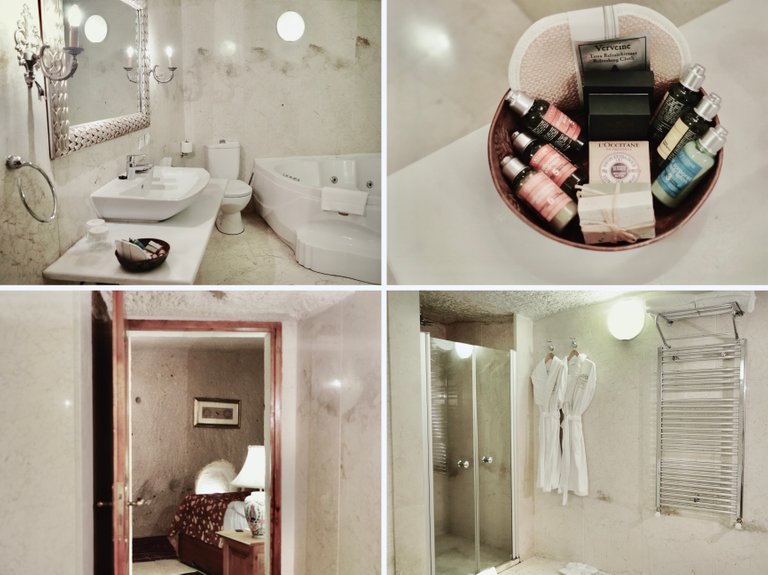 Venturing further in to my room I found the bathroom which was modern and bright. I thought it was so amazing that they'd been able to make a luxury bathroom out of this old cave which could have once been a stable or a store room! The quality of the finish was really high, and suited the hotel's luxury status. Imagine having a shower in a cave!
Much to my surprise, there was an adjoining room to my bedroom - a little snugly sitting room! Complete with authentic looking seating, and a not so authentic TV, this was a real luxury addition to the room. Who would have thought you could have suite of caves as your hotel bedroom.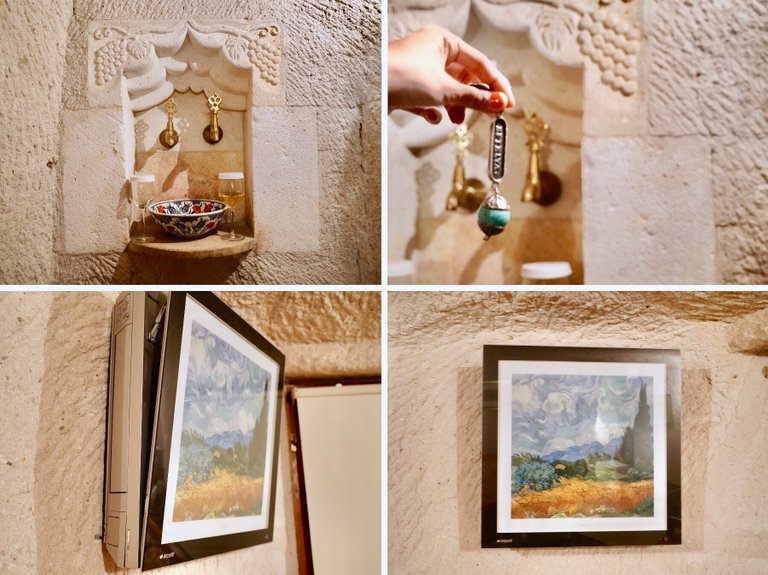 Finishing touches were everywhere in my room
Dinner in Lil'a Restaurant
---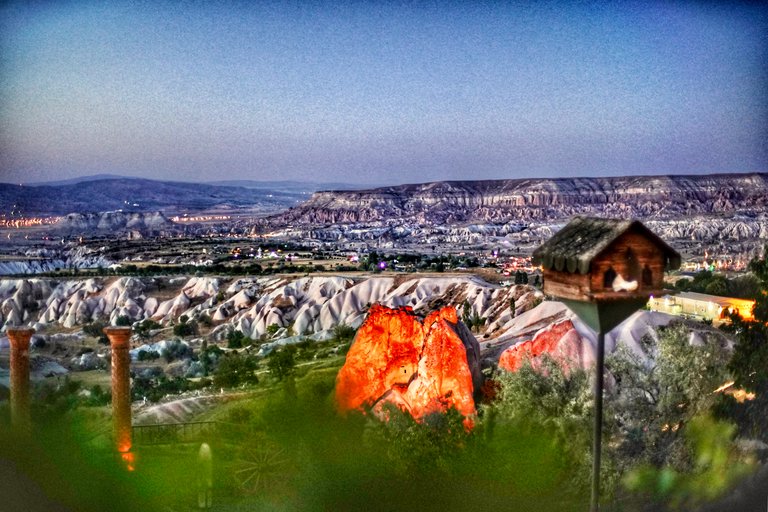 Heading out from my room for dinner, I was greeted by the sight of hundreds of twinkling lights coming on in the valley below me as the sun set. The rocks that were white in the day now bounce the orange and reds of the sunset from their faces and looked stunning. The flowing wave like patterns in the rock are seen more strongly as the sunset throws their shapes in to shadow.
The landscape of Cappadocia was formed millions of years ago when this region was dominated by three active volcanoes called Erciyes, Hasan and Melendiz Dağları. These volcanoes covered the area in ash and other volcanic substances. Over the next thirty million years, this rock has been worn away by the harsh weather of the central plateau to leave these amazing rock formations. To think that millions of years have passed and now I stand here staring out at the majesty created by nature. What a lovely sight.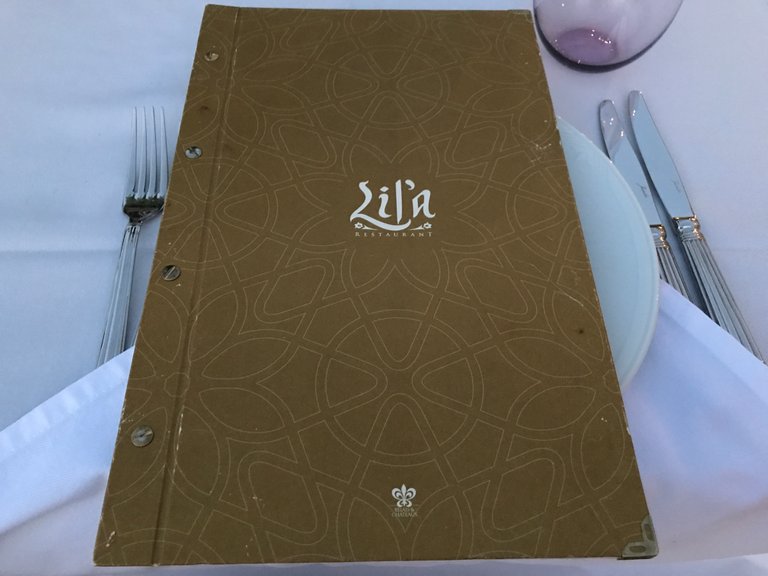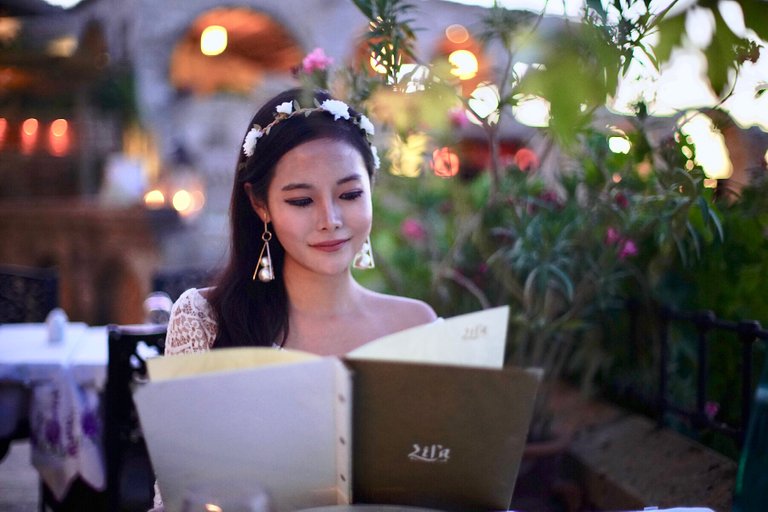 Lil'a Restaurant in the Museum Hotel is famous for its Turkish cuisine and prides itself on serving almost forgotten traditional dishes from the Anatolian region and Cappadocia itself. Their head Chef Çağrı Erdoğan is considered one of the most successful chefs of recent times in Turkey. With the Relais & Châteaux brand to uphold the quality of service is high and the setting is quite opulent. With much more of a French feel to the dining area with its huge fireplace and rich velvety curtains and table clothes, you feel like you could be in a French castle, albeit with some extra touches to remind you that you are in fact in Turkey.
Cappadocian food is richly diverse. Because this region has seen many different peoples come and go, from very different cultural backgrounds, the food has many different influences. The food culture is in fact very unique because of this and Museum Hotel does its best to help its guests explore all aspects of the region's history - including the food! Not only do you feel like you are staying in a place that is unique in this world, the food reflects this too and though many of the flavours are recognisable, the experience and tastes are wholly unique to the area.
Chef Çağrı Erdoğan quit his office job to become a chef, the place where his passion really lay. In 2013 he became the head of the first research and testing kitchen in Turkey called 'Alancha'. He spent much of his energy researching Anatolian ingredients and culinary culture.
He promotes Turkish food around the world in different events located in places like Italy, Spain and Greece, hoping to bring the food of Cappadocia to these other proud and distinct culinary nations. He brings this wealth of knowledge to Lil'a Restaurant for me to enjoy and takes great pains to get all of the ingredients from the hotel's 500-acres of organic farm land and from local bazaars and farmers.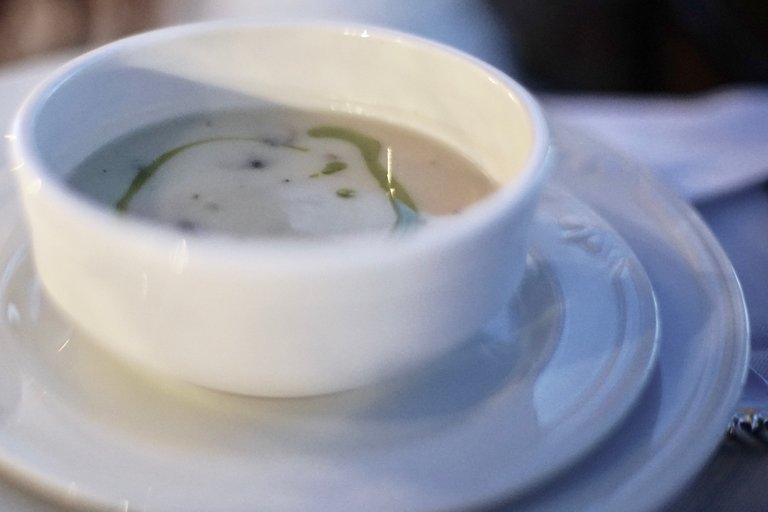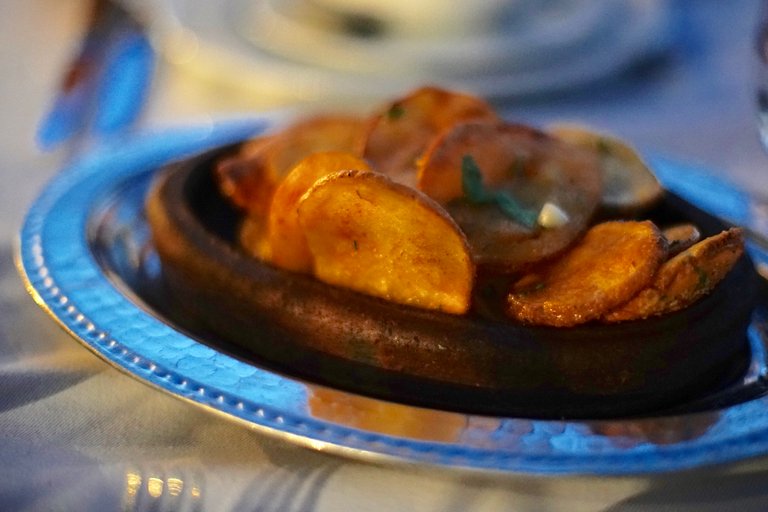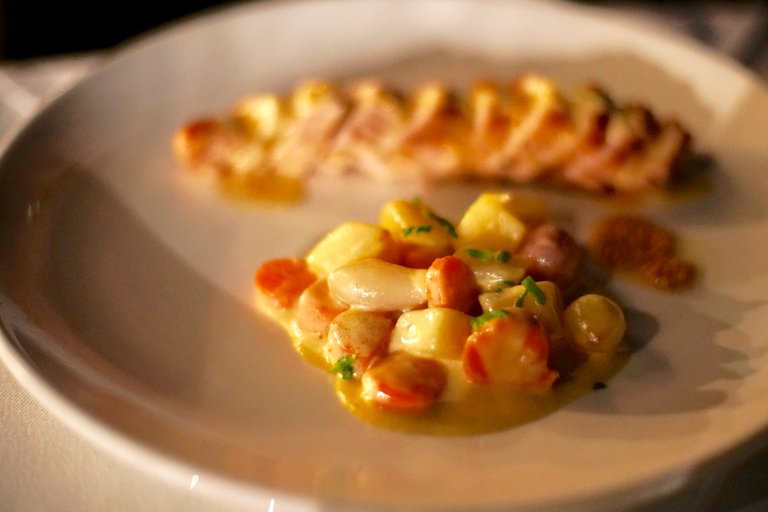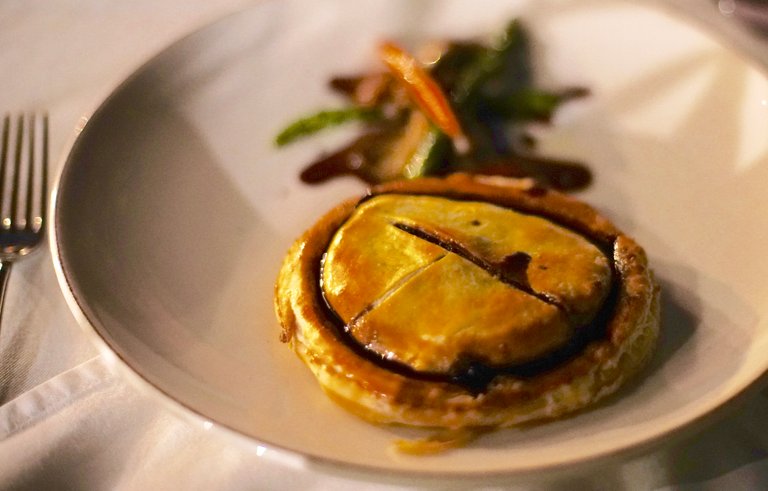 The food was really quite unique. Flavours both delicate and bold, it was all presented rustically, in keeping with its heritage. The presentation was kept simple because the taste of the food did all of the talking. Your taste buds told you all you needed to know about this food - that it was fresh, local, different and of a time and place you couldn't quite place in your mind.
I had not tasted flavour combinations quite like this and I really was able to take my time over each dish because there was a lot of variety of different dishes, without overwhelming you with too much food. I absolutely loved Lil'a Restaurant for its mix of French fine dining, rustic historical food and its modern twists.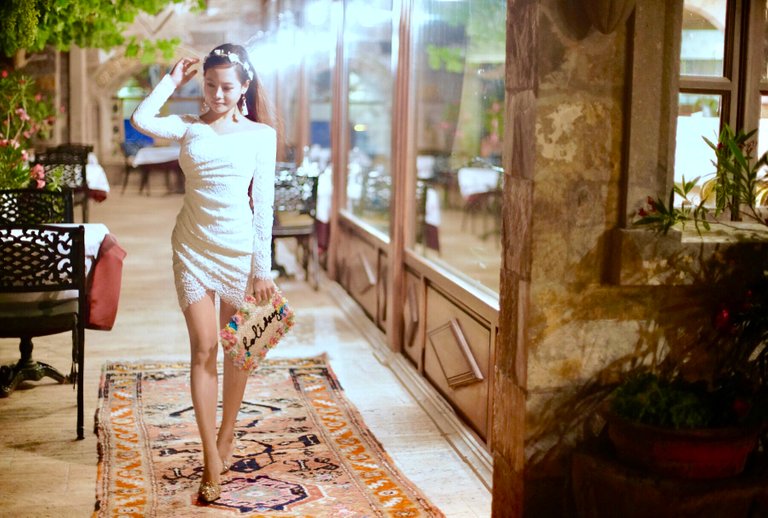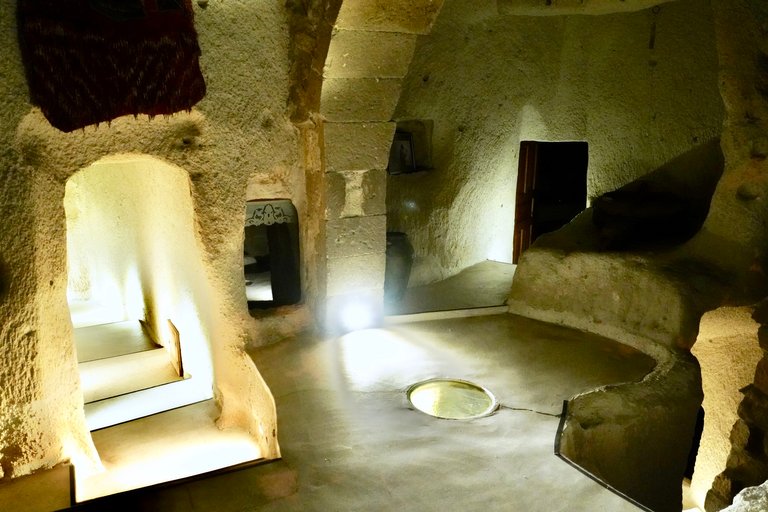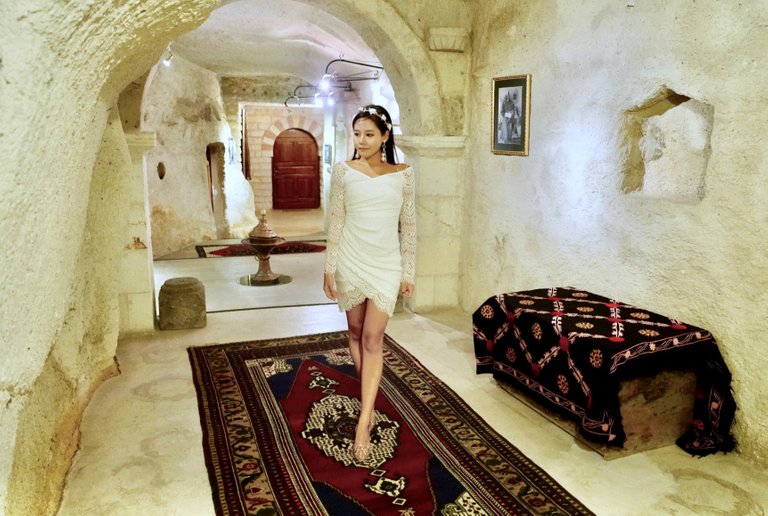 Winding my way out of the restaurant, the night had truly descended on the hotel and I was once again struck by the beautifully lit corridors of the place. You can see the labyrinth of the different rooms and corridors as they show off their ancient heritage. The rough cut walls in some places and the exposed brick work from other times in history are all shown off beautifully by the tasteful lighting. I got a bit lost actually and on my way back to my room I popped out on to a terrace by accident, to the beautiful sights that you will now see!
My pool by night light
---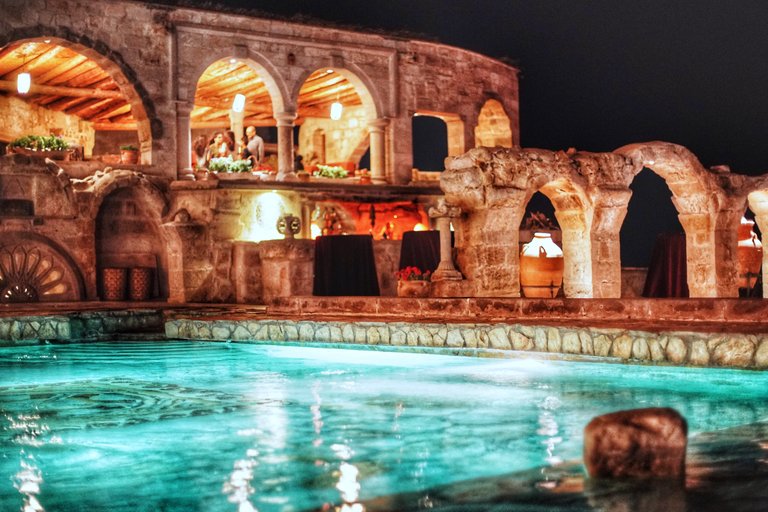 As I made my way back to my room I accidentally came back outside to find myself next to the swimming pool once again. I felt like I was in a fairy-tale. During the day, you are encouraged to look out from the pool upon the view, but at night your eye is drawn back to the hotel. The architecture, lighting and antique vases and urns make you feel like perhaps you're in a fantasy mix between Italy and Egypt. A place and time you cannot quite place. I think I must let my photos do the talking here because I am actually a little bit breathless just looking at them and remembering the atmosphere of happily stumbling across the beautiful terrace area at night.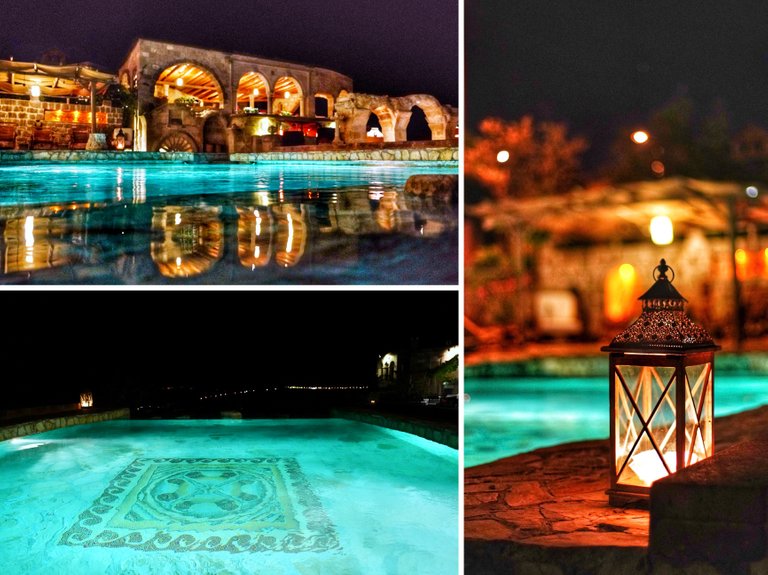 Stone arches, mosaics and lanterns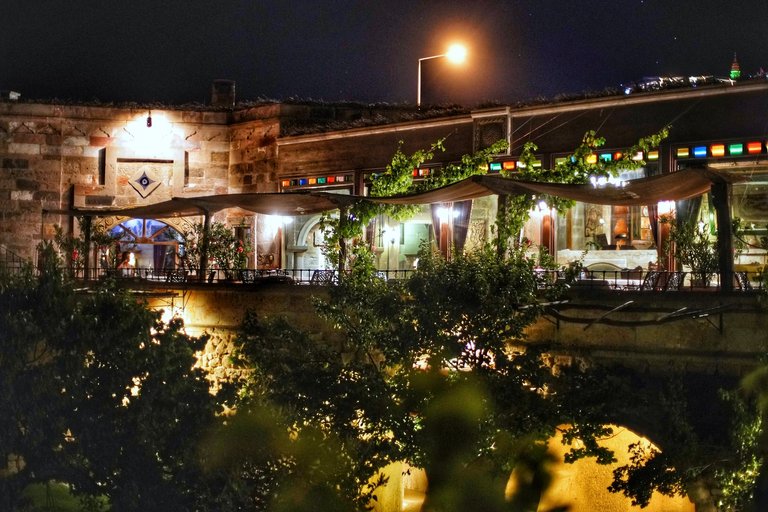 One of the hotels many terraces lit up at night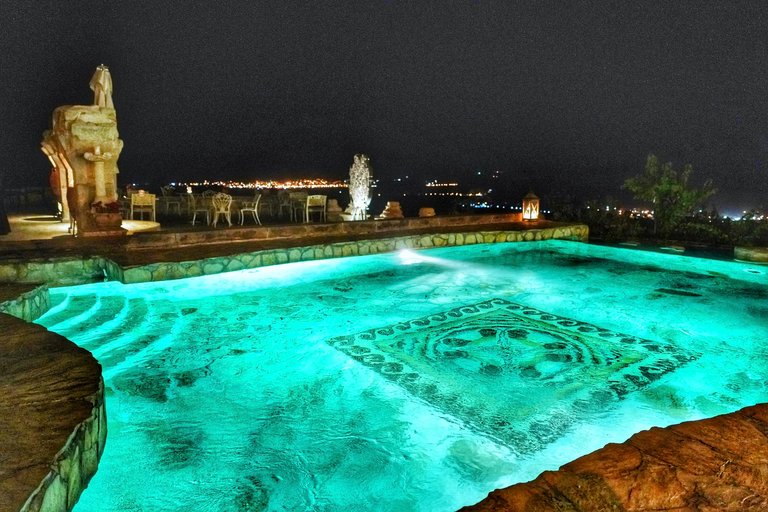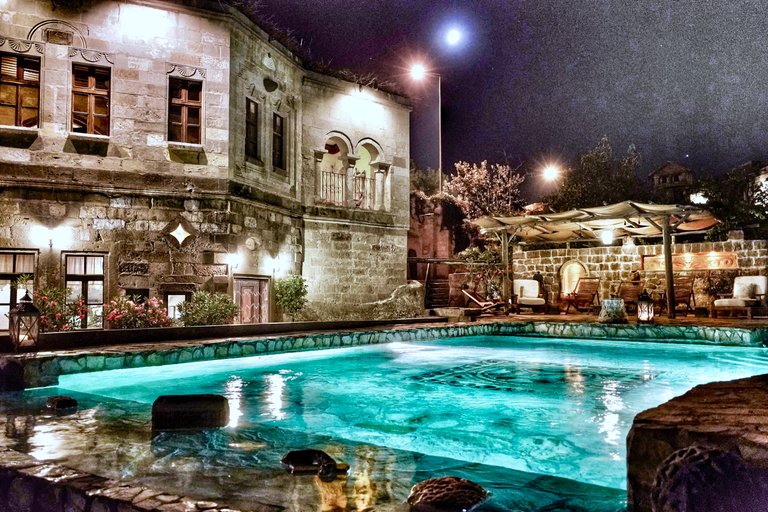 Rustic stone work of the ancient buildings behind the pool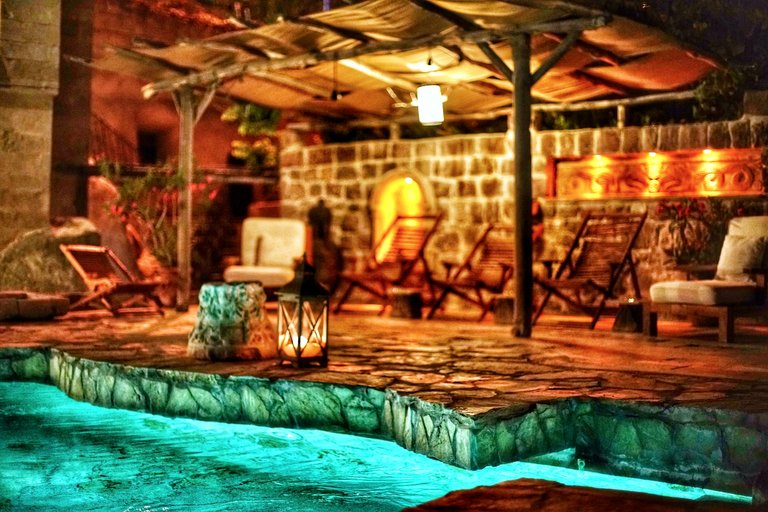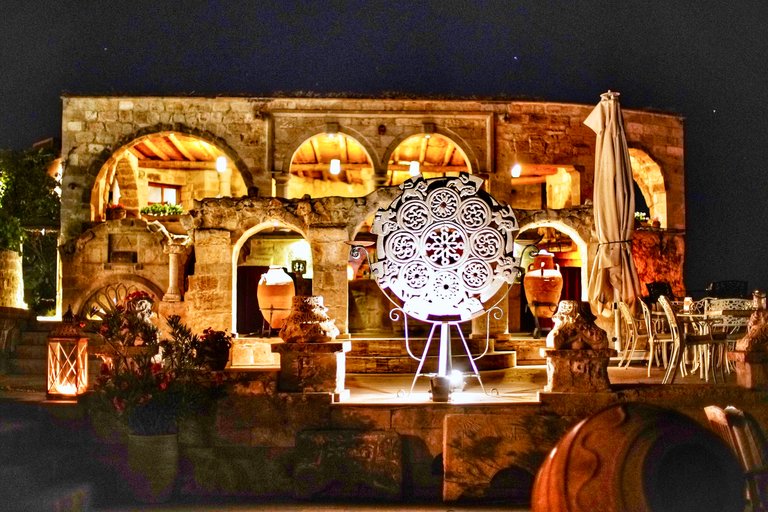 Beautifully lit antiques and sculptures surrounding the terrace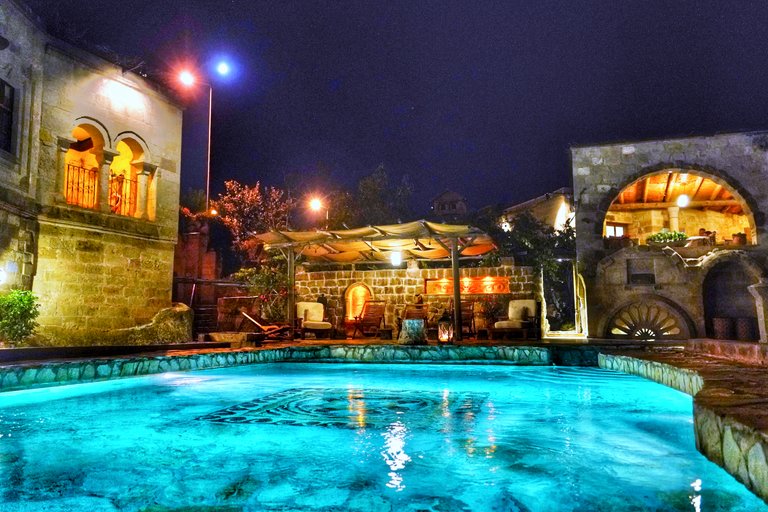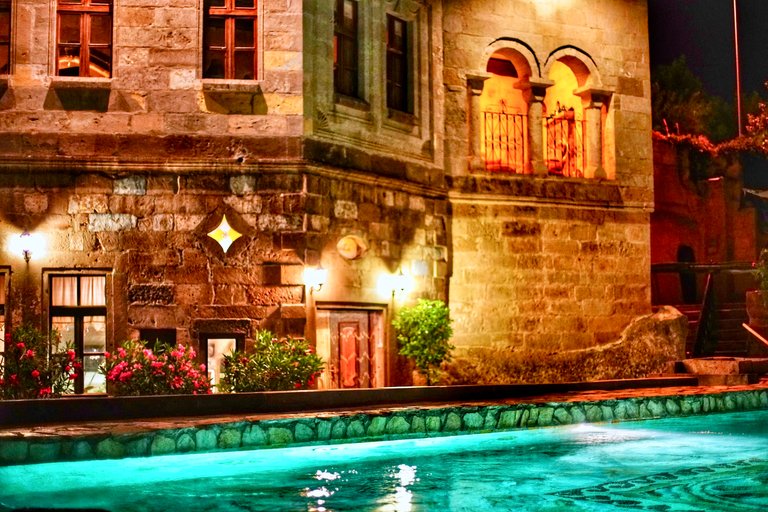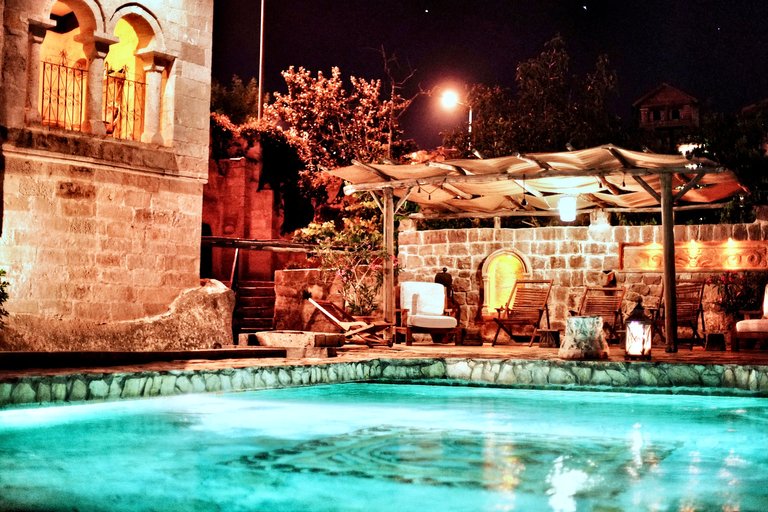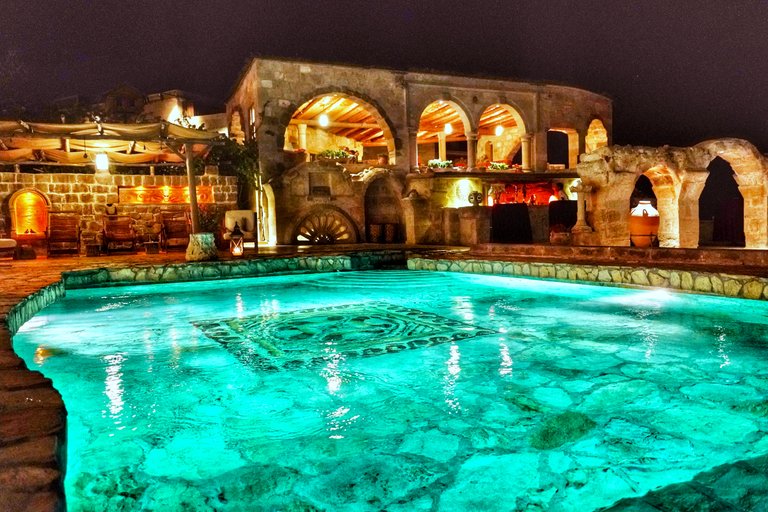 ---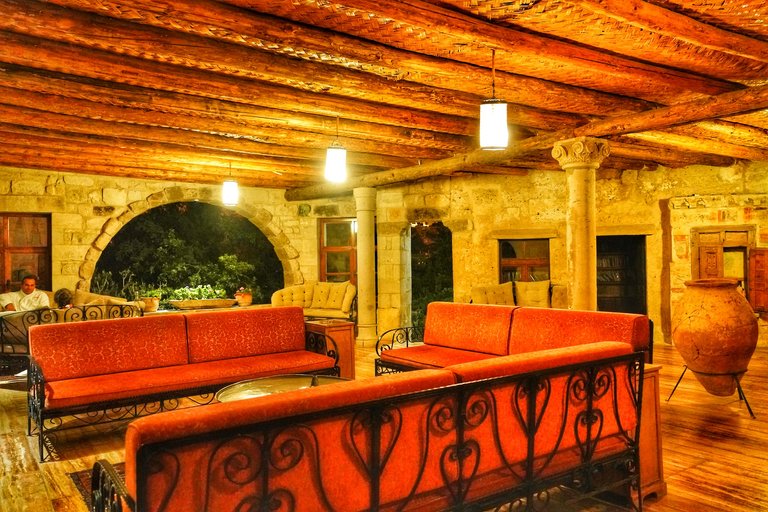 I was intrigued by the archways I could see from down by the pool. There were a couple of people walking around up in those archways and I thought that the view down to the pool must be lovely from up there. As I made my way through a couple more corridors and up some stairs, I found myself up in one of those archways. I was delighted to find a little area for relaxing with a drink.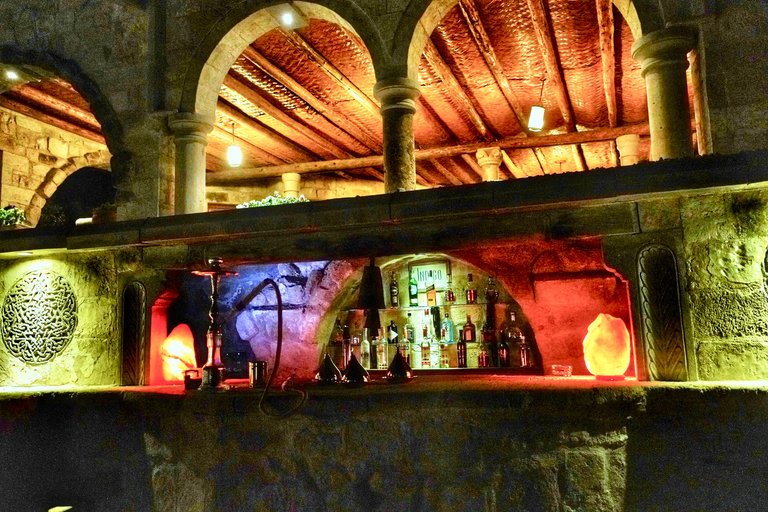 The bar had been built in to one of the many ancient archways of the buildings of the hotel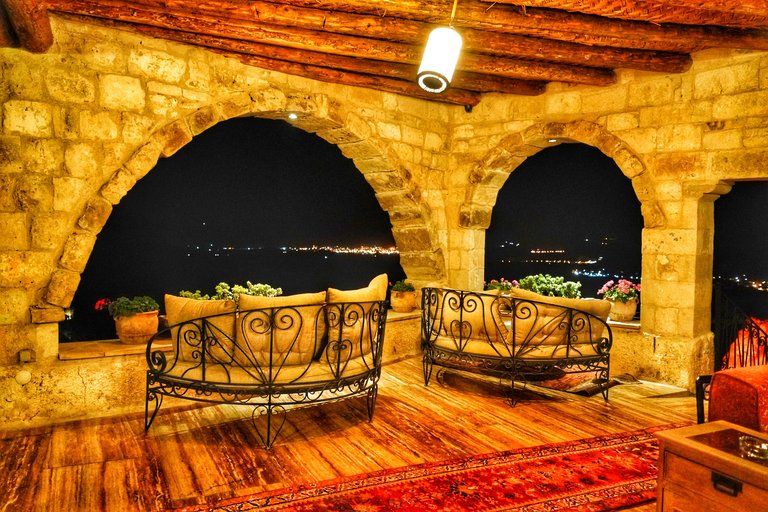 Seats with a view!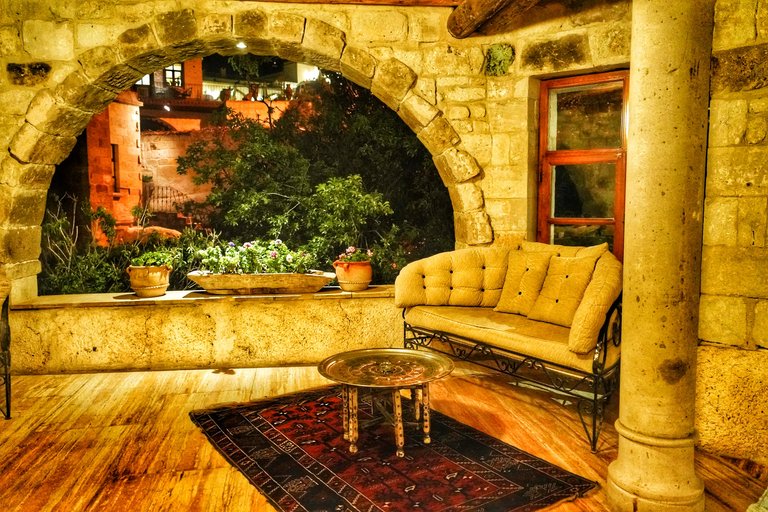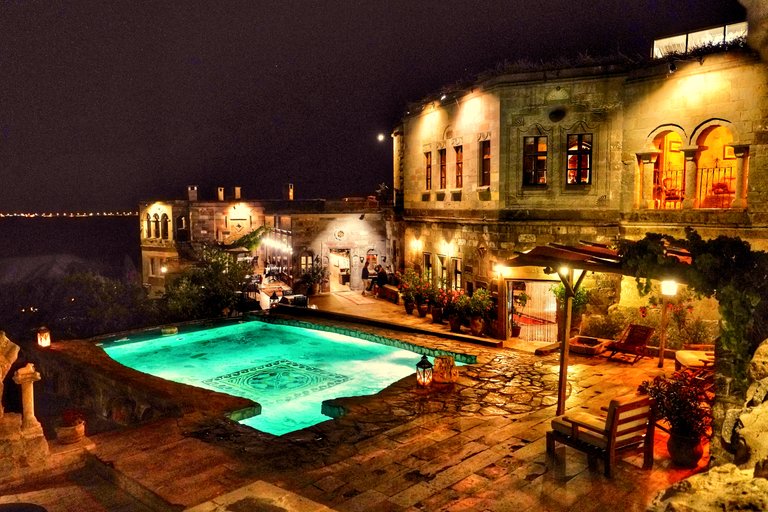 Breakfast in an ancient cave dwelling
---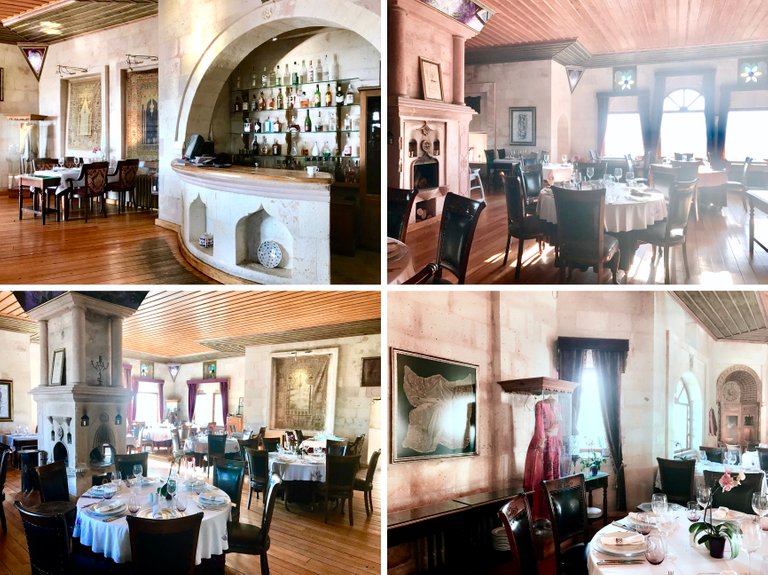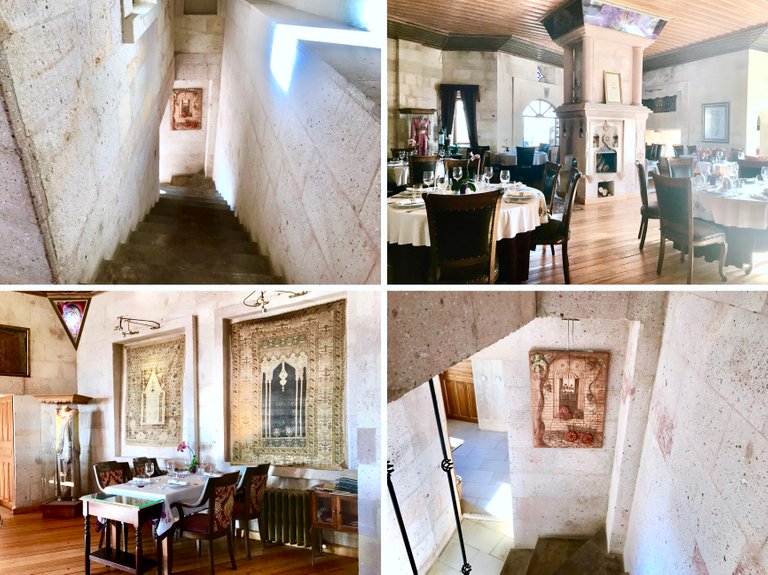 After a very late night exploring the hotel's corridors, archways and terraces by starlight, I was up a little late for breakfast which was held in one of the many ancient cave dwellings that make up Museum Hotel. Before I went to get my food I wanted to go and properly explore the restaurant in the morning light - last night I was a little bit too occupied with how beautiful the food was and I didn't think I gave my surrounding the proper attention.
In the day light I started to notice many more features of the room that I had missed the night before. Each wall was adorned with stunning art work, many set in frames or alcoves in the stone. There was even an antique dress in a display case which I thought looked very regal. The more I looked around, the more surreal it was. I felt like it really was a museum more than a dining room and I spent quite a bit of time before I even went down to eat my breakfast just looking around at the different exhibits. It's quite strange to eat your food with glass cabinets full of antiques next to you I have to say!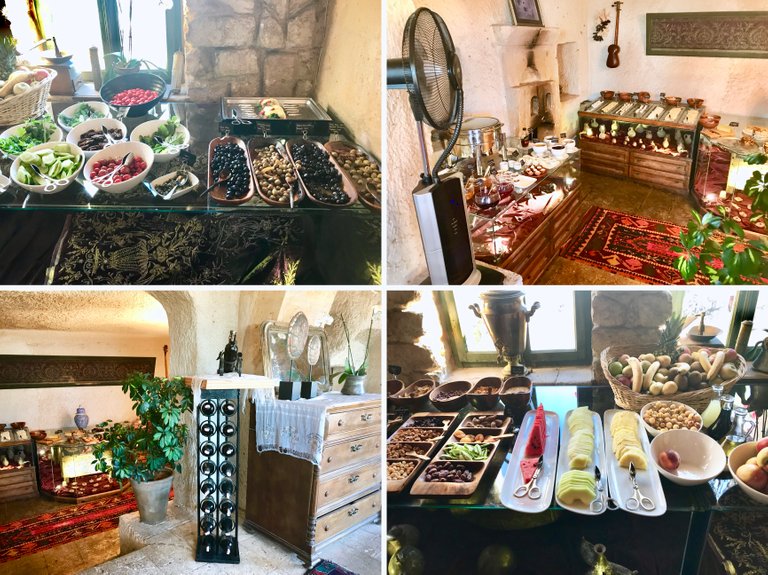 Breakfast was served down in one of the ancient cave dwellings, and the breakfast itself was served on top of display cabinets that displayed many ancient artefacts found in the caves! I almost didn't notice them at first, because I was enticed by the food. I would describe the breakfast at Museum Hotel to be Turkish Continental.
There were a lot of fresh fruits and baked goods, but there were also loads of nuts, olives and cheeses too. The flat breads served were typical of the region and there was even an area of the dining area that had a woman in somewhat traditional dress making foods in a traditional style.
I was fascinated by the parallels to a more traditional continental breakfast and the beautiful Turkish foods that were mixed in with them. I thought this was a really interesting and different breakfast that I was really looking forwards to enjoying, once I'd managed to make a decision on what I actually wanted! And then I noticed the food was served on top of museum display cabinets.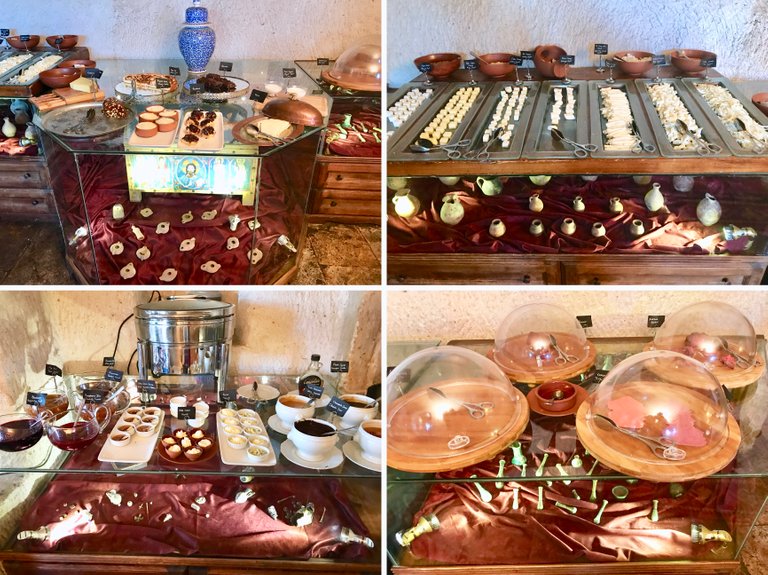 I forgot all of the food very quickly because I realised that each 'table' with food on was in fact a display case full of ancient artefacts and pottery. What is this amazing idea! Where just moments before I had been wandering from 'table' to table looking at the food, I now started wandering between display cases and completely forgot the food. There were little pots, serving implements, hair pins and many many more things that I couldn't identify. What a unique experience to be actually having your breakfast in a museum!
I decided I would go and enjoy one display case and look at all of the antiques, and then I would choose some food from on top of the cabinet. I then went to the next case to enjoy those antiques displayed there, and then get some food from that cabinet. I did this until my plate was full to bursting and I had a really lovely time even just picking the dishes I wanted to eat and I hadn't even started eating yet!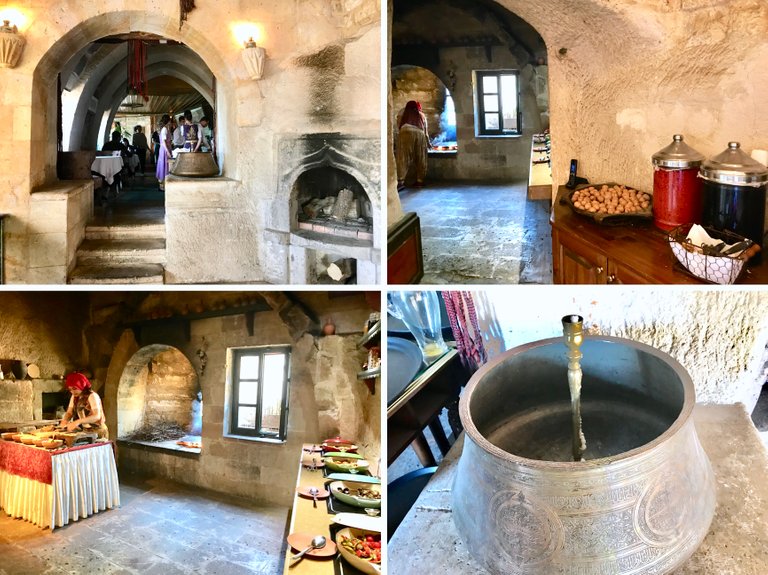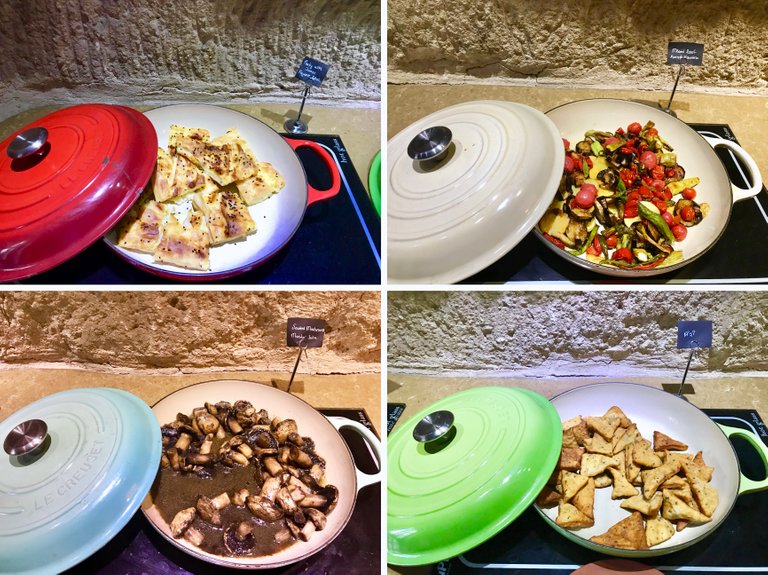 Traditional breads and dishes, cooked fresh by the chef
A closer look at the antique pottery and artefacts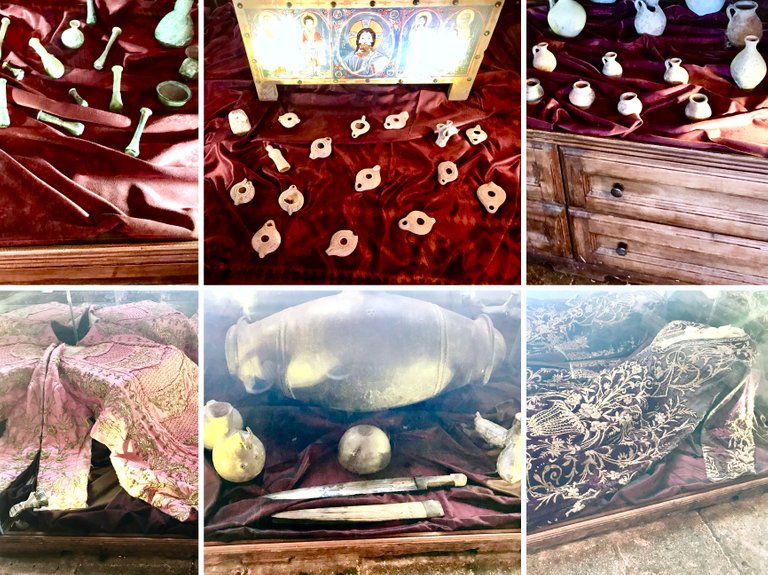 Ancient clothing, utensils, pots and knives
And so my stay ends
---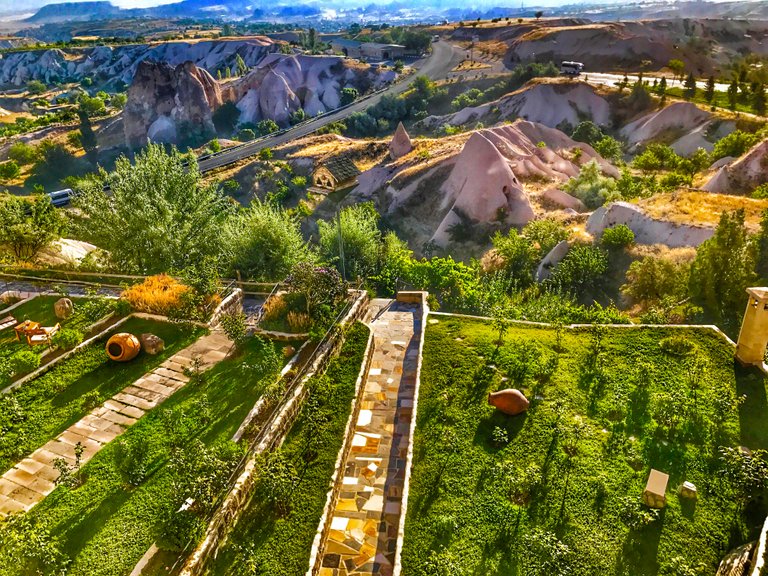 I had a wonderful stay in Museum Hotel Cappadocia, with its majestic views, rustic atmosphere and luxury amenities. I found it very difficult to leave so I took some time just after check out to finally explore this beautiful setting and the landscape around it.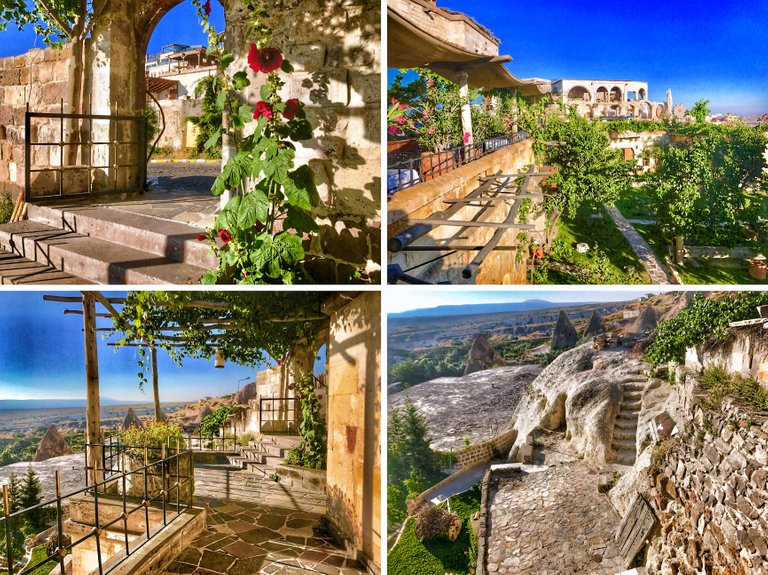 I wandered a long the many out door terraces of the hotel to look down at the gardens and the views of the many rock formations that spread out in the valley below the hotel. The mix between the greenery and colour of the gardens with the white and yellow of the ancient rocks is really beautiful.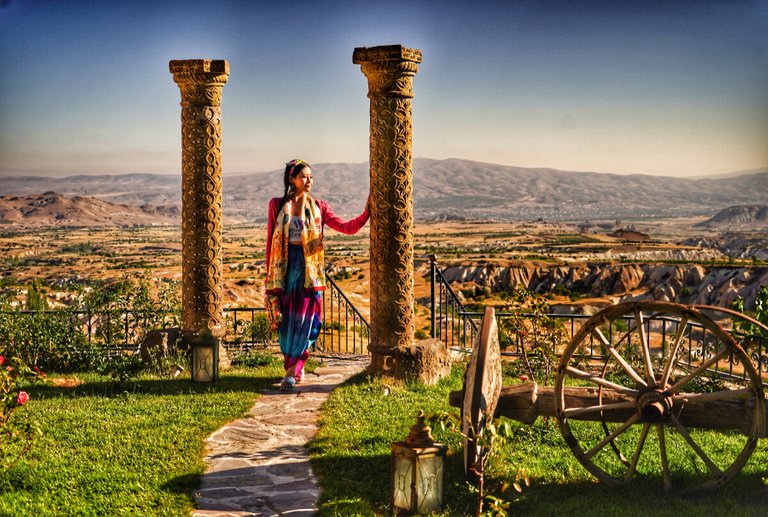 As I stood to admire the view I felt a little sad that I would be leaving this special place and its wonderful atmosphere. I felt like this boutique little hotel had quickly become like a home even though it was for only one night that I was able to stay. Perhaps it was its mix of rustic gardens, homely but tasty food and its beautifully furnished rooms and corridors that made it feel so relaxing so quickly. Perhaps it was the antiques that you found everywhere, many of which tell the story of Cappadocia and its long habitation. There was beautiful art, yes, but also hundreds of items from the daily lives of the people who once lived here. I think that is what makes you feel so welcome here.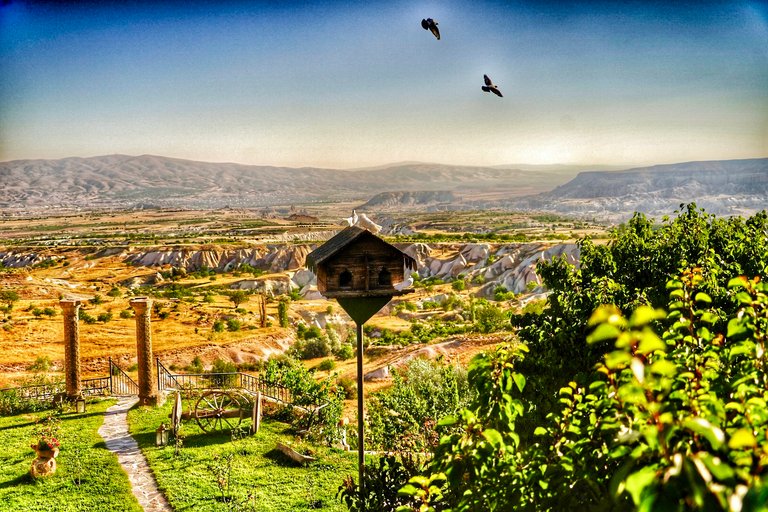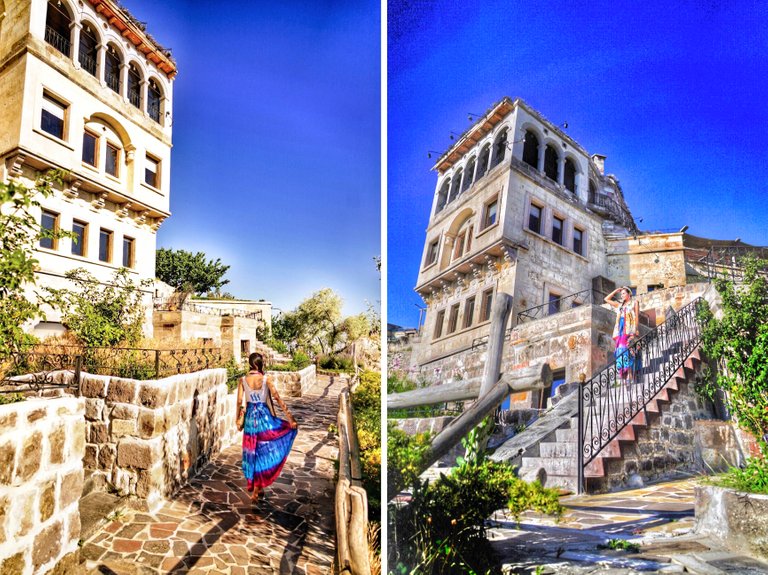 Goodbye Museum Hotel Cappadocia. My favourite part was definitely the beautiful pool by night but hand in hand with that was the terraces and corridors that made you feel like you were lost both in a maze and time itself. Each twist and turn was a joy because it revealed either a new view of the stunning landscape of the Anatolian Plateau or some beautiful little trinkets and antiques in display cases and on the walls.
There are not many places in the world where you can stay the night in a museum. There are even less where the museum itself is also a living history of the area and its people, being situated inside ancient caves and stone dwellings. The whole experience was magical and still lost non of its luxury for all of the history and rustic charm.
If you liked today's big adventure, please leave a comment and let me know which bit you loved the most. Of course, you must also follow me to see more of my adventures as I continue to explore and live life. Thank you for all of your support with your comments, follows and votes!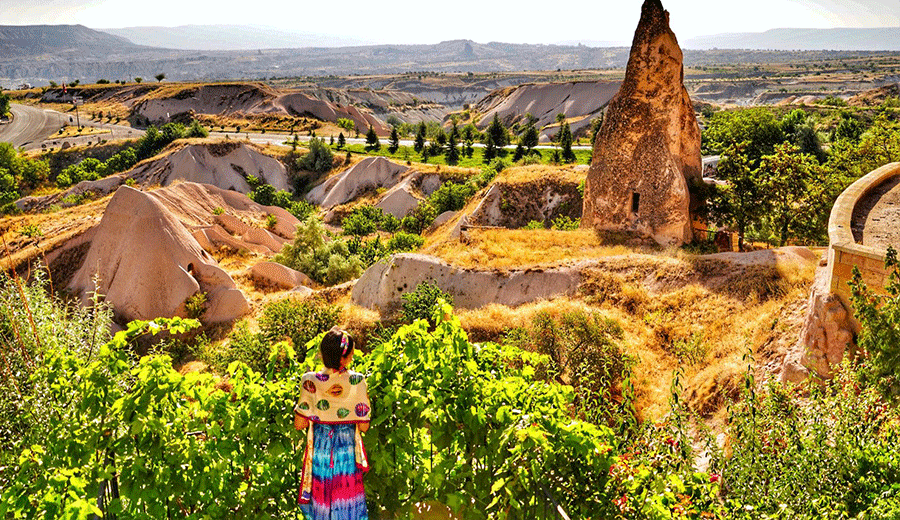 ---
在旅途中,除了目的地带给我期待已久的美丽风景,在沿途中遇到的惊喜,甚至是一家酒店,也会成为整段旅程里最不凡最难忘的景致,它们都是我旅途故事的一部分。
这次来到土耳其,就有一家酒店惊艳到我,让我有了意犹未尽的感觉。这家酒店叫做"博物馆酒店"。一开始听到这个名字的时候,浮想联翩,一直幻想住在博物馆里的感觉,会不会像那部《博物馆奇妙夜》的电影一样,在晚上的时候遇到什么神奇的故事?
我知道现在在世界上的很多海洋馆里,兴起了夜宿海洋馆与鱼共眠的活动,让人们体验到夜晚海洋的魅力。而在卡帕多西亚的"博物馆酒店",可以与古董和艺术品共眠,绝对是最为独特的体验呢。从卡帕多西亚的行程一开始,我就对于入住博物馆酒店非常期待。
【物馆酒店的前世今生】
这家酒店其实与中国也有着特殊的缘分,因为国内著名的两个大型明星自助远行真人秀节目《花儿与少年》和《花样姐姐》,在2015年旅行到卡帕多西亚的时候,都曾入住过这里。所以这家酒店也得以时常出现在中国的荧屏上,被国人逐渐熟知并且名声大噪。这次我也选择过来朝拜一下这家美到心跳加速的酒店,亲自感受这片千年历史的土地,看看是不是真的象许晴所形容的那样,这家酒店给了人们甜蜜恋爱的浪漫和幸福感。
酒店位于Uchisar小镇,比Goreme幽静许多,就像是世外桃源,而博物馆酒店坐拥着绝佳的地理位置,位于卡帕多西亚至高点乌奇沙教堂下面的山坡上,在这里可以饱览卡帕多西亚最高的风景点,奇岩仙境上的日出与日落美景尽收眼底。在这片用石头烟囱撑起世界遗产美誉的土地上,博物馆酒店修建在这片拥有外星星球表面的千年历史遗址上,由窟窿和民居重建而成。2002年,经过5年的精心修复,如同变魔术一般,把火山石柱和洞穴废墟改造成为拥有30个独特房间的奢华精品酒店,把当地特色的穴居变成了至尊高贵的享受。在酒店的历史墙,我看到了修建前的样子,非常简陋,可以布置成现在的奢华感实属不易。这家酒店也是土耳其唯一的罗莱夏朵国际精品酒店联盟的成员,内部充满了浓厚的历史气息,随处信手拈来的装饰品都是跨世纪的古董。
据说这家酒店的老板Omer可是个名副其实的古董收藏家,用古董作为酒店装潢,还原真实博物馆的历史文化气息是让我最喜欢的地方,老板将毕生所藏,例如器皿、服饰、挂画和地毯都展现在了这家酒店内,可以让我全方位感受卡帕多西亚的民俗。酒店的露天花园式大堂,随处可见不少价值不菲的艺术古玩收藏品,这些古董都登记于内夫谢系尔博物馆。
【酒店的欢迎仪式】
当车子缓缓停在酒店门口,走过古色古香的石头门,就像穿越回了中世纪的古城,我不停的问自己,这里真的是酒店吗,这样气势非凡、极富仪式感的建筑,比古城还要神奇壮丽,我一时间很难把它和酒店联系在一起。走进办理入住手续的大堂,一排穿着土耳其精美民族服装的工作人员,正等着欢迎我,手上捧着的圆盘上放着水和湿毛巾,让刚从酷热的室外进来的我迅速降温,接着送上来土耳其最爱的软糖,装在一个尖塔一样的华丽银器里,还有特色梅子酒,这样极具民族特色的欢迎仪式就像是在迎接皇室贵族一样,让我惊喜不断。酒店有55名经过特别培训的员工,全方位照顾客人的需求,接着酒店的女管家,带着我细细解说,参观酒店的每一处风景。
【酒店花园露台】
第一个期待已久的画面,就是可以观赏到卡帕多西亚山谷的无敌全景露台。因为到的时间刚好是夕阳时刻,在夕阳的照射下,山谷披上了金色的外衣,层层叠叠,闪着颇有层次感的光芒,俯瞰这样壮阔的美景,就像电影镜头一般如痴如醉,仿佛与世隔绝,我的内心被深深的震撼到了。在这片宛若另一星球般奇特壮美的地域,无论在餐厅、阳台、酒吧或是泳池中,都可以欣赏到沟壑纵横的峡谷和连绵起伏的山峦。阿瓦诺斯,格雷梅,爱情谷,鸽子谷,红谷这些著名的景观都尽收眼底。
【酒店的泳池】
在布满鲜艳的植物和五彩缤纷鲜花的观景阳台旁边,就是酒店宣传照上最招牌的罗马风格绝美泳池。亲眼看到的比照片上更加惊艳,泳池底部画着一个充满异域风情的菱形图案,还有复古的斑驳痕迹,让我想起了不久前在棉花堡漂浮水中的古池,泳池的四周,用石头砌成了优雅的弧度,面向山谷的那一面是无边的,视野非常开阔,这样精心的设计真的很打动人心。泳池是一年四季,一天24小时都开放的恒温泳池,就算早晚温度稍低也可以泡在里面,所以我决定趁着日落红霞的美丽时光,泡在泳池里欣赏夕阳西下的盛况。飞了大半个地球,只为在博物馆的泳池沐浴夕阳的余晖,那一刻仿佛时间静止。看着夕阳渐渐消失在地平线格外浪漫,据说这里还被评为全城最美的日落观赏点。拿起相机,随手一拍,酒店的每一个画面都像油画般迷人,好羡慕这里的工作人员每天都可以在绝美的油画里漫步,相信他们生活的幸福感一定很高。
【酒店花园】
酒店随处都是一个漂亮的秘密花园,绿草如茵,在里面散步还会不小心碰到酒店的野生动物小主人,小乌龟、鸽子和好像参加过选美的孔雀,仿佛置身于爱丽丝梦游仙境,一只金色的狗狗一直跟着我,好像热情好客的一家之主,迫切的想带我参观它生活的世界。在这里你可以近距离了解独特的岩石建筑,那些日积月累,在风雨侵蚀下自然形成的奇嶙异石,把它们当作世界遗产细细参观,也一点不为过。走进低矮的石门,洞内豁然开朗,别有一番韵味,厅堂宽敞而灯盏幽幽,营造出人们返璞归真,回归原始洞穴的那种奇妙氛围。
【酒店房间】
紧接着酒店的美女管家带着我走进了这次入住的房间,这家酒店的30个房间都是设计师根据当地的洞穴和房屋形状,量身打造出来完全不一样,并且独具魅力的房间。最特别的地方是,美女管家告诉我,这间房间是用老板前半生爱人的名字所命名,我们的房间叫做Eftelya,听起来像个女神的名字,哈哈。让我非常震惊的是,连走廊过道和我的房间里,也到处是价值连城,乃至无价之宝的古董。我的房间是一个独特的迷宫式洞穴,并且处处藏惊喜,床上摆着管家准备的糖果和巧克力等小零食。洗手间里的卫浴产品是欧舒丹,酒店非常体贴的呵护着每一位客人,超大号的按摩浴缸一定会给疲惫的旅行者身心上最大的安慰。
接着我们来到了客厅,看见了墙上竟然有个非常古典华丽的水龙头,美女调皮的让我猜这是什么?我很疑惑,走过去试着打开,竟然发现流出来的不是水,巧妙藏于岩壁后的竟然是葡萄酒,拧下黄铜铸造的龙头,就像开热水和凉水开关一样,散发着酒香的佳酿便会缓缓流出,香味弥漫了整个房间。左边是白葡萄酒,右边是红葡萄酒,并且是无限量任喝的。这对于爱喝酒的朋友们来说应该是天堂了吧。这种最原始喝葡萄酒的方式,给我留下了深刻的印象,也为这段旅程增添了无限的乐趣呢。
【酒店的精品屋】
在这个酒店,似乎可以挖掘的神秘角落真的太多了,都快看不过来了。管家带我参观了酒店自带的24小时的精品店,如果你对于酒店的小摆设爱不释手,就可以把这民族特色的小银器等酒店周边产品带回家啦,当然还有美女管家同款的"花仙子"民族服饰,土耳其地毯,手帕,绘画等当地特产也可以带回家。接下来管家带着我走上了整个酒店的最高处,竟然是一个全景观景平台上的Spa中心,想象一下在这里做Spa,应该会舍不得离开了吧。
酒店的夜景静谧而迷人,美到心碎,我爬上屋顶阳台,俯瞰蓝绿色宝石一般的泳池,酒店的岩壁上也亮起来灯光,绚丽无比,非常有情调,仿佛只有在梦中才能遇到这样美不胜收的景色。夜晚我坐在楼顶的酒吧欣赏美景喝着咖啡,很是惬意。
【酒店的餐厅】
酒店的餐厅名叫Lil'a,是对外开放的,不住这里的客人也可以来,不过需要提前定位。这家餐厅也延续了博物馆主题,右侧墙上挂的那幅是他们的镇馆之宝,出自数百年前阿塞拜疆的手工编织毯。在这里我品尝到了各式新鲜丰富的当地美食,酒店还自己拥有一个生态菜园,以及200亩农庄,在这里产出的鸡蛋、葡萄酒和100%有机蜂蜜专供自己的餐厅,让顾客的餐桌布满了最美味和天然的菜肴。餐厅主打现代与经典相融合的土耳其菜,在这里也可以尝到一些土耳其即将消失的美味。
清晨的阳光洒在露台上,格外清新,酒店原生态花园里种植的天然蔬菜和水果出现在自助早餐的区域,土耳其特色的饼,各式各样的面包甜点,小菜还有各种火腿和熟食,味道很新鲜美味,更惊讶的是,在摆放自助餐的盘子下面,放满了老板收藏的古董瓷器铜器,吸引了我的目光,本身食物的鲜美已经够诱人了,再加上摆放食物下面的玻璃橱窗,那些抢镜的古董,让我的一顿早餐吃了很久好久呢。
今天的博物馆酒店与美食之旅就要告于段落了,希望大家可以享受到这家酒店的风景与乐趣,之后还有更多精彩的故事想要和大家分享。
My video is at DLive