I have always felt that a person's perception is everything... it shapes the way you think, the way you feel and what you do. Sure, your perception can and will change based on the experiences you have in life. One may perceive the world to be a lovely place and then something tragic happens and your perception changes. It can happen quickly.
This topic is kinda reminiscent of the fear topic we wrote about. We about to get deep. I can only draw from my own experience and when I think of perception... I think about the way my brother's perception is way different from mine when it comes to the subject of my mother.
My mother wasted no time getting pregnant again after having my brother. He and I are only eleven months apart. My brother wasn't even a year old when I was born. We lived with my parents till the ages of 13 and 14... and although we lived in the same household, with the same people, for just about the same amount of time... our experiences are completely different and therefore, so is our perception.

On the outside, people would perceive us as a normal, middle class family. Mom and Dad with a son and daughter... and if you came to visit, you were met with what seemed to be a loving and caring family. We played Dungeons and Dragons, Chess and Monopoly. On the weekends, we would have family outings and spend some time in the city going to French Market and Cafe Du Monde.
On the inside was a different story. My brother suffered emotional and physical abuse from my father, while I suffered emotional and sexual abuse from my father. My father, I believe, would have these brief moments of guilt and would try to be a father. He had a huge hand in giving me the appreciation I have for music and books. When he would work on his GTO, I would be out there helping him. Those moments were brief and rare and the monster was never far away.
My mother on the other hand... the good moments she and I shared were even more rare. My brother nor I suffered any abuse from her. Sometimes, when we had days off of school I remember sitting on the sofa with her, eating lemons and salt while watching her favorite soap opera. I remember her dancing the robot to "Freakazoid" during a Halloween party but other than those, the memories of her are ones I'd rather forget.
My mother and my brother had a different relationship, I'm not going to pretend that I remember a whole lot but things I do remember, she was always there to help him while I was pushed off to the side to figure it out on my own. That was my perception anyway. They seemed to be close, she was always there for him while I sat there on the sidelines longing.

Fast forward to the present. My mother has been gone for almost 30 years and it wasn't until I became a mother that my perception about my own mother changed. I always tried to give my mother the benefit of the doubt... being as young as I was and not knowing the real situation between my mother and my father, I was always easy on her for not being the mother I needed. When I became a mother, all of that changed. When I looked into my son's eyes I could not understand how my mother could do what she did. When I told her about the abuse, she did nothing. It got swept under the rug never to be brought up again. All the other things that I longed for didn't seem to matter as that alone was enough to change my perception. The minute I looked into my son's eyes, that's the moment I hated her and vowed to protect my son at all costs. That's what a mother is supposed to do right?
My brother, having a different experience puts my mother's memory on a pedestal. His perspective of our mother and our family life surprises me sometimes. I have to remember that even though we lived in the same house, his childhood was very different from mine. I don't have the heart to argue with him and explain to him why his mother is trash in my eyes ... sometimes it's better to leave those skeletons in the closet, because honestly, what purpose would it serve now?

Here's a side note... I found out as an adult that my parents had another child, a boy. I had another brother. The weird part of this story is they gave him to my grandparents to raise. We grew up thinking he was our uncle... our younger uncle. He found out after my mother passed and after my father was in prison that those were his parents and we were his siblings.
Imagine that for a second... you find out that you were adopted by your grandparents... your birth mother (who you thought was your sister) is dead, your birth father (who you thought was your brother in law) is in prison and you despise your siblings (who you thought was your niece and nephew) because you think they lied about everything. You see, when he found out about his birth parents, he went straight to his father which is also my father and he believed all the lies that my father told him. I tried to reach out to him, he couldn't be bothered and told me that he wanted nothing to do with a lying (C U Next Tuesday), and that was the last I spoke with him.
I can't hate him though. Even with everything I've been through I can't imagine what it's like to have that kind of news thrown in your lap. Can you imagine what news like that did to his perception? Maybe it's better that I don't.


This has been my Drop in the Ocean post about the topic of Perception for the awesome BuddyUP community.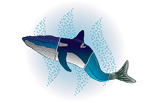 Cool Electric Divider