I've not done this before, an urban exploration, post and I'm not altogether certain how it's all supposed to be, what exactly I'm supposed to do...So, I'll just do what it is I always do and see what happens I guess. I may earn blockchain derision and if so I'll wear it...But maybe there's something interesting to see here and my effort will be vindicated.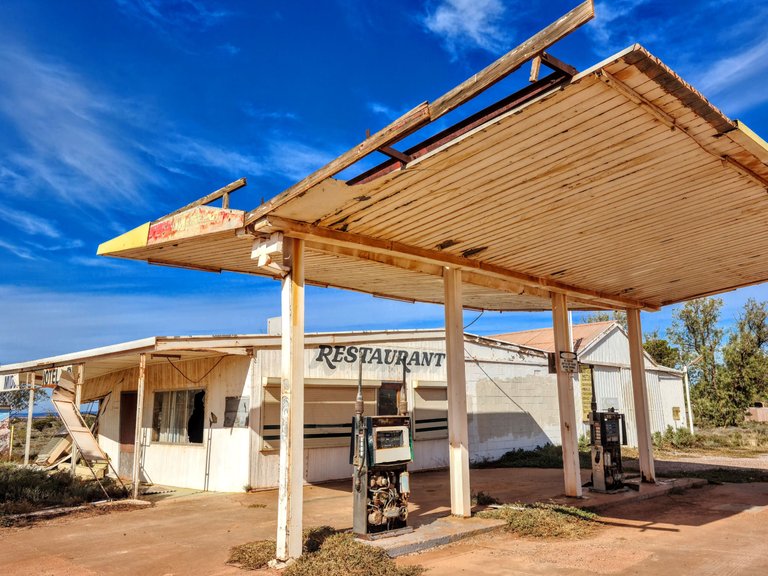 Iron Knob
This old mining town lies three hundred and eighty kilometers north of the capital city of Adelaide, pretty much in the middle of nowhere. It has been around since the mid 1800's and was built up around mining...Iron ore mining in fact...As if the town's name wasn't clear enough. Since 1900 it's been an active mine although was closed in 1998 and remained so until it was re-opened in 2015. It is still in operation today.
The town was a thriving little place a hundred years ago with a lot of investment pouring into the mining operations and, of course, the mine workers needed housing, facilities and other infrastructure. But like so many small towns its fortune was directly linked to the mine and with its closure people left and the town fell into disrepair. It's quite sad.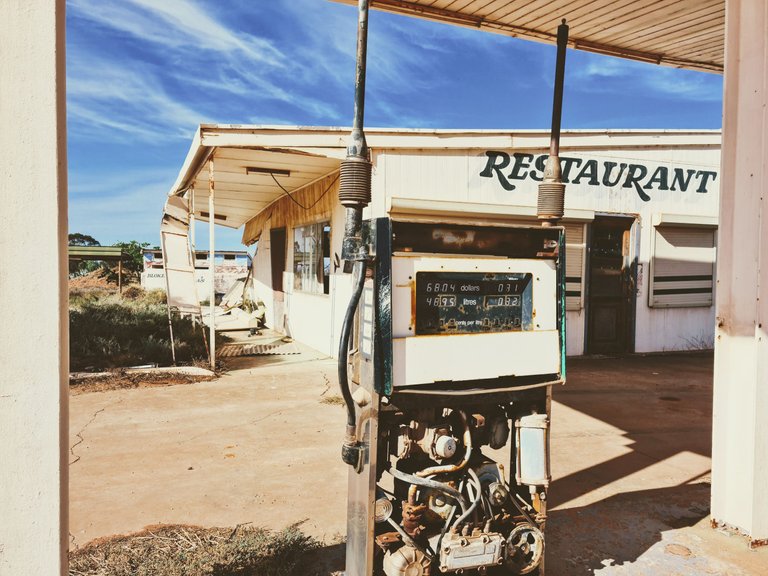 I was there yesterday, my first time in the little town and...Well I guess ghost town is an apt way to describe it. The whole thing feels very old and forgotten with nothing in good repair. Houses are held together with sheets of iron, stacked bricks and old car parts and everywhere one looks is the detritus of many years of human occupation left laying where it fell.
It is derelict and decayed but still a few live there. Some 100 people call this place home but there's no shops, no facilities and, it felt to me, no hope. It felt like a very sad place.
Mine tours operate out of the town and if you've never been into a mine it's worth a look but you can't book in the town, that has to be done eighty eight kilometres away in Whyalla...I know right? I've been into mines many mines so I didn't do the tour, but I found this place which was also cool.
Iron Knob Roadhouse and Motel
I'm not sure what the word roadhouse means to you but here it means a petrol station that offers other things like food, mechanical services and sometimes accommodation - They're a dying thing these days and in line with that this one is too...Well and truly dead.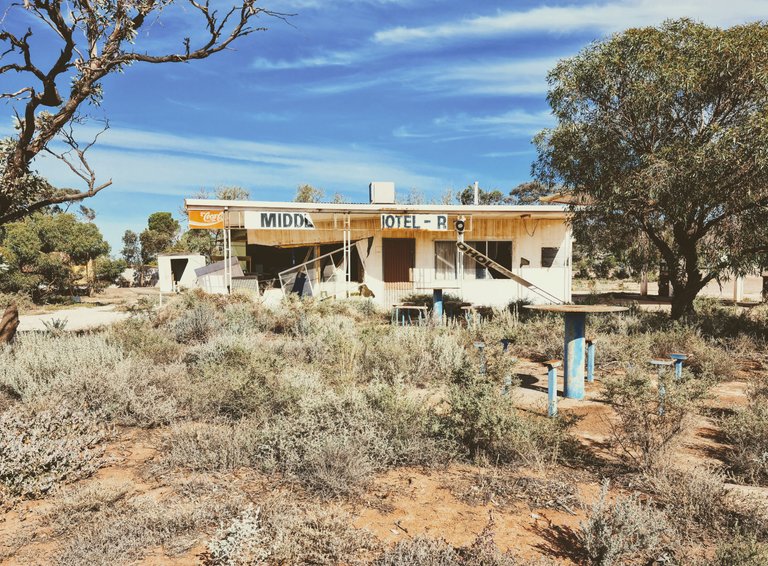 Wandering around was a little eerie as I was the only one there and Iron Knob is ghostly quiet these days. As I poked around I tried to imagine it in its heyday, cars pulling in for fuel, kids taking the opportunity to whinge for an ice cream or treat, parents washing windows, looking for cups of coffee, maybe a spot of lunch around the picnic tables...But it was easier imaging flesh-eating zombies ambling around looking for a feed, or a group of post-apocalyptic survivors scavenging over the wreckage looking for something useful to take away to help sustain their meagre existence.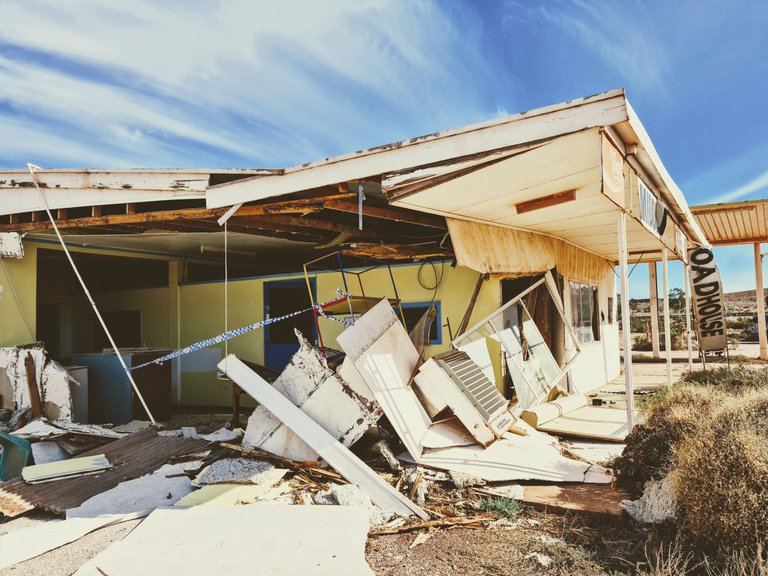 As I wandered around I kept an eye out for a way in that didn't involve breaking in and, despite the police tape over the entrance, I managed to gain access to the inside of the building keeping an eye out for structural issues that could mean something falling on my head. Above you can see the way in and the sheer destruction time has wrought.
Here's some of the interior below. Some of the items left struck me as really odd...Caved in ceilings sure, but also pots, pans and crockery and a pizza oven!
This area would have been the main shop where people paid for their fuel and other goods plus ordered and ate food - I assume some tables and chairs would have been set up and the regulars would have come in for their usual, and out-of-towners for supplies.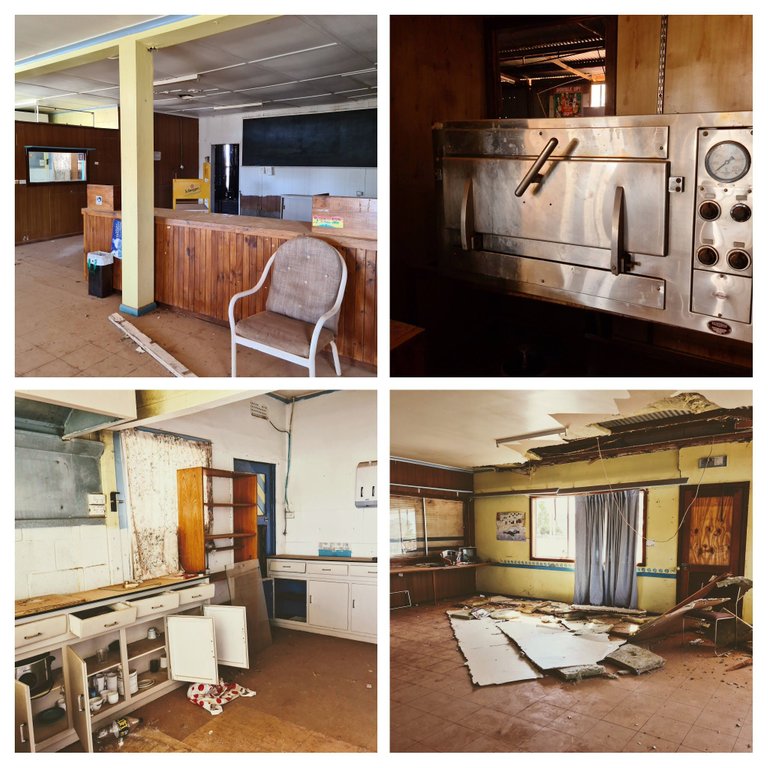 It was hard to imagine it clean, set up with items to purchase, souvenirs, snacks, lollies and sweets on the counter to tempt the children, racks of cigarettes on the back wall of the counter...Staff wandering about with aprons on serving food and coffee but that's how it would have been back then...A hive of activity.
Through another door was the workshop area where again items were left seemingly randomly - Almost as if the mechanic knocked off for a coffee break.
I poked around in here, not to see what I could take, that's not my style. I was looking to see if there was signs of recent use as it defied logic that a place like this wouldn't attract people to it for...There were usable items of course, but no signs of any recent activity...It seemed people simply walked away and never came back which, I suppose, is exactly what happened; They took what they could, needed or valued and the rest was left to the ravages of time whilst they moved on to life elsewhere.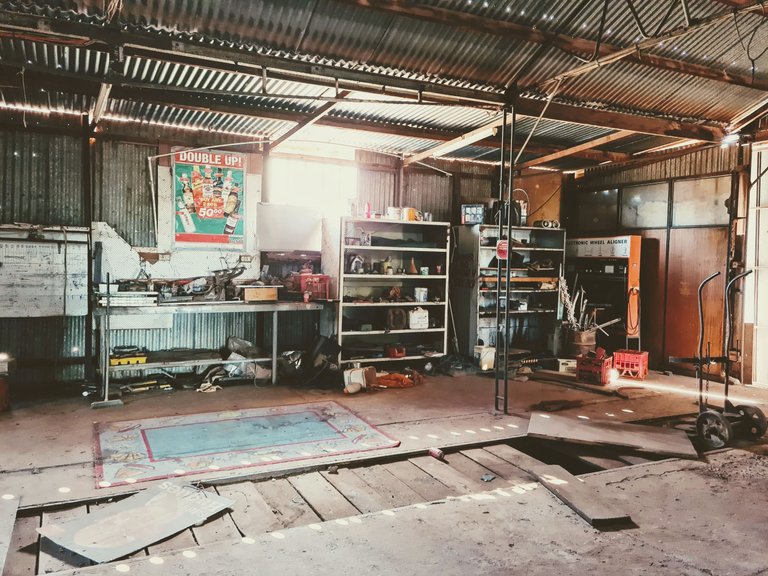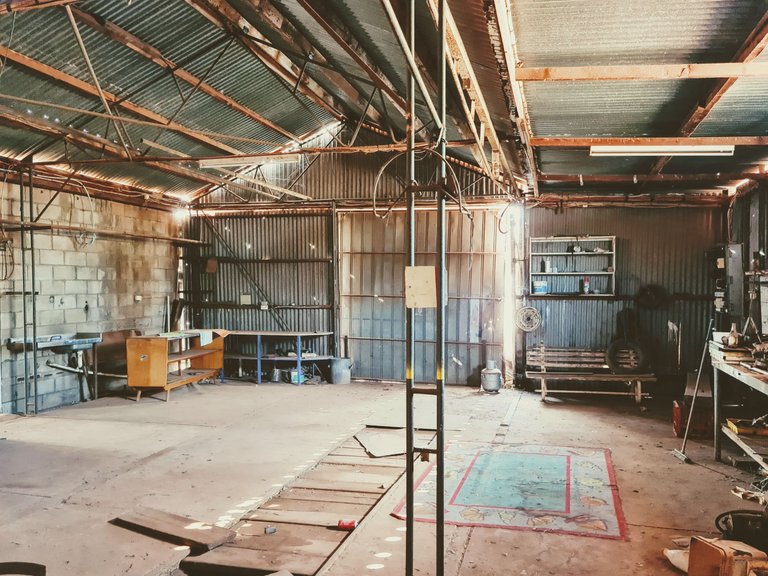 I couldn't shake the feeling of waste but then I guess it wasn't the people's fault; The mining company closed up the mine and the town did the same by default. With most people having moved away and no one coming to the town anymore why have a roadhouse and motel accommodation? Speaking of which, I went to find it but was not able to do so which leads me to believe it's been demolished. Again, all those memories of those that stayed in those motel rooms gone forever.
Back outside I found the original toilet block facilities. There wasn't much to it really...A side for the men [blokes] and one for the women [sheila's]. Sheila is Australian slang from a long time ago for woman but it is very rarely used these days.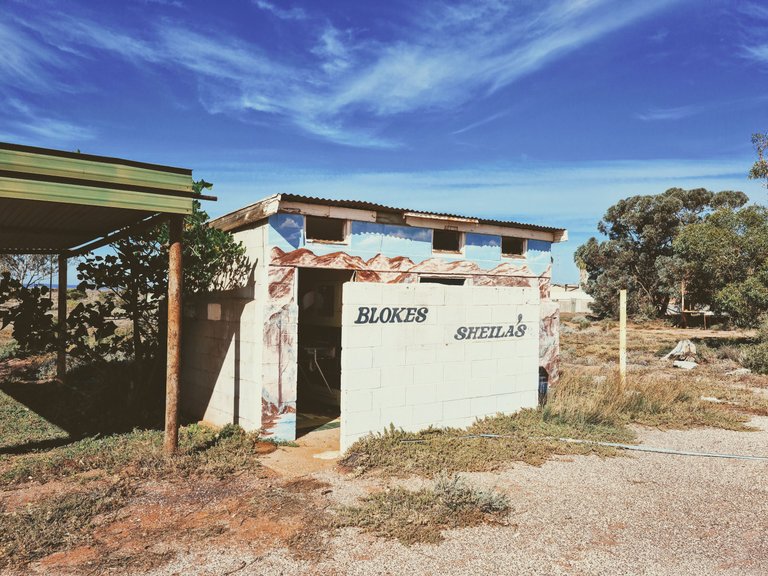 This image was taken in the bloke's side - One toilet and a hand basin. I hope they cleaned it up better when it was an operational roadhouse. I can only assume they did.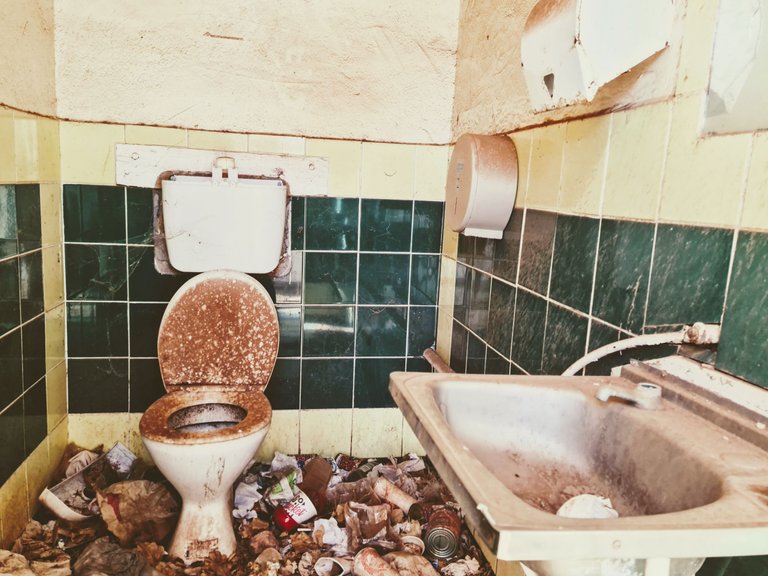 Here's the front entrance to the workshop and a sign showing what the roadhouse offered. That's a fairly extensive list of services and I'd imagine that back in the day it was a hub of activity for the town with visitors and locals coming and going - I guess it provided some local jobs too - Now, it could be the set for a zombie movie.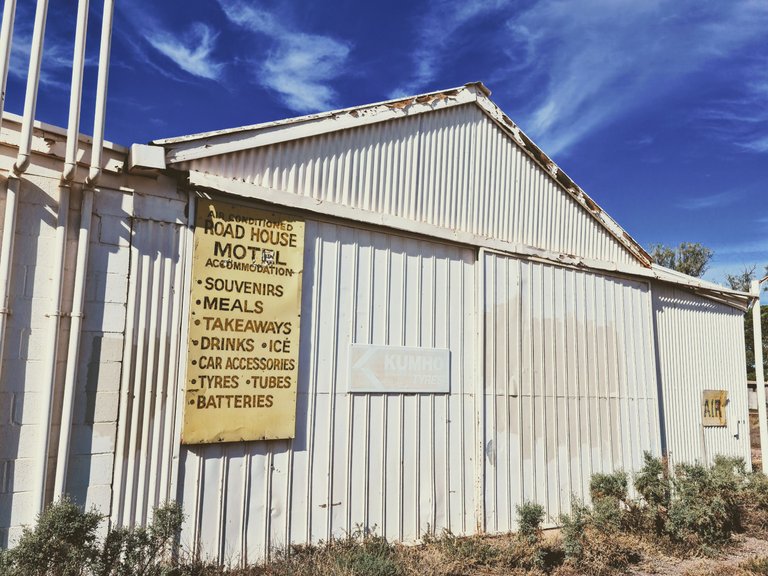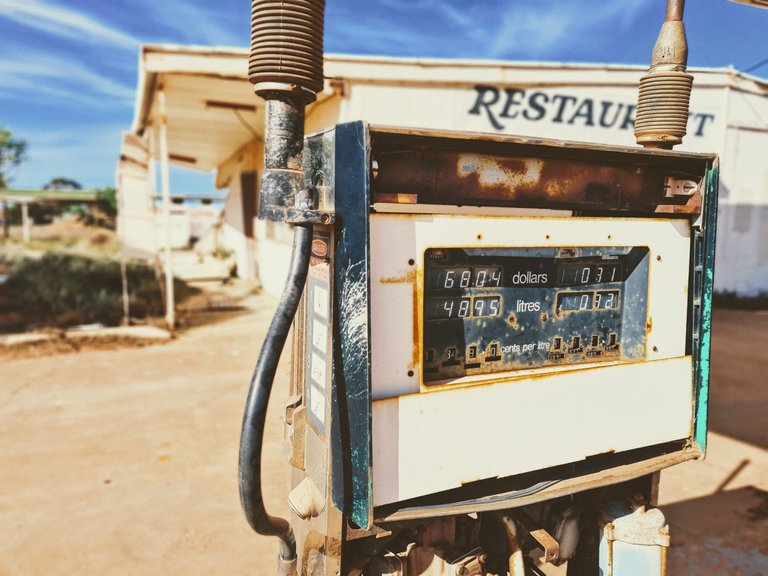 All up I wandered around for a half hour and then it was time to leave, not unlike most of those who lived here, and I may never return. Iron Knob is off the Eyre Highway, a 1,660 kilometre road that links South Australia and Western Australia across the remote Nullarbor Plain. One doesn't need to call into Iron Knob, rather, people fly past at 110kp/h and probably give it no thought at all other than a giggle at the word knob perhaps. I'm glad I dropped in though and added a little bit of me to a town that will probably cease to exist in the not too distant future, like many other Australian towns that time forgot.
---
Design and create your ideal life, don't live it by default - Tomorrow isn't promised so be humble and kind
Discord: galenkp#9209