'...WARNING: HORRID IMAGES AND VILE DESCRIPTIONS BELOW: CONTINUE READING AT YOUR PERIL...'
Despite the name I have given it, this old bad looking factory never manufactured faeces and I wouldn't expect anyone other than a fertilizer producer to do so.
Read on if you dare, but be warned there are some bad images coming up. @anidiotexplores as usual found this one, and it's quite close to where he lives.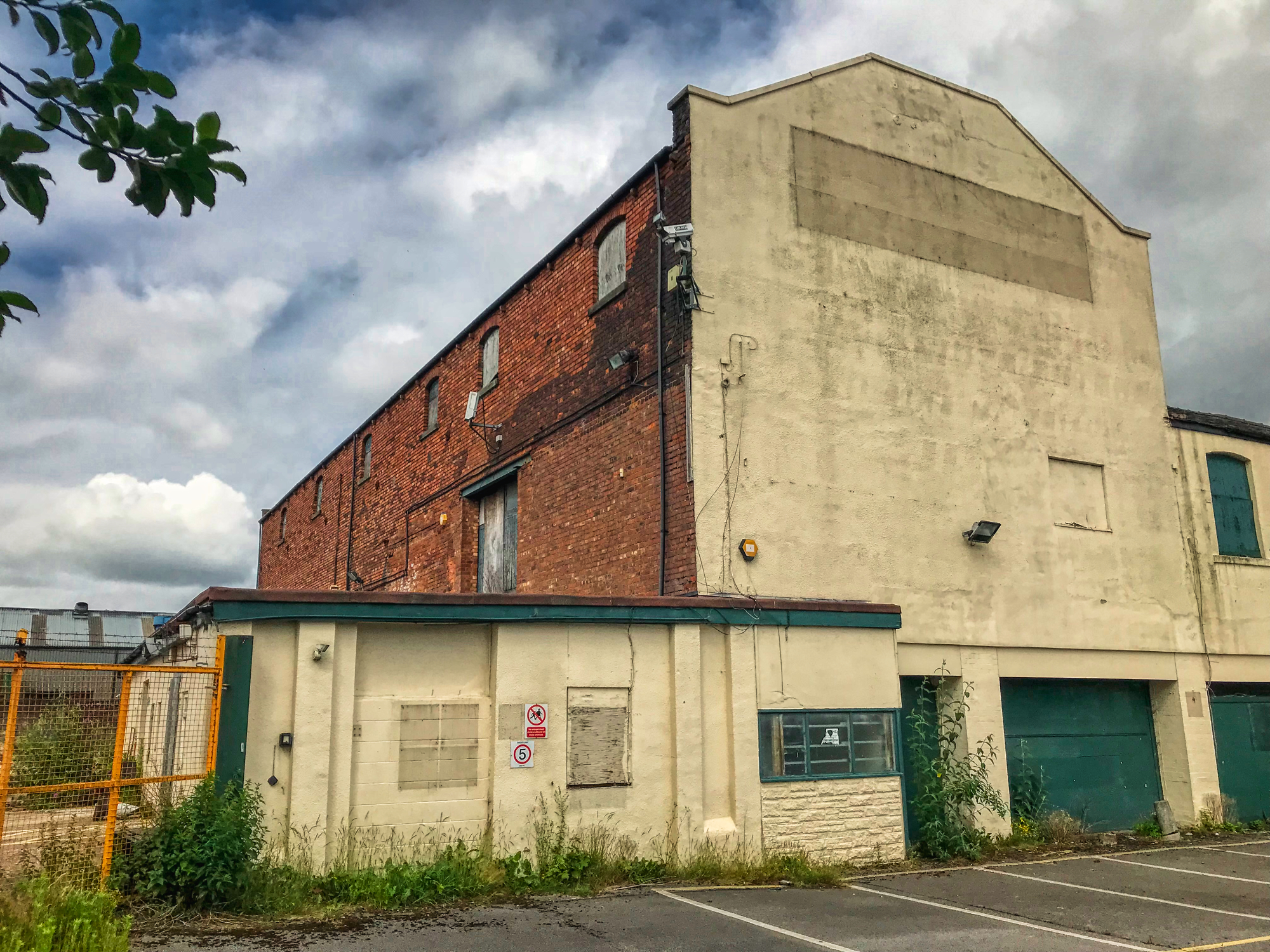 Since our visit, he tells me more of 'The Turd Factory' has been opened, with confidential documents, rubber dolls and 70's porn magazines being on show. It shows how busy industrious Britain used to be in decades past.
I could and should have done the re-visit on my last outing this year, but the thought of climbing through that bloody window again when I was knackered deterred me.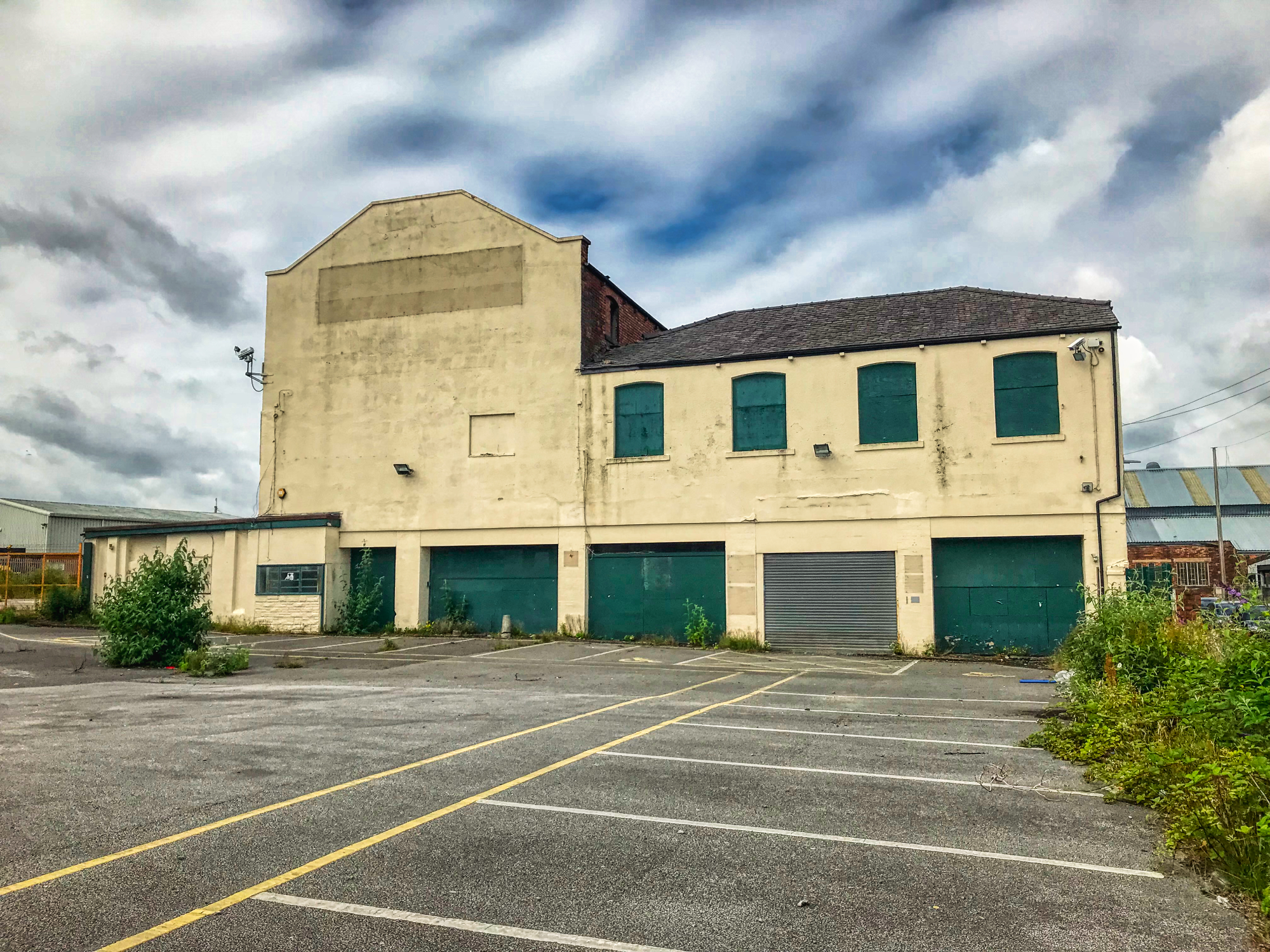 Next year, or possibly this year if I can be persuaded out of 'Urbex Hibernation' I may re-visit now I
know where to place my feet.
Not mentioning where this is or what it is I can safely mention the escapade we had getting through this small opening that was once a window.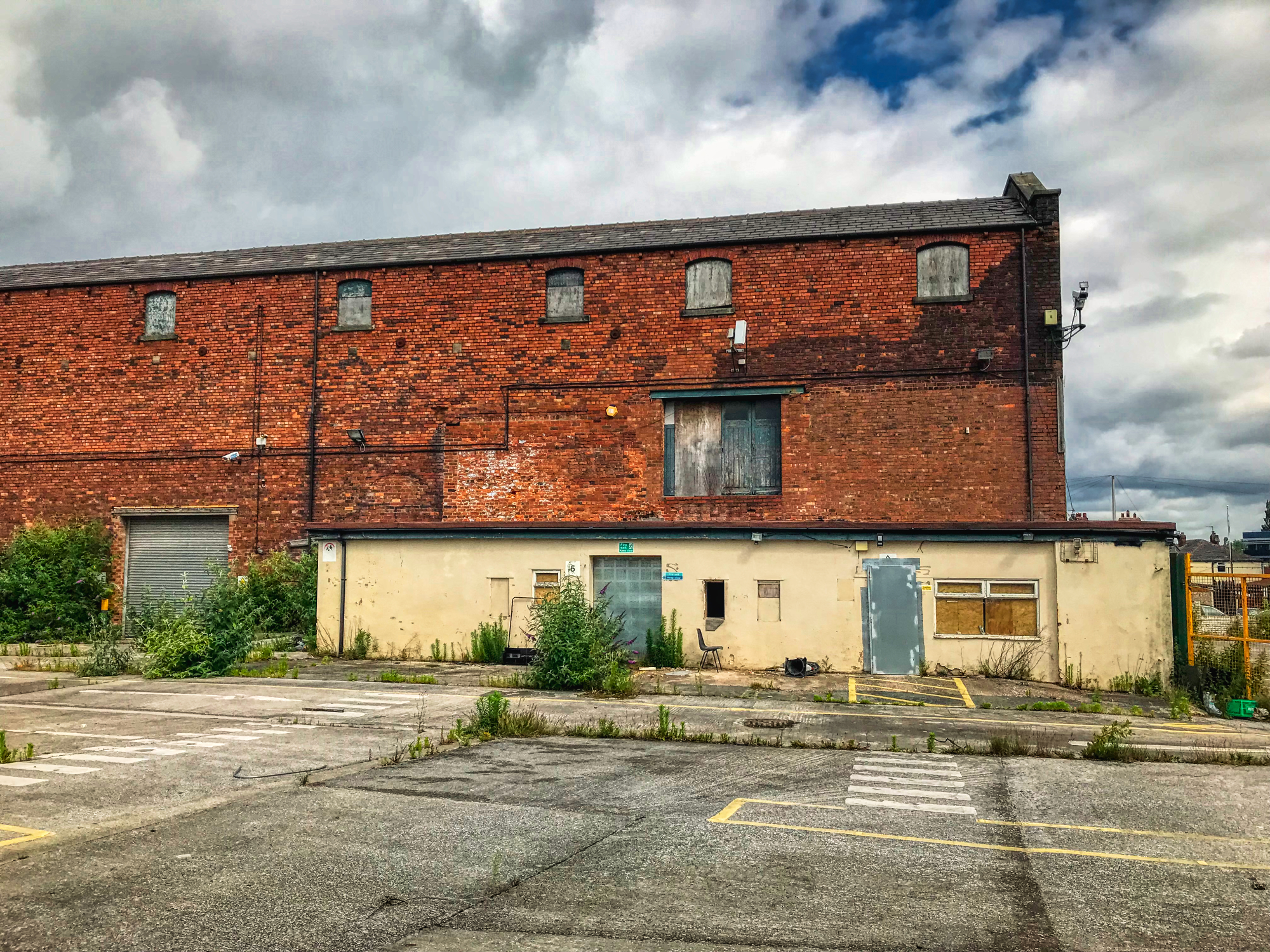 Look closely.. yes there was a helpful chair and why is it there you ask?
Could it be someone is in there right now, living it up and eating their Steak and Chips while washing it down with a premium pint of Boddingtons?
There was only one way to find out, and thankfully this entrance is quite out of sight of the general public and prospective Karens.
Having learned a little about the anatomy of the human back and now knowing it only bends one way, it was a question of head first or feet, do the twist and the feet go in.
The former option can be quite useful and I have done it on couple of recent occasions (not posted yet). Every situation needs to be analysed.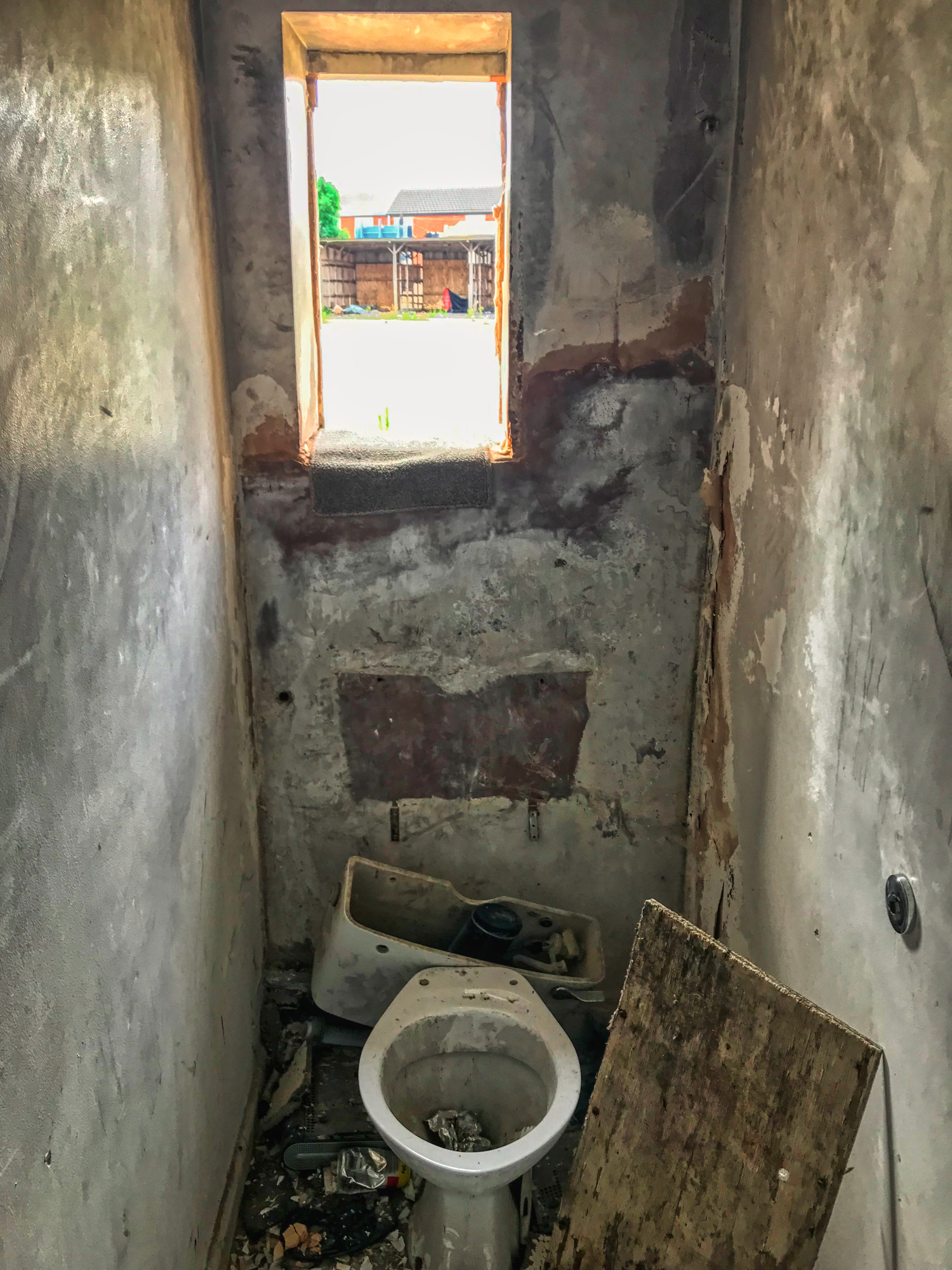 When there's a shitty looking toilet on the far side, there was only one answer.
With amazing dexterity that brought floods of tears (and laughter) to my colleague's eyes, I managed the mid-shuffle roll and blindly shuffled my left leg on to what I thought was the edge of a heavily used shitter hoping for the best.
"Nothing to it", I said to @anidiotexplores with a confident swagger who as usual had little trouble navigating, 'the hole in the wall'.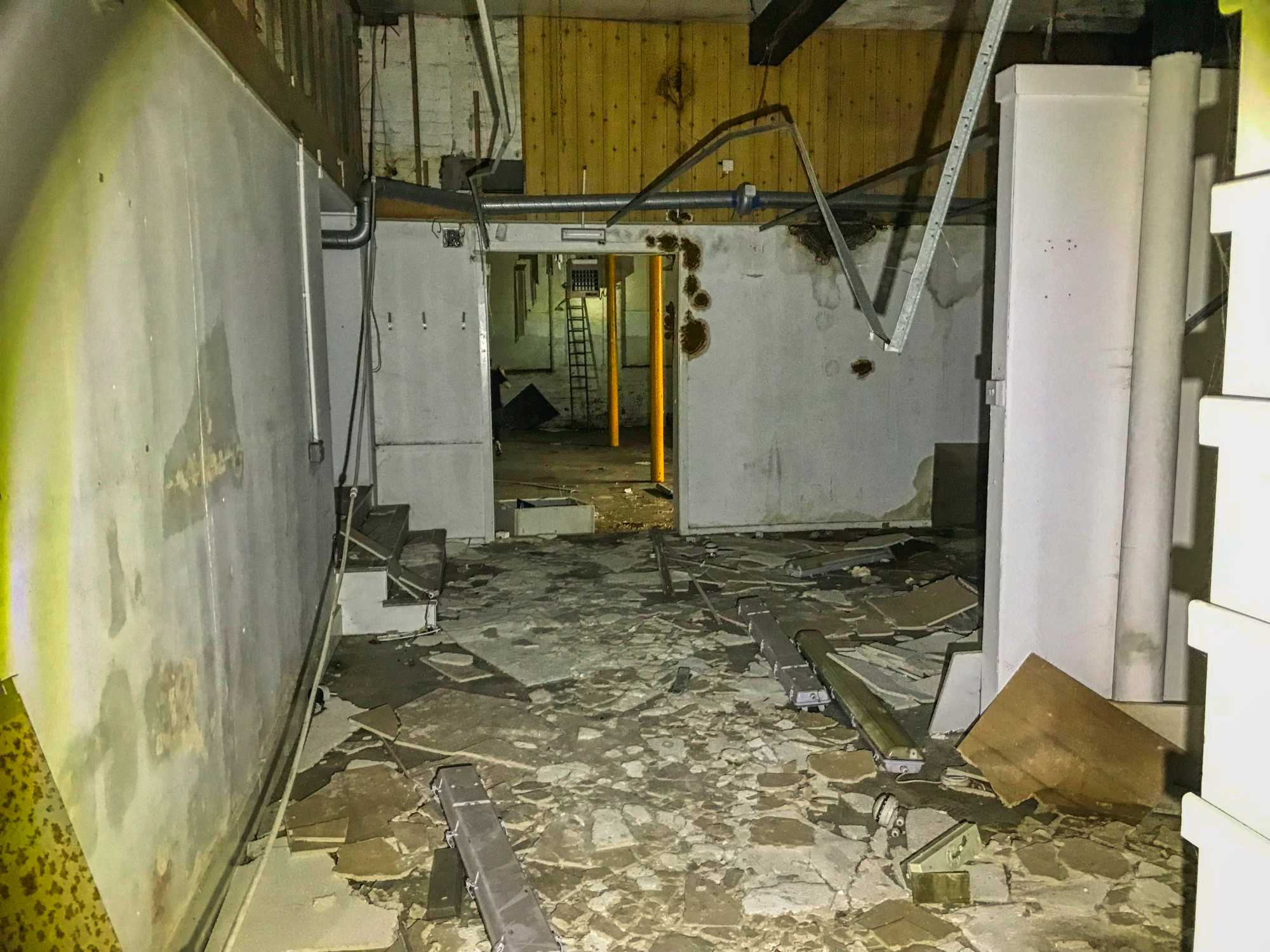 With a chuckle he meandered through the dark only to stop short.
'Oh.. what the fuck is this… SHIT!"
If he had stood in it, then the shoes would have had to stay. I have a strict 'no shit on your shoes rule' for access in my car.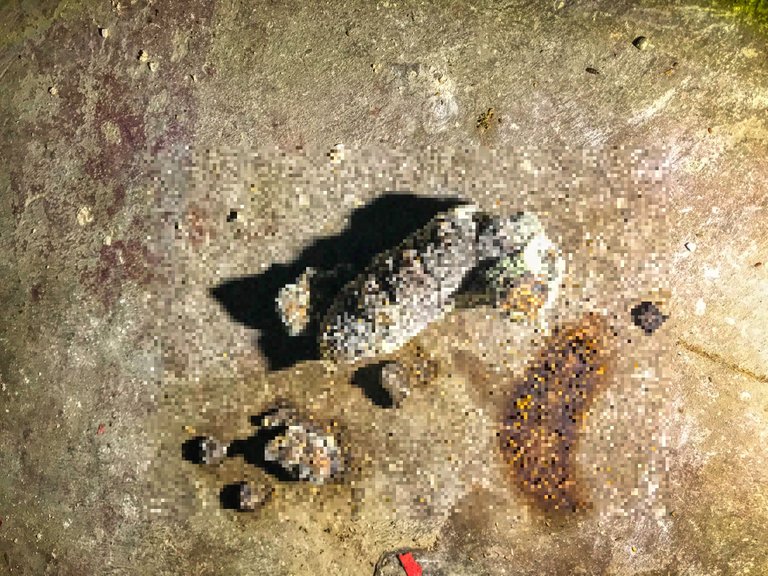 ...'I couldn't bring myself to post the raw version of this, that's far too bad taste'...
"That's HUMAN shit…, bloody vile", he said going into some kind of coughing wretch.
I had no idea @anidiotexplores had such a reaction to what comes out of our arses. I don't have any fondness for it and have no interest in Coprophagia whatsoever, but could muster up the photograph for prosperity.
"We need to move on, just watch where you step, I mean you don't want to slide on your arse and fall into an even larger pile", I told him with an evil smirk.
I figured someone was living here who didn't want to use the derelict toilet facilities anymore. Now why is it?
It was grim in this.., whatever it used to be. Everything we looked at appeared to be in a colourless monotone contrast.
This AdPro FastTrace unit appears to be the old CCTV system used to protect it. Was it not worth taking with them?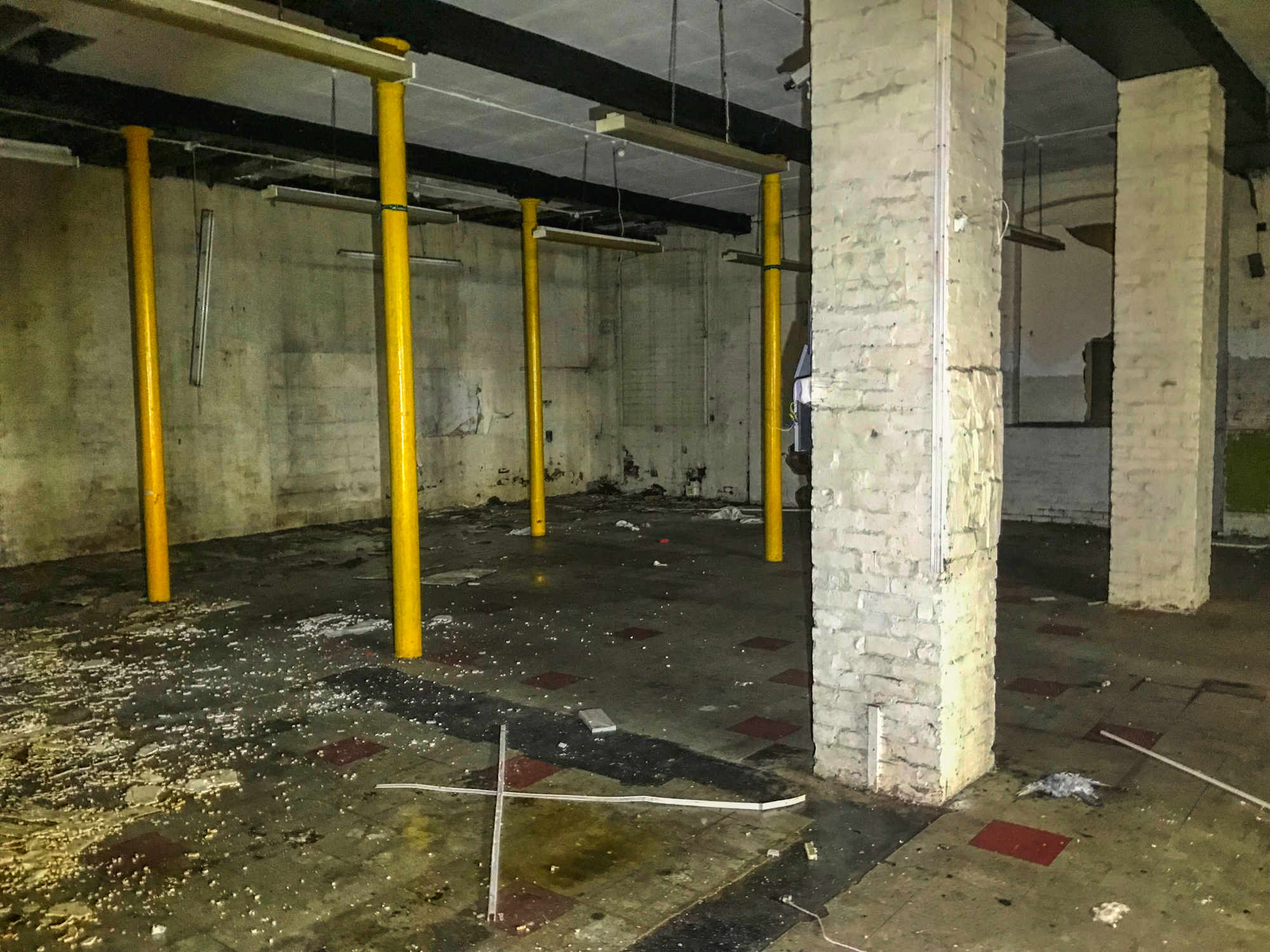 The main section of what may have been a warehouse was spacious and empty. I was wondering where the stairs were. We never found them which was strange.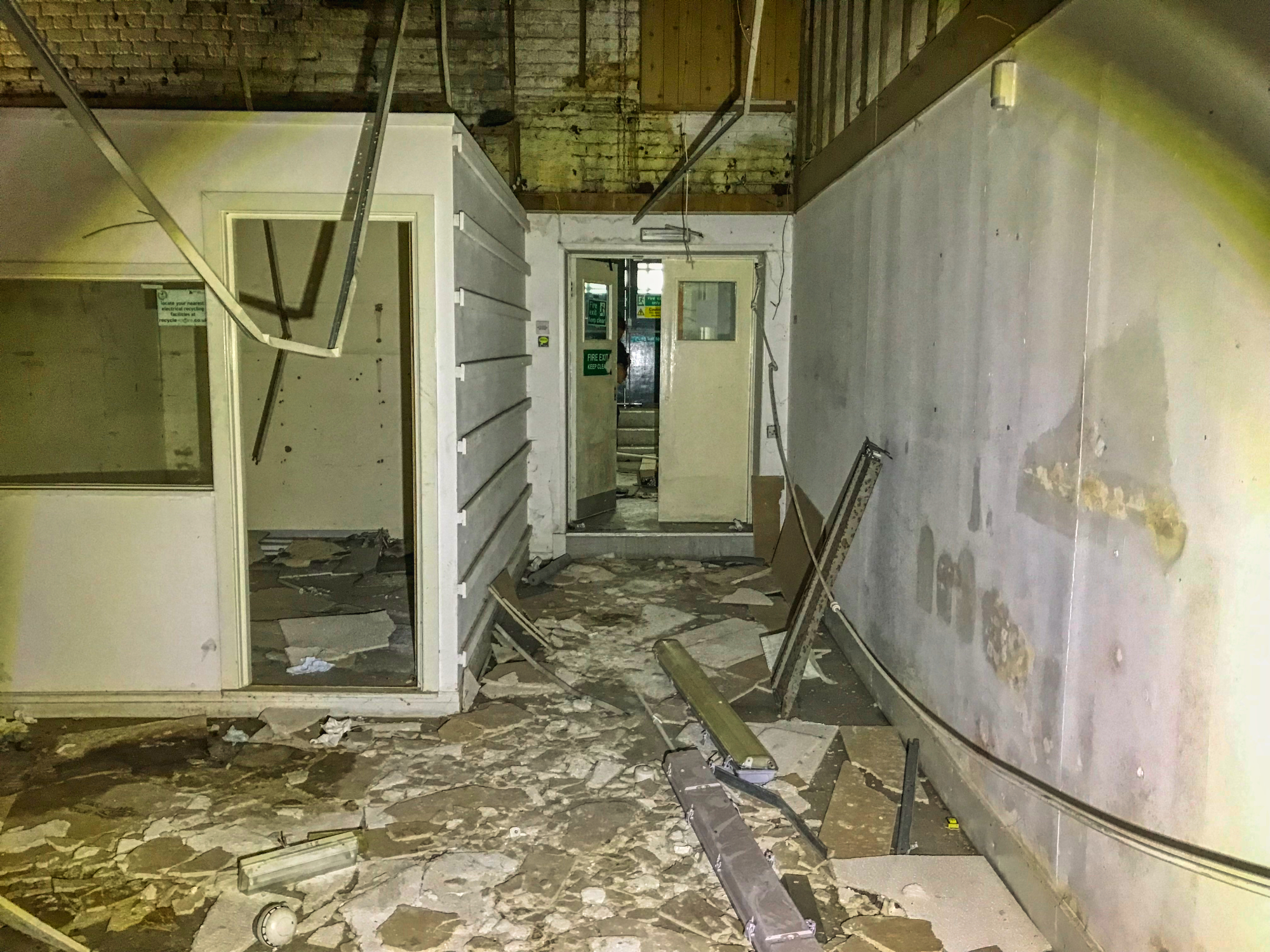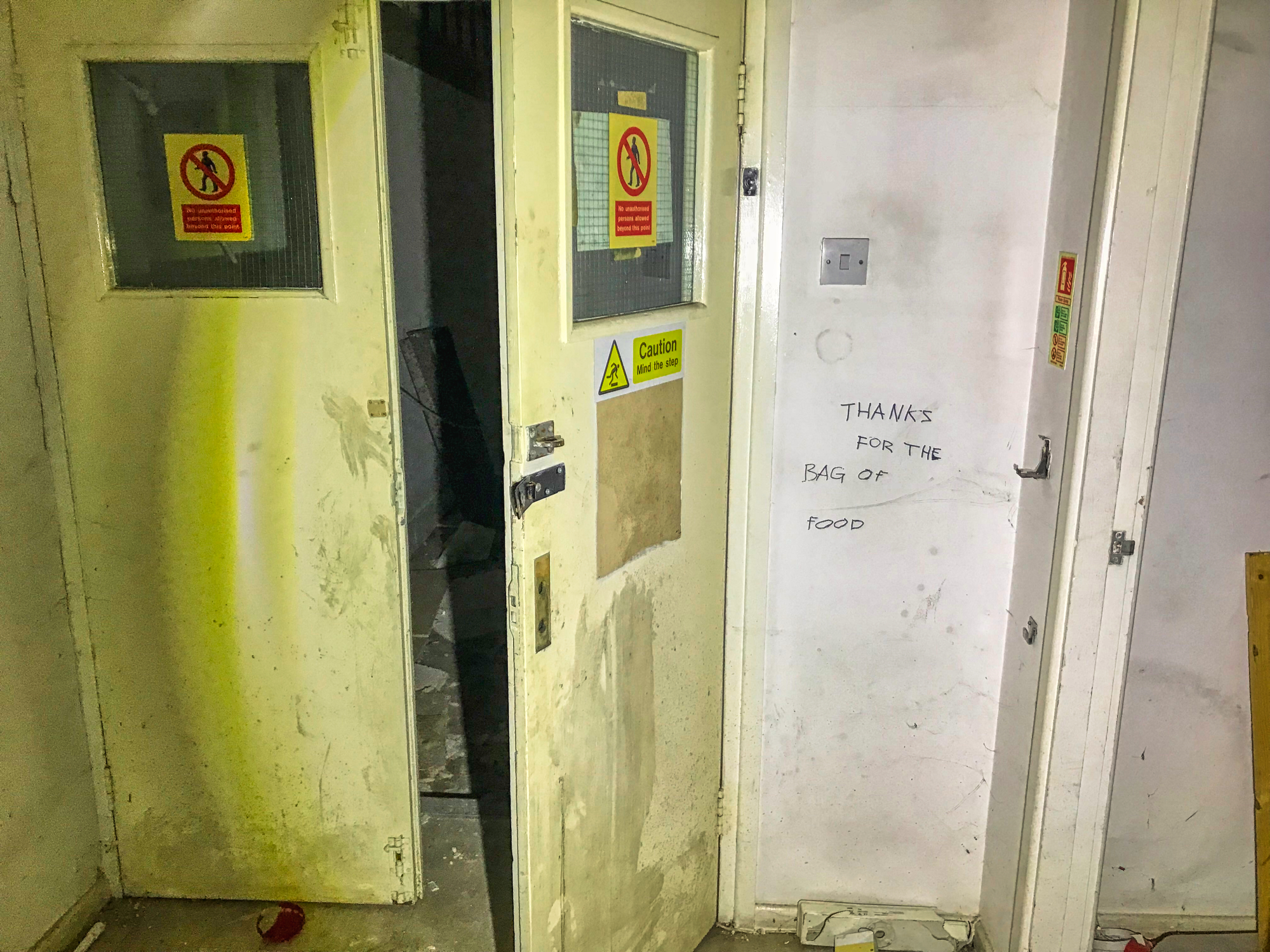 It can only have been written by someone homeless. Could they not get the message across orally?
Looking more closely at what we were walking on revealed a familiar scene.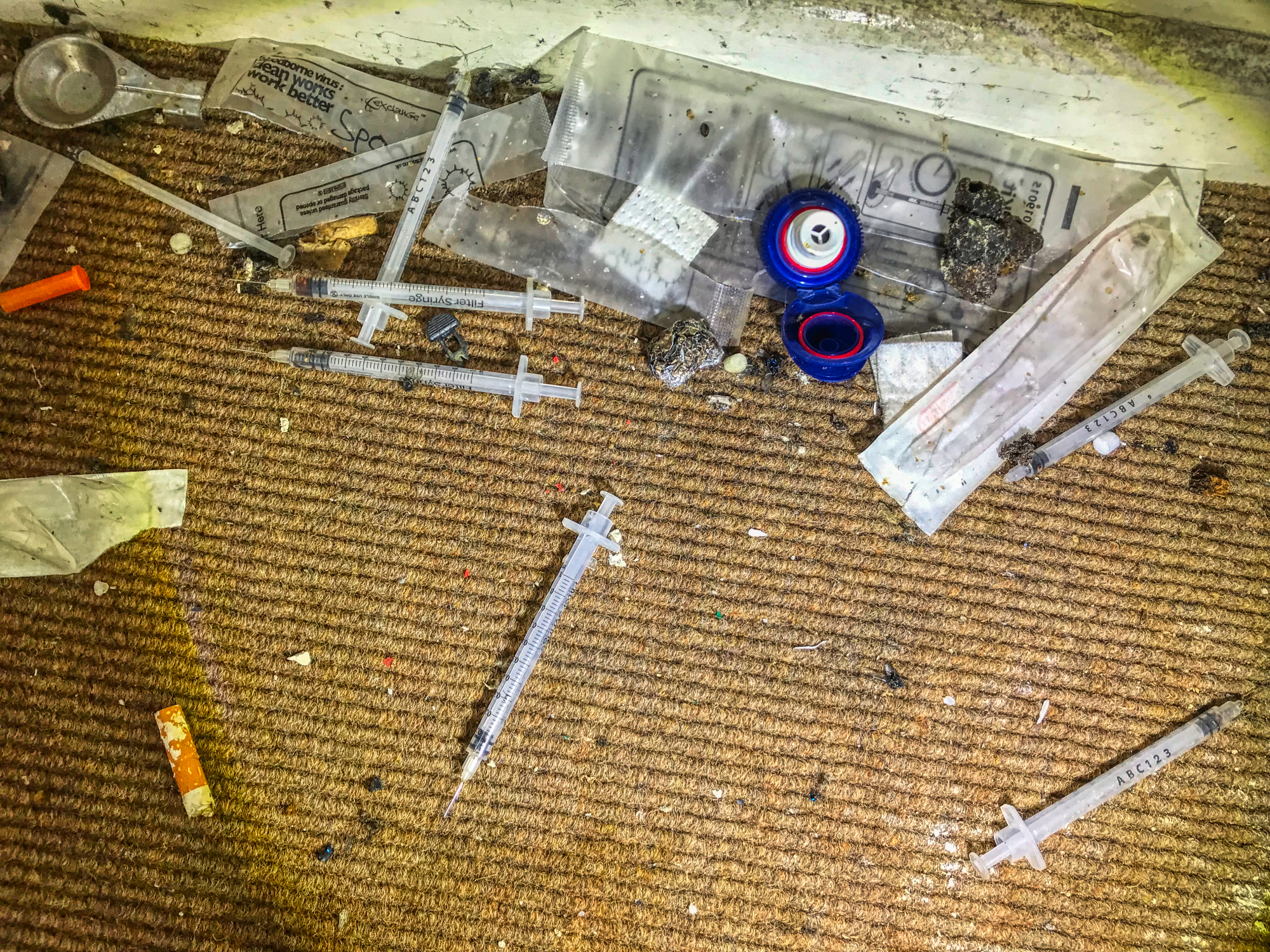 Walking on shit or walking on used needles; neither appealed to me.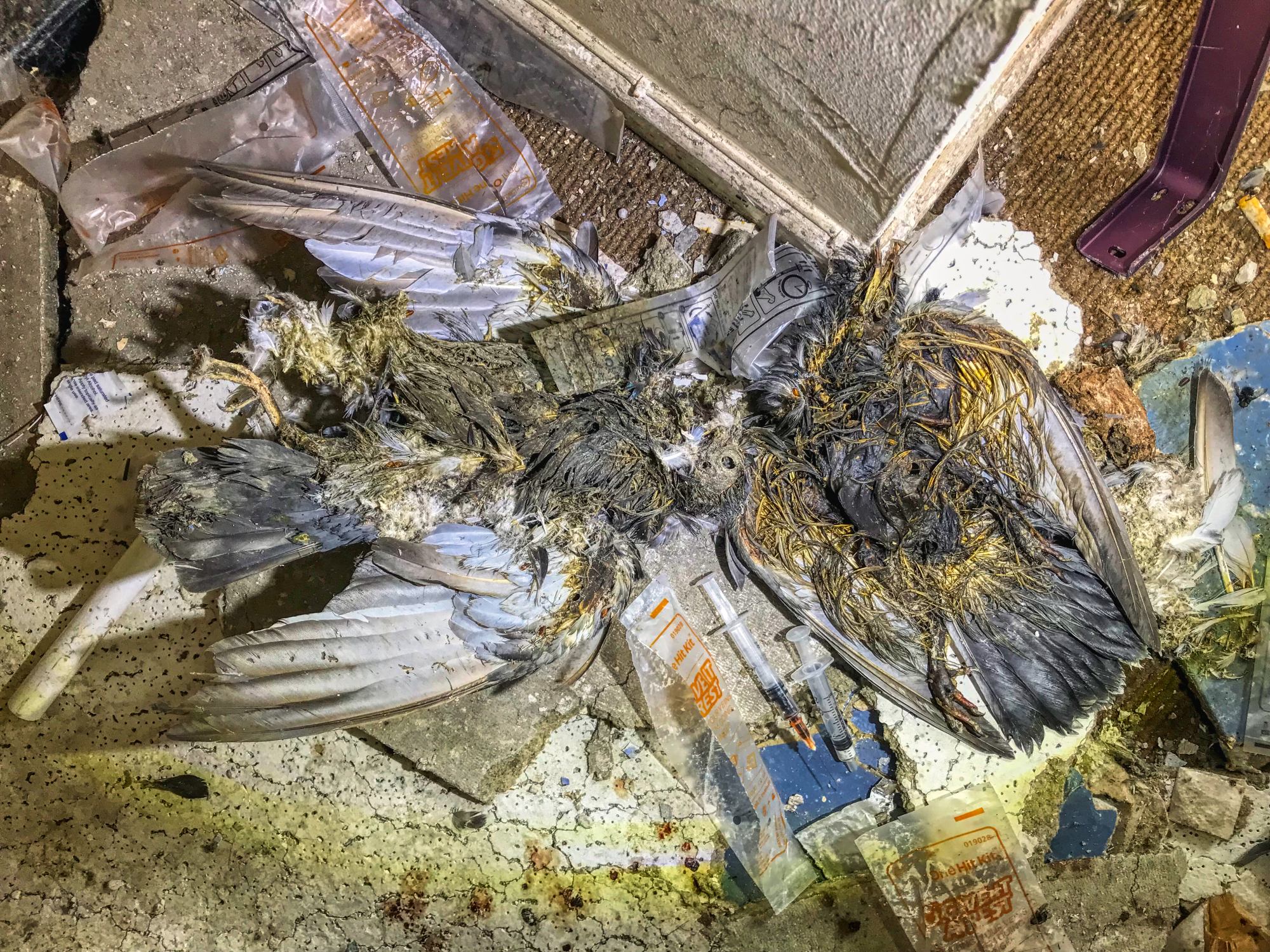 Didn't I just post a similar image recently? This pigeon was obviously a heroin addict. Rehabilitation is now out of the question.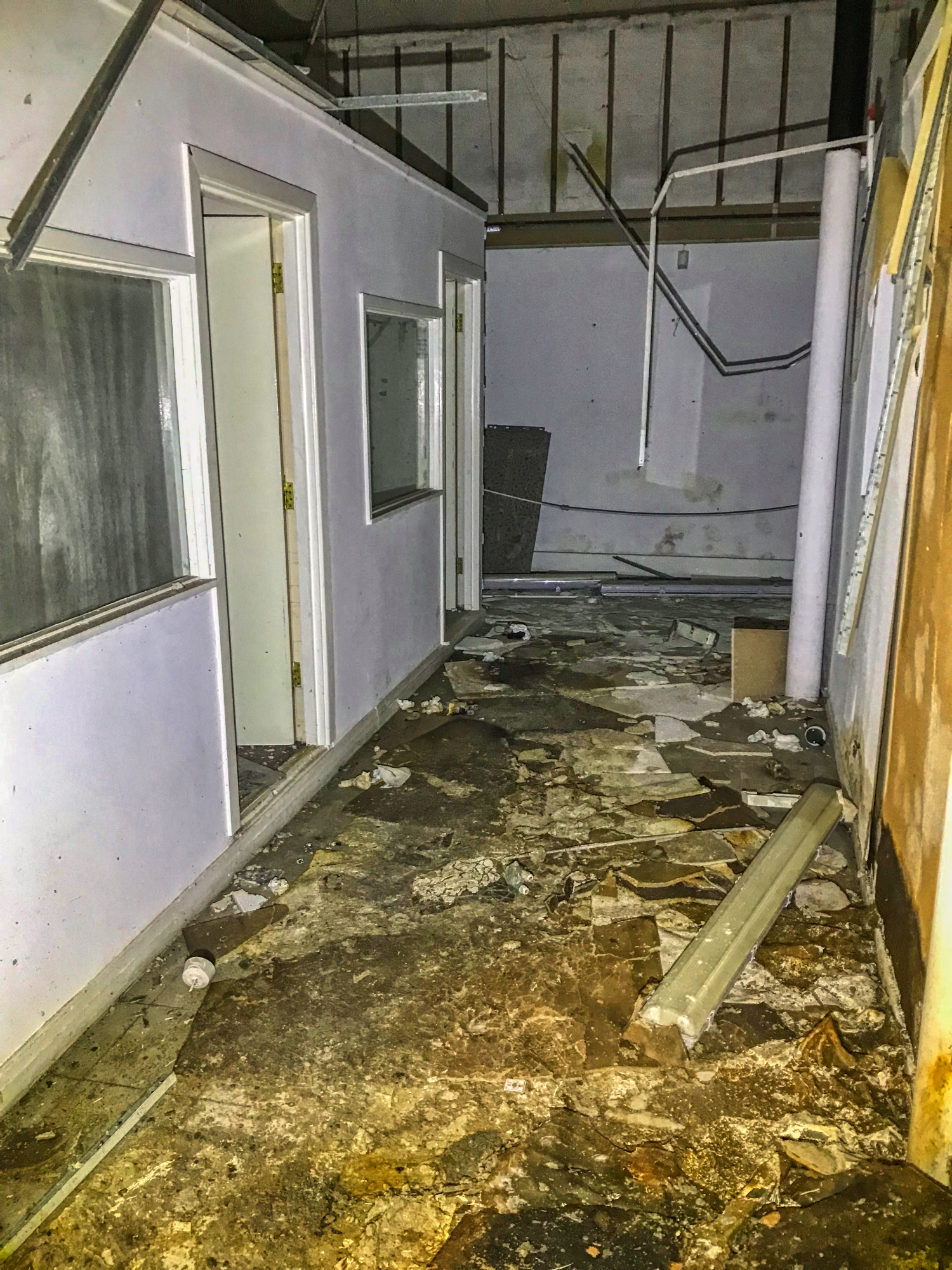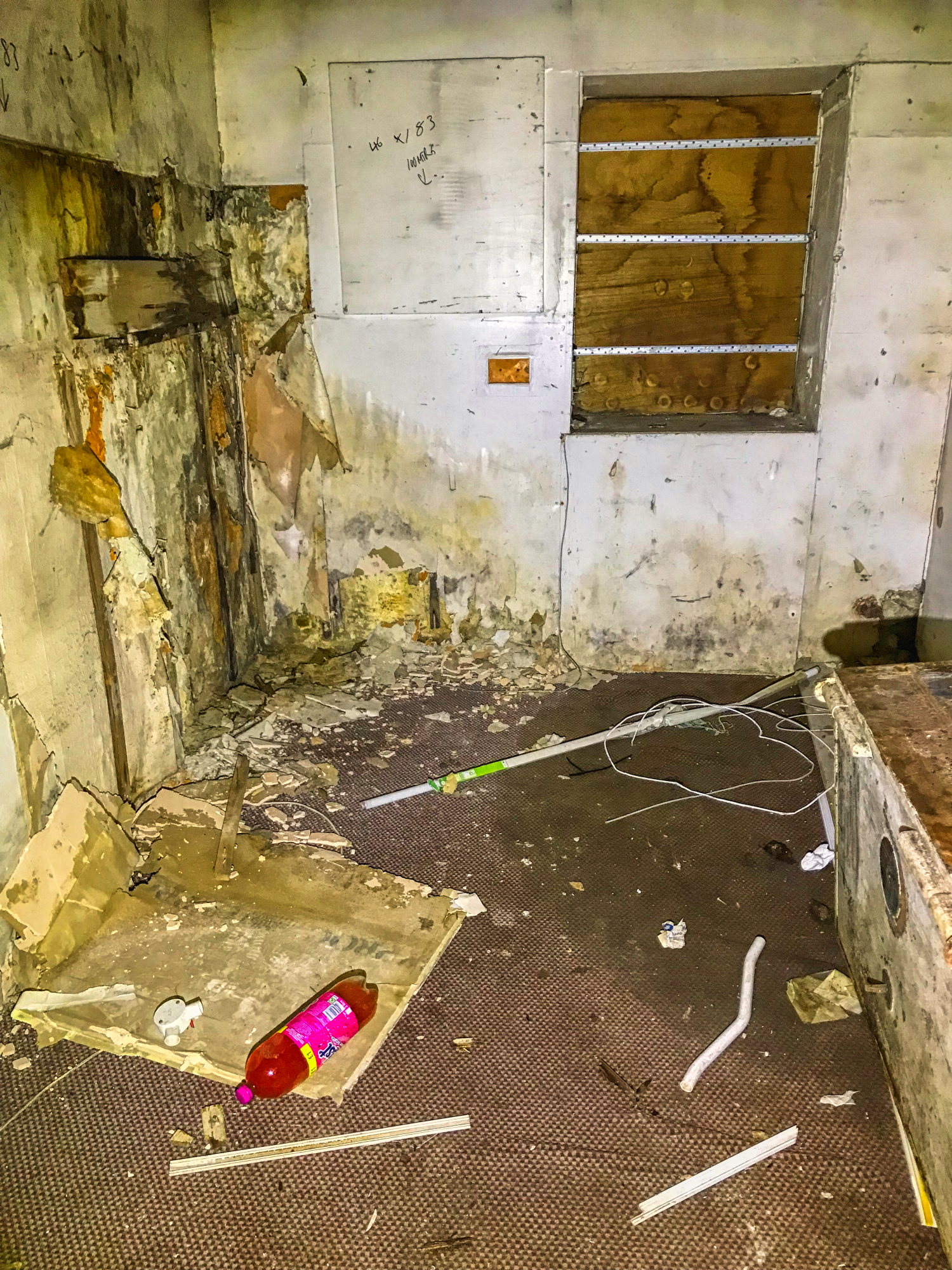 The old offices were in a terrible state, though the discarded bottle of pop looked quite fresh.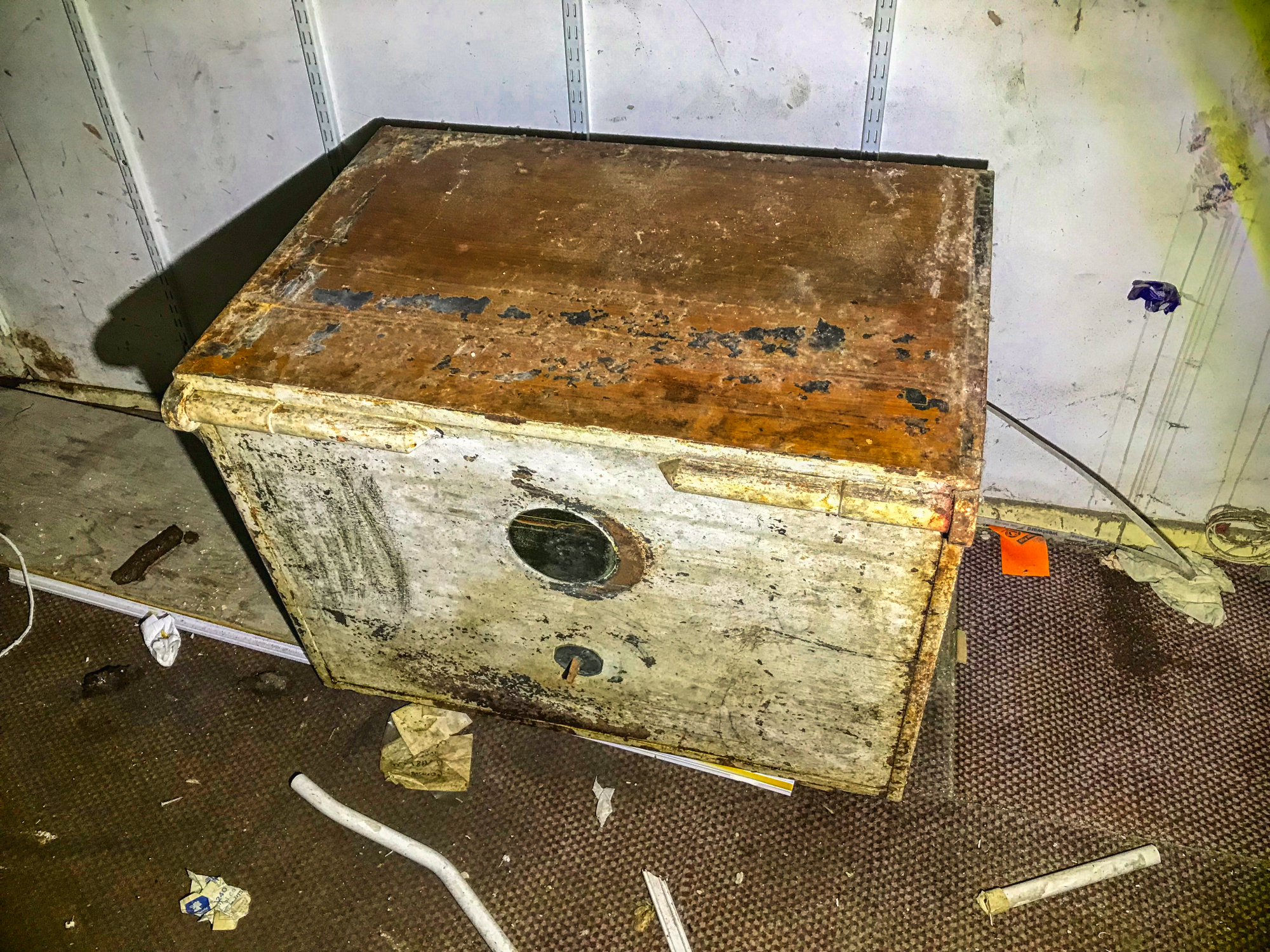 Some chests you should simply not open.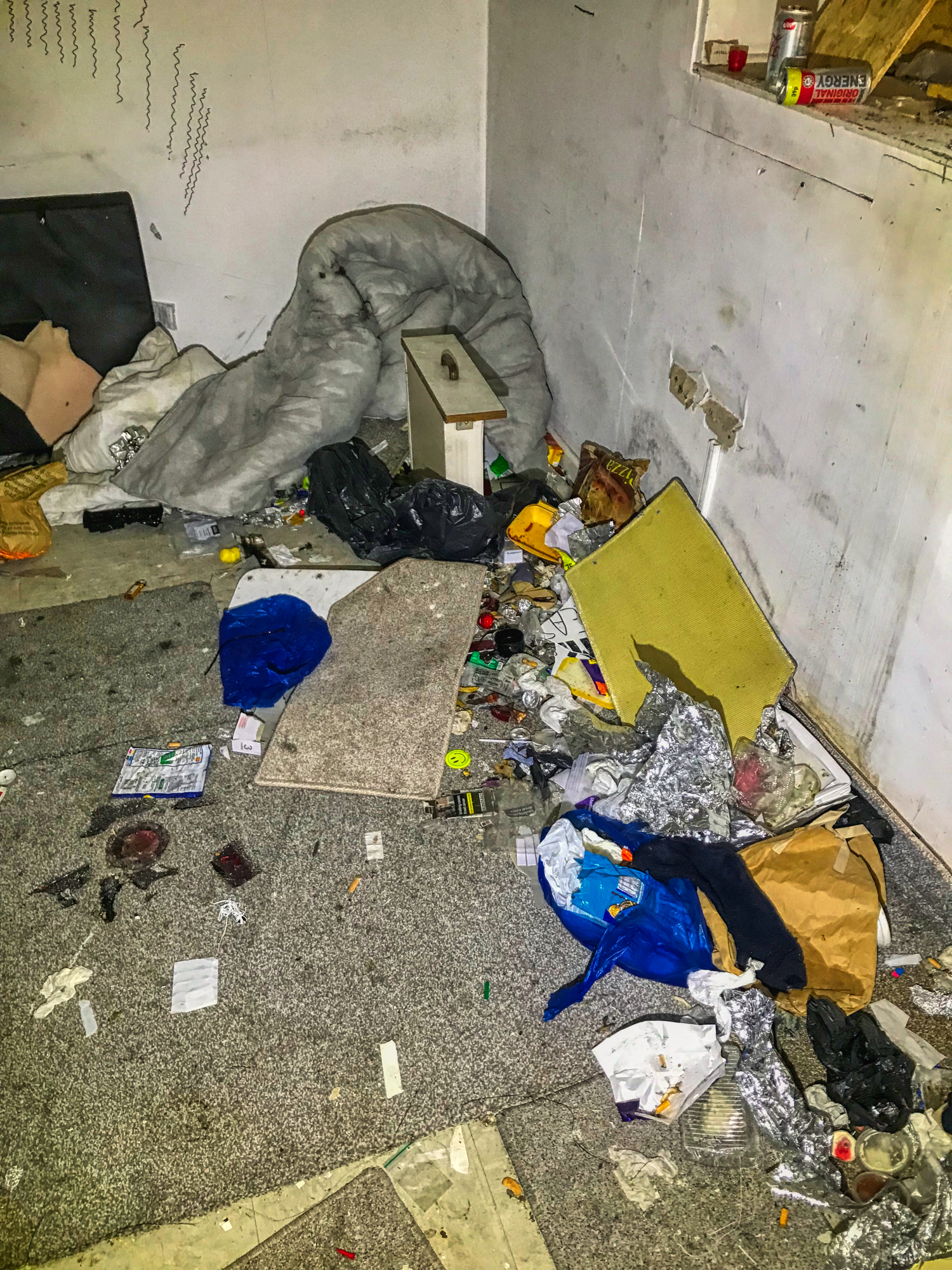 The conditions these homeless live in are terrible. It's enough to make you want to inject something bad into your veins.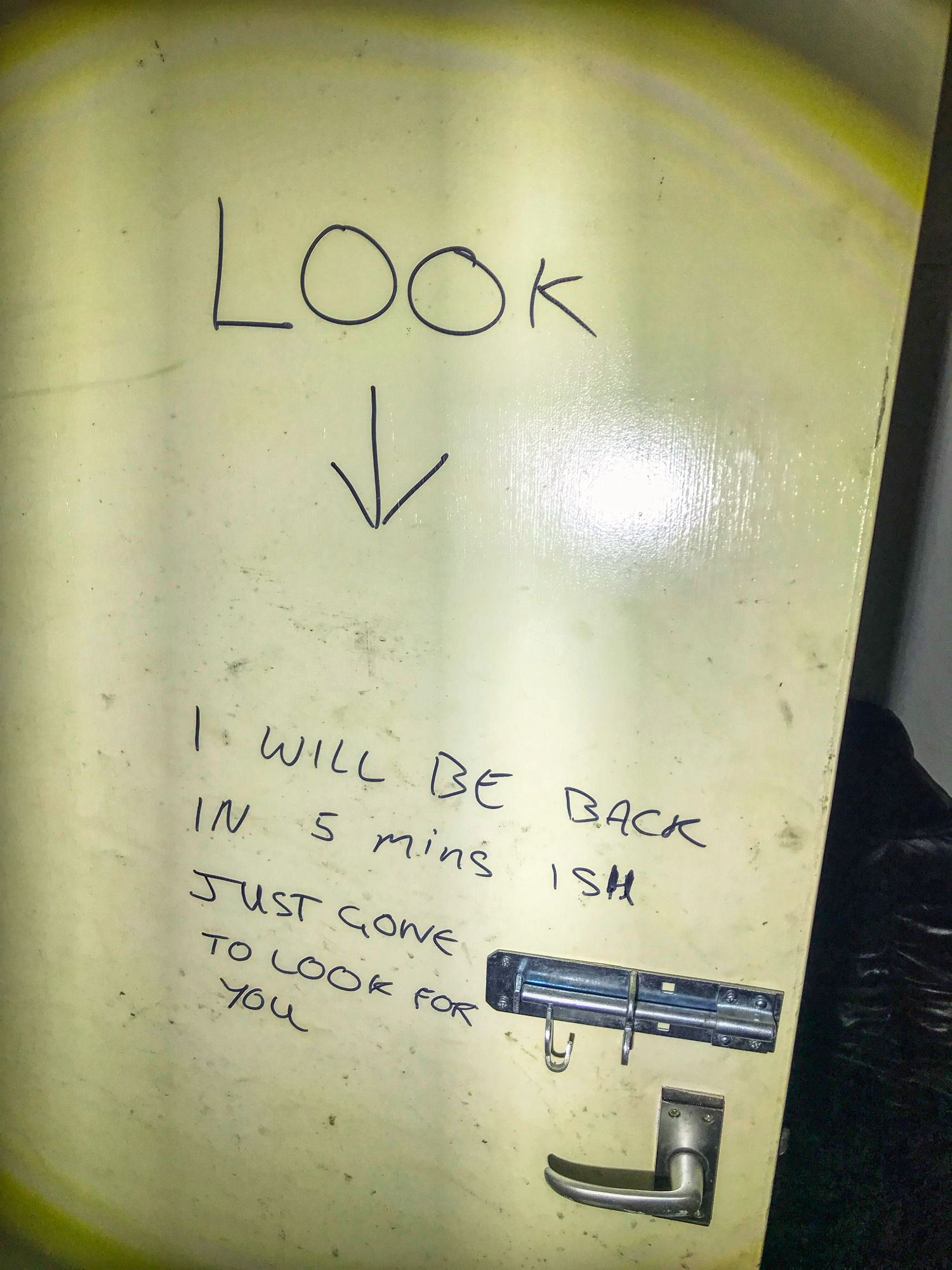 Do you think he got the message across? There was more than one homeless bum living here.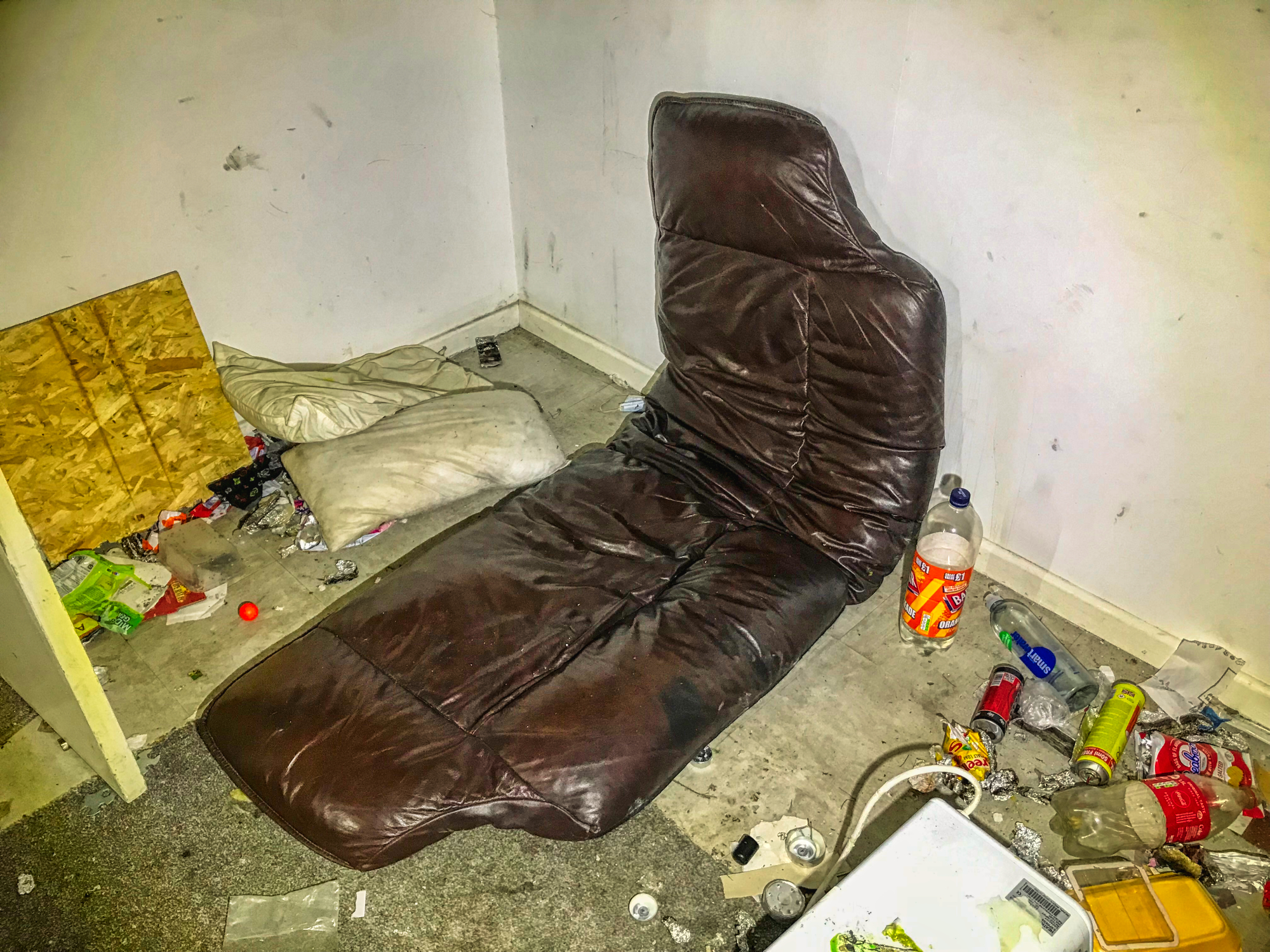 That makes my back sore just looking at it.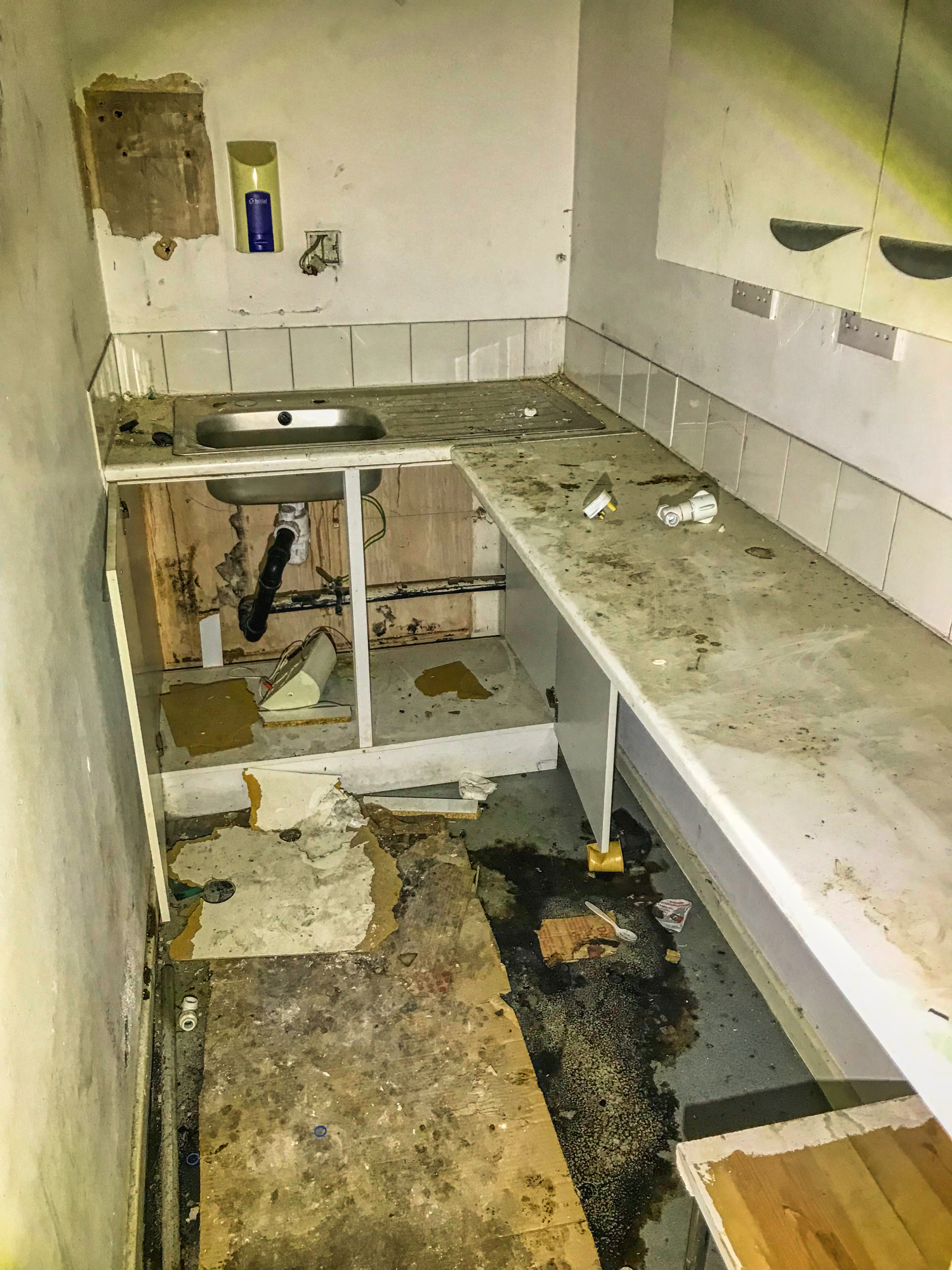 The hand sanitizer may well have worked. I should have tried; anything to remove the grubbiness from my hands.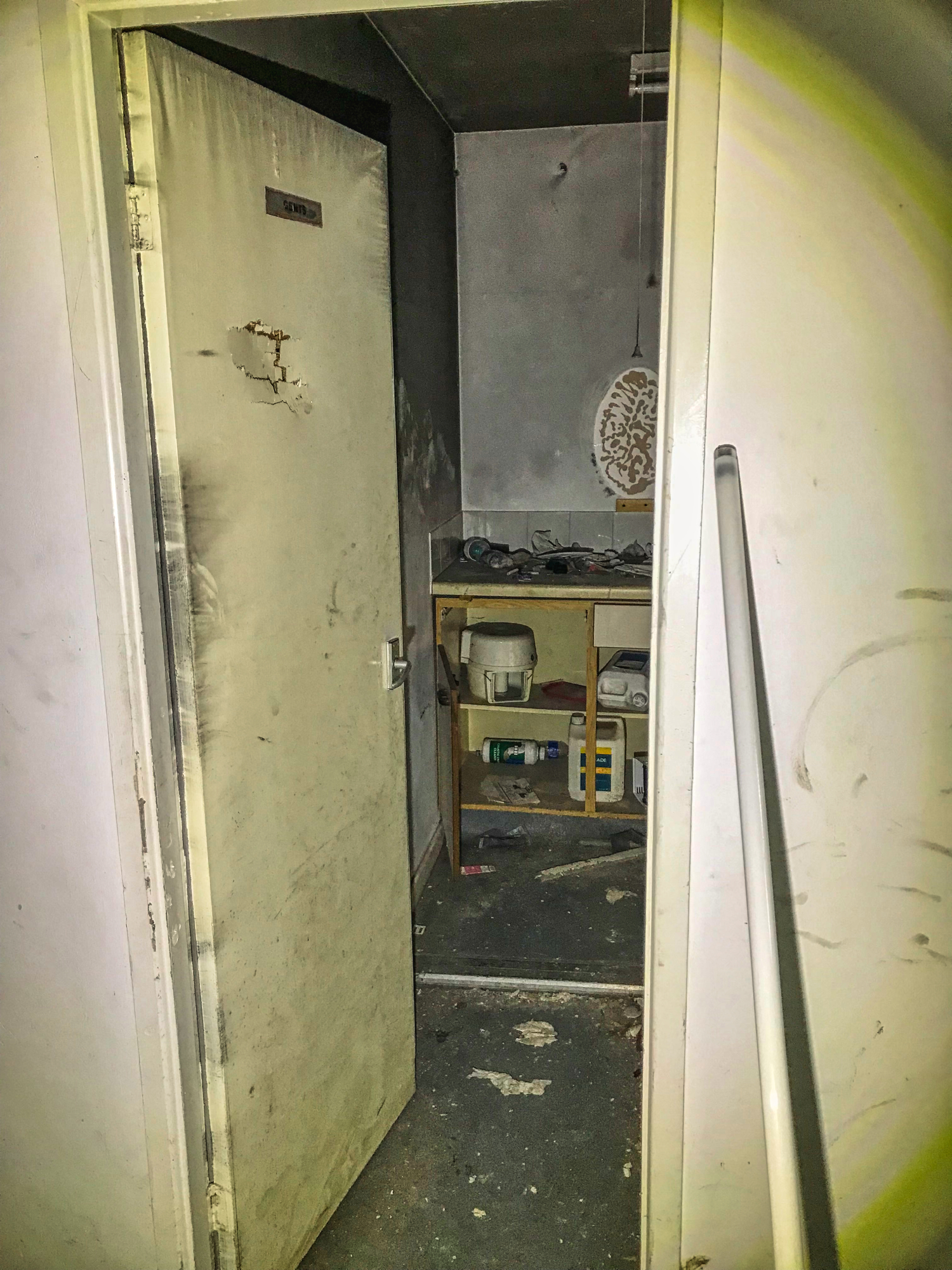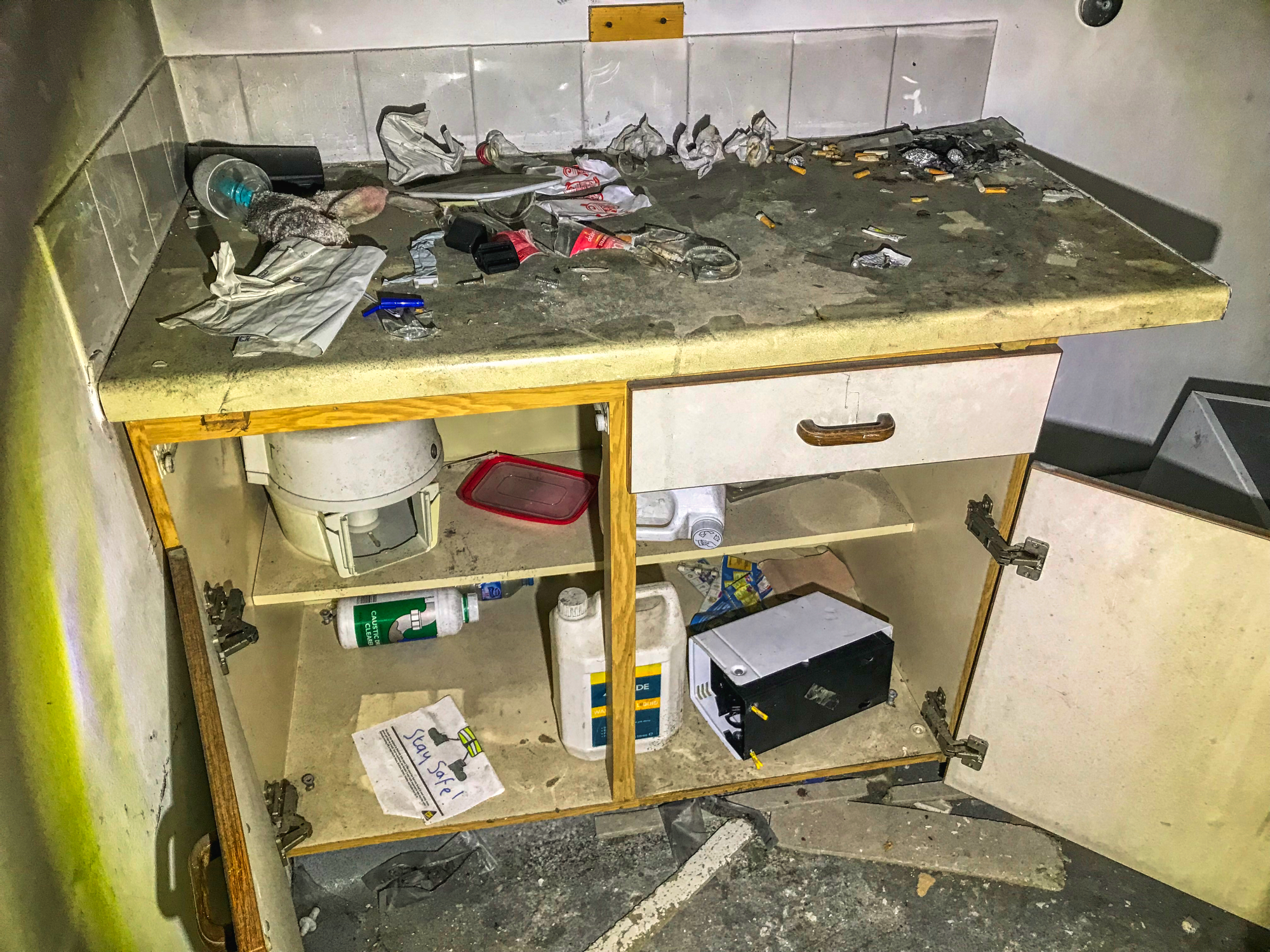 The industrious workbench for all that cooking up no doubt.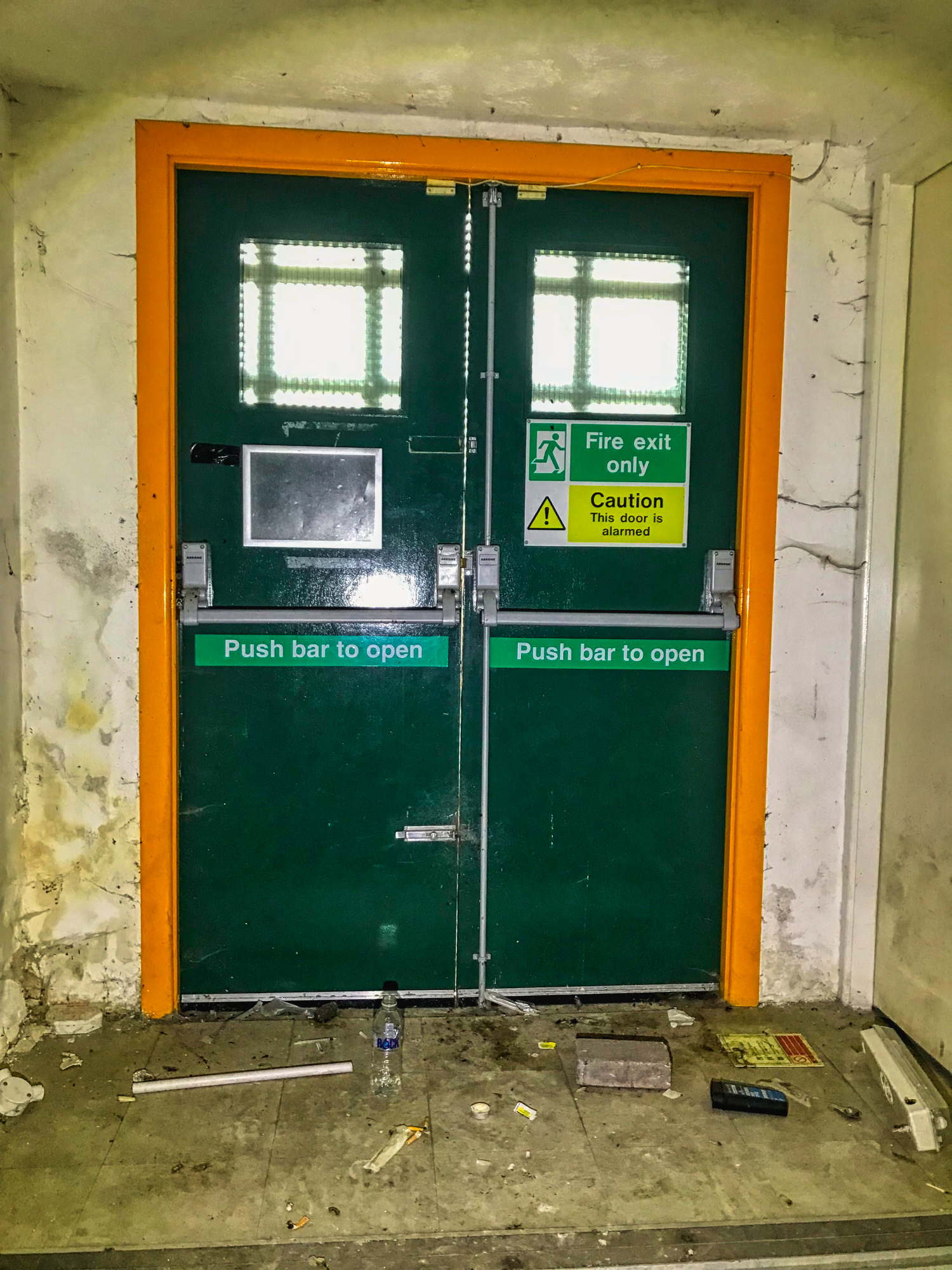 It might have been an idea to try pushing these doors. Getting through the original exit again wasn't my idea of fun.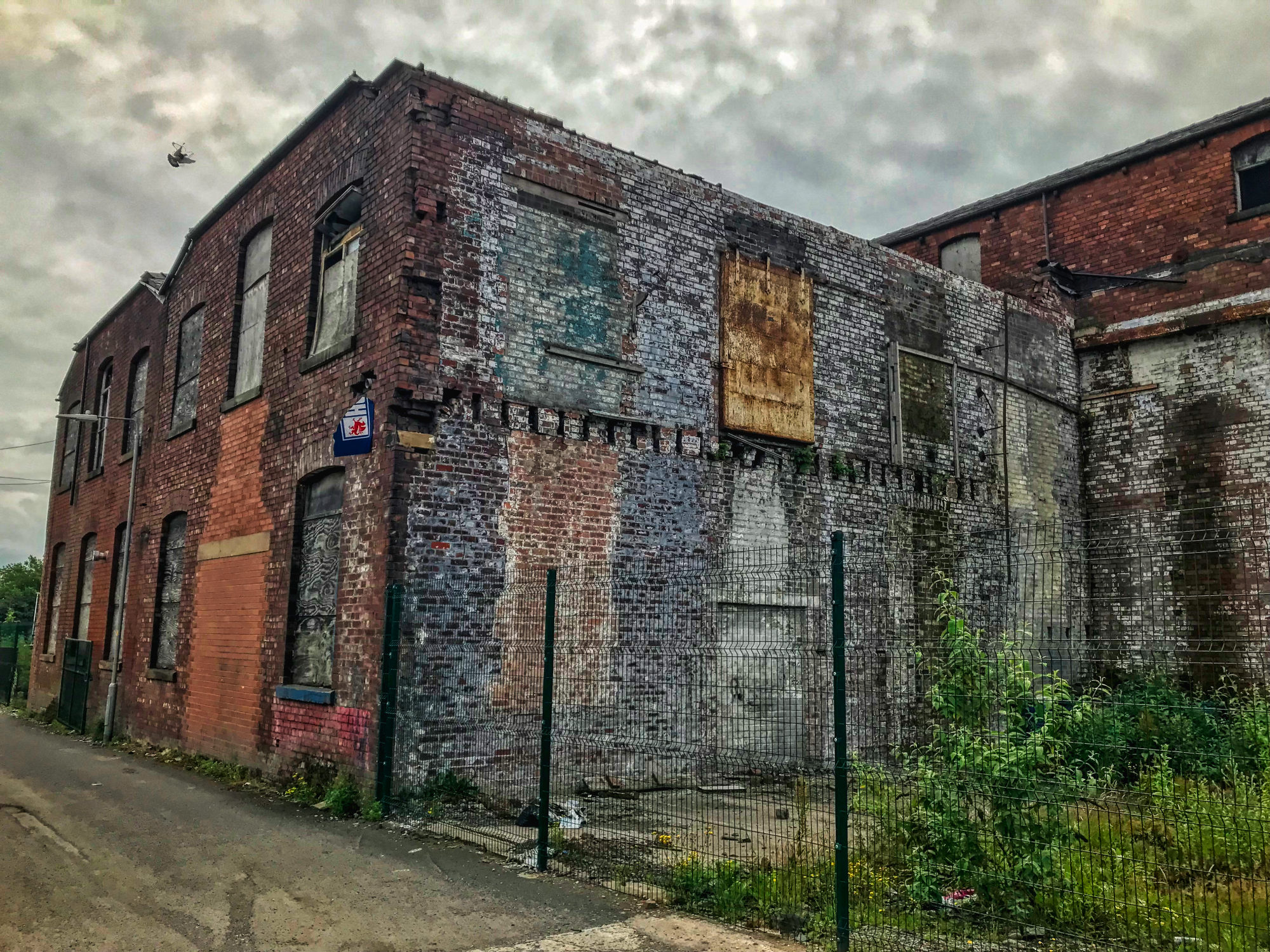 Whoever lives here must use the same exit point everyday when they leave and go begging. Now I know why that shit was not in the correct place, it was all starting to become crystal clear.

Do you like posting your Urbex content and photography for FREE on Facebook and YouTube? I like to get some form of reward for my work and every time I create I do just that. Take a look at The Urbex Community on HIVE.
If you want to keep creating for FREE then ignore what you are reading. If you want to be like me and gain something other than BUGGER ALL for your work then click here and learn about posting on the HIVE blockchain.


All my 'Tales' content is easy to find on my personal website:
'Tales of the Urban Explorer'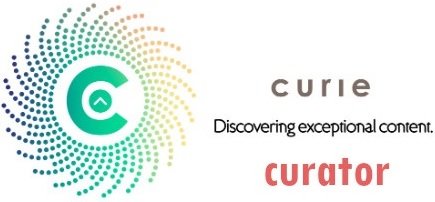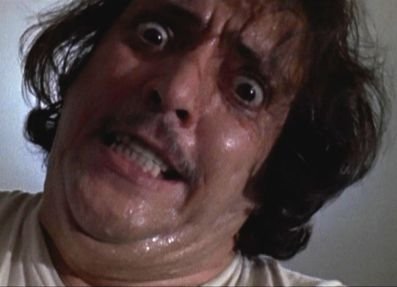 If you found this article so invigorating that you are now a positively googly-eyed, drooling lunatic with dripping saliva or even if you liked it just a bit, then please upvote, comment, rehive, engage me or all of these things.